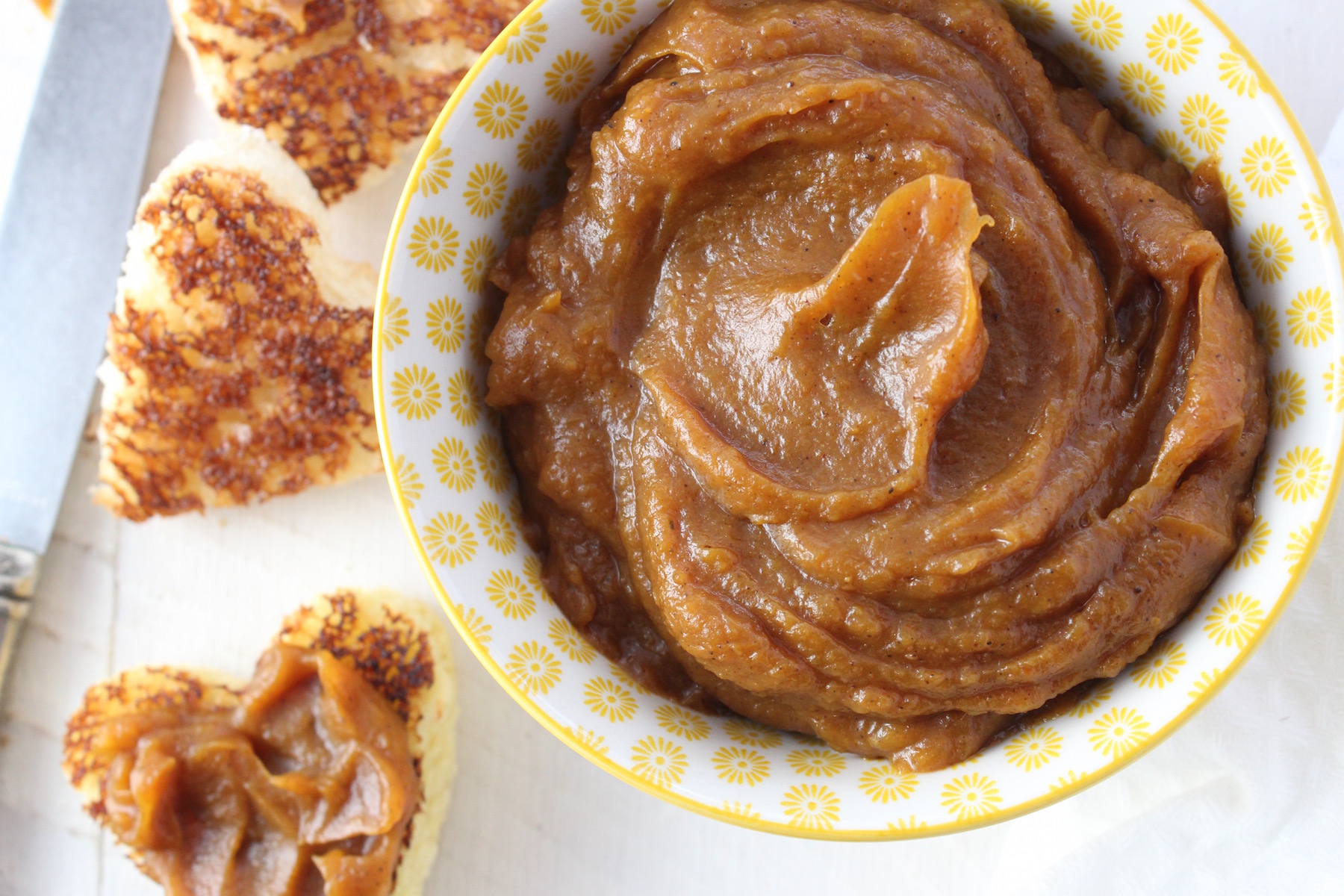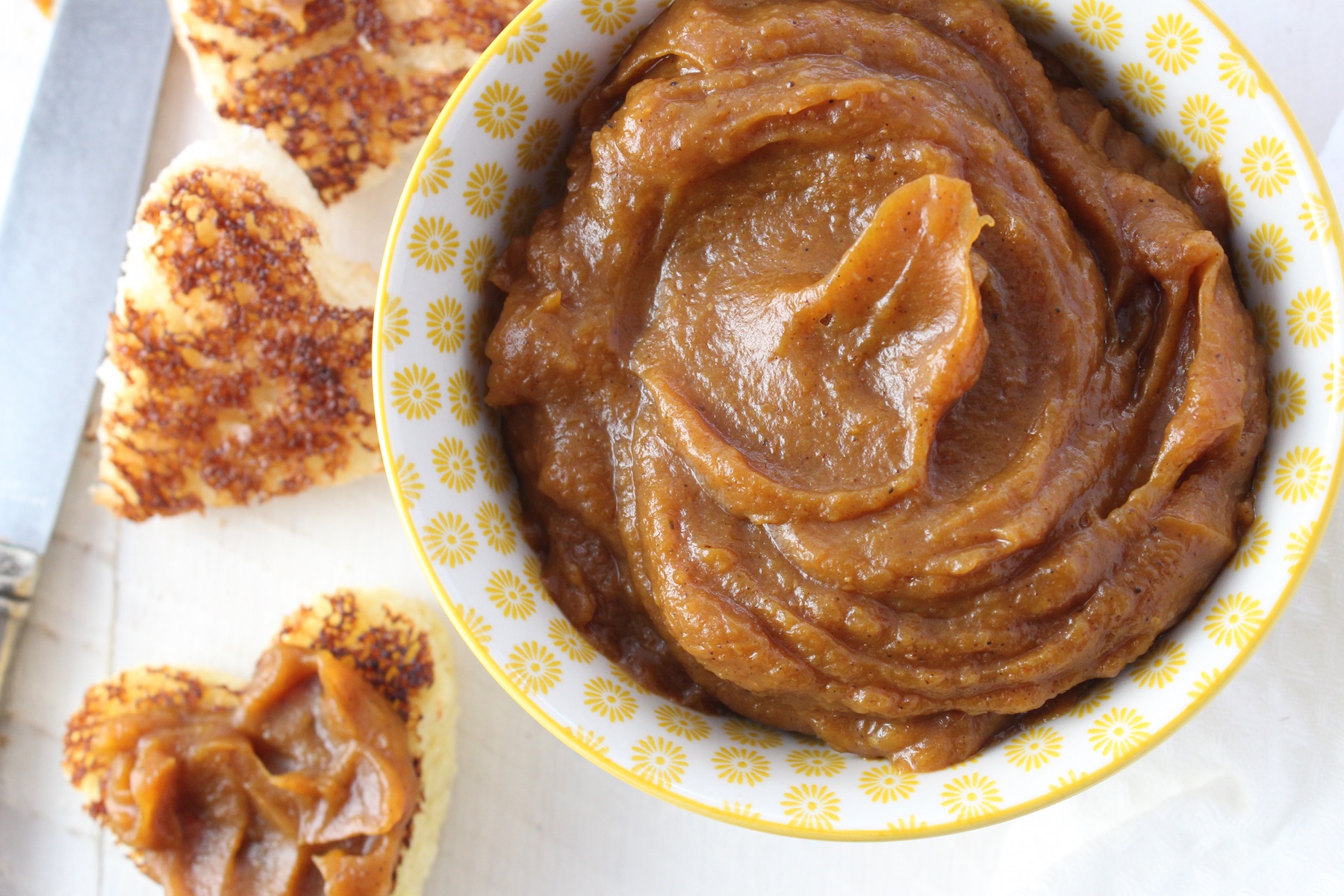 Halloween has come and gone, and the two sugar pumpkins (a.k.a. pie pumpkins) I bought for decoration have been sitting in my kitchen since then. I like to buy the small pumpkins instead of the big ones (perfect for carving) because they're decorative AND edible — their flesh is sweet and firm, not stringy like the carving pumpkins.
Today I roasted them to make puree, then I made pumpkin butter with the puree — easy to do, and a treat that can be incorporated into many dishes, limited only by your imagination. You can spoon this sweet, spicy, jam-like stuff into oatmeal, smear it on toast, spoon it into yogurt, spread it over pancakes/waffles, top dessert bars or cheesecakes with it, blend into milkshakes OR coffee with cream, like a latte. You can even put it in a cute Mason jar, tie it with ribbon and give it to a friend! The pumpkin possibilities are endless.
But it all starts with the puree. . .
Honestly, you can make pumpkin butter with canned pumpkin (not the pie mix, just the puree). But for the freshest taste you can't beat making it yourself. Just cut up the pumpkins, remove the seeds, place on a baking sheet and roast in the oven.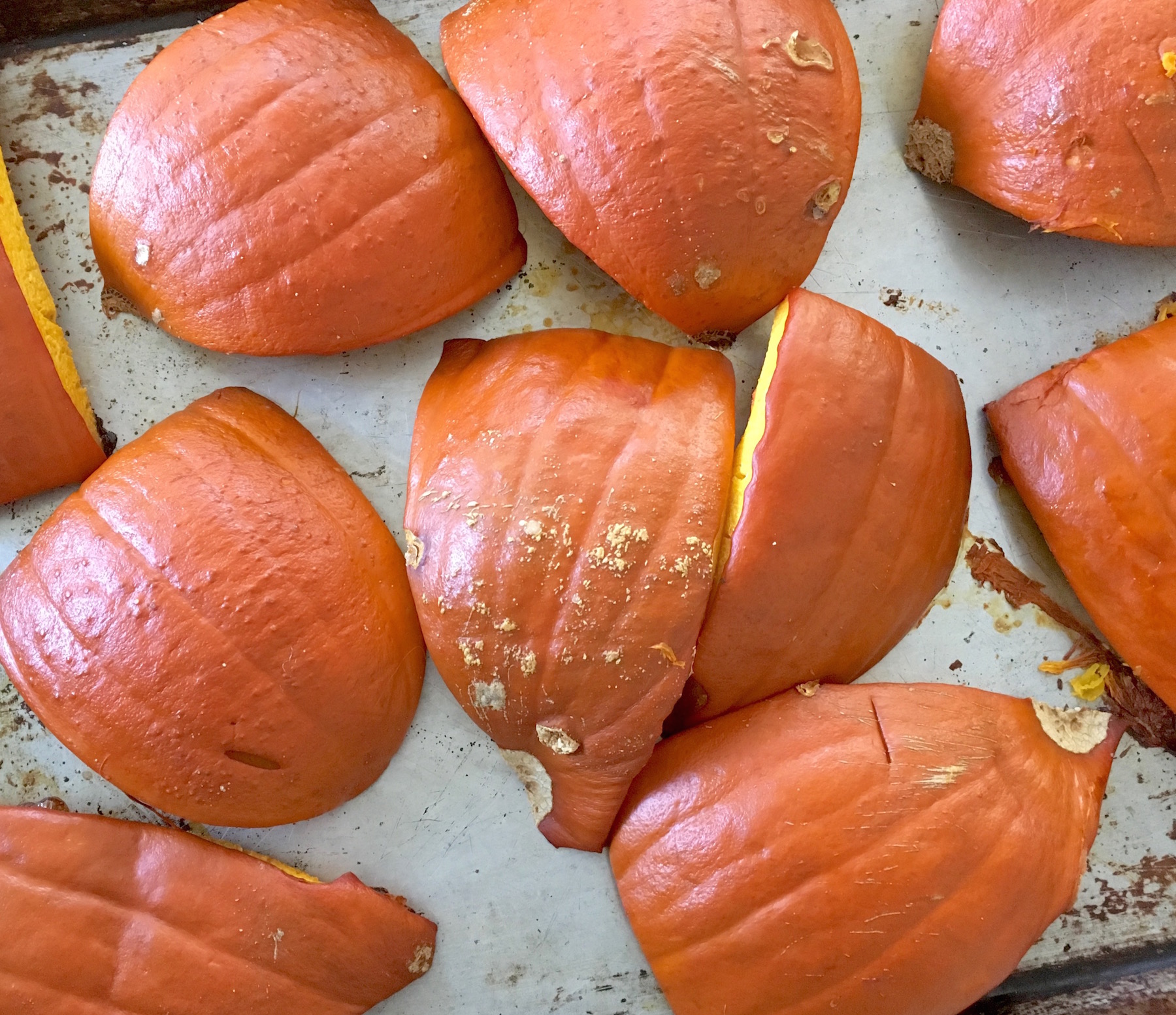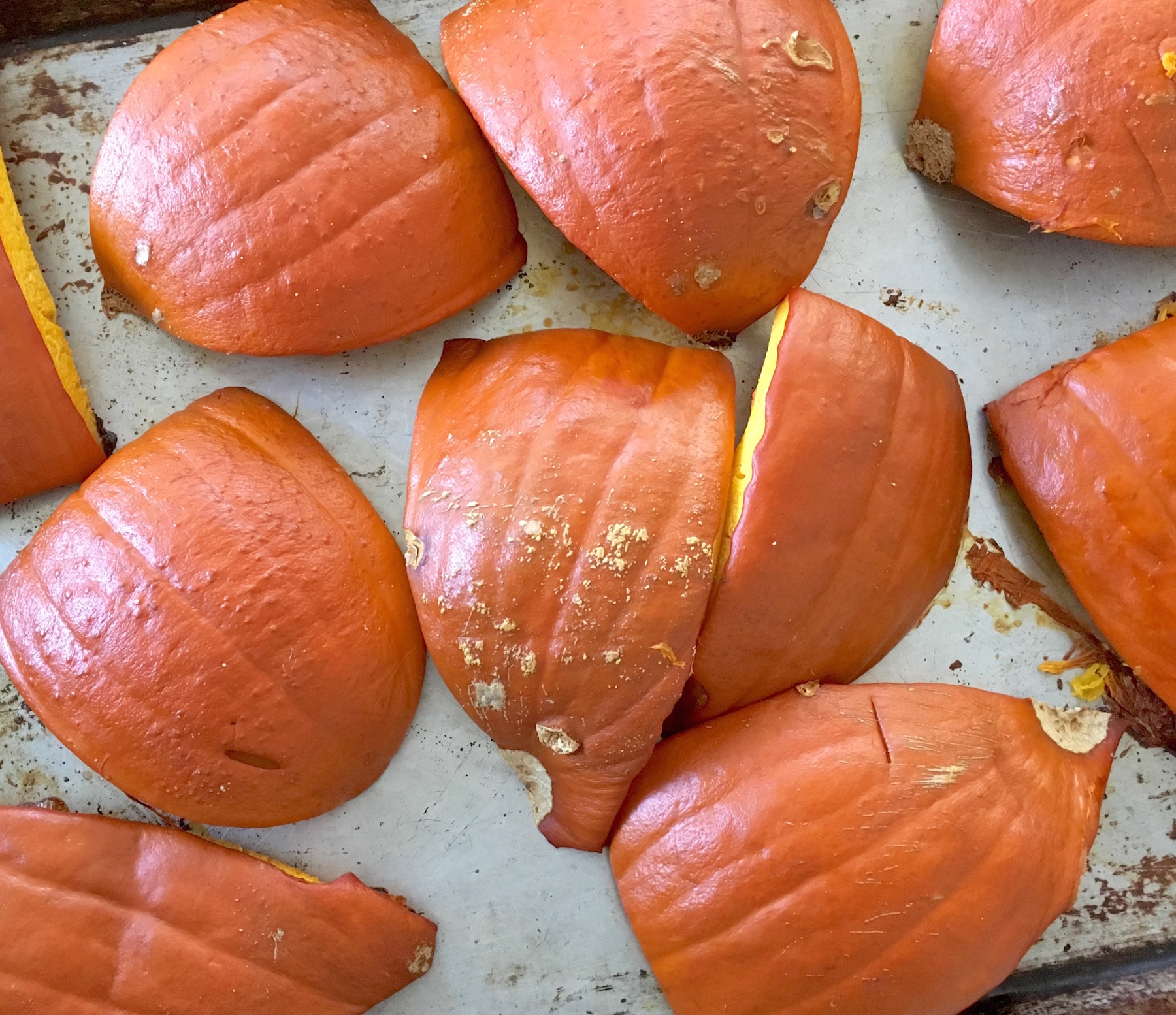 Let 'em cool, spoon the pulp into a food processor, blend until smooth and, voila, you've got pumpkin puree.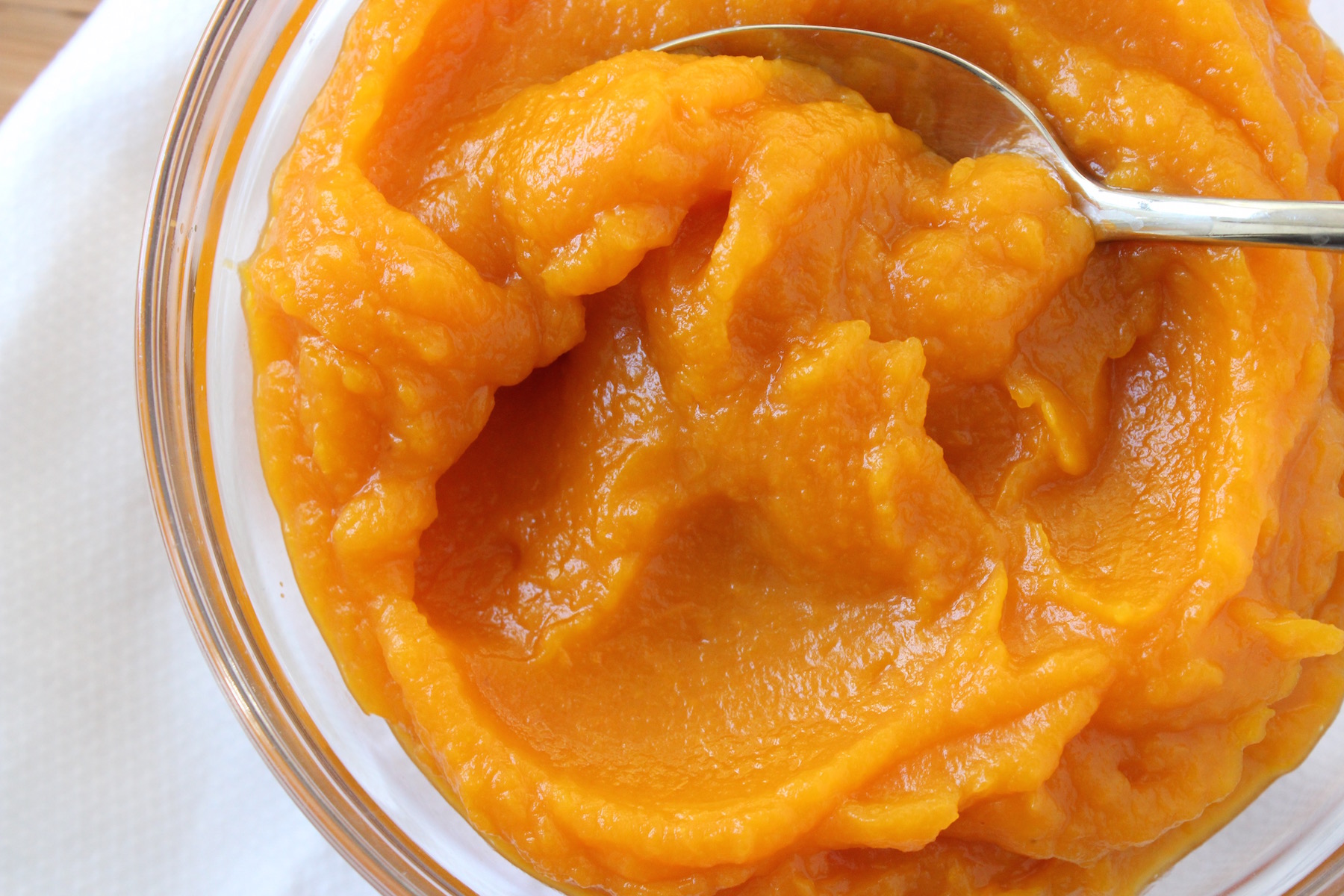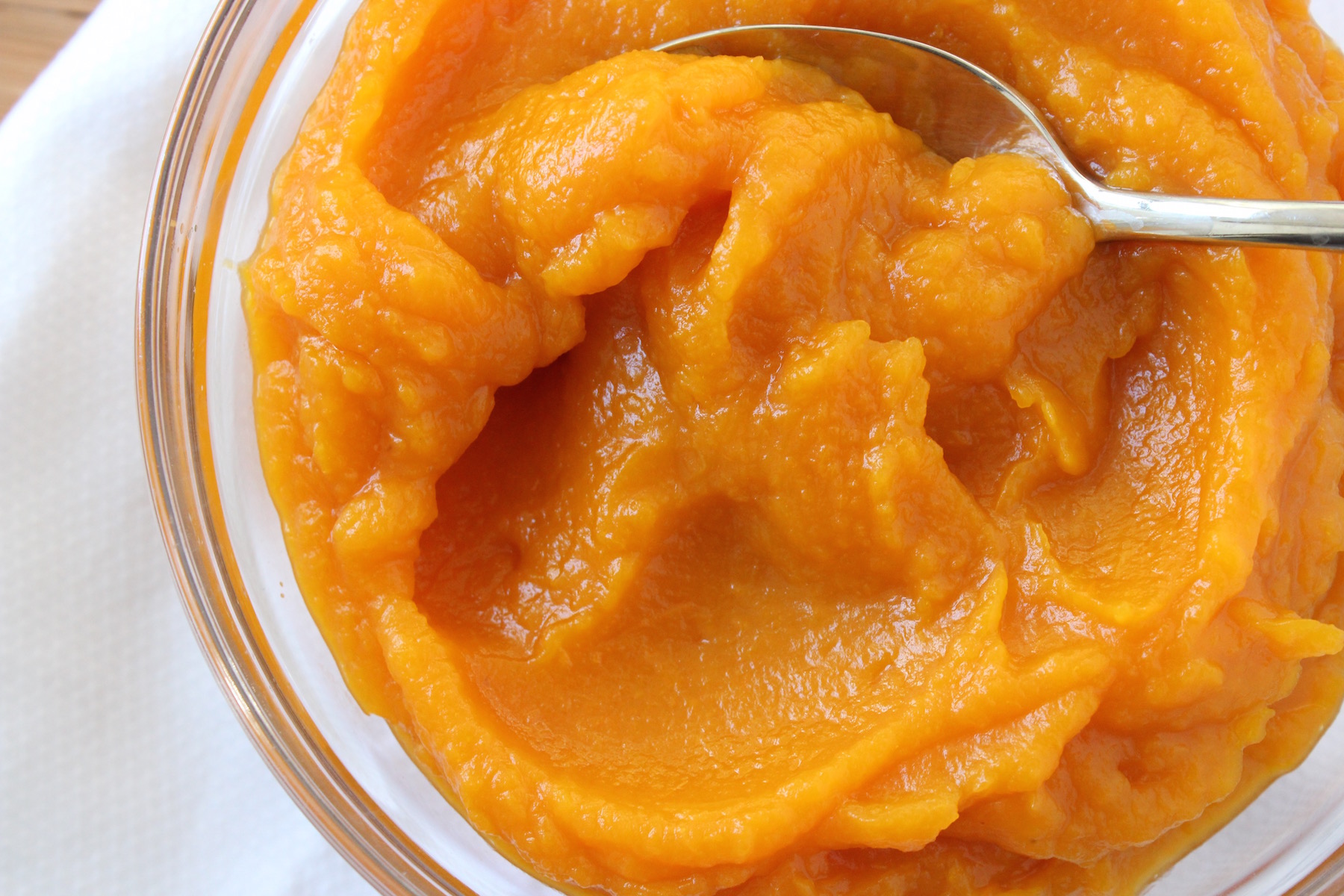 You can use it for this butter, make a holiday pie or, if you're plum out of ideas (or basically, tired of pumpkin altogether), you can freeze it. It keeps well in the freezer so you can use it when the pumpkin craziness is over and you actually want it again.
Just slow simmer ~30 minutes and when it's a rich, caramel color, thick and shiny (kind of like jam), it's ready. The added benefit is that your house smells divine, and nothing screams HOLIDAYS like the aromas of cinnamon, nutmeg and ginger 🙂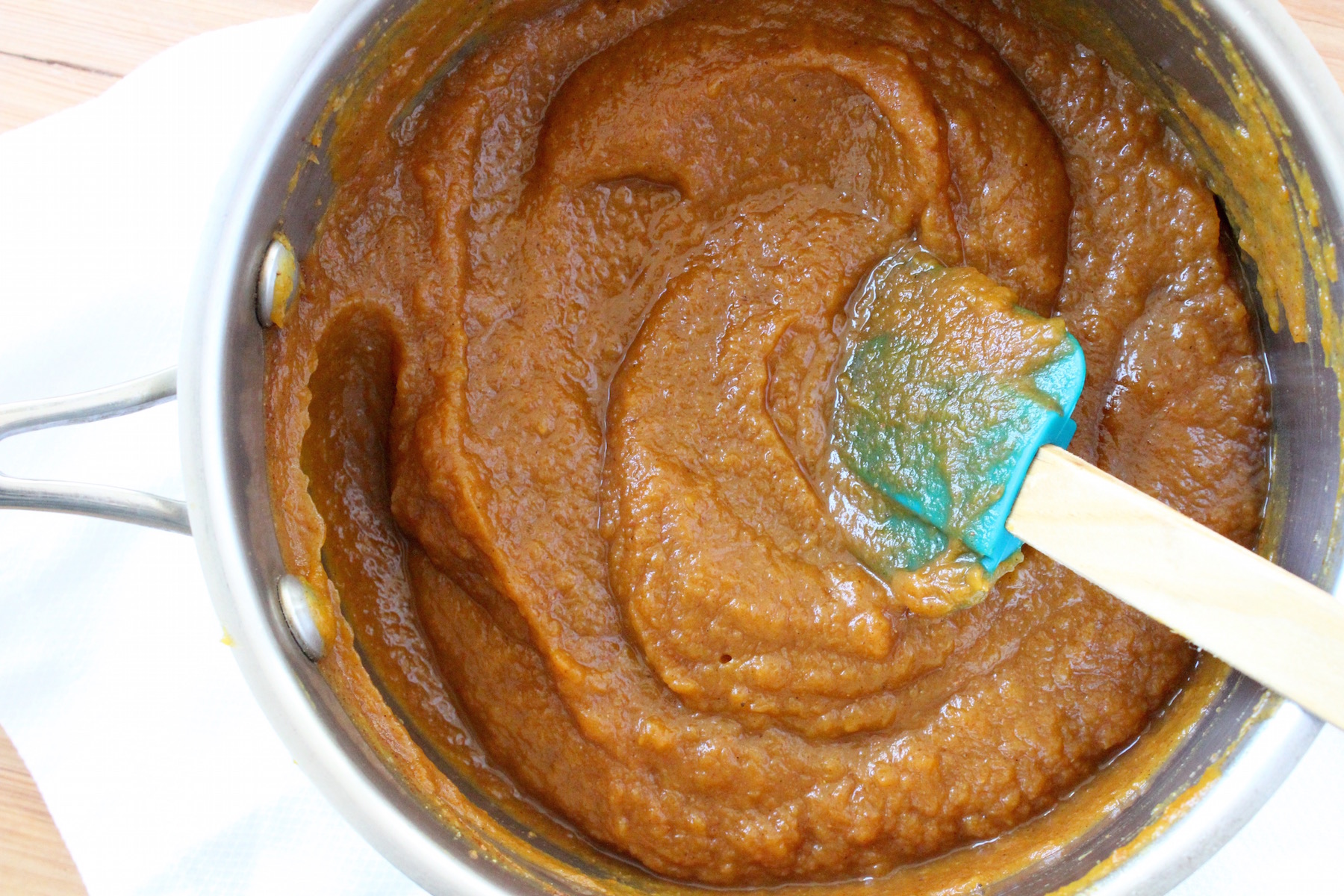 I like mine on little brioche toasts. But, really, it's good on just about anything 🙂
Homemade Pumpkin Butter
Fresh pumpkin puree transforms into butter when heated with yummy spices.
Author:
My Delicious Blog
Ingredients
2 Sugar/Pie Pumpkins (enough to make 3 c. of puree)
1 tsp. vanilla extract
½ c. apple cider
½ c. packed light brown sugar
¼ c. pure maple syrup
1 tsp. ground cinnamon
1 tsp. ground ginger
¾ tsp. ground nutmeg
½ tsp. ground allspice
Juice of ½ lemon
Pinch kosher salt
Instructions
Heat oven to 375 degrees.
Cut pumpkins in half and scoop out seeds. Cut the halves in half so you have quarters. Place all pieces, flesh side down, on a baking sheet. Roast 40-50 minutes or until a fork inserted comes out clean. Remove from oven and cool at least 15 minutes.
Scoop out flesh from each piece and transfer to a food processor; process until smooth.
Add puree and remaining ingredients into a heavy-bottom saucepan. Whisk to combine.
Bring to a boil, then reduce to low and simmer 30-40 minutes, until mixture is dark brown and thick.
Cool, then transfer to a container with a tight-fitting lid.
Notes
1) 2 small pumpkins should yield about 3 cups of puree.

2) if you don't actually have pumpkins in your house, and you'd like to make puree from scratch, you can still find lots of the small pumpkins at farmers markets and supermarkets this time of year.