(
Field Trip Fridays
capture interesting, fun, food-related and/or fishing adventures that I like to share with you!
) My hubby and I took a drive to Tampa with our dog Libby, who simply adores car rides. We headed to a place that's only open on
Sunday
mornings so, while this doesn't officially qualify as a "Field Trip
Friday
" it's a great field trip, nonetheless! So, what IS this place? It's Wat Mongkolratanaram, also known as "The Wat." In Thailand, a Wat is a Buddhist Temple, an enclosure that separates it from the secular world. This one is a Theraveda Temple used for religious ceremonies, Buddhist teachings, and meditation.  It was established in Tampa in 1981, and Monks continue to reside in quarters on the property. It borders the Palm River – a lovely, tree-filled spot, with orchids tucked into just about every nook and cranny, where you can watch scullers go by and enjoy beautiful scenery. But what drew me to the place was the weekly
Sunday Market
 held 8:30 a.m. to 1:00 pm. It started around 1987 designed to bring the community together, sharing Buddhist teachings, offering fresh produce/vegetable/fruit trees, and selling authentic Thai food made by Temple volunteers. Folks at The Wat welcome everyone, Buddhist or not – and that includes dogs! (
Note: Sunday Market is CASH ONLY, so be prepared.  Prices are reasonable, and whatever you pay is considered a donation to the Temple.
) If you're hungry when you arrive, head to the covered food service deck and get in line for something (each station denotes what's available) because some vendors sell out quickly. 1) Noodle Soup (Guiteow) is VERY popular, so there's a long, winding line leading to it. These folks move fast, so be ready to select beef, pork or vegetarian broth, 'regular' (wide) noodles or rice noodles, in a small or large bowl. I tried the small pork with regular noodles – chock full of lovely broth, bean sprouts, fresh herbs, scallions, sliced pork and some sort of meatball (not the best thing I've ever eaten, but good when you're hungry).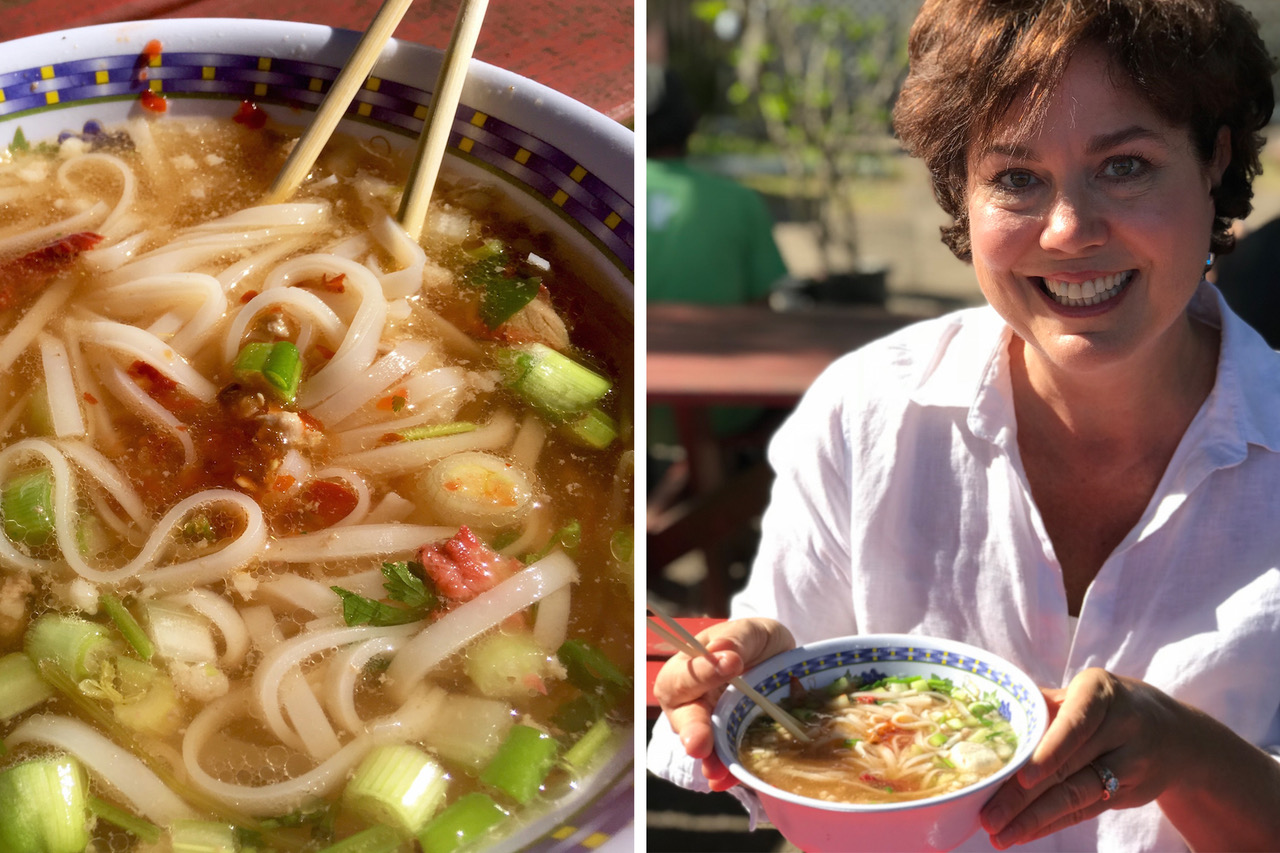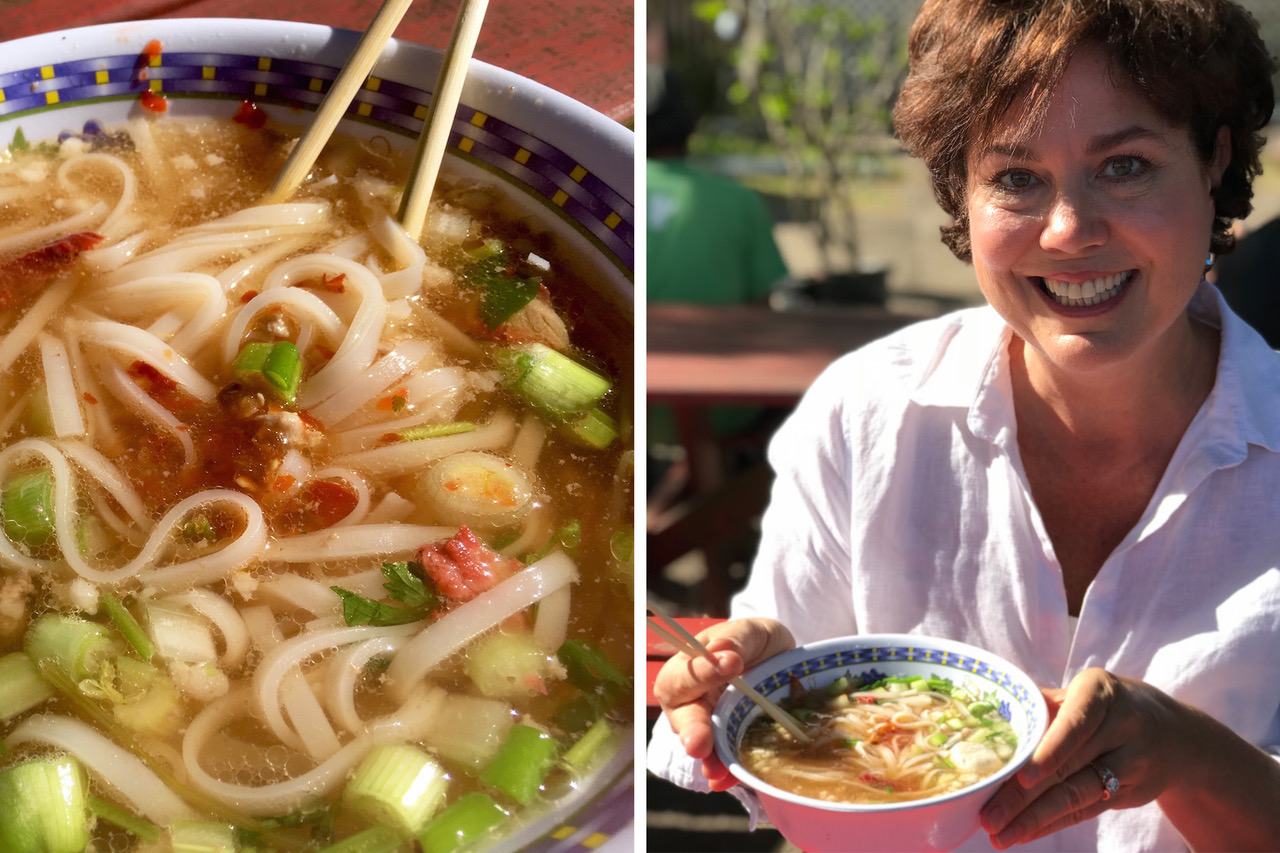 2) The Fried area is piled high with bananas, taro root, sweet potato and egg rolls — you'll walk away with a good sized paper bag filled with hot, fried items, and maybe even a bellyache, but they're tasty treats you don't get often. 3) The Curries & Pad Thai spot is very popular — you'll find Som Dom (Thai papaya salad, spicy or mild), Phat Thai (vegetables and noodles), and chicken curry dishes – locals told me they sell out quickly, too, so get there early. 4) There are many Thai dessert options, including fresh mango with sticky rice and coconut milk (but don't ask the vendor if he offers a half serving. . .he doesn't). 5) If it's too busy on the upper deck, head to the ground level for the guy selling "Grilled Chicken" — he's got meats on sticks, sticky rice with fresh mango, steamed dumplings and more (I think he handles overflow traffic). Here are some of the guys prepping behind the scenes – a 'frying shack' to be exact, on the back side of the property. Wood-fired woks filled with oil churn out egg rolls, bananas and taro root and it all smelled awesome.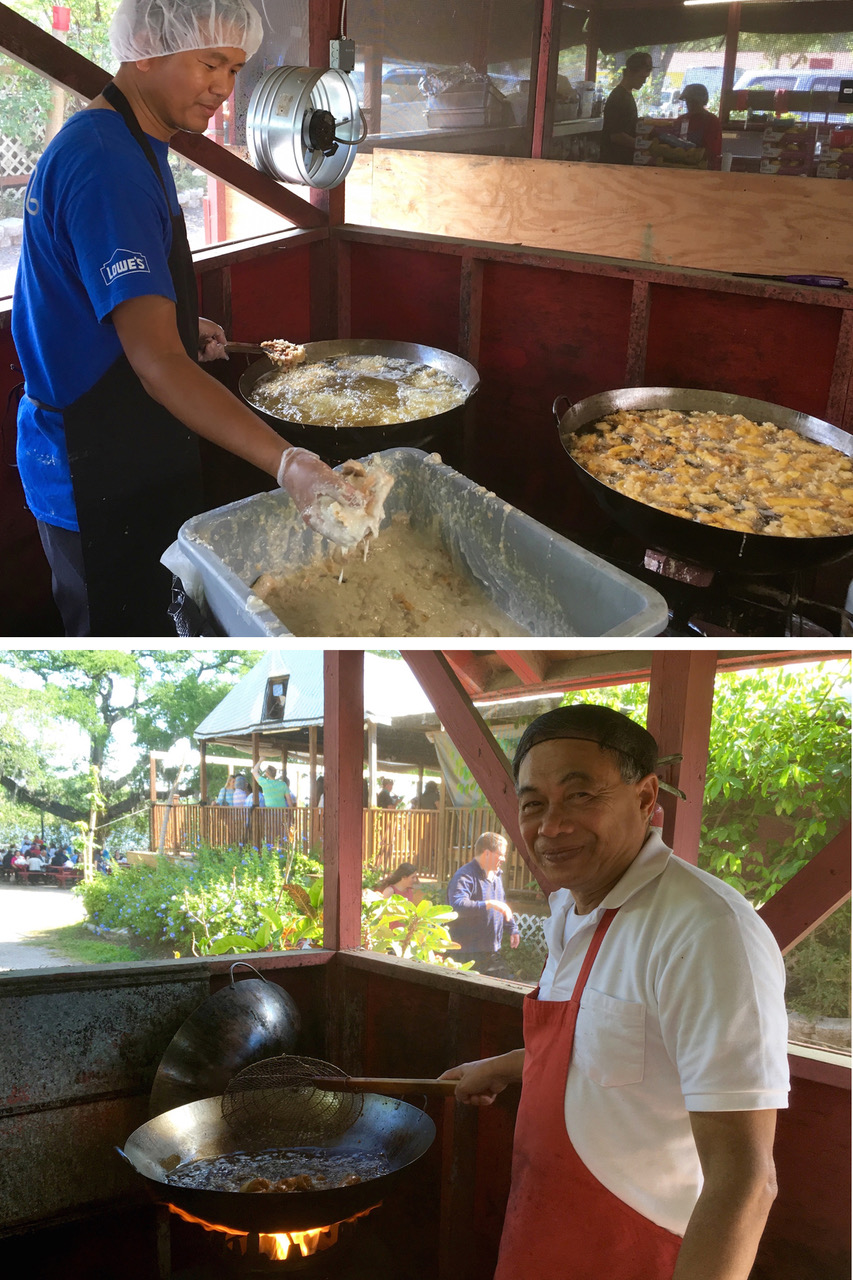 We enjoyed our treats in the picnic area under shady trees, where people and dogs co-mingle. Libby made friends with every dog, even the big ones, and managed to stay
pretty
well-behaved.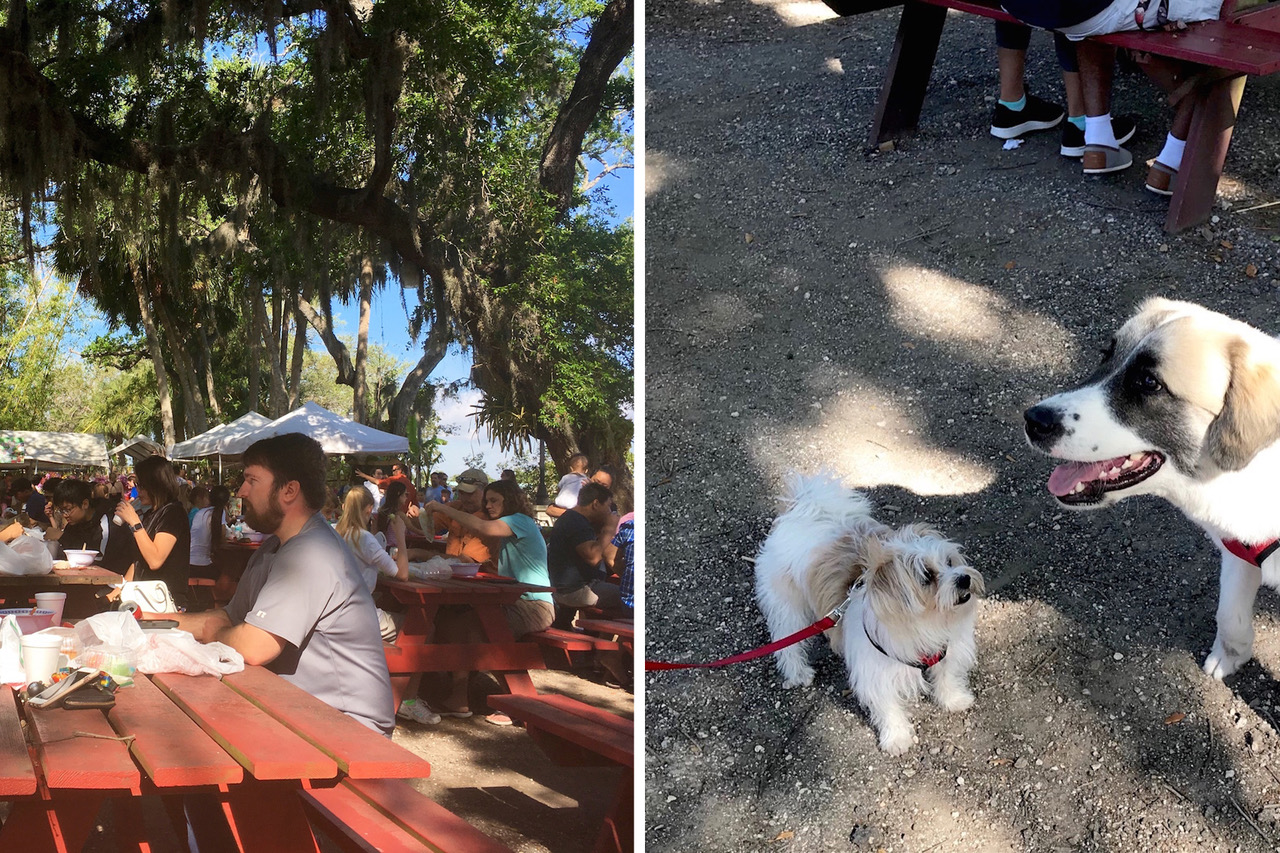 We strolled over to the pier/boat dock and spotted a huge school of catfish who looked quite well-fed:
As we wandered, we saw many interesting statues, including these awesome dragons — I think they sometimes flank the back of the Temple, but on this day were perched near the water: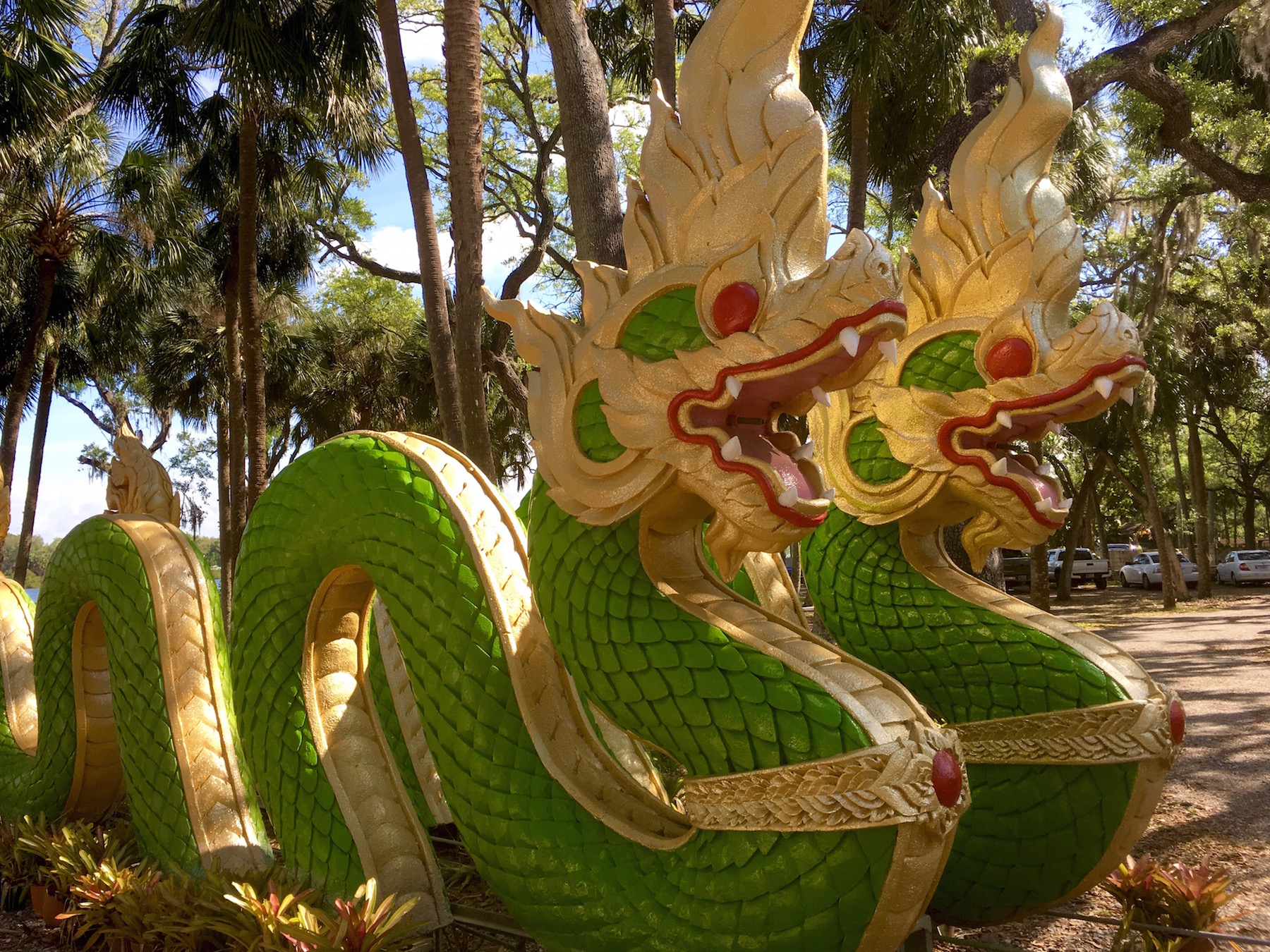 Near the picnic area is an orchid vendor — a must see spot.  A gal named Marta and her family grow them near Lakeland and sell them at the Market.  It's a colorful feast for the eyes, with potted orchids, fruit/vegetable trees, and buckets of gorgeous orchid stems. Tucked in the back, you'll also find a table offering fresh Thai vegetables and spices, like galangal, turmeric, ginger, lemongrass, and more.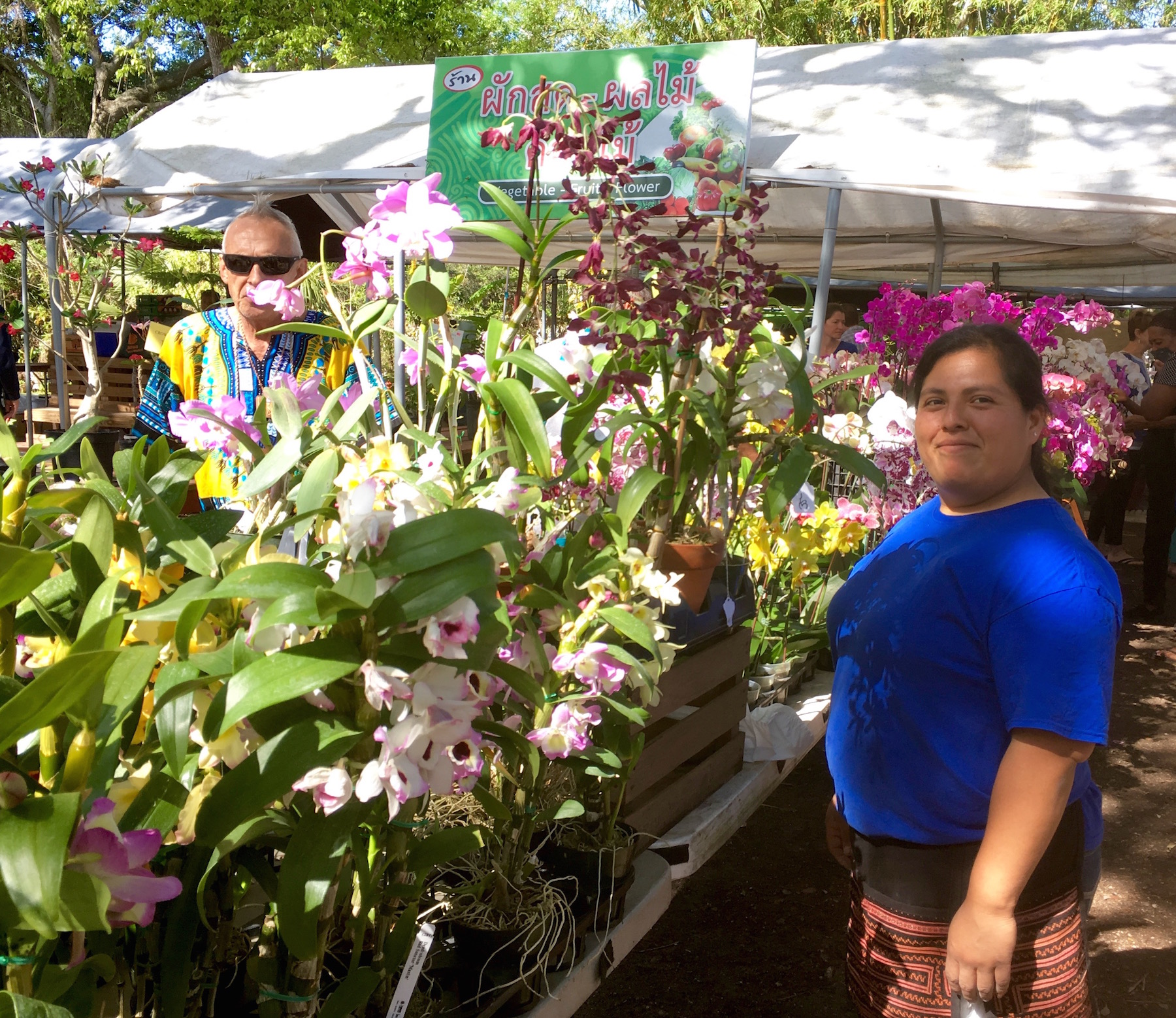 The Temple itself is beautiful and ornate, and you're encouraged to go inside. There are guidelines before heading in, though, like removing shoes, wearing appropriate clothes and being quiet, out of respect. You can sit and meditate if you wish during Market hours OR participate in the religious service that runs 1:00-2:00 pm — a time for chanting, sermon and meditation.
So, if you're looking for something fun to do on a Sunday morning, head to
The Wat
for tasty Thai treats, beautiful scenery, fellowship, and maybe even a little zen. . . As Buddha said "
Every morning we are born again. What we do today is what matters most
."