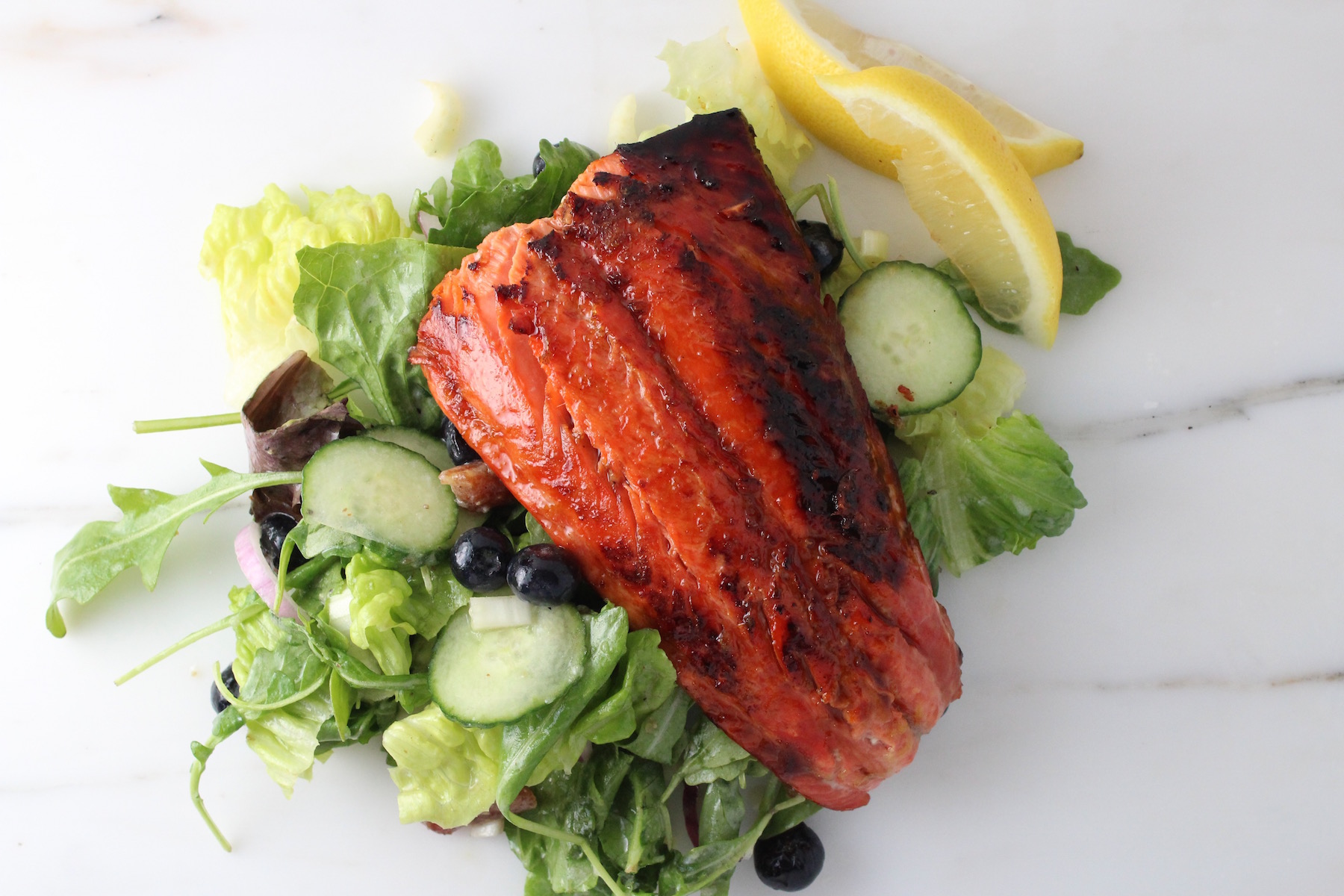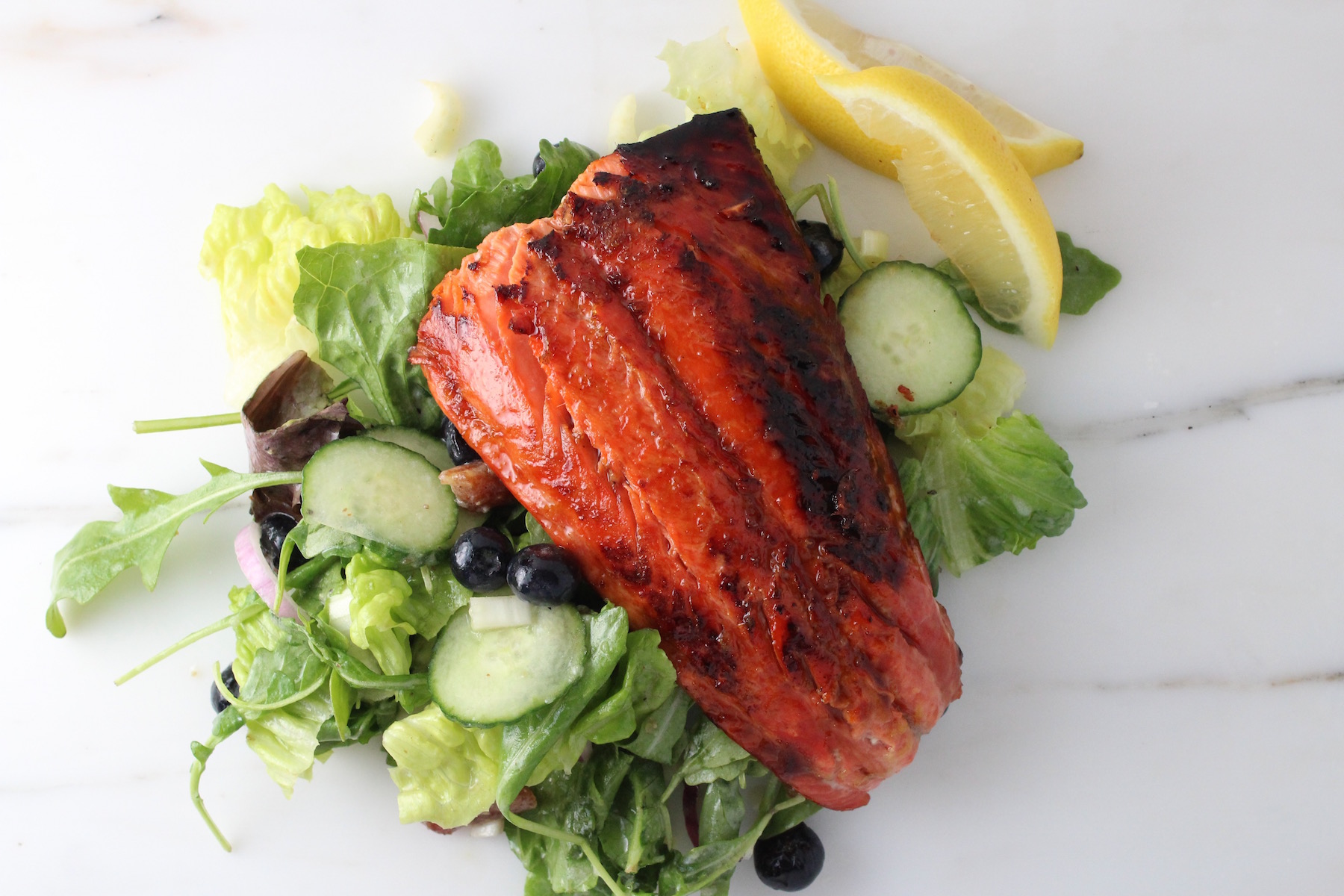 I'm fortunate to have access to a lot of great fish, but there's one I can't catch myself — salmon. Because it's so good for us, and so tasty, I try to serve it at least once a week, so I'm always trying new ways of cooking it.
I recently picked up some fresh Alaskan Sockeye Salmon fillets, available late June through early August. If you've seen Sockeye, you know it's not your typical salmon — it's distinguished by its deep, bright, orange-red flesh. When cooked, it's dense, full-flavored, flaky and delicious. It's also a pretty sturdy fish that works well in a variety of cooking methods, including direct-grilling. Some say it has too strong a flavor for their tastes, but I love it. I also like to buy my fillets with the skin on because I think that retains more flavor (and it's easy enough to peel off the skin after cooking).
I've tried several cooking preparations for salmon, but tend to stick with searing it in a hot cast iron pan, outside on the grill (to avoid a 'fishy' smell in the house). For this Sockeye, I wanted to try something a little different that might even reduce some of that 'stronger' flavor profile. One method I've always wanted to try is sugar-curing, typically used for gravlax, which entails keeping the fish in a dry rub for several days. Since I only had 2 hours before dinnertime, and my better half was already saying he was starving, I had to modify my wish list and work pretty quickly 🙂
With limited time, I decided to experiment by sugar-curing for only one hour, then searing the fillets in a hot skillet on the grill.
It was sort of like a science experiment, waiting for signs that the sugar solution was working its magic. Soon after I spread it on the fillets, moisture started seeping out of the fillets. How exciting!  Look how pretty they are: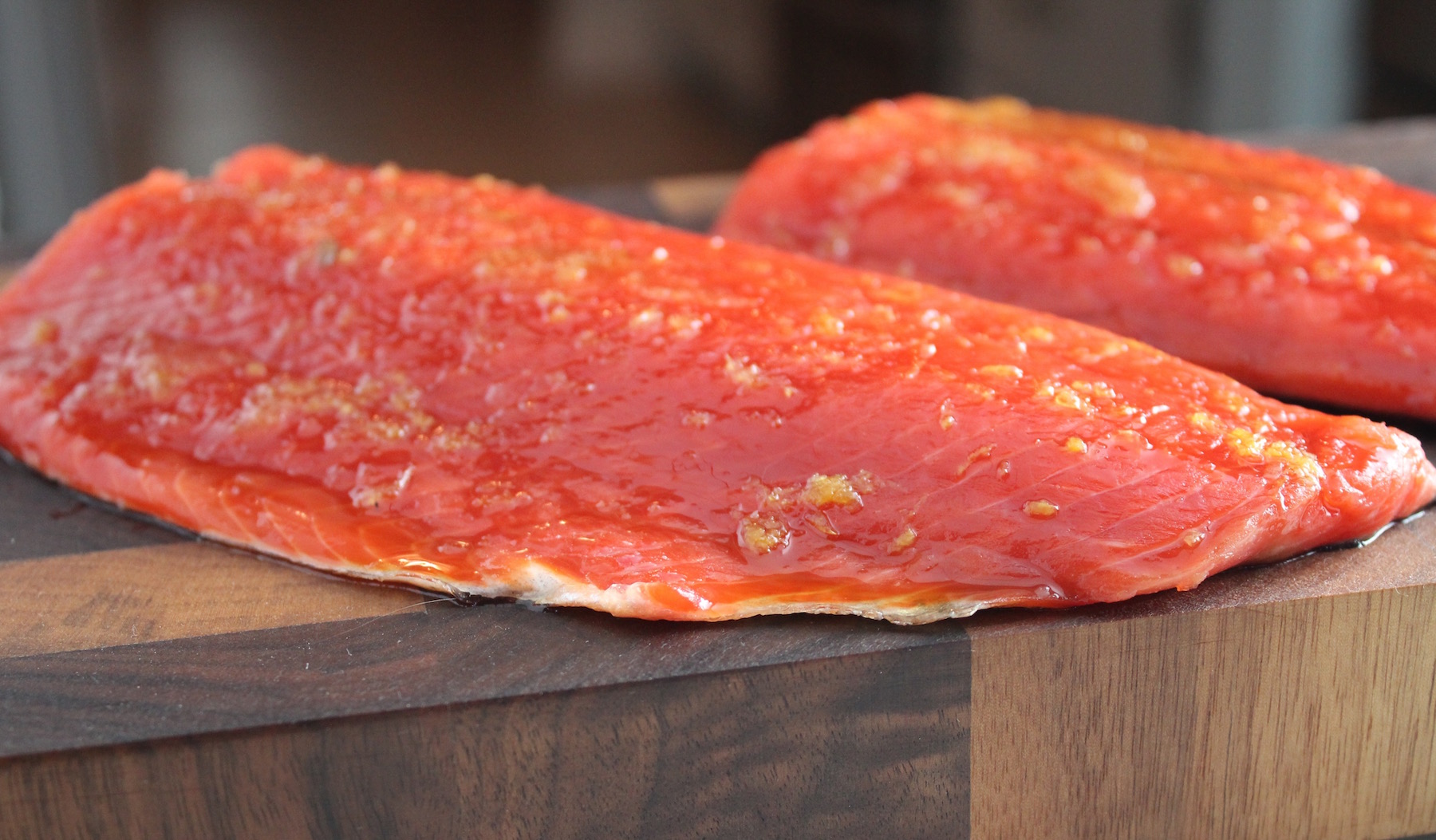 After removing the fillets from the refrigerator, I patted them almost dry, heated my cast iron pan and tossed them in, flesh side down. After a couple of minutes, I flipped them and cooked for  a few more minutes (since they weren't very thick).
Results? A success, I must say. The cooked fish had a slightly drier and firmer texture (due to the partial 'curing'), and it was flaky and flavorful. As a bonus, because I didn't rinse my fillets before cooking, the side that still held some sugar caramelized a bit, making it even more tasty. Unfortunately, the caramelization made cleanup a little more labor-intensive, but I was happy enough with the results that I'd be willing to try it again.
Time's running short, but I hope you can still get your hands on this salmon. If you miss your window this year, you can put it on your calendar to try it next summer 🙂

Sugar-Lemon "Cured" Sockeye Salmon
Sockeye salmon is extra delicious in this 'cured' mixture.
Author:
My Delicious Blog
Ingredients
For the Salmon:
2 Sockeye Salmon fillets (about 1 lb. total)
¼ c. brown sugar
1 Tb. lemon zest (about one lemon)
⅛ tsp. crushed red pepper
½ tsp. kosher salt
1 tps. olive oil or coconut oil
For the Salad:
3 c. fresh baby greens (or any lettuce you have on hand)
½ c. fresh blueberries
½ c. celery, chopped
½ c. English cucumber, sliced
2 Tb. red onion, sliced thinly
¼ c. Medjool dates, chopped (or dried cranberries or golden raisins)
For the Garlicky Orange Dressing:
¼ c. fresh orange juice
1 Tb. fresh lemon juice
1 small clove garlic, peeled & grated
1 tsp. honey
2 Tb. olive oil
¼ tsp. kosher salt
⅛ tsp. freshly ground black pepper
1 Tb. low-fat plain yogurt
Instructions
In a deep dish, place fillets skin-side down.
In a small mixing bowl, combine sugar, lemon zest, crushed red pepper and salt.
Cover fillets with sugar mixture. Allow to sit at room temperature 10 minutes, then refrigerate 1 hour.
While waiting, prepare the Garlicky Orange Dressing by whisking together all ingredients, then refrigerating until ready to use.
Remove fish from refrigerator and pat each fillet with a paper towel to remove excess moisture.
Heat cast iron skillet to medium/high on grill. Add oil then drop in fish, flesh side down. After a couple of minutes, flip and cook on skin side for another 2-3 minutes. (You could also start skin-side down and simply leave it there until cooked through).
Remove from pan and allow to sit for a couple of minutes before serving.
Remove skin and serve over dressed salad.