(Field Trip Fridays capture interesting, fun, food-related and/or fishing adventures that I like to share with you.)
Gleaning is kind of a funny word for such a meaningful task. It's the process of picking crops in a field that has already been harvested, dating back to the Old Testament, when farmers were told to leave the "edges" of their fields for the poor, orphans, widows and travelers.  And it has made a comeback at a time when concerns about the national "food insecure" population have come to the forefront. This ancient practice not only brings us back to our roots in caring for the community in which we live, but also allows farmers to share what would otherwise be tilled back into the soil, or possibly wasted. In addition, farmers receive a tax deduction for the market value of the produce gleaners harvest from their farms, which helps them continue doing what they do well.
Beautiful, usable produce gets left behind for several reasons: 1) machine harvesting misses a lot, 2) rotating crop cycles may result in produce not ready to pick by a scheduled market day so it waits until the next one, which could be beyond its ideal picking date, 3) there may simply be too much supply and not enough demand for it. For whatever reason, gleaning is a great way to get healthy food to those who will benefit from it.
Locally, the Suncoast Gleaning Project is organized by Transition Sarasota, which oversees the current partnership between Jessica's Organic Farm and All Faiths Food Bank (AFFB). Weekly, from late October through May, volunteers glean produce at the farm, which is then picked up by AFFB and distributed via their mobile farm market (Sprout) from Sarasota to DeSoto counties. The pieces are carefully selected and standards are in place to ensure that only quality produce is distributed to the population served.
I recently tried my first gleaning experience, armed with bug spray, gloves, sunglasses, hat, water, sunscreen and old sneakers (although, I think rubber boots would work better next time!). I was joined by retirees, students, and moms with cute little kiddos. Some looked like 'seasoned' gleaners, others were first-timers, like me, but we all shared a special experience.  The folks at Jessica's gave us lots of information about their crop schedule and planting specifics, as well as, a tour of each bed, including how to carefully select and pick the produce for gleaning. Sometimes there's not much to glean because demand may have been high at the farm's market the prior weekend and, if this happens, organizers email registered gleaners on Sunday night.
On this day we picked Romaine lettuce, cucumbers and some Swiss Chard. Because of their planting rotation schedule, most of the vegetables had just missed their market date, but we didn't pick anything that was starting to go to seed or may have been bitter. It was all beautiful produce that we washed, dried and carefully packed up for AFFB.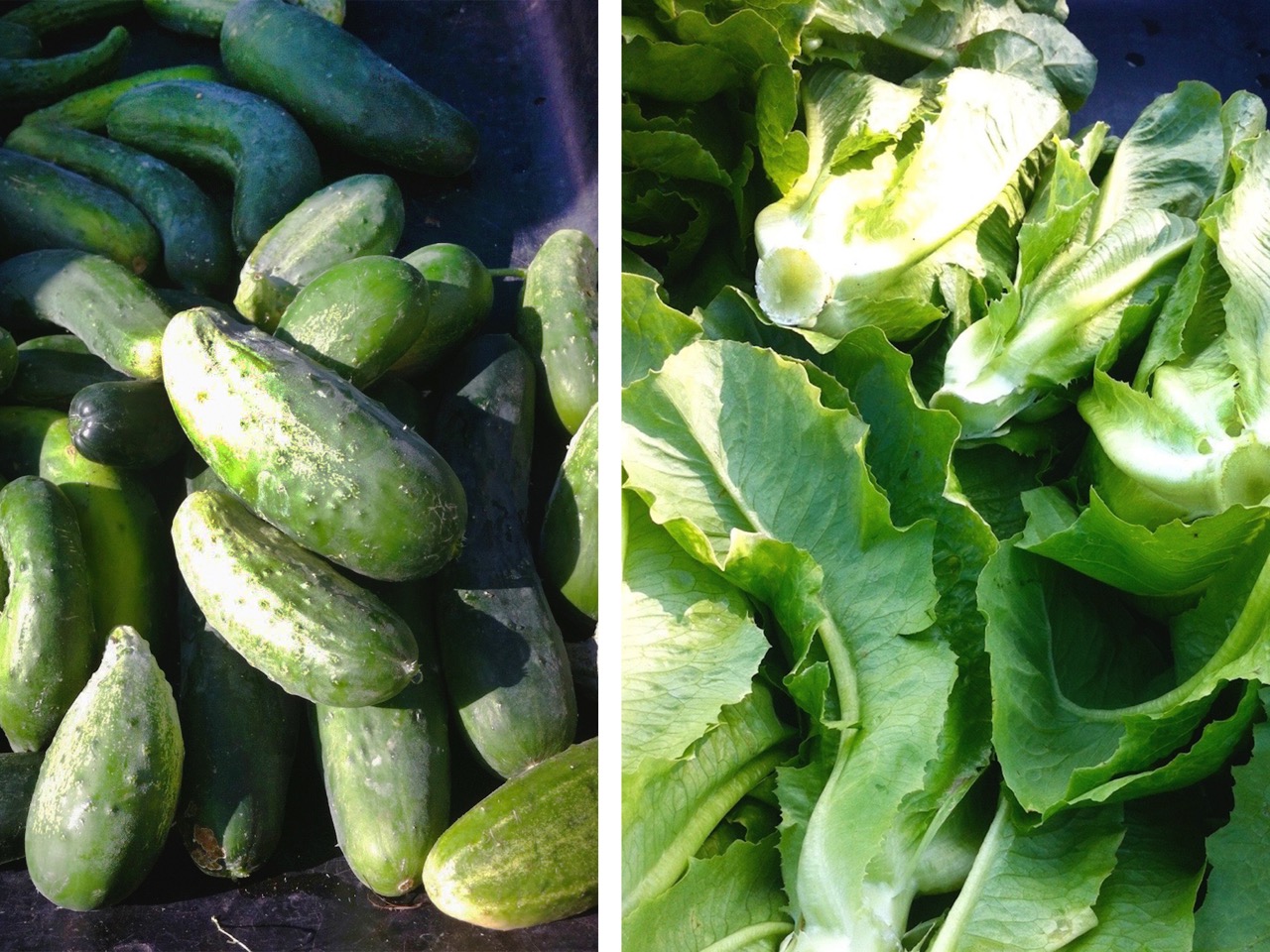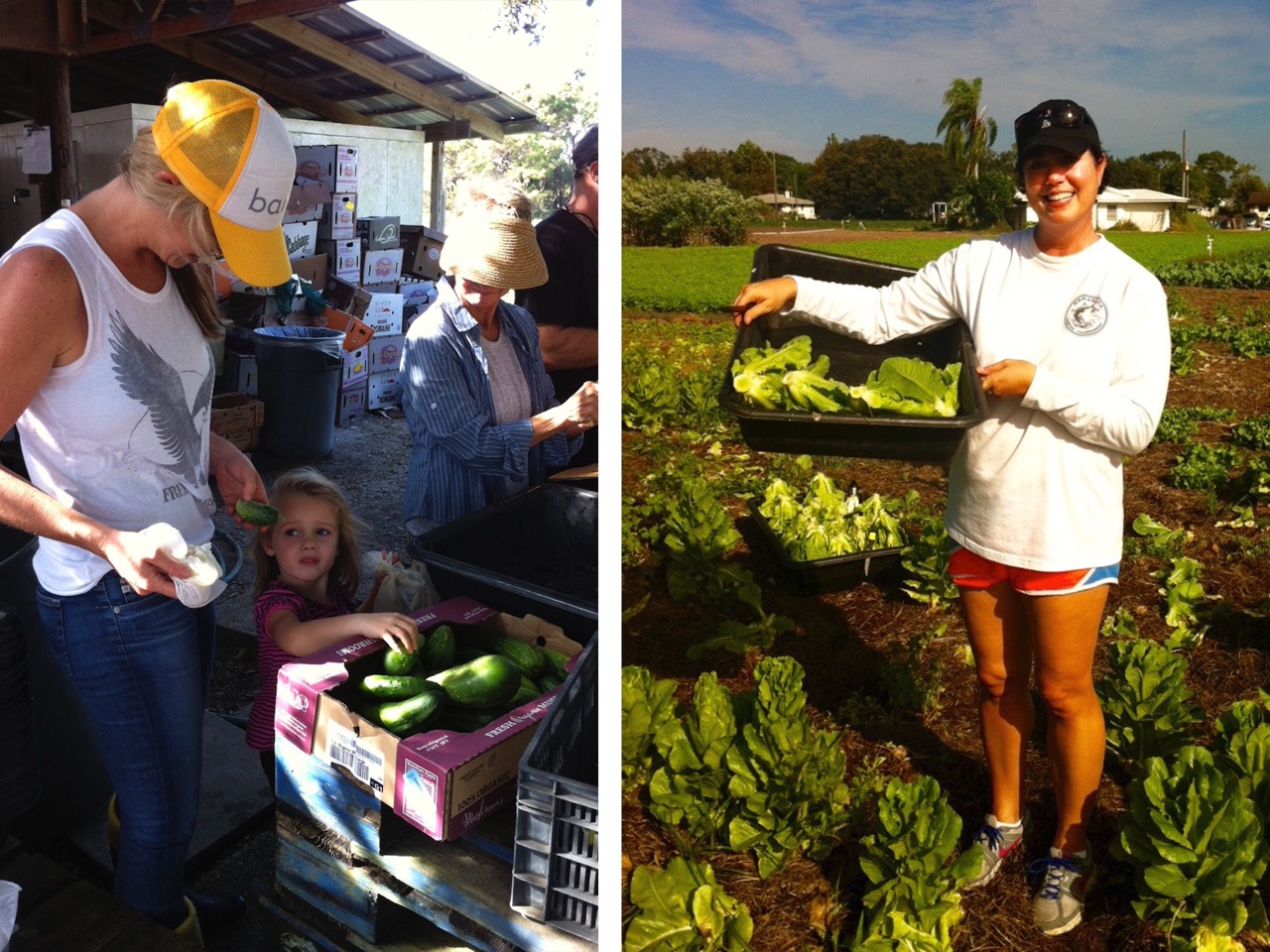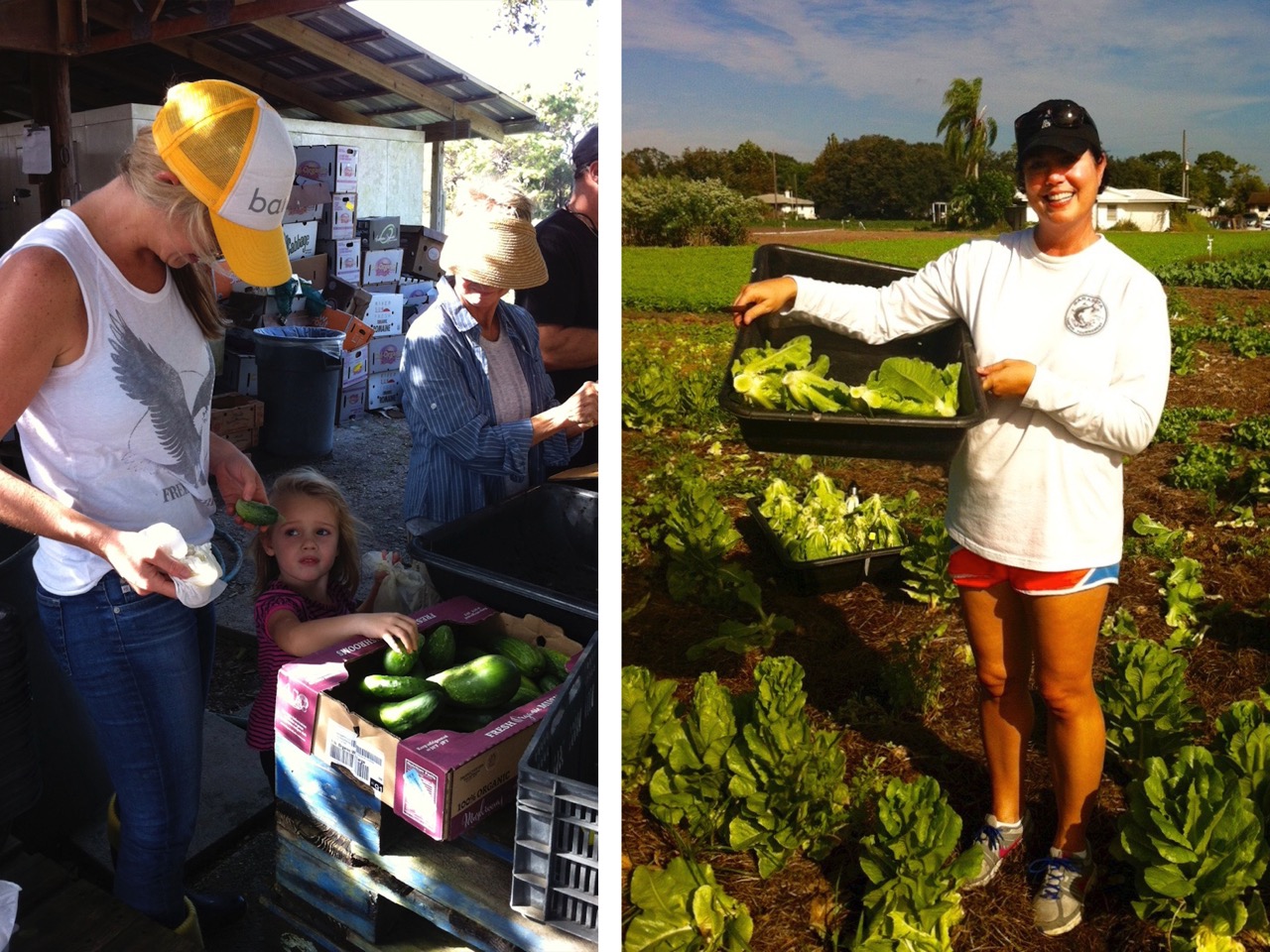 As we wrapped up our session, we each collected a bag of produce as a thank-you for volunteering (I made a delicious vegetable soup with everything I took home). We also learned that whatever was left behind was going to be tilled into the soil to start a new crop, allowing the energy of that passed produce to go back into the soil. The folks at Jessica's live by the guiding principle that nothing goes to waste – whatever they take from the earth, they return — a wonderful concept that we can all embrace 🙂
If you're interested in gleaning in the Sarasota area, check out Transition Sarasota.  For folks outside this area, check with your local community farm or county resources to see if there are any partnerships in your region.