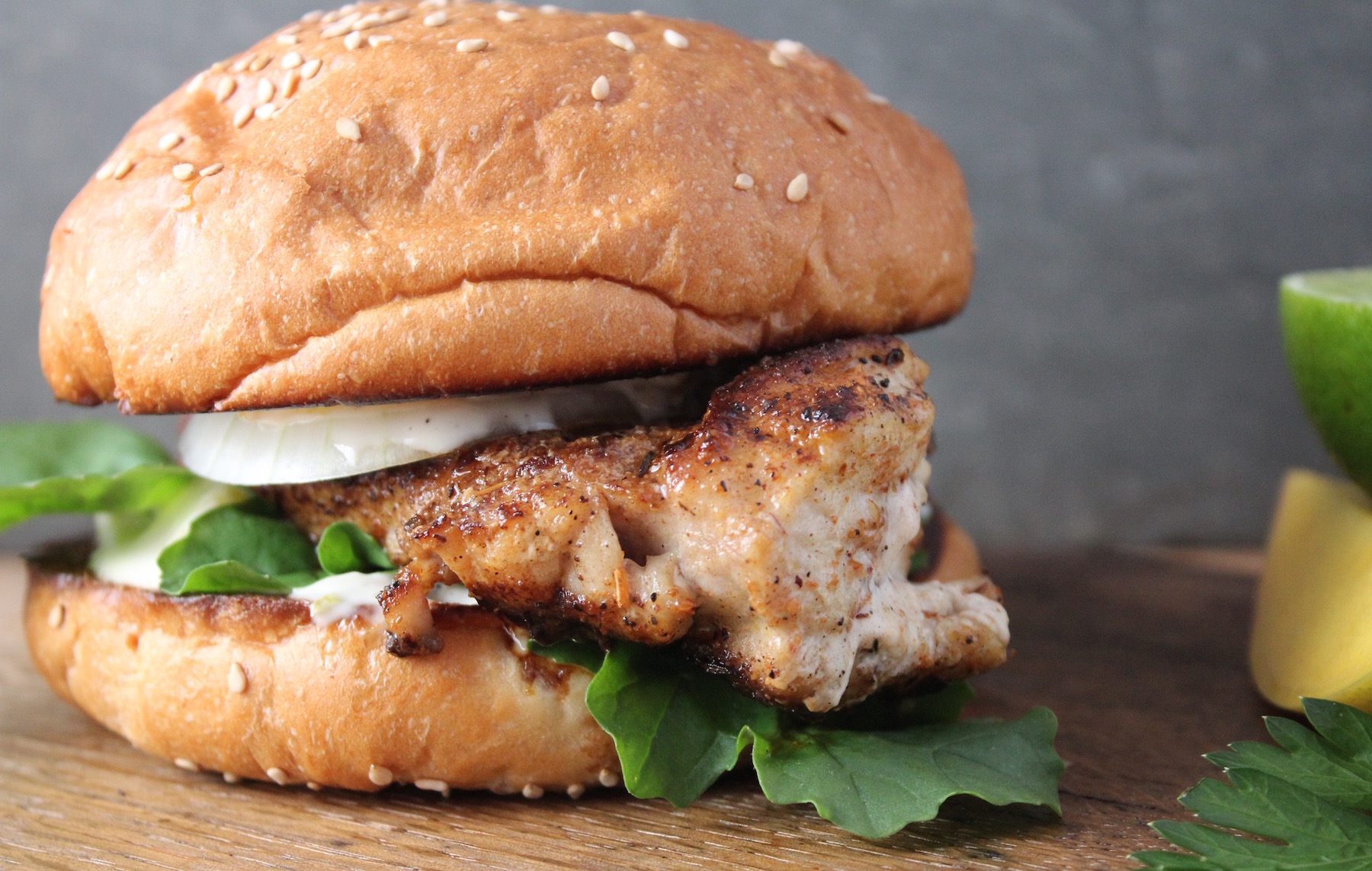 The grouper sandwich.
Blackened, fried, grilled, baked or broiled, it's a classic, must-have sandwich when you visit Florida. It's also something you order when you're lucky enough to live here and you decide to play tourist by heading to a beach-side restaurant, soaking up the sun and sipping a fruity cocktail. I've done it, and I highly recommend you do it, too!
I've had my share of grouper sandwiches at restaurants, but sometimes I like to make one at home. My preference is to cook up fresh fish my husband or I (or maybe our friends) have caught in the Gulf of Mexico – this is absolutely ideal – but when the weather doesn't cooperate, I have to rely on one of our local seafood markets, and that's just what I did this week. (Note: if you need suggestions about markets in the Sarasota area, check out this post I wrote for Visit Sarasota County).
Grouper fillets are white, flaky and mild. They're also sturdy, which means they stand up to a variety of cooking preparations, with great results. For this particular sandwich, I kept the fish prep simple by dusting both sides with blackening seasoning (Paul Prudhomme's is my favorite), pan-searing it in butter, then slapping it onto a toasted bun. But there actually was a little more to it. . .inside that toasted bun I layered flavorful arugula (from my garden, I might add), some crunchy/sweet Vidalia onion and a tasty/tropical flavored mango mayonnaise — a recipe I created for a picnic sandwich in Edible Sarasota (check out the article when you get a chance). This mayo has sweet, juicy mango pieces, lime zest and juice, so it makes a fresh flavor combo alongside the mildly spicy fish.
So let me tell you what you're in for. . .As you bite into that sandwich, you'll first taste the butter-toasted bun, which is crunchy and delicious. Then you'll hit the tropical flavors of that mayo, with hints of zingy lime and sweet pieces of mango that burst in your mouth. Next up you'll taste the sweet, crunchy Vidalia onion pieces sitting atop the warm, tender and spicy fish.  Then you'll hit the slightly bitter flavor of fresh, crunchy arugula.  And last, but not least, a finishing bite of that buttery bun.
Admit it. You want one, don't you?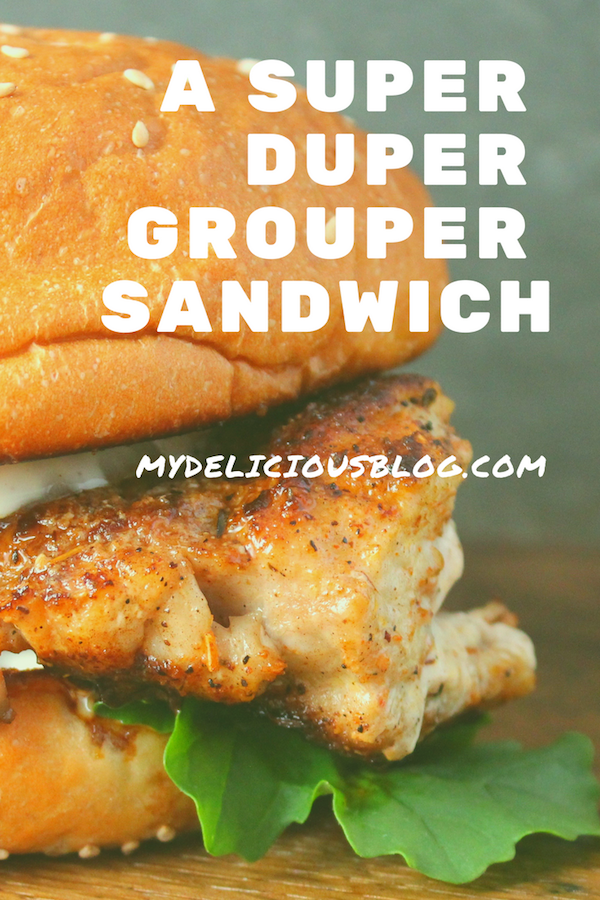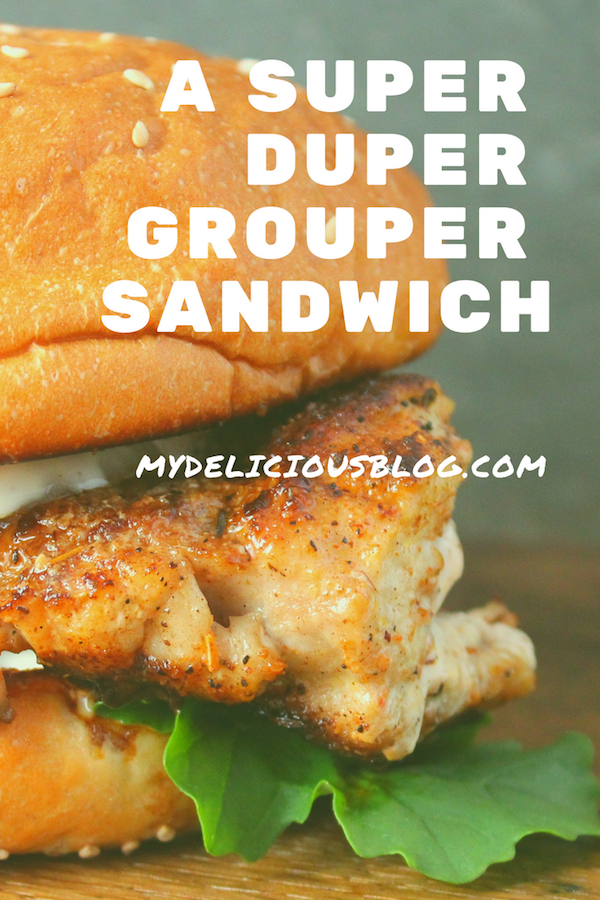 One Tasty Grouper Sandwich
A Grouper sandwich made for fish lovers - seared fish topped with a tasty mango-mayo dressing.
Author:
My Delicious Blog
Ingredients
~1 lb. Grouper, divided into 2 portions
~2 Tb. unsalted butter
Blackening seasoning (to taste)
2 bakery buns, sliced in half
Handful fresh arugula (or crunchy lettuce)
Vidalia onion slices (optional)
Mango Mayonnaise
½ fresh mango, finely chopped
½ lime, zest & juice
Pinch kosher salt
Few grinds fresh black pepper
¼ c. mayonnaise (use more if your lime or mango is super-juicy)
Instructions
In a small bowl combine mango, lime zest & juice, salt and pepper; set aside 10 minutes, then combine with mayonnaise and refrigerate until ready to assemble sandwiches.
In a non-stick skillet over medium heat, add a little butter and toast the buns; remove from pan.
Sprinkle fillets lightly with blackening seasoning.
Over medium heat, add a little more butter to the pan then add fillets. Cook about 3 minutes on first side, then flip. Cook about 1 minute, then reduce heat slightly and cook another 3-4 minutes, depending on thickness of your fillets. (I sometimes lightly cover the pan to allow the fish to steam a bit and retain its moisture). When done, turn off heat and allow the fish to sit in the pan for about a minute before serving.
On the bottom bun, layer some arugula, then the fish and onions. Spread Mango Mayo on the top bun layer, then put it all together and serve immediately,
Notes
If your Grouper fillet is very thick, I suggest butterflying it (simply make a diagonal cut lengthwise, but don't go all the way through, then flatten the fillet with your hand). It will cook more quickly and evenly.