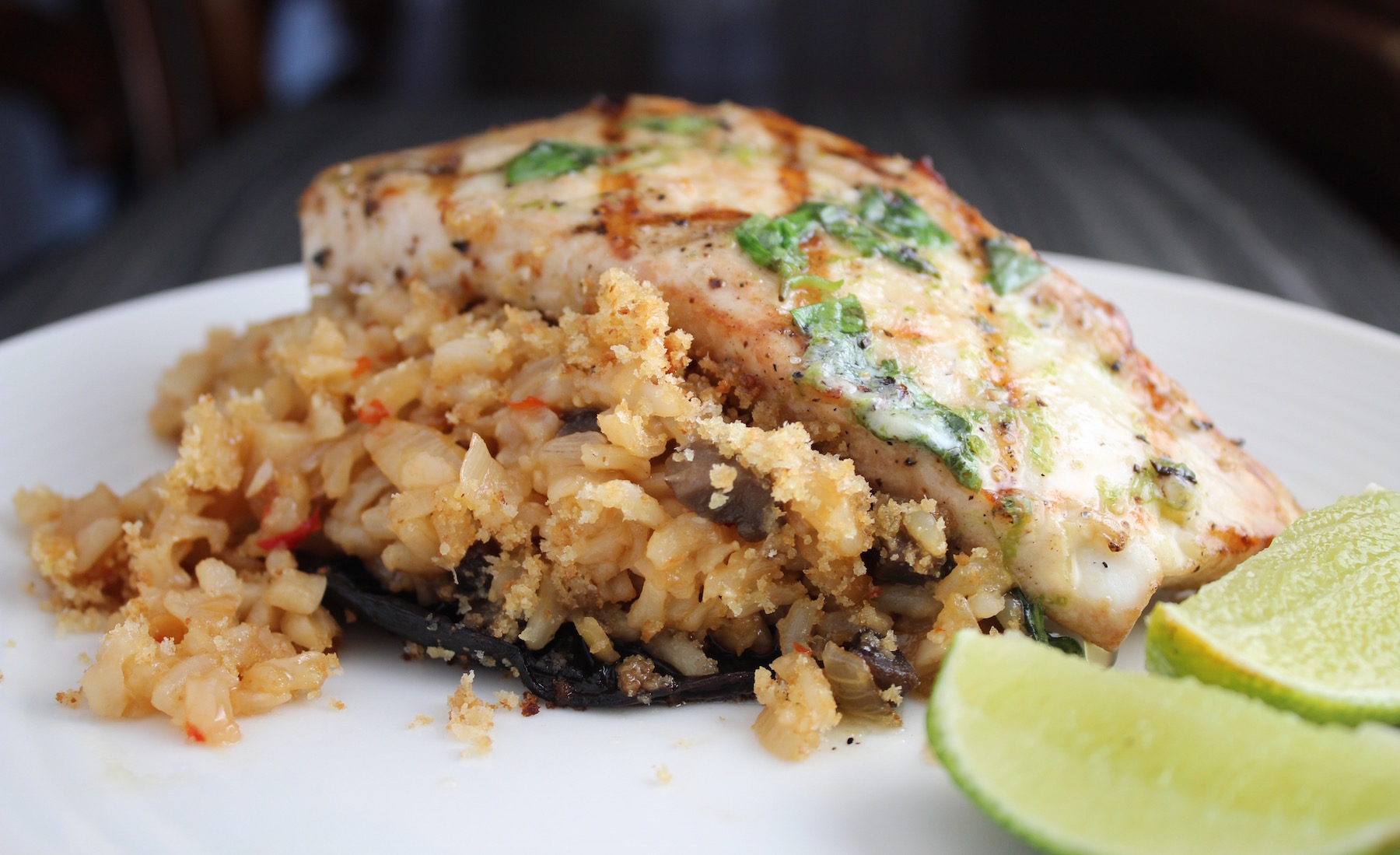 Wahoo. A cool name for an awesome fish! How it got its name, I don't know, but what I do know is that when fishermen hook one, the first thing they say is "Wahoo!!!"
This fish is related to mackerel but it tastes even better. It's a fierce pelagic predator, and I've even heard it called the "Cheetah of the Sea" because it's so fast (it can get up to 60 mph) and so vicious. Its body is built like a missile and it has tiger-like stripes on its sides, along with gorgeous silver and iridescent blue markings. This is one beautiful AND delicious fish. Wahoo has a sturdy, white flesh, almost meaty, so you can cook it in a variety of ways. It's particularly delicious when marinated and grilled, in my opinion. The fillets are usually thick and flake off beautiful chunks of solid white meat.
I've never caught one, but it's definitely on my bucket list. My hubby has caught several (here he's pictured with our friend Joe, during one of the guys' epic fishing days), and my dear friend Wendy just reeled in a beauty last weekend. Gosh, it's almost as tall as she is!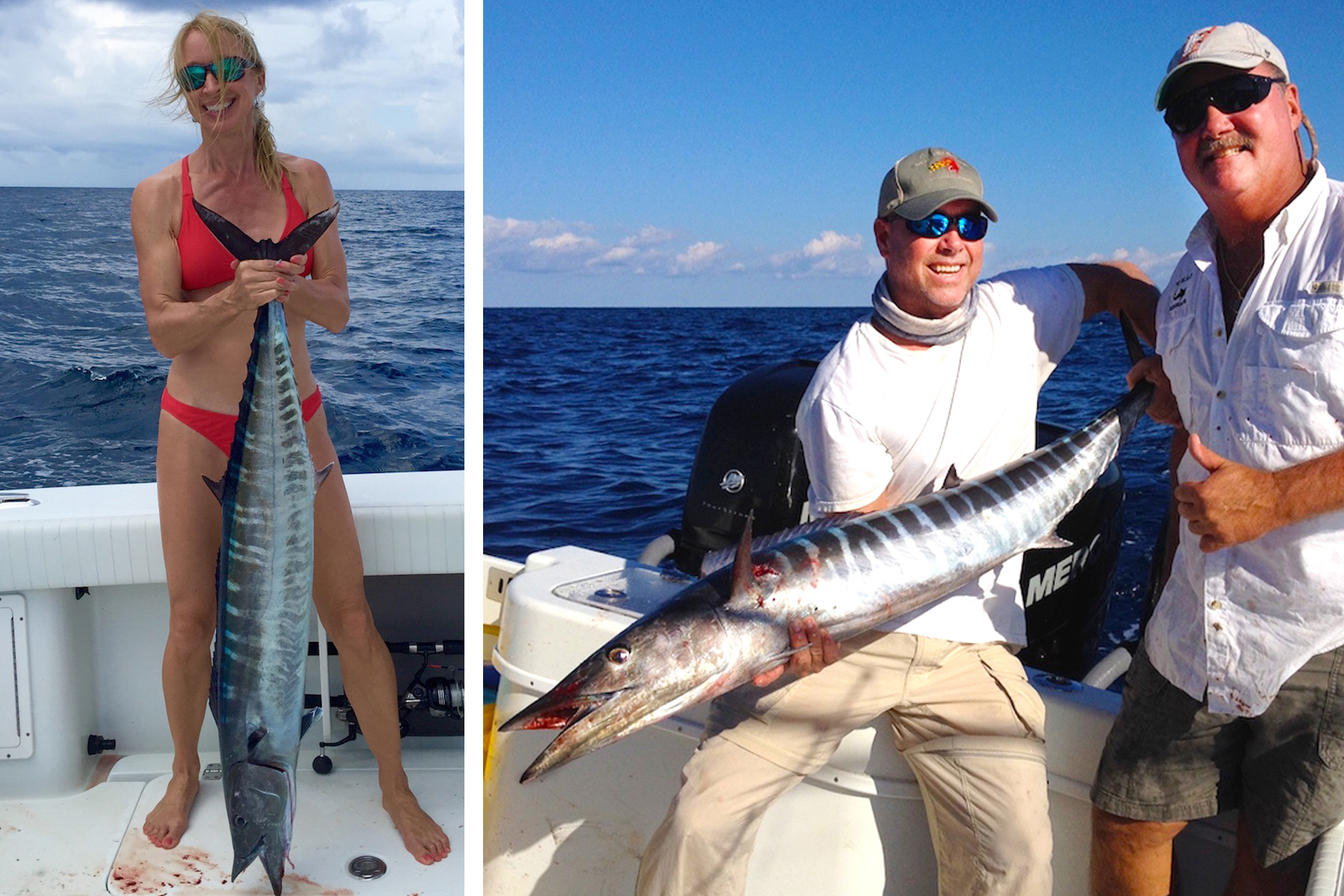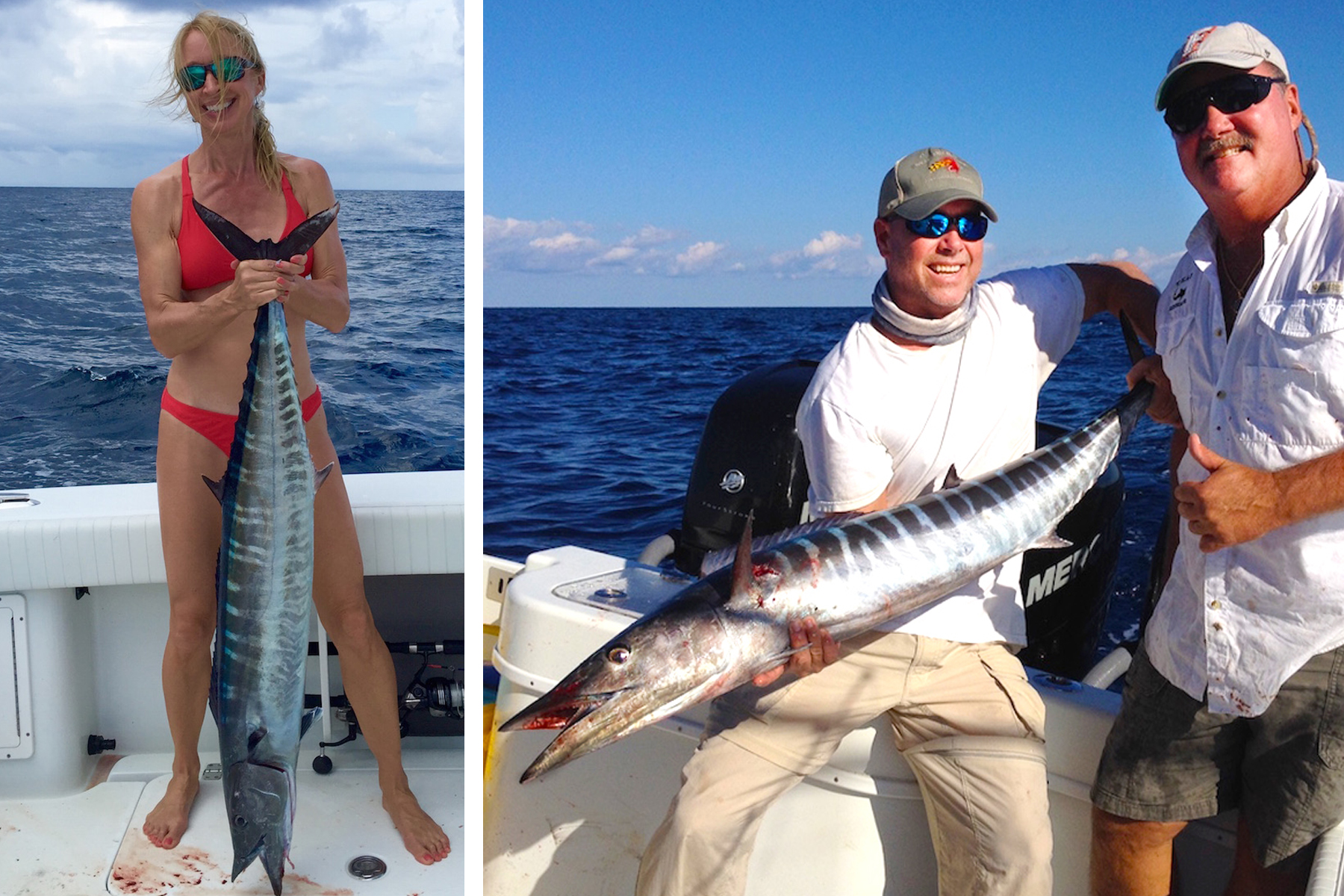 I was excited to put some fresh fillets into action, so I got busy in the kitchen, trying to come up with something tasty. I had just picked up some beautiful Portobello mushrooms at a local organic farm, so those were my starting inspiration. I also had ginger, garlic, chili pepper and water chestnuts on hand, so it all started coming together as a sweet-spicy, Asian-inspired brown rice filling for the mushrooms, with a crunchy bread crumb topping. I didn't want to muck up the beautiful fish with too many flavors, so I decided on a simple basil/lemon compound butter to keep it moist, and topped the stuffed mushrooms with the fillet. To be honest, I wasn't sure this unusual combination would work, but the flavors and textures made for a delicious dish, according to my #1 tester and grill-master, Brendan 🙂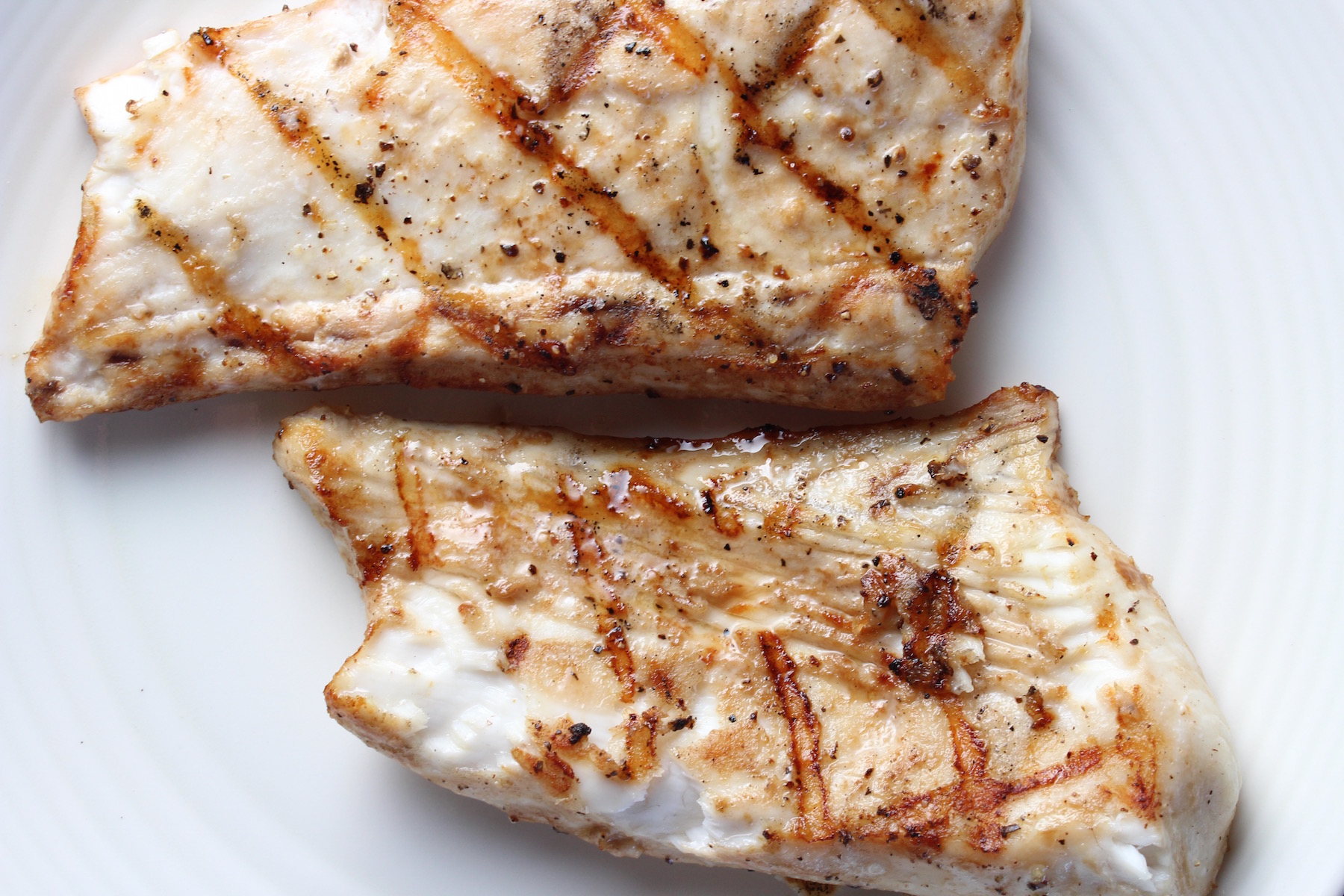 If you don't have fresh Wahoo, you could use any other white fish, or grilled chicken or steak. The stuffed mushrooms can even stand on their own as a meatless meal!

Grilled Wahoo & Stuffed Portobello
Fresh grilled Wahoo makes a tasty pairing with grilled Portobello and tasty compound butter.
Author:
My Delicious Blog
Ingredients
Filling
1 c. cooked, brown rice
2 whole, large Portobello mushroom caps
1 Tb. olive oil
1 medium onion, chopped
1 tsp. fresh red chili pepper, minced
2 cloves garlic, minced
1 Tb. fresh ginger, grated
2 Tb. water chestnuts, chopped
1 Tb. low-sodium soy sauce
1 Tb. sweet chili sauce
1 Tb. rice vinegar
1 tsp. sesame oil
dash kosher salt
dash freshly ground black pepper
Juice of ½ fresh lime
Topping (optional)
⅛ - ¼ c. plain bread crumbs
1-2 Tb. olive oil (just enough to allow the bread crumbs to stick together but still be crumbly)
Basil-Lemon Compound Butter
2 Tb. unsalted butter, softened
1 Tb. fresh basil, torn into small pieces
1 tsp. lemon zest
dash kosher salt
dash freshly ground black pepper
Fish
2 large Wahoo fillets
1 Tb. olive oil
dash kosher salt
dash freshly ground black pepper
Instructions
Cook brown rice according to package directions. When cooked, set aside.
Lightly brush/clean mushrooms and remove and chop stems; set aside.
In a medium skillet, add oil, chopped mushroom stems, onion and red chili over medium heat. Once they start to sweat, add garlic, ginger and water chestnuts and cook another minute or so to combine flavors.
Add soy, chili sauce, rice vinegar and cook about 1 minute.
Remove from heat then add rice, sesame oil, lime juice, salt & pepper; stir to combine.
Heat oven to 375 degrees.
Brush mushroom caps with a little olive oil and place on a baking sheet (gill side up). Place in oven for about 8-10 minutes. Remove and allow to cool for a few minutes. Dab off excess water then top each mushroom cap with a large handful of the rice mixture.
In a small bowl, combine bread crumbs & olive oil. Sprinkle over tops of each rice mound.
In another bowl, make the compound butter by simply combining all ingredients and mixing together. Set aside until ready to use.
Heat a grill to high then sprinkle fish on both sides with olive oil, salt and pepper.
Place fish on grill and allow the first side to sear/cook about 3-4 minutes on each side (depending on how thick the fillets are); remove and allow fish to rest on a cutting board or dish. Top each fillet with some compound butter so it melts in nicely.
While the fish rests, pop the mushroom caps in the 375 degree oven for a few minutes - until the bread crumbs brown/crisp (you could also Broil them for a couple of minutes for faster results). Remove from oven, top with the fish, and serve with some lime wedges.
Notes
If you have leftover rice filling (because you just can't fit more in your mushrooms), save it for another time. It will pair nicely as a side with chicken or steak 🙂