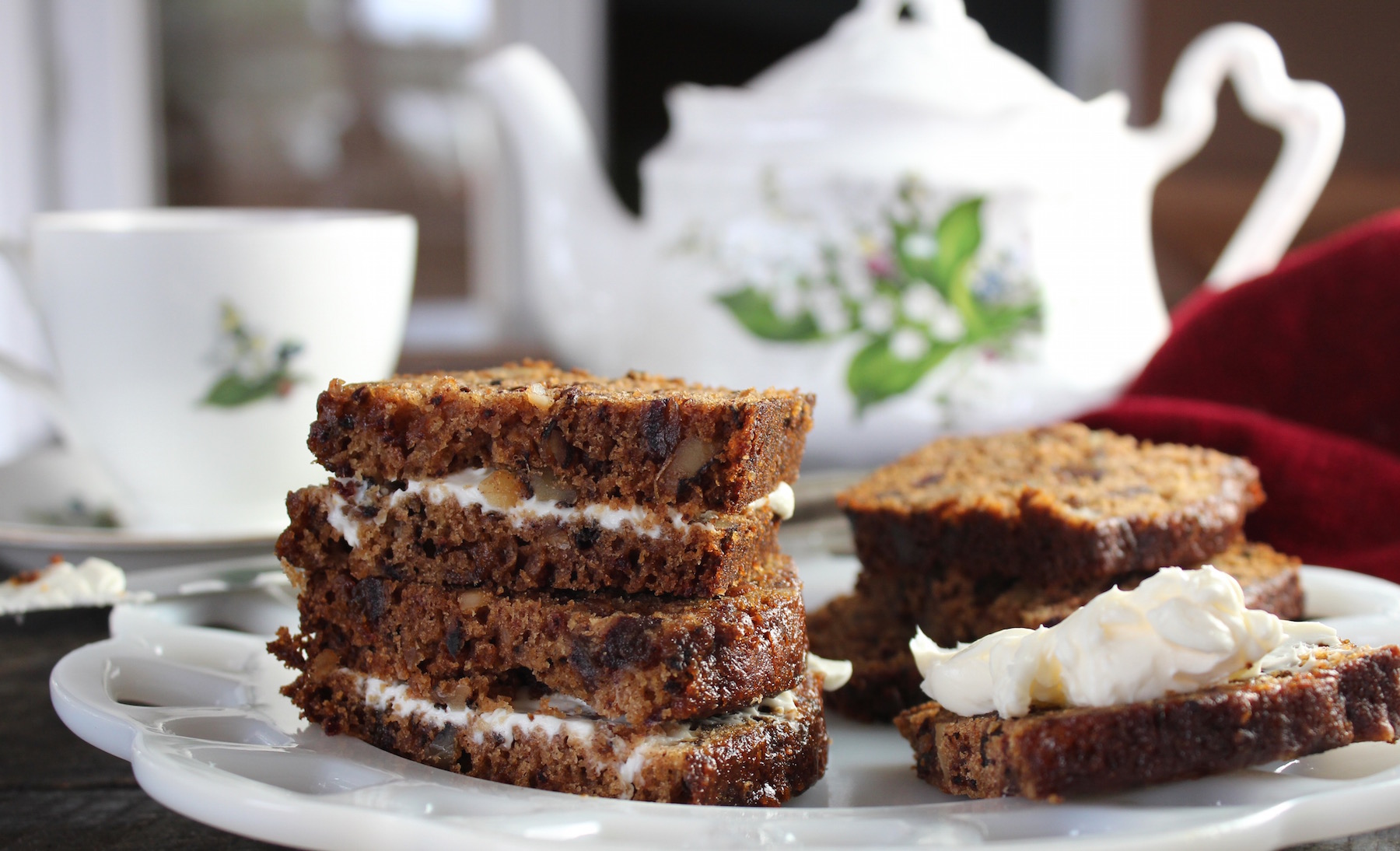 My family has a few cooking traditions around the holiday season and one recipe on the "must make" list is this delicious date-nut bread. It's moist, dark, crunchy, not too sweet, and very tasty when topped with soft cream cheese. And if you really want to be authentic, it's best to enjoy it as a 'tea sandwich' by layering cream cheese between TWO thin slices of bread cut into small pieces. It's a must on a chilly morning with a hot cut of coffee or tea, and it definitely reminds me of home.
The origins of this recipe date back to the 1920s. There are several variations out there, including some that include molasses or coffee, but the core recipe usually includes the process of soaking the dried/chopped dates in boiling water and baking soda. The soda softens the tough skin of the dates and creates some creaminess before it's all combined with the other ingredients (you can tell it's working when the water starts to fizz from the soda).
Some say this bread is even better if you let it sit for a full day before slicing/serving. . .I've never been able to do this because it smells so good that I have to cut a piece as soon as it's cool. And because it's so yummy, you'll even find yourself whittling off one thin slice after another and it's hard to stop!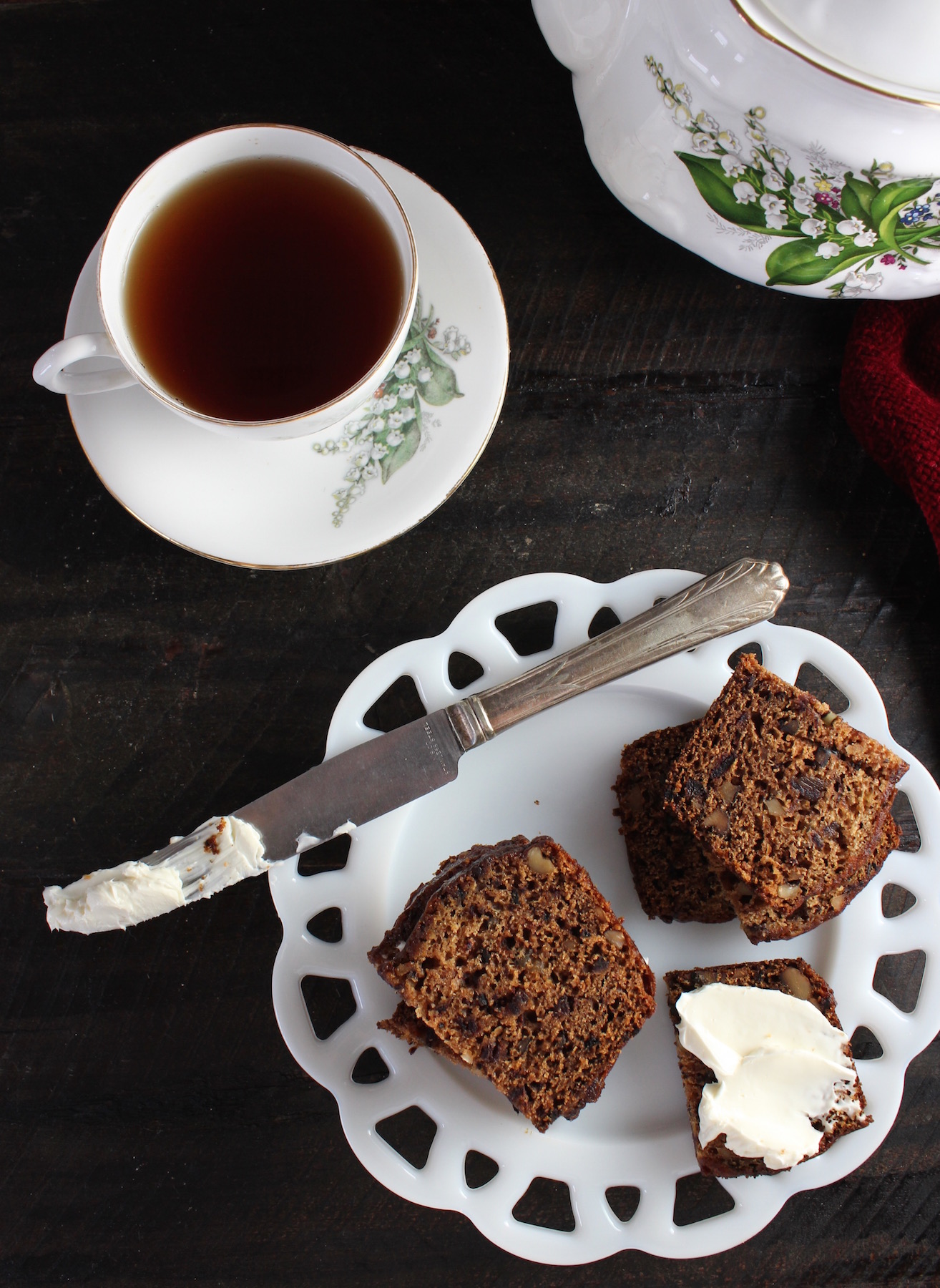 I might make another batch on December 22 for "National Date Nut Bread Day". That's right, it's so good it has its own holiday! Be sure to mark your calendars 🙂

Date Nut Bread
Warm, rich and delicious date nut bread is perfect on a chilly day.
Author:
My Delicious Blog
Ingredients
1 c. dates, finely chopped (or processed in a food processor)
1 tsp. baking soda
¾ c. boiling water
1 egg
¾ c. brown sugar
1 tsp. salt
1 tsp. pure vanilla extract
1⅓ c. all-purpose flour
1 tsp. baking powder
¾ c. walnuts, toasted & roughly chopped
¼ c. unsalted butter, melted
Instructions
Heat oven to 350 degrees (if using a glass baking dish, reduce heat to 325 degrees).
Coat a 9X5 loaf pan with baking spray (or butter and dust with flour).
Place chopped dates in small bowl along with baking soda and boiling water. Stir to ensure baking soda is mixed throughout the dates. Set aside about 15-20 minutes.
In a separate bowl, beat the egg then add brown sugar, salt and vanilla. Whisk to combine; set aside.
Transfer dates that have been soaking in water and baking soda to the egg mixture (be sure to include the water, too); whisk to combine.
Sift flour and baking powder then fold gently into egg/date mixture.
Stir in nuts and melted butter.
Transfer batter to baking dish.
Bake about 50 minutes, until a toothpick inserted in the center comes out clean.
Allow to cool about 1 hour before serving If you can wait a whole day, it's even better by wrapping it after it's cooled, then refrigerating it.