Synchronicity is amazing.
This week, I remembered a delicious meal made by my friend Ben's mom, Purita.  Ben and his family are Filipino, and his mom served lumpia (similar to fried spring rolls), adobo chicken (chicken in an amazing sauce), and pancit (meat, noodles and veggies – sort of like chow mein).  I loved it, evidenced by my consumption of 6 (or 8?) lumpia and 2 helpings of adobo and pancit. . .
The same day as this memory, I got an email from Mark Bittman titled "
Learn How to Adobo Anything
" — all about that rich, savory and tangy Filipino adobo, highlighting a chef making it with eggplant (one of the things Bittman meant by '
anything
').  Synchronicity in action!
I knew that adobo was a treasured dish of the Phillippines, but I called Ben to learn more.  He told me his family makes it with chicken or pork, and that no one measures anything because they just know what looks right.  Core ingredients are soy sauce, vinegar, garlic cloves, black pepper and bay leaves – but sometimes they add oil, onions and/or sweet peppers.  I read traditional recipes use coconut or cane sugar vinegars (which I got at my Asian market), and was surprised to learn Ben usually uses plain old distilled white vinegar, which also yields great results.
Filipino food balances 3 flavor profiles – sweet, sour and salty.  Sour is especially important, because adding it from unripe fruit (i.e., tamarind) or vinegar offers amazing flavor and helps with tenderization.  Some marinate the meat overnight and braise in the same mixture the next day, but if time doesn't permit, the process of slow cooking does an excellent job, too.
To give it a try, I made a batch with chicken legs (sorry, no pics!).  I browned the meat/removed excess fat, added sauce ingredients and let it braise, covered, ~45 minutes until meat fell off the bones, then served it with jasmine rice.  The flavor was amazing – balanced but savory, and even though I got a little zing from the vinegar (I used my Filipino brand, which was awesome), it was not overpowering.
You don't need to prepare this in advance or keep it in the fridge.  It's best made fresh, so head to the panty when you want to give it a try.  And speaking of braising things, try
Roast Pork with Kumquats & Cipollini Onions
 and maybe even replace kumquats with adobo!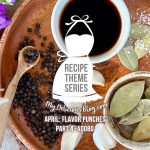 Print Recipe
Flavor Punches: Adobo
A classic, Filipino seasoning made with soy sauce, vinegar, garlic, bay leaves and black pepper, resulting in a savory, rich and tangy sauce that makes protein or veggies sing!
Ingredients
1/3

c.

White vinegar, ideally Filipino

(alt: distilled white vinegar)

1/3

c.

Soy sauce (or Tamari)

1/3

c.

Water

2-3

Whole bay leaves

4-5

Garlic cloves, peeled and smashed

2

tsp.

Freshly ground black pepper

(alt: whole peppercorns)

Kosher or Sea salt, to taste
Instructions
Once bone-in meat pieces or vegetables are browned in a skillet, toss in garlic and bay leaves, vinegar, soy sauce, water, and black black pepper. Bring to boil, then cover and reduce heat to low and cook 30-45 minutes for bone-in meat until fully cooked/tender and falling off the bones; 10-15 minutes for veggies, until tender). Taste for seasoning and add salt, if necessary.

Serve with cooked rice, top with scallions (optional), sprinkle fresh lime (optional).