Late last Fall, my husband and I built our first raised beds for our new garden.  Let me just say that we are NOT experienced gardeners, and whatever knowledge I retained from my childhood vegetable gardening in New England is pretty much irrelevant when it comes to Florida gardening. . .But as Canadian farmer Brian Brett once said, "Farming is a profession of hope" and we definitely had a lot of hope 🙂
Our first plantings included arugula, peas, beets, kale, carrots, green onions, Everglades tomatoes, hot peppers, cucumbers, sweet peppers, lettuce, zinnias, nasturtiums, ginger, and lots of herbs. To date, we've lost the peas, carrots, green onions, cucumbers and sweet peppers, the lettuce is hanging on by a thread and the tarragon never even sprouted.  Now we're trying broccoli and string beans, and I've replanted the sweet peppers. There's still plenty of beautiful kale, the arugula just passed but we enjoyed the heck out of it, Everglades tomatoes produce tiny gems every day, nasturtiums grow like weeds, and herbs are holding their own. All in all, we consider our first gardening experience a success, and we've learned a lot, especially about what NOT to do for the next round. But this was a big week.  After lovingly watering, fertilizing, pruning, and ensuring no bugs got anywhere near them over the last few months, I finally picked my first 
beets,
and they're beautiful!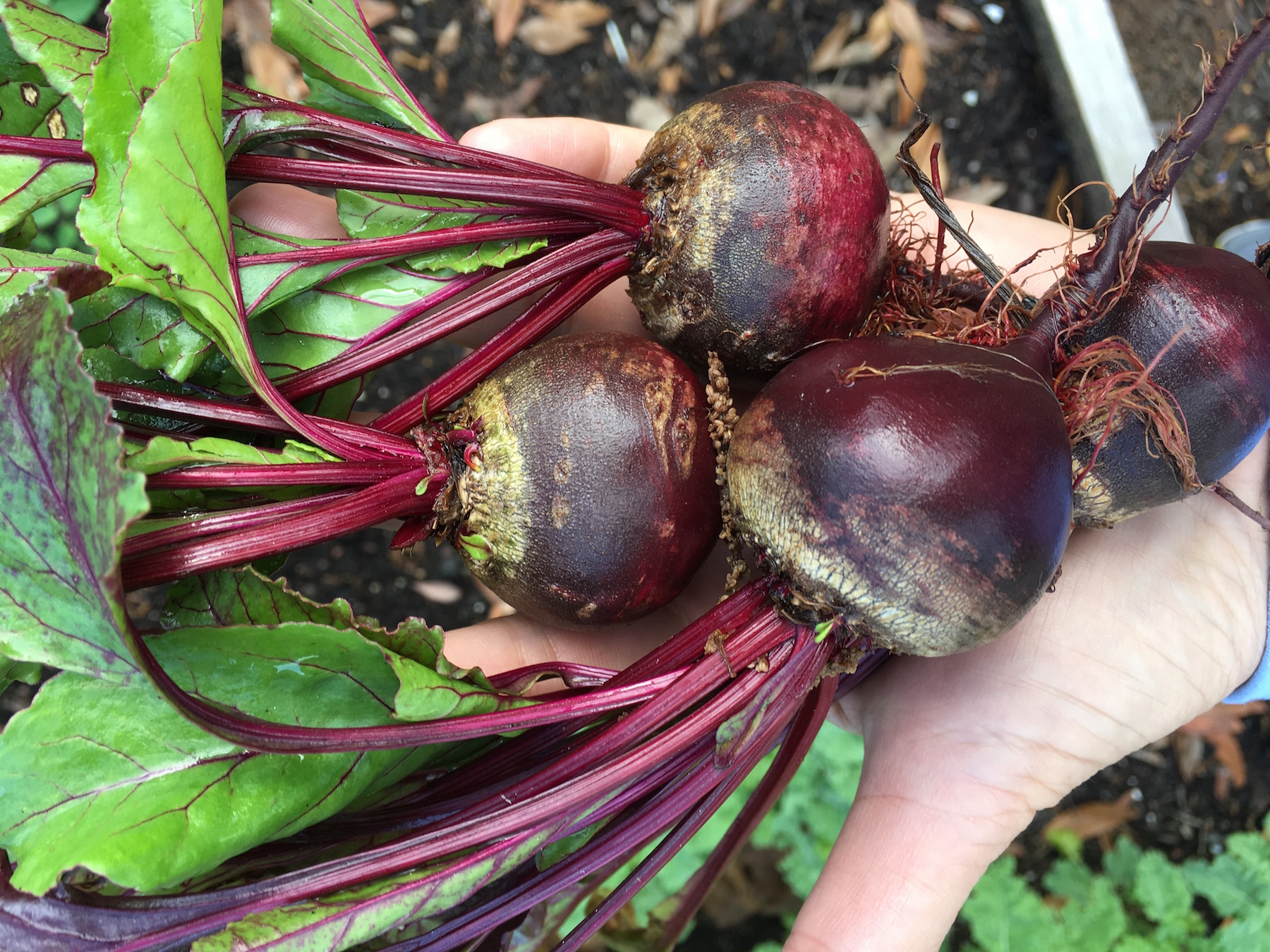 Because these purple beauties are the products of such dedication and hard work, I hated to cook them. But I guess that's the life of a farmer — raise it to enjoy it 🙂 These babies are still in the ground to get slightly bigger before harvesting: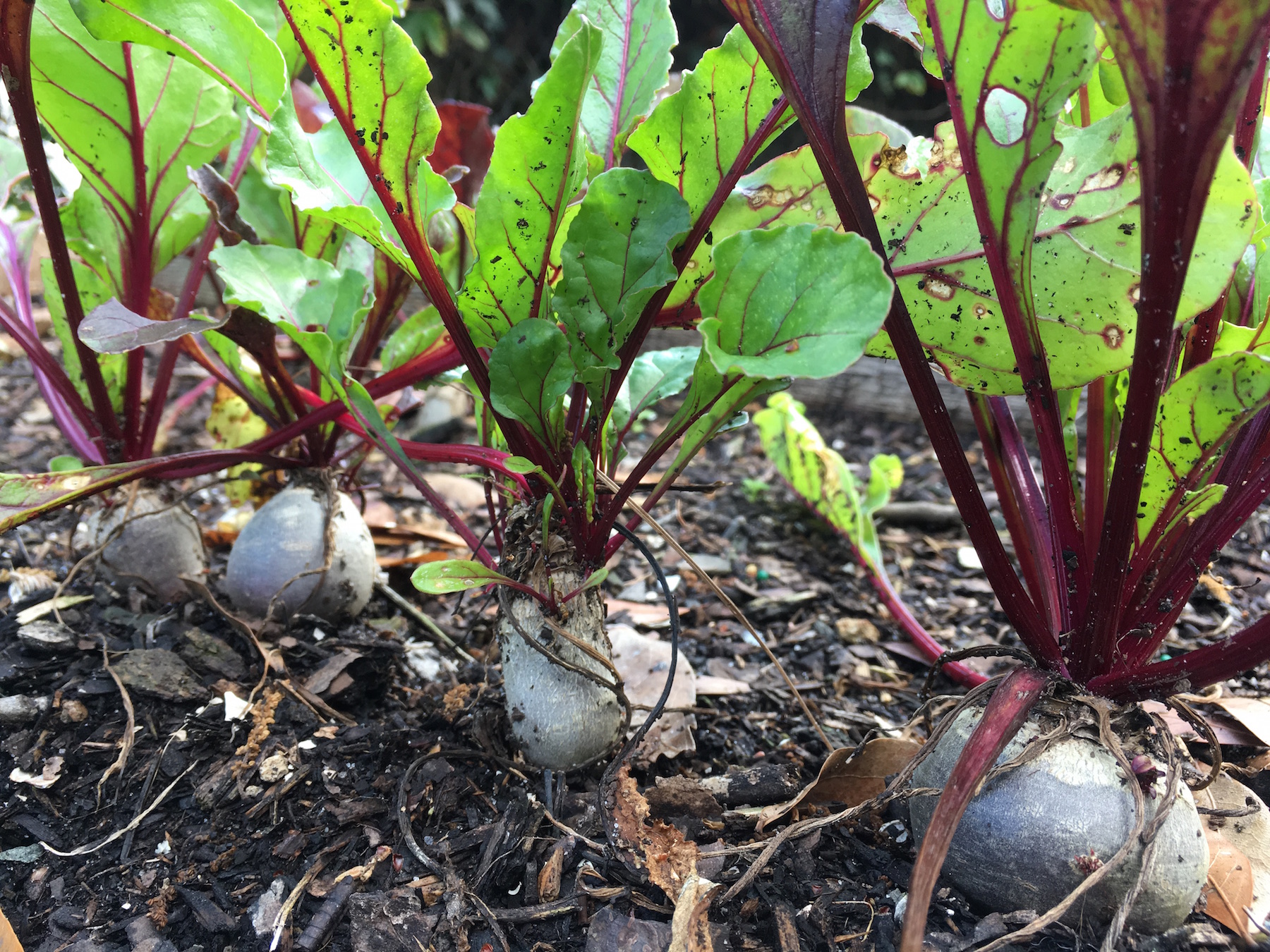 With my precious beets I decided to make a salad, one that can be enjoyed as a side or a topping for grilled chicken, pork or fish, because I cut the pieces into little cubes (easier to fit on a fork or spoon). Beets pair well with things like green apple, basil, honey, lemon and mint, so I decided to go with a citrus-based dressing with lots of spicy cumin and plenty of fresh basil from my garden (too bad my green onions didn't make it, or they'd be in there, too).  This is a very flavorful salad, one that you can feel good about eating because the beets are so good for you.  And if you grow the the beets yourself, this salad is extra special.
Beet & Basil Salad
Fresh beets are awesome by themselves, but even better in this tasty dressing.
Author:
My Delicious Blog
Ingredients
Spicy Citrus Dressing
Juice of 1 lemon
1 tsp. lemon zest (about 1 lemon)
1 small clove garlic, smashed and minced
2 tsp. brown sugar (or honey)
½ tsp. cumin
¼ tsp. kosher salt
Few grinds of black pepper
⅓ c. olive oil (or other mild oil)
Salad
~1 lb. fresh beets
2 Tb. olive oil
Pinch kosher salt
Pinch freshly ground black pepper
Handful fresh basil, chiffonade (thinly sliced)
3-4 green onions, thinly sliced (or red onion, chopped)
¼ c. toasted nuts (walnuts, pistachios, almonds) - optional
Instructions
Heat oven to 350 degrees.
Wash beets; remove stems and roots; cut into quarters or halves (depending on how large they are) then place in a baking dish in one layer. Sprinkle with olive oil, salt and pepper and toss to combine; cover with foil and place in oven for about 40-50 minutes (until fork done).
Allow to cool; peel and dice each piece then place into a large mixing bowl. Refrigerate 20-30 minutes to cool them down.
Once cool, add dressing to the beets, a little at a time until you achieve desired amount (use any extra for another salad, another day).
When combined, add green onions, basil and nuts (if using) and toss lightly (this minimizes the bright greens from getting coated in too much beet color).