Fortunately, Blackfin tuna is readily available in the Gulf of Mexico and Atlantic, which is great for me, my hubby and our friends who like to fish. These beautiful fish are fast swimmers who tend to hang out in large schools that feed near the surface so, trolling a cedar plug or a rigged Ballyhoo are two great ways to catch them (unlike the Herculean effort sometimes required to pull some fish up from the sea floor!). You can easily spot them, especially when they're feeding on schools of bait.  It's exciting to see the tuna leaping out of the water chasing the bait while competing with birds who are diving into the same schools, anxious to get a snack, too.
I feel good about the tuna we catch because I know it's a targeted form of fishing and it's 100% dolphin-safe (as opposed to the commercial method of using nets that can capture many other species, which don't typically survive the haul). Here's a pic of a beautiful Blackfin Brendan caught a while back.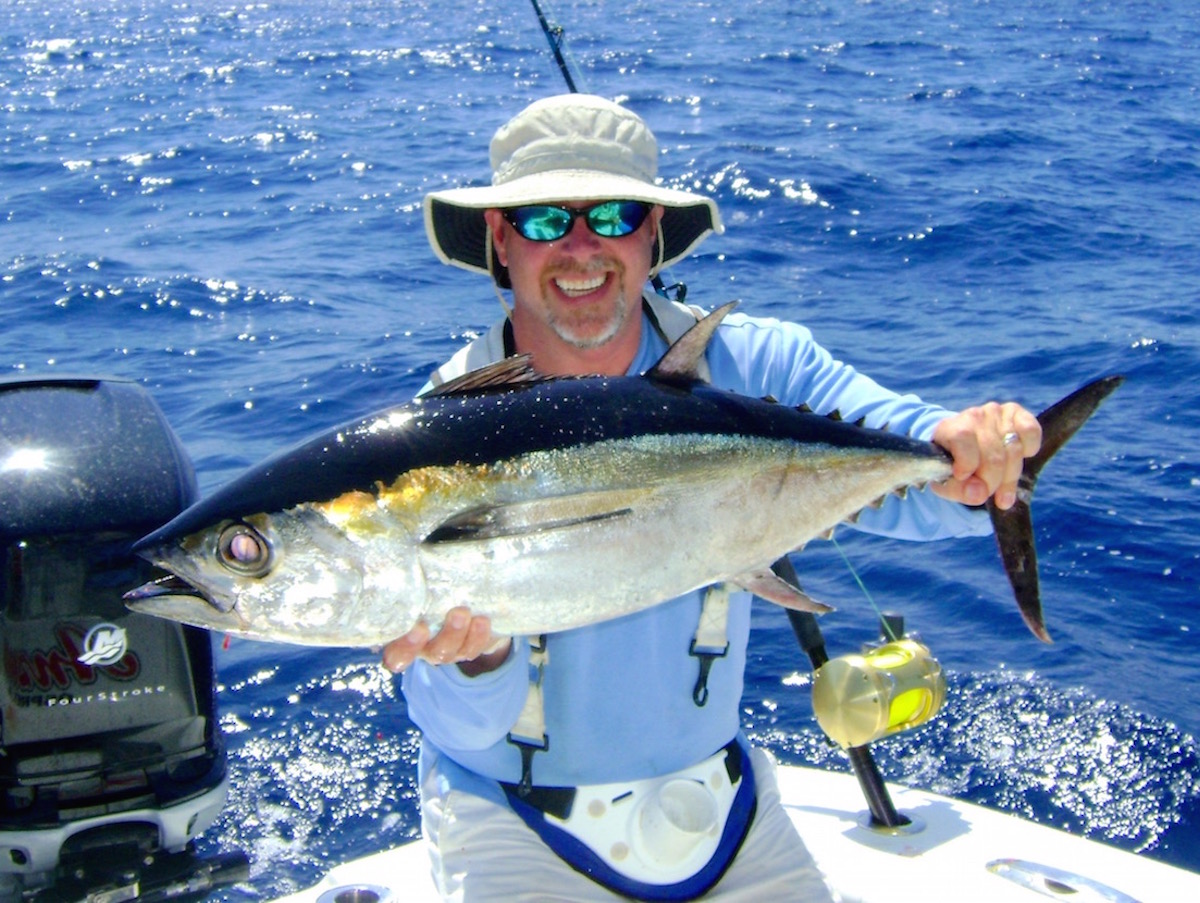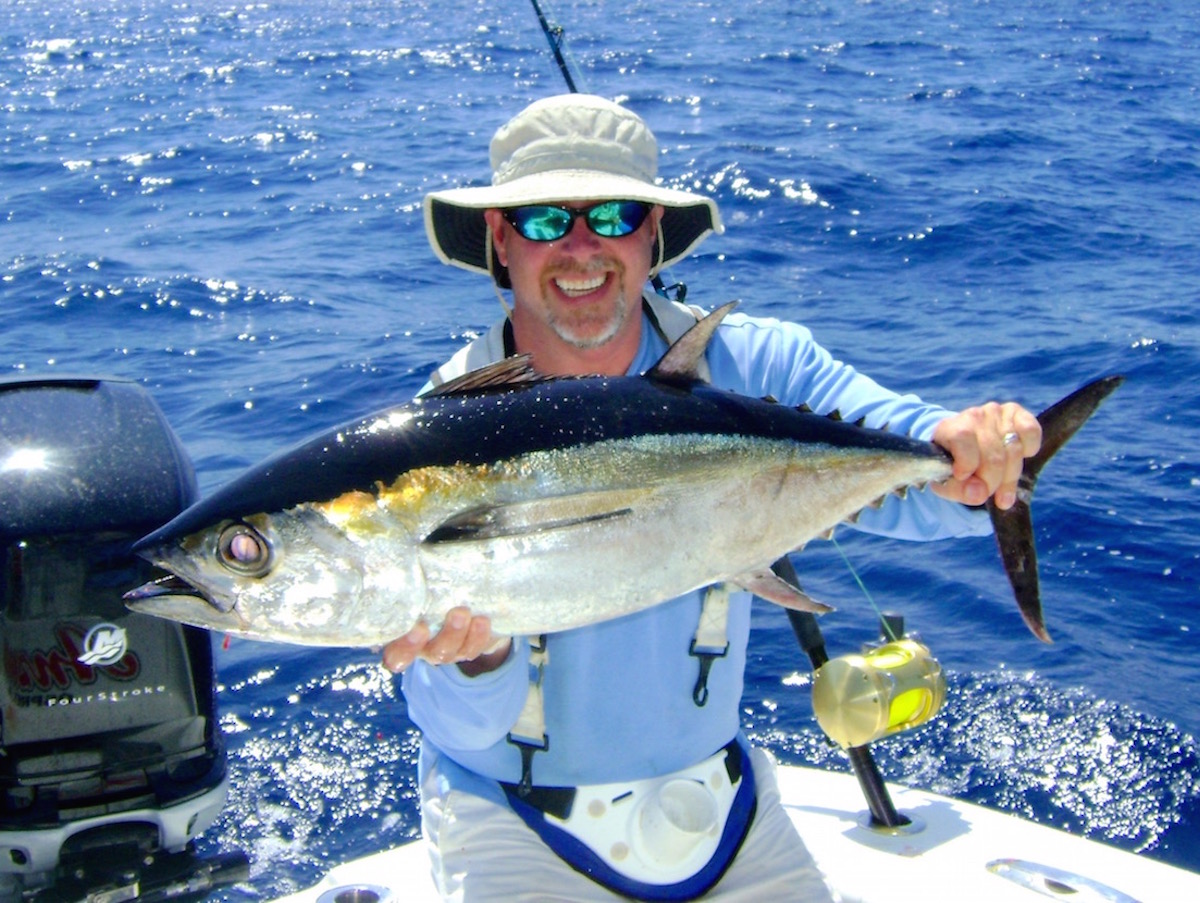 Blackfin meat is very tasty, especially when grilled or seared. When we bring it home after a long day of fishing, we like to prepare it very simply – usually a dry blackening seasoning, seared in a hot pan, topped with a cool/fresh salsa or a creamy sauce. However, when the fresh fish we bring home ends up being in my freezer just a tad too long (in this tuna's case, I believe it was almost 8 months!), I get creative. For tuna, I usually poach it and prepare it as a salad in either a mayonnaise base or an olive oil/herb mixture. It's a great way to use up older fish and not allow it to go to waste, especially if you worked hard to catch it or spent a lot of money on it!
Like most folks, I usually make my tuna salad using canned tuna (I prefer solid Albacore packed in water). But let me tell you, making it with 'fresh' tuna pieces is not only easy, but also, more flavorful, moist and better textured. It's a whole different animal.  Once you've had fresh tuna salad, you'll wish you always had 'old' tuna in your freezer 🙂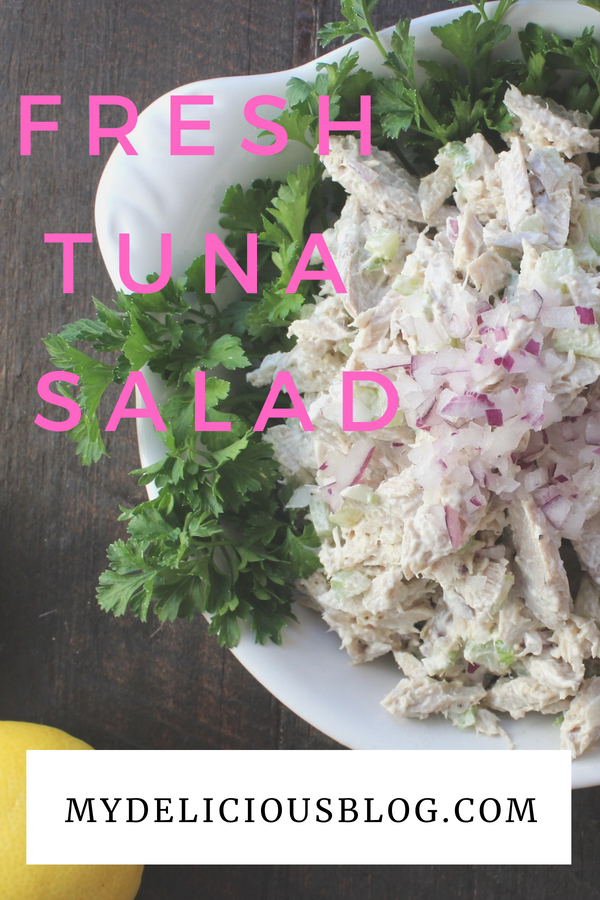 The process is as simple as cooking the fish in a flavorful poaching liquid, then mixing in whatever ingredients you typically like in your tuna salad (my recipe is below). For this batch, I served the finished salad on a grilled country bread with some crisp lettuce, cool mayo, fresh tomato slice and lemon. Soooo tasty!

Fresh Blackfin Tuna Salad
There's nothing like tuna salad made with fresh tuna.
Author:
My Delicious Blog
Ingredients
Poaching Liquid
¾ c water
¾ c. white wine (if you don't have it, use all water).
1 tsp. black peppercorns
1 bay leaf
1 large lemon rind
¾ - 1 lb. defrosted Blackfin (or other) tuna pieces
Salad
4 Tb. mayonnaise
1 tsp. Dijon-style mustard
1 lemon wedge (or more, to taste)
½ tsp. kosher salt
¼ tsp. freshly ground black pepper
2 Tb. red onion, minced
1 large rib celery, minced
Instructions
Place poaching ingredients in a skillet. Bring to a boil then reduce to simmer.
Carefully place fish pieces into the liquid until they're about ¾ or more covered in liquid. Poach about 6-8 minutes. Remove fish pieces and allow to cool completely.
When cool, break up the fish into small pieces (to desired consistency) in a large mixing bowl.
In a separate small bowl, combine mayonnaise, mustard, lemon, salt & pepper and whisk until combined.
Add mayonnaise mixture to tuna bowl, along with onion and celery. Mix well to combine. Add more salt, pepper or lemon, to taste.
Notes
If you have large pieces of fish, cut them into smaller pieces so they poach more evenly. Add more water or wine to the pan if the fish isn't sufficiently 'snuggled' in the liquid 🙂