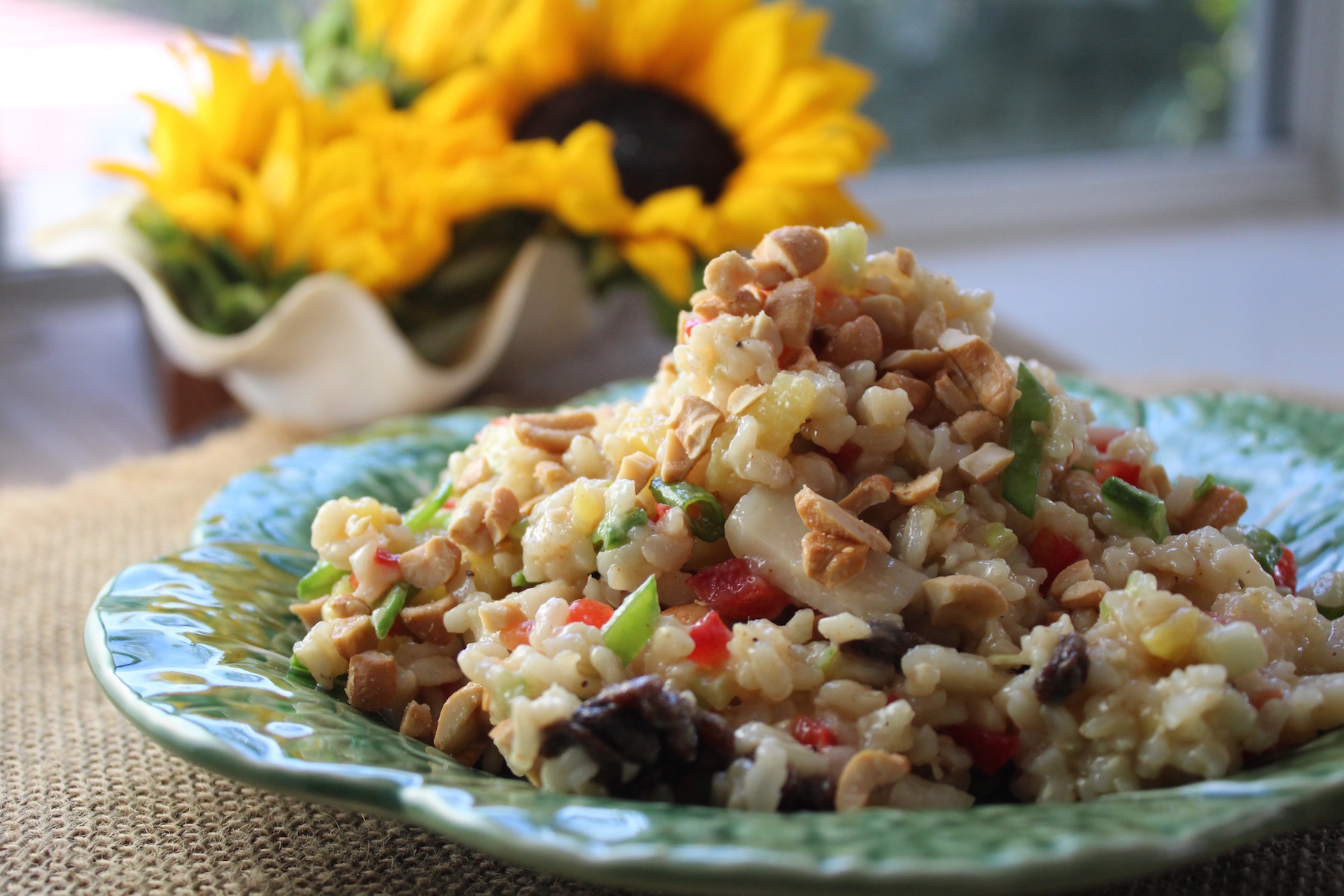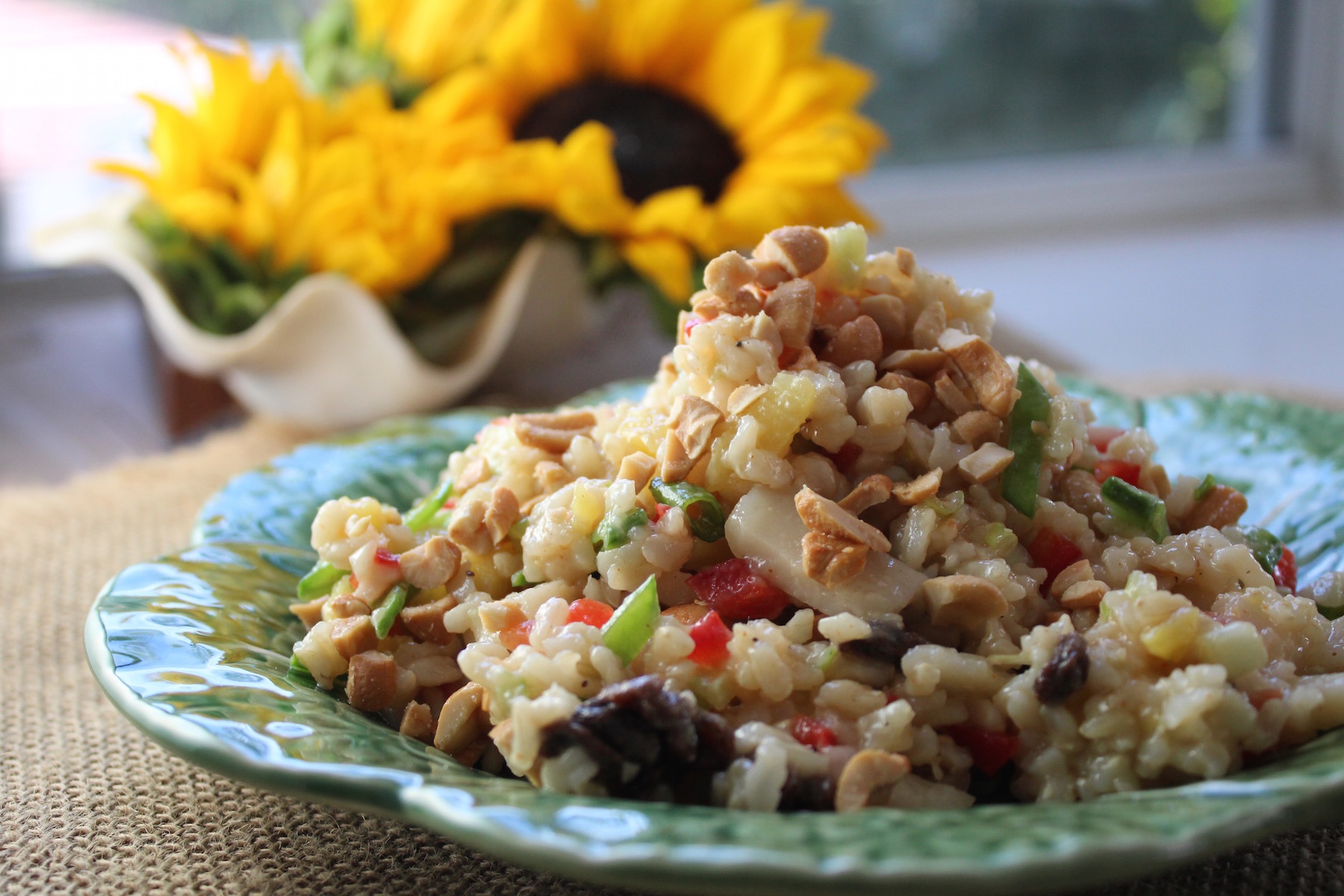 When I was a kid my mom cooked a lot of healthy dishes and she experimented with 'alternatives' in traditional recipes, so every day was a surprise. She dragged me and my brother to health food stores (they certainly weren't mainstream at the time), religiously read Prevention magazine, grew our vegetables and dug into any number of resources to expand her knowledge of preparing and growing healthy, whole foods. She reveled in opportunities to serve us millet burgers, carob brownies, rice flour cakes/pastas, flax oil dressings, and any number of things using yogurt, wheat berries, barley, quinoa and spelt. Sure, some resulted in questionable looks from around the table but, on balance, we enjoyed it all.
That said, there was one dish I was pretty skeptical about because it was full of colors, shapes and textures I had never had in one dish. Mom said it was a rice salad. Rice salad? Rice was meant to have as a side dish with pork chops, right? But after tasting it, my skepticism quickly faded because it was chock full of chewy rice, sweet raisins, crunchy peppers/ celery/bean sprouts/scallions/peanuts/water chestnuts, all within a tasty citrus dressing.  This salad had it all.
It was Sri Wasano's Infamous Indonesian Rice Salad from the Moosewood Cookbook, which came out in 1977 (I think my mom was one of the first buyers). Molly Katzen created the recipe, along with many others in her ground-breaking vegetarian cookbook — beautifully hand-printed and whimsically illustrated by Molly herself.   Ever since then, it has been one of my go-to dishes when I want something that's protein-packed, full of fiber and mighty tasty.  The Moosewood Cookbook has been a beloved book on my own shelf for almost thirty years!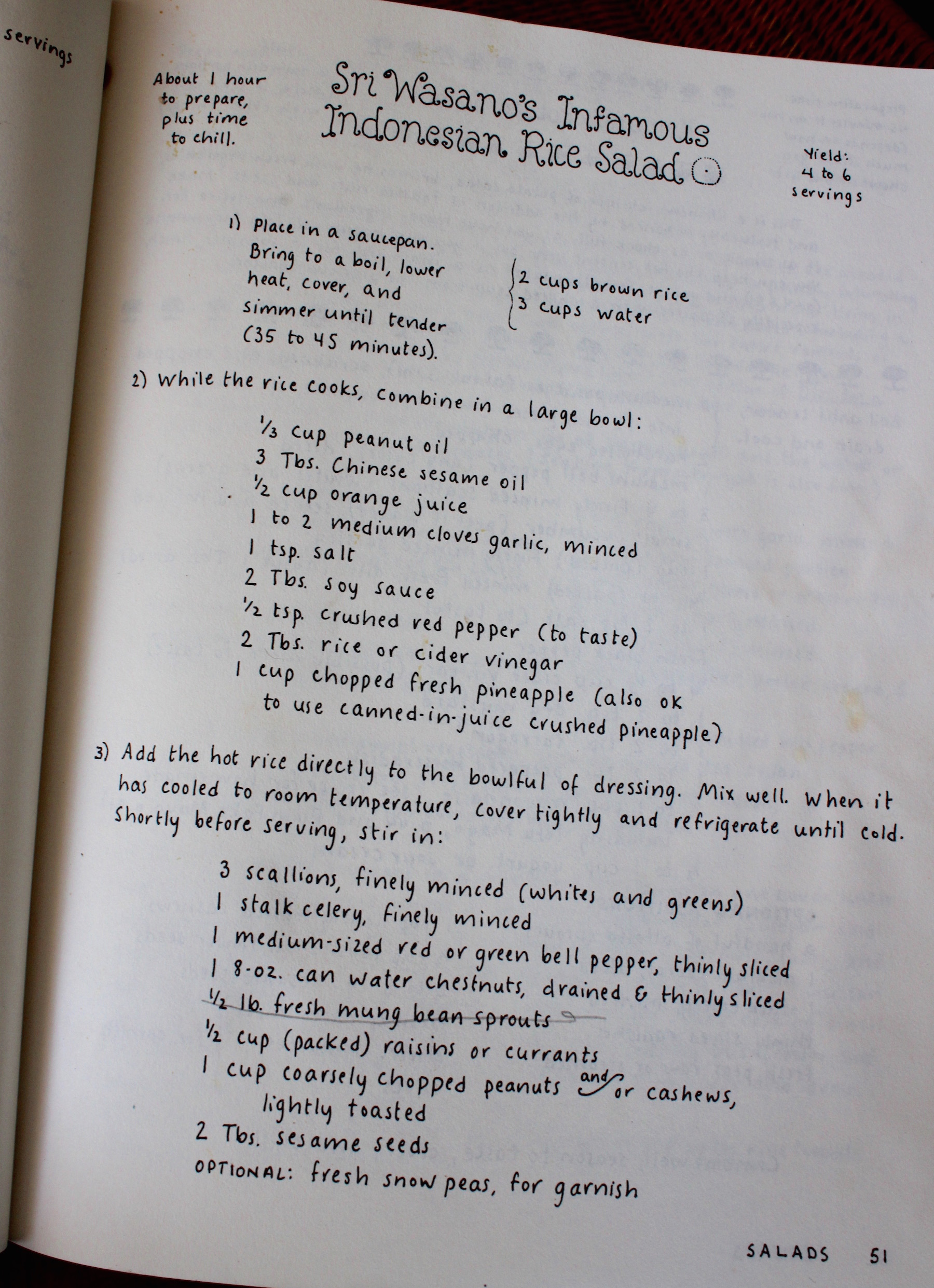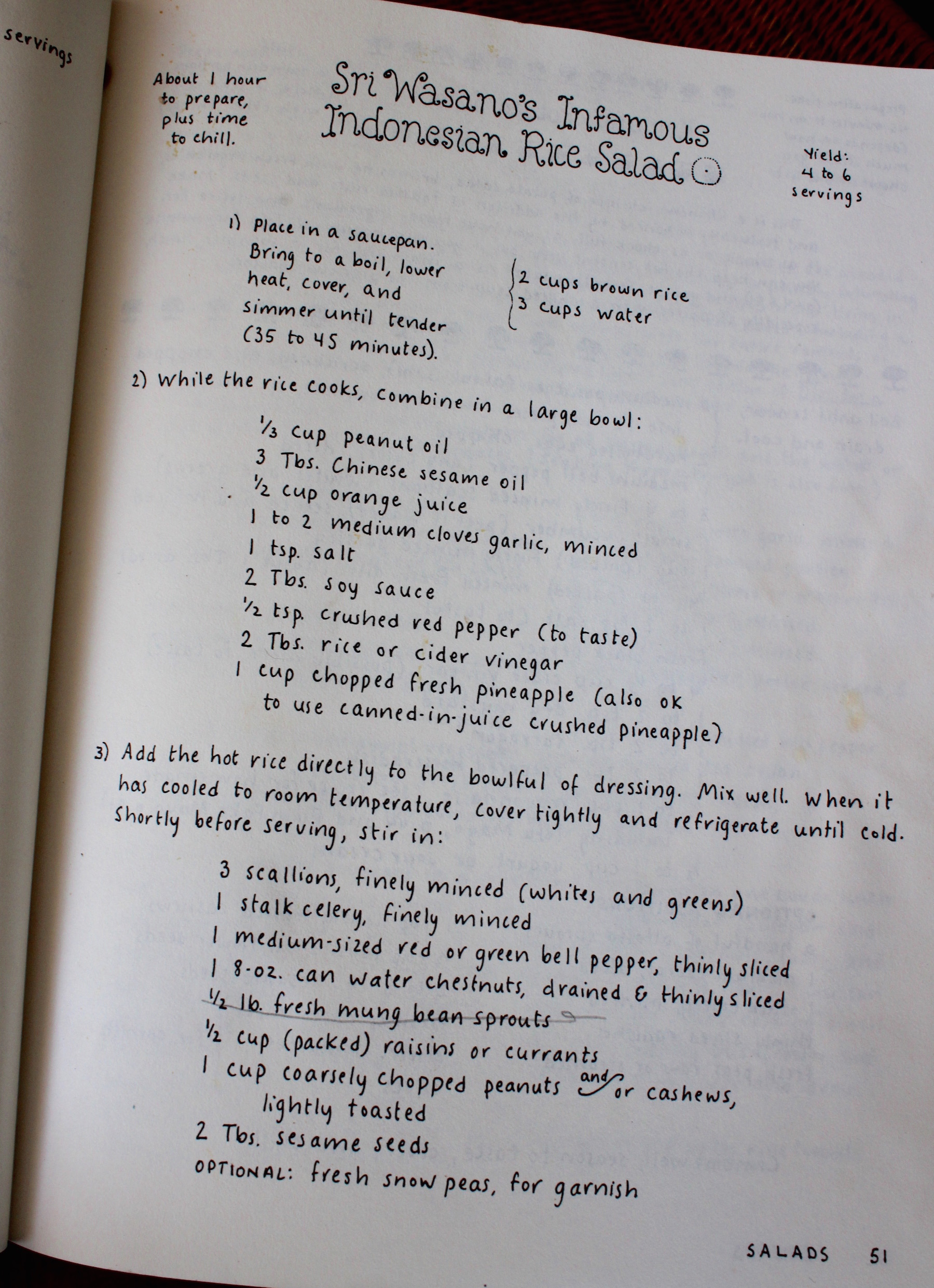 There are definitely lots of ingredients in this recipe, but once you get everything together and do a little prep, it comes together quickly. It's also an easy one to modify with what you have handy (eg. I didn't have bean sprouts, sesame seeds or water chestnuts for this batch) and it's still delicious. I do, however, strongly suggest keeping true to the dressing ingredients because it's yummy and really "makes" the salad.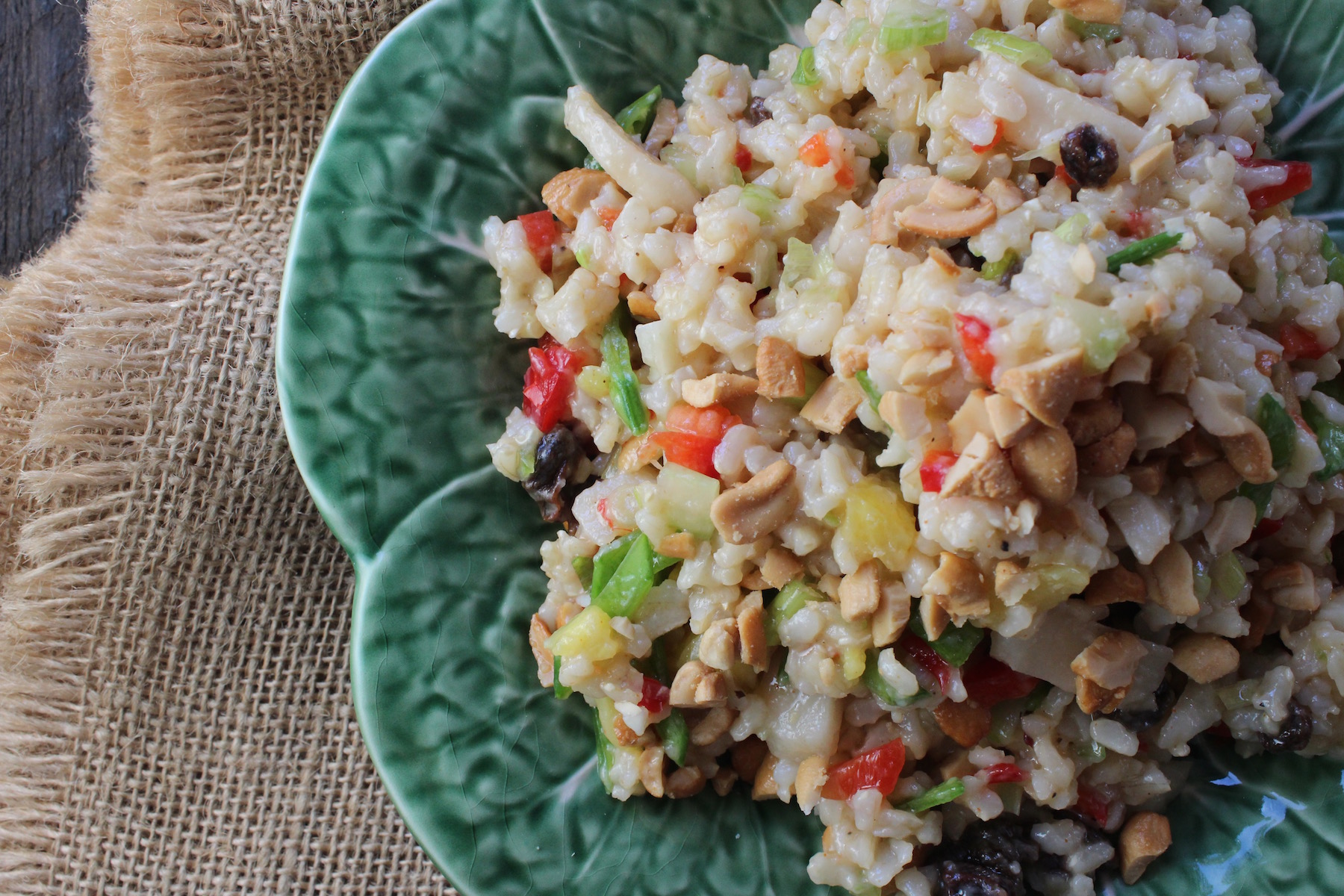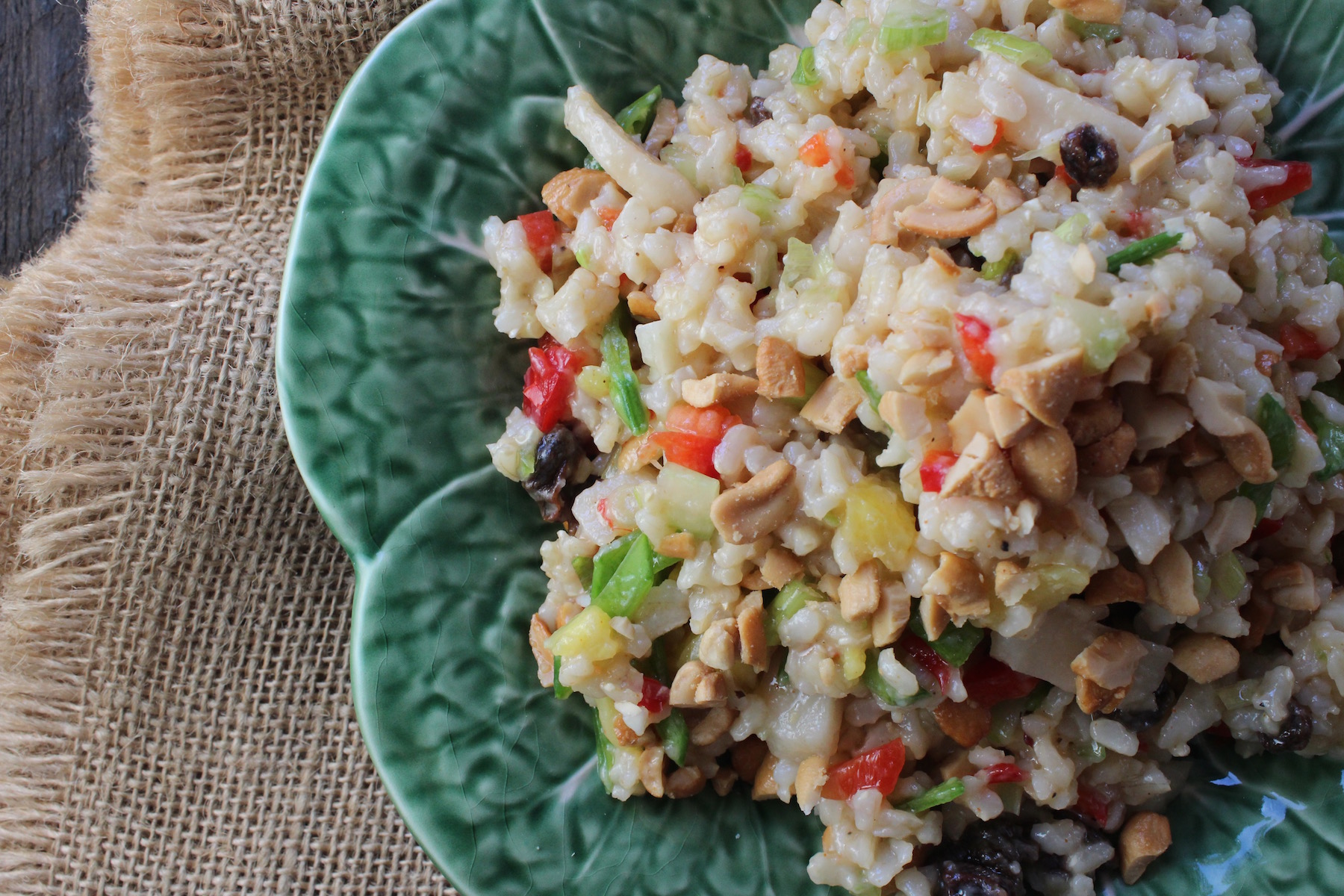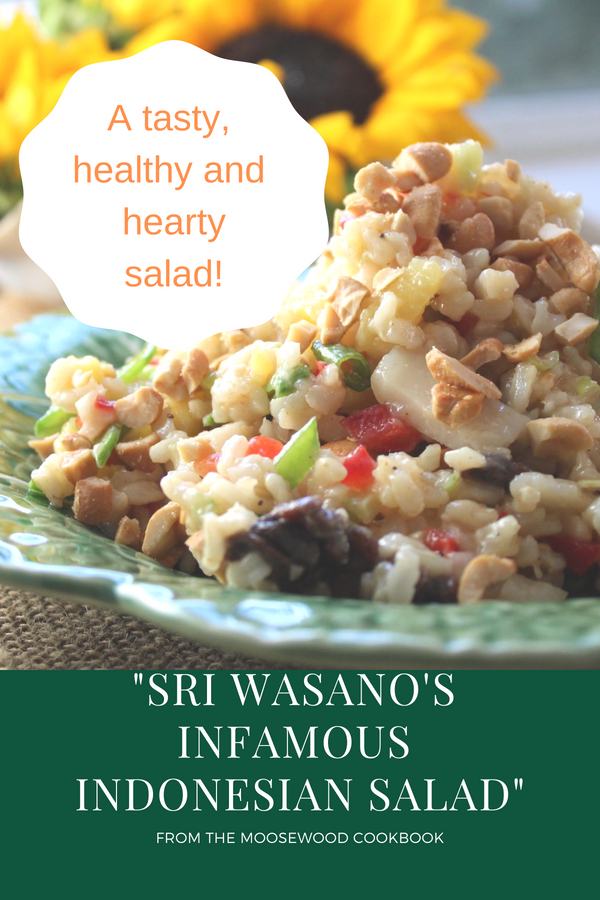 P.S. In case you're curious about the title, you're not alone.  I managed to find an interview with Molly Katzen in which the writer asked "Who the heck is Sri Wasano?" Molly responded by saying "The origin of the recipe is vague. It is a version of something someone made for someone's birthday based on a dish she had tasted in an Indonesian restaurant in Holland. . .at first we just called it Indonesian rice salad. But then someone suggested we add an air of mystery by naming it after an old man she'd met on a cruise boat years before." (source: A Salad Mystery Solved, The Milwaukee Journal, May 30, 1993)

Sri Wasano's Infamous Indonesian Salad
A delicious salad filled with lots of healthy stuff.
Author:
My Delicious Blog
Ingredients
Rice
2 c. brown rice
3 c. water
Dressing
⅓ c. peanut oil
3 Tb. Chinese sesame oil
½ c. orange juice
1-2 medium cloves garlic, minced
1 tsp. salt
2 Tb. soy sauce
½ tsp. crushed red pepper (to taste)
2 Tb. rice or cider vinegar
1 c. chopped fresh pineapple (also ok to use canned-in-juice crushed pineapple)
Salad Mix-Ins
3 scallions, finely minced (whites and greens)
1 stalk celery, finely minced
1 medium-sized red or green bell pepper, thinly sliced
1 8-oz can water chestnuts, drained & thinly sliced
½ lb. fresh mung bean sprouts
½ c. (packed) raisins or currants
1 c. coarsely chopped peanuts or cashews, lightly toasted
2 Tb. sesame seeds
Fresh snow peas (optional, for garnish)
Instructions
Place rice and water in a saucepan. Bring to a boil. Reduce heat, cover and simmer until tender (35-45 minutes).
While the rice cooks, combine the dressing ingredients in a large bowl.
Add the hot rice to the dressing. Mix well. When it has cooled to room temperature, cover tightly and refrigerate until cold. Shortly before serving, stir in salad mix-ins.
Notes
1) I ever-so-slightly modified the written 'structure' of this recipe in order to fit my recipe template, but the content is the same as the original recipe 🙂
2) Please allow more prep time for chilling (about 1 hour more).
3) If you can, use FRESH pineapple or, at a minimum, canned pineapple "bits" since crushed pineapple may make this salad too mushy.