Recently, a video of a gal making "Mounds cake" popped up in my social media feed.  She was chopping Mounds candy bars, so I was hooked, but quickly lost interest when she dipped packaged chocolate cookies into non-dairy creamer and layered them in a pan with candy and canned whipped cream.  While it wouldn't be my choice for a 'homemade' dessert, it did leave me craving a Mounds bar.  But that wasn't in the cards, so I decided to learn about one of my favorite candies, then make a healthy snack to satisfy my craving.
On the
Hershey's
website, Mounds bar is described as "Sweet coconut covered in rich, dark chocolate.  Delicious doesn't get any simpler than this."   The Frequently Asked Question section notes that it's gluten free, and the chocolate is made with 52% cacao.  It was invented by someone in Connecticut in 1920, bought by Peter Paul Candy Manufacturing in 1929, then by Cadbury, and Hershey Foods has owned it since 1988.
Now that you know some history, let's move on to a healthier treat with similar flavors — one to reach for when you need energy/nutrients, but no self-loathing.
These balls are raw — not baked!  They're full of good stuff like dates, ground flax meal, unsweetened coconut, almond butter, dark cocoa powder, coconut oil, and dark chocolate chips.  I made two batches – one with toasted almonds, the other without.  Both delicious.  Without almonds, though, they're more true to the basic formula for Mounds 🙂
The great thing about energy balls is that you can't go wrong with mix-ins – just go with what you like.  If the mixture is too fluffy (hard to form a ball) add a bit more water or almond butter.  If too moist, add more coconut/flax meal/nuts, etc.  Don't like coconut?  Omit it and roll in cocoa powder.  You get the idea.
Hubby liked these so much he exclaimed "I feel powerful enough to RUN to the gym!"  I replied "Let's not get ahead of ourselves now, Brendan. . ."
P.S. if you'd like to try another no-bake snack, check out these yummy bars – a
recipe
I modified from the original at
Minimalist Baker
.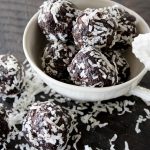 Print Recipe
Chocolate Coconut Power Balls
Reminiscent of Mounds candy bars, these power snacks have flax meal, cocoa powder, dates, coconut oil and almond butter - a delicious snack that's good for you, too!
Ingredients
1

c.

Medjool or other dates, chopped

1/2

c.

Unsweetened coconut, divided

1/4

c.

Dark cocoa powder

1/4

c.

Ground flax meal

1/4

c.

Almond butter

1

tsp.

Coconut oil

1

tsp.

Water

2

tsp.

Pure maple syrup (or honey)

1/2

tsp.

Pure vanilla extract

1/4

c.

Dark chocolate chips

1/4

c.

Toasted, chopped almonds (optional)
Instructions
Add dates, 1/4 cup coconut, cocoa powder, flax meal, almond butter, coconut oil, water, maple syrup and vanilla to the bowl of a food processor and process until smooth.

Reove a teaspoon of the mixture, squeeze it between your fingers to see if it easily forms a ball. If too loose/fluffy, simply add a bit more water at a time until you achieve desired consistency.

Form the mixture into ~ 2 Tb. sized balls (the mixture should make 12 balls). Roll in remaining coconut, then freeze ~30 minutes before serving. Store unused balls in a covered container in the refrigerator.