For many areas in Florida, scallop season starts around July 1 and runs through the end of September.  Folks have asked if I have scallop recipes and I actually have several on the blog: Scallop Ceviche, Bay Scallops Casserole, and Shrimp & Scallop Zoodles.  And while I'd love to create a new one for this week, I'm in the throws of preparing for a much-needed vacation, so I decided to re-share this popular recipe.
The topping I used for these scallops is really tasty and would be great with little scallops like the ones found in Crystal River, Florida, or big sea scallops.  As I said in the original post, I'd even put this topping on liver and gobble it up.
By the way, my little pup Libby made her first appearance in this post!  She's two years older, and still loves to hang out with me in the kitchen.  Here she is at a recent beach sunset: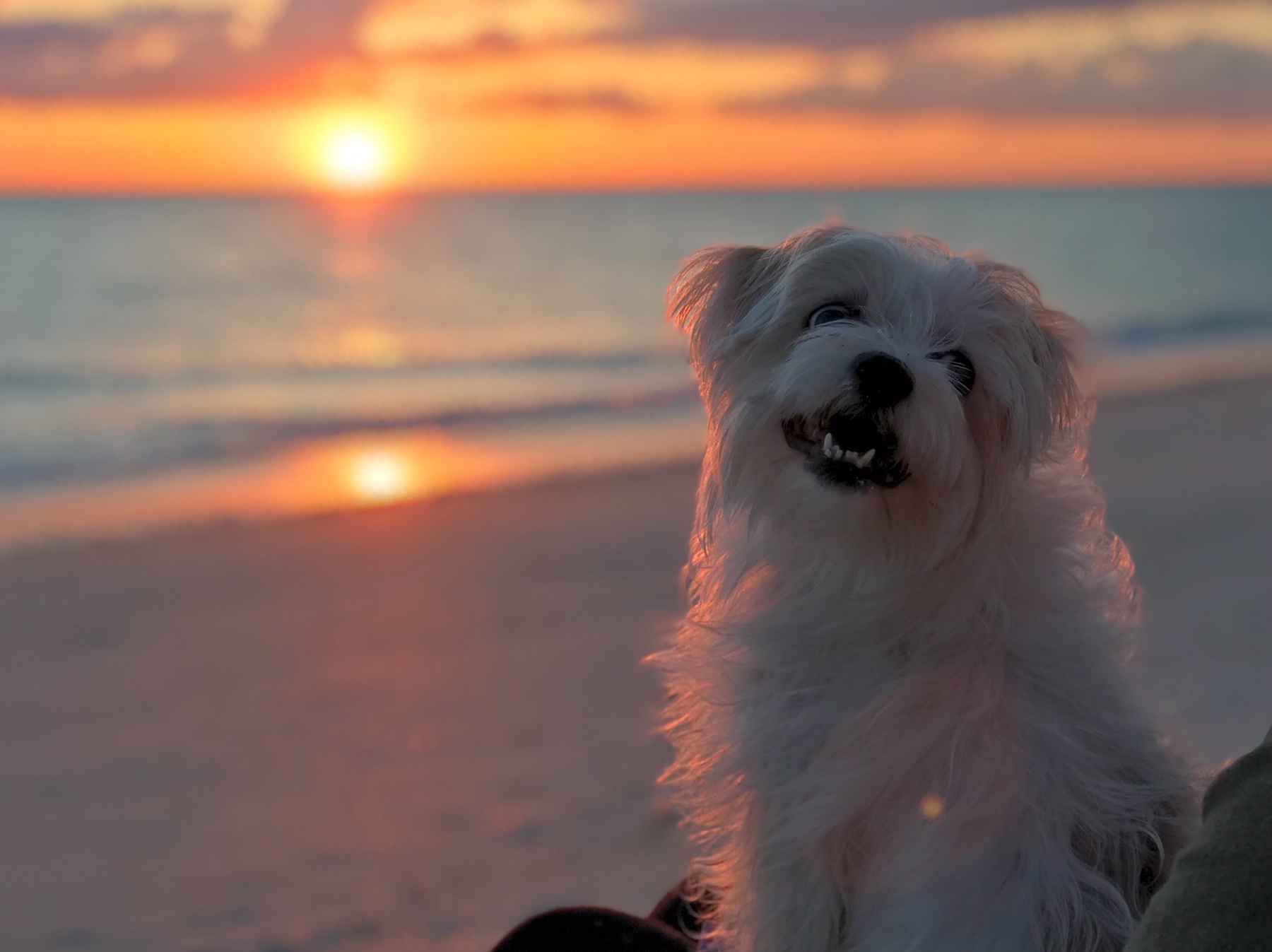 —————————
How do you pronounce scallops, those tasty, saltwater bi-valves?
I heard myself ordering them at the fish counter recently – it went something like "I'd like a half pound of skal-ups, please."
Holy cow. No one would ever believe I'm originally from New England.
Why? Because there are purists who believe the only correct way to pronounce it is "skawl-up," and that anyone who says it like "gallup" (like me) should be banished from New England.  Tough stuff, but die-hard New Englanders know what's important 🙂
In my defense, living in Florida for 27 years has caused me to lose some of my dialect. But I'm certain that if you stuck me at a table at the Cape Cod Scallop Festival I'd fit right in, 'cause it comes back all-too-quickly.
Now, let's talk about this tasty dish.
I picked up these sea scallops at a local fish market (flown in from Cape Cod) and got my inspiration for the topping from a delicious dish Chef Steve Phelps prepared at a sustainable seafood dinner in Sarasota. His casserole had wild, farmed and invasive species – Lionfish, Beeliners (Snapper) and Two Docks Clams – in one dish, topped with crunchy, buttery, tarragon bread crumbs.  So delicious, in fact, that I would put those bread crumbs on liver and gobble it up.
I decided to incorporate fresh tarragon into my pine nut/Panko/lemon topping for these seared scallops. With a nice sear on one side of each scallop, I flipped them, topped them with this stuff and popped them under the broiler for just a little bit.  These were tender/juicy inside and crunchy/buttery outside.  Yum.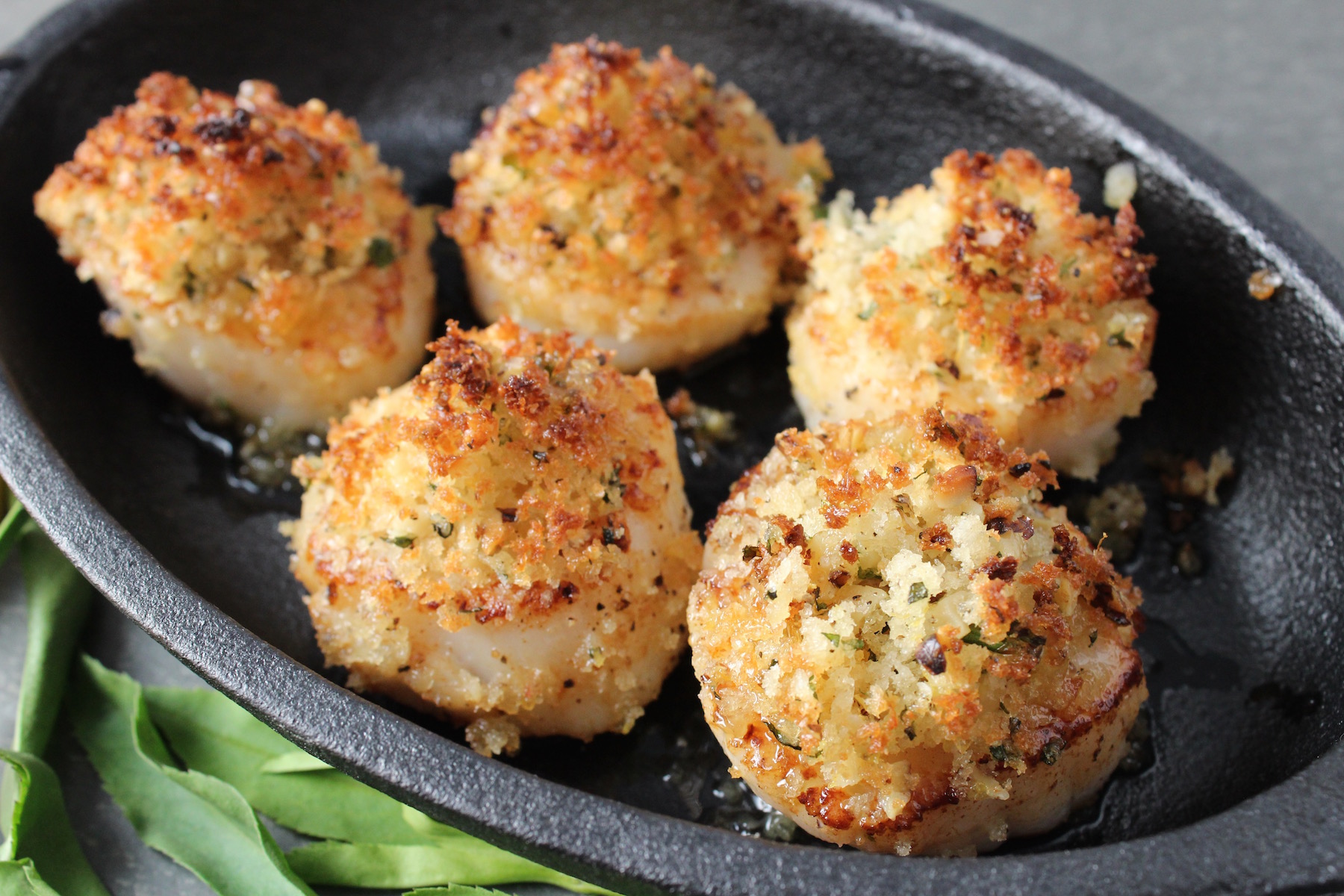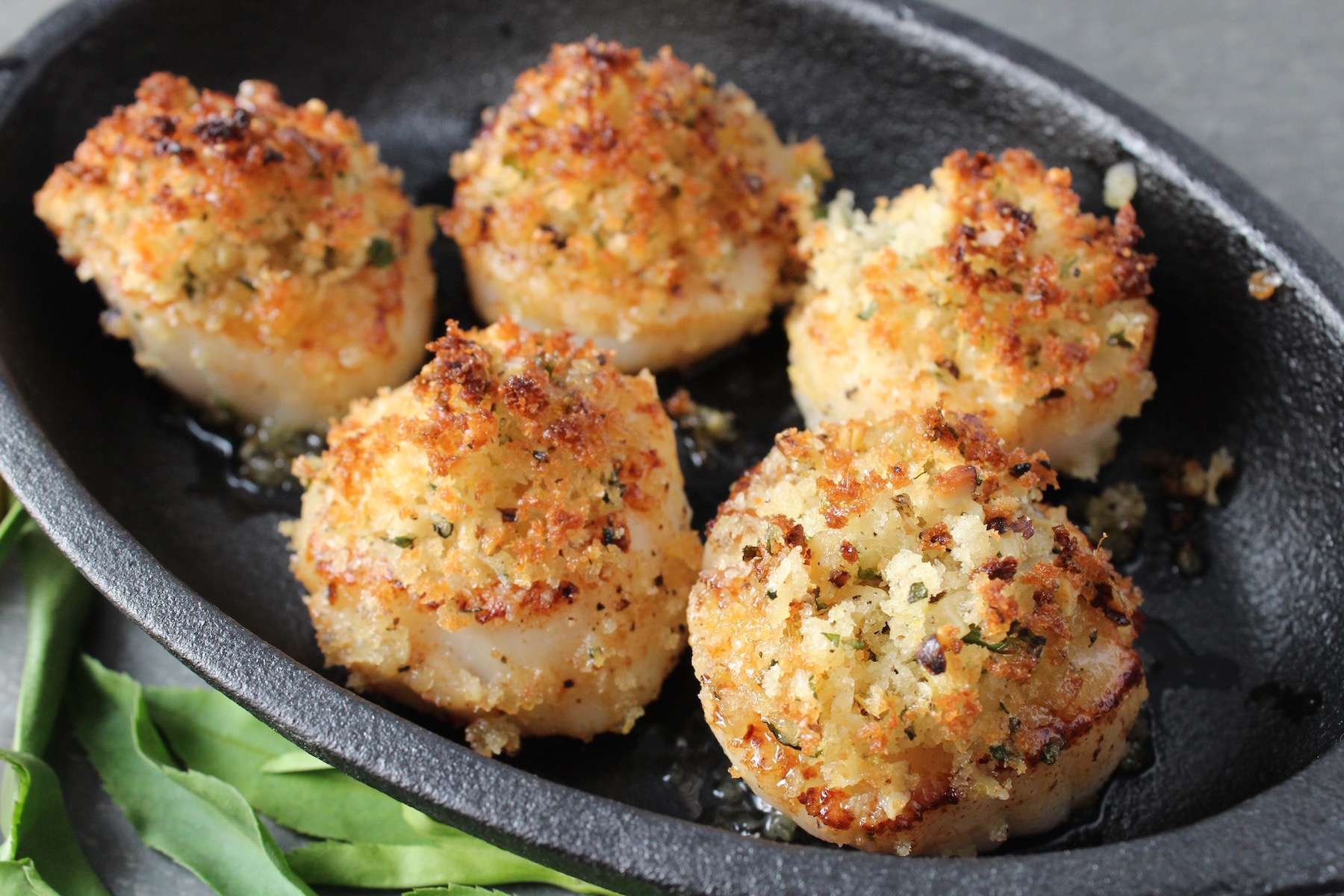 By the way, I pulled this dish together with a little helper. . .our new pup, Libby.  She's 50% Maltese, 50% Jack Russell, and 100% adorable.  She loves to sit on her kitchen stool to watch me cook.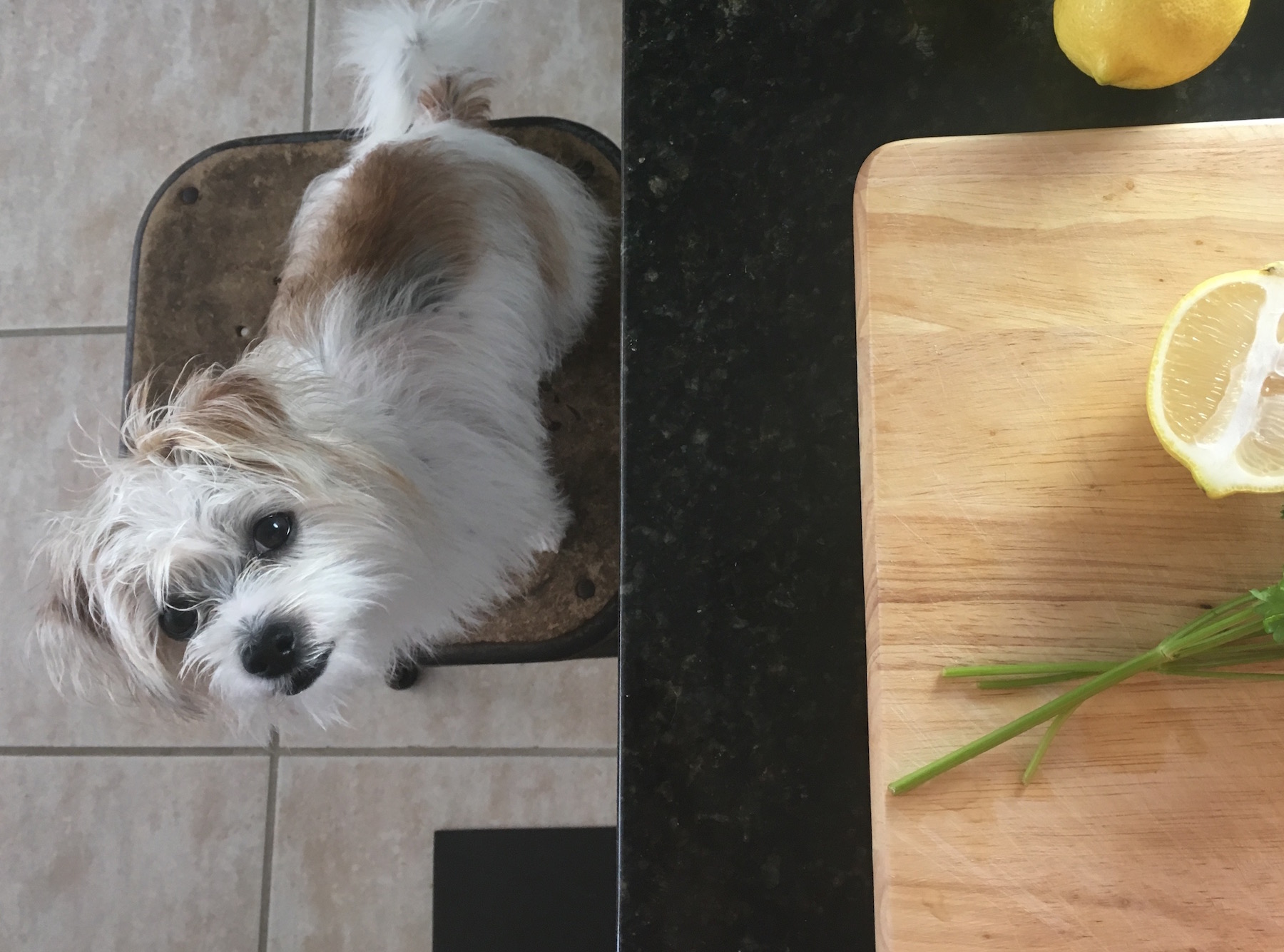 Seared Scallops with Pine Nut, Lemon & Tarragon Topping
Seared scallops with a crispy topping of Panko bread flakes, fresh herbs, parmesan and pine nuts.
Author:
My Delicious Blog
Ingredients
Topping
¼ c. Panko bread flakes
1 tsp. minced fresh tarragon
1 tsp. minced fresh parsley
1 T. grated parmesan cheese
1 Tb. minced pine nuts (or slivered almonds)
Zest ½ lemon
Pinch kosher salt
Few grinds fresh black pepper
2 Tb. melted butter
Scallops
10-12 sea scallops (about ½ lb.), side muscle removed, if any
1 Tb. unsalted butter
Olive oil
Lemon wedges for sprinkling over cooked scallops
Instructions
Set broiler to high.
Add Topping ingredients to a small bowl and stir to ensure everything is coated with melted butter; set aside.
Pat dry scallops with a paper towel - both sides, ensuring no moisture remains.
Heat a non-stick, oven-proof pan to high. When very hot, add the butter, then immediately place each scallop in the pan. Reduce heat to medium/high, then leave it alone for about 2 minutes! Check to see that the bottom has a nice brown sear, and flip carefully with tongs.
Once you flip, top each scallop with a pinch of the Panko mixture - enough to make a little mound. Sprinkle each with a little olive oil (or use a tiny dab of butter).
Place the pan under the broiler for about 30 seconds (door open) and keep an eye on it to ensure it's not burning. You just want to get some crispiness and browning of the topping.
Remove from oven, sprinkle with fresh lemon juice and serve immediately.