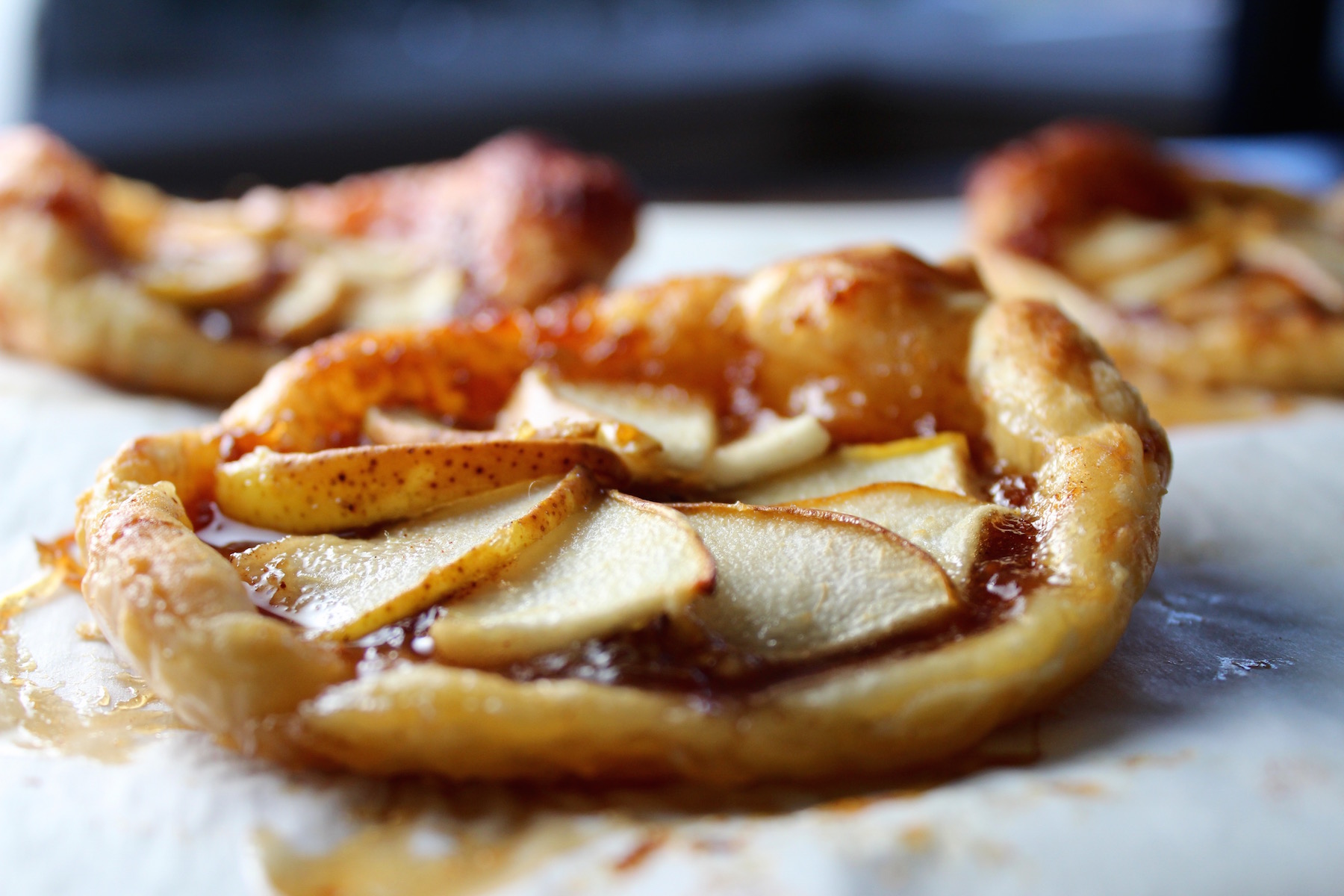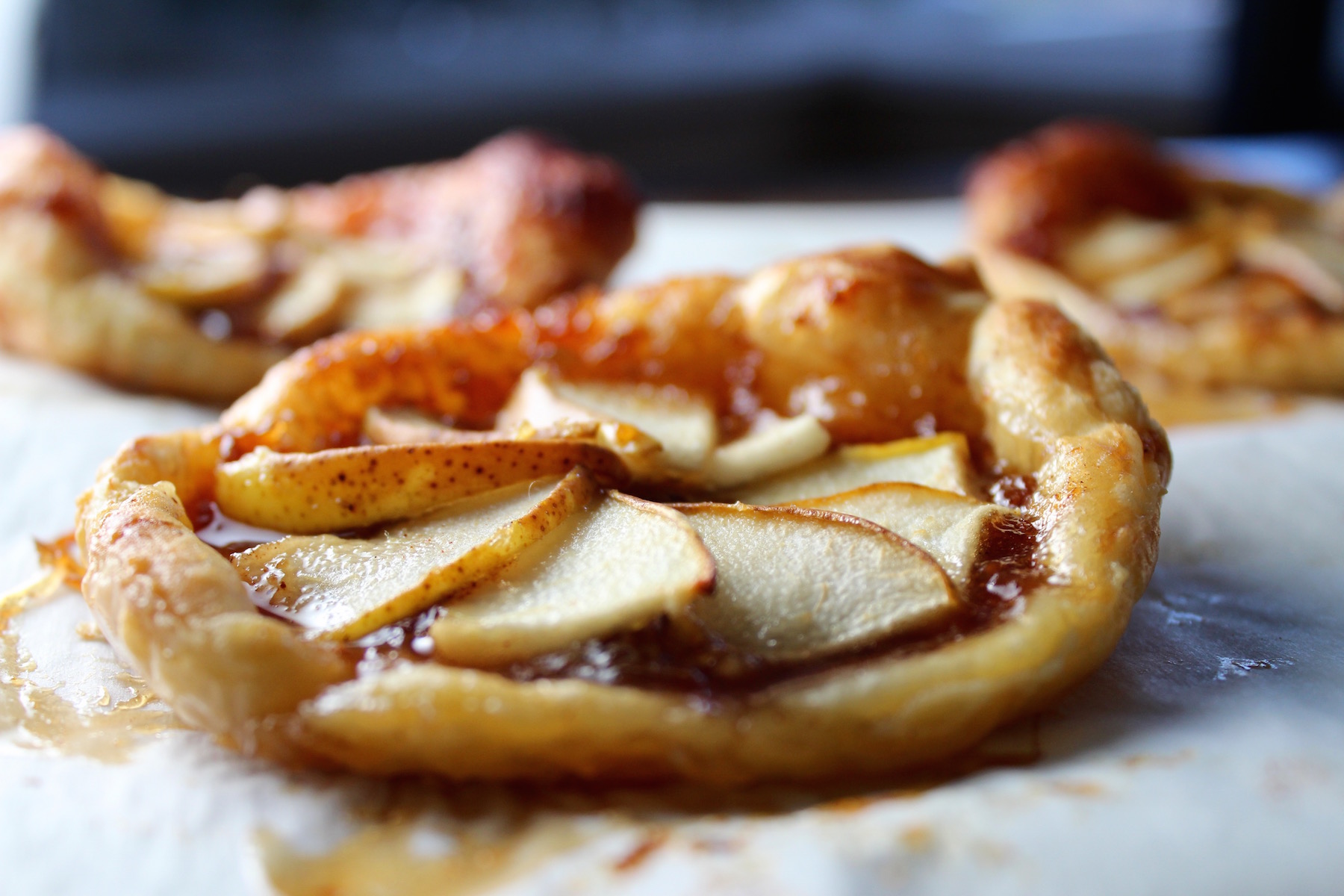 Armed with one remaining sheet of puff pastry, one overripe pear and some fig jam that's been in my fridge too long, I set out to make a dessert.  And since pears and figs make a naturally good team, I knew I couldn't go wrong with whatever I came up with. . .
I love creating a new dish when I only have a few ingredients. And sometimes a delicious thing comes together quickly, without even trying too hard! Ever had that happen? Well, this is one of those times. I thought about making a large galette (like my Blueberry Galette with homemade pastry), but decided on small, personal-sized versions.
Jam, like puff pastry, is another one of those supplies that I like to keep on hand (I keep several flavors in my fridge) because it can be used in so many dishes. I've been known to put a dollop in a gravy/sauce to thicken it a bit and lend an unexpected flavor layer, glaze fruits on a tart, mix into cream cheese for an extra flavor burst when served with fruit, or baste a roast with a thinned down version of the jam to give the meat a sweet AND savory component.
As these little guys were cooling down from their molten hot temps, I had a tough time preventing Brendan from stealing one from the baking sheet before I could take pictures. But once they were fully cooled (and pictures were sufficiently taken), we broke into them.  They were SO yummy! The fig jam provided a nice little bed for the delicate fruit to rest in, the flavors melded together beautifully, and the pastry was delicate and sweet.
These mini galettes would be equally delicious with apples, raisins or plums (or a mixture of all three!).  Easy and delicious — what's better than that?!?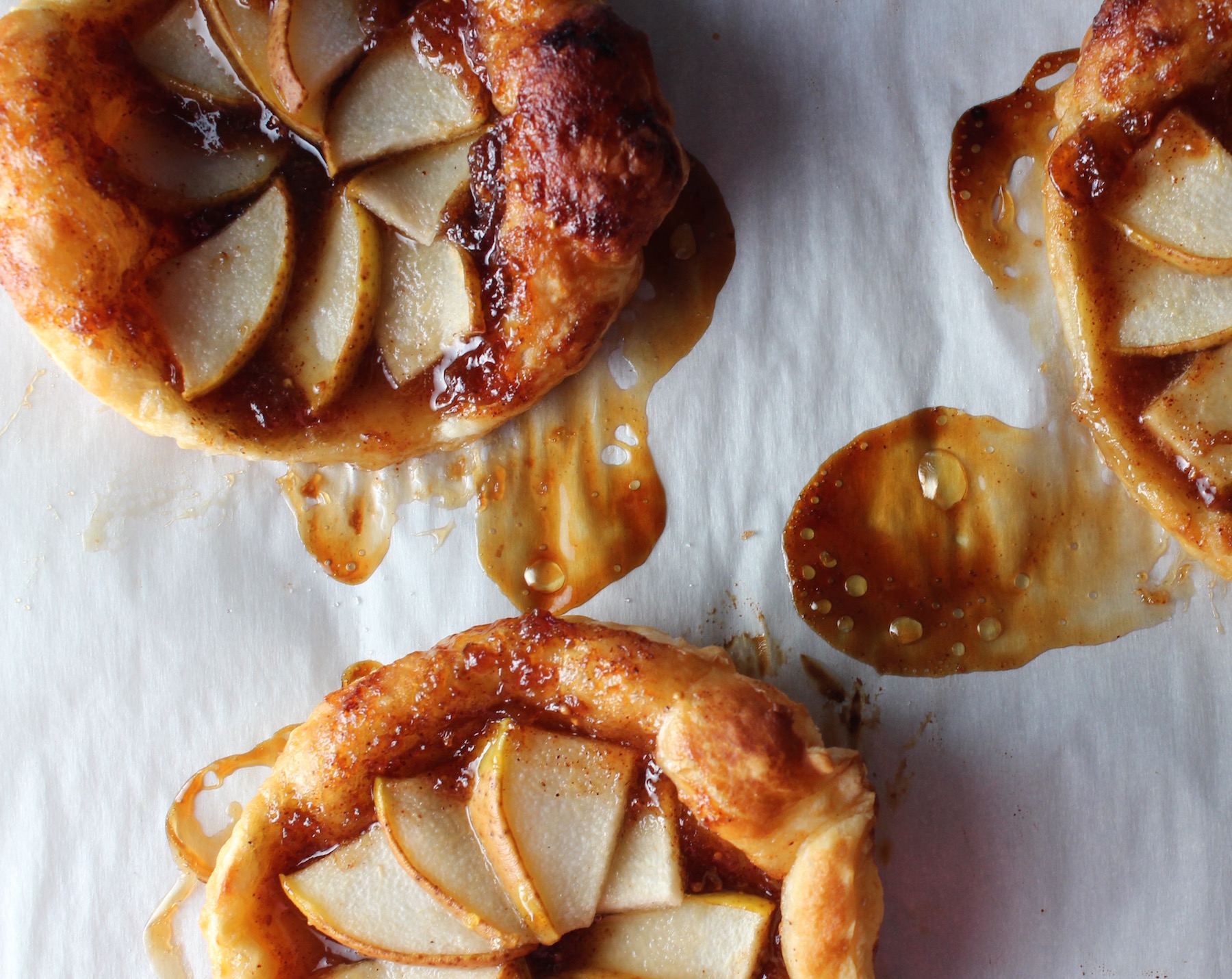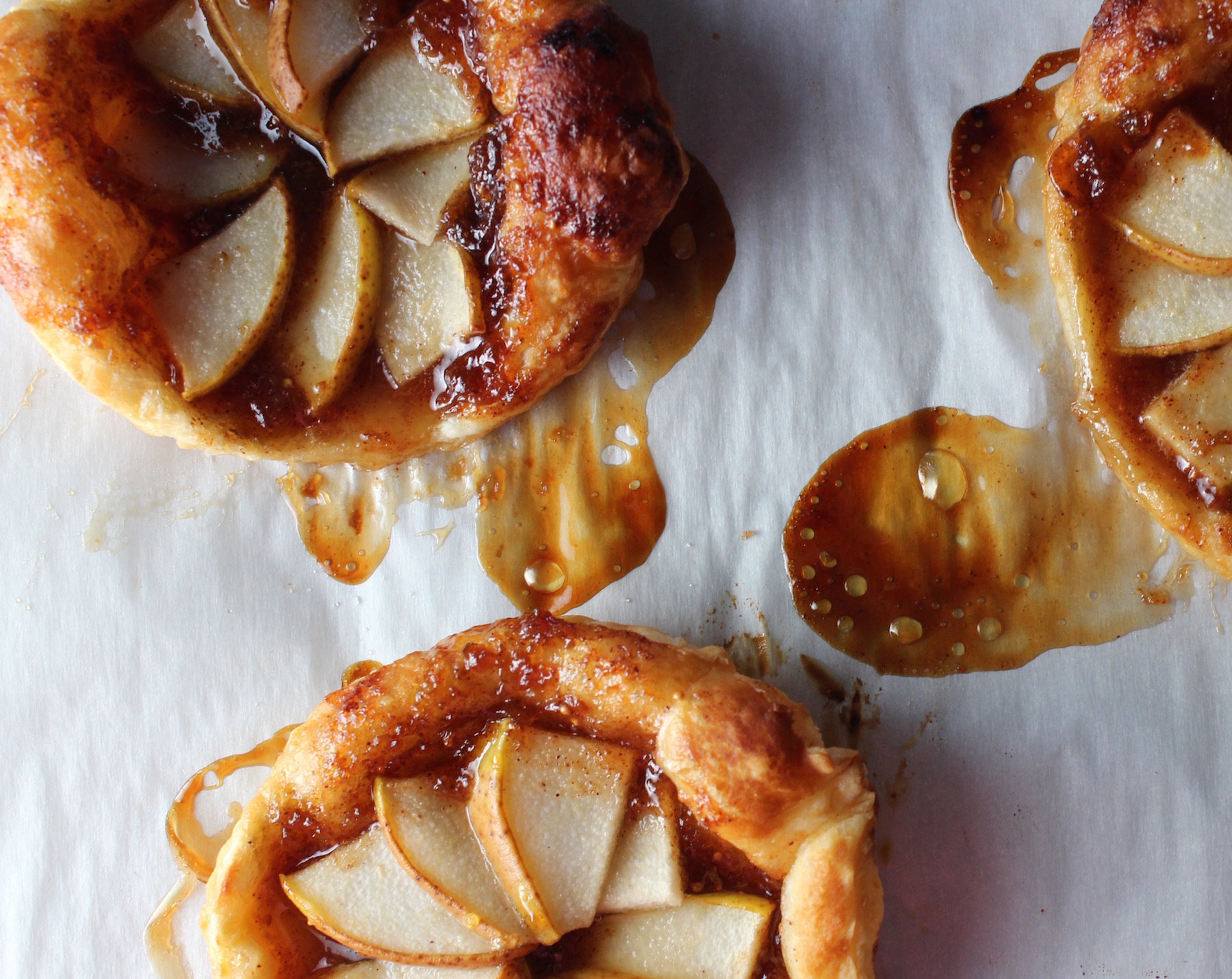 Mini Pear & Fig Galettes
Figs and pears are perfect pairs in this tasty puff pastry.
Author:
My Delicious Blog
Ingredients
¼ c. fig jam
1 tsp. lemon juice
¼ tsp. ground cinnamon
Dash pure vanilla extract
Pinch salt
1 sheet puff pastry, thawed
1-2 ripe pears, sliced thinly (use the short cut, so they fit into the small pastry rounds)
1 egg (for egg wash)
Instructions
Heat oven to 375 degrees.
Line a baking sheet with parchment paper.
In a small bowl, combine jam, lemon juice, cinnamon, vanilla and salt. Mix well and set aside.
On a lightly floured surface, roll out thawed pastry to make it about 1-2" bigger than original size.
Using a bowl or a large round cookie cutter, cut out 4 rounds (about 6") in the puff pastry.
Place the pastry rounds on the parchment paper.
Place a spoonful of fig mixture in the middle of each pastry round; spread within the middle, but leave about 1" uncovered all around the edges.
Place a circle of pear slices on top of the fig mixture in each pastry round.
Fold about 1" of the pastry edge toward the pears.
Brush pastry edges with egg wash (egg beaten with 1 tsp. of water).
Lightly sprinkle pears and pastry with a bit of sugar (optional).
Bake for approximately 25 minutes, until the pastry is nicely browned.
Remove from oven and allow to cool at least 30 minutes before serving (Note: they taste best at room temperature).