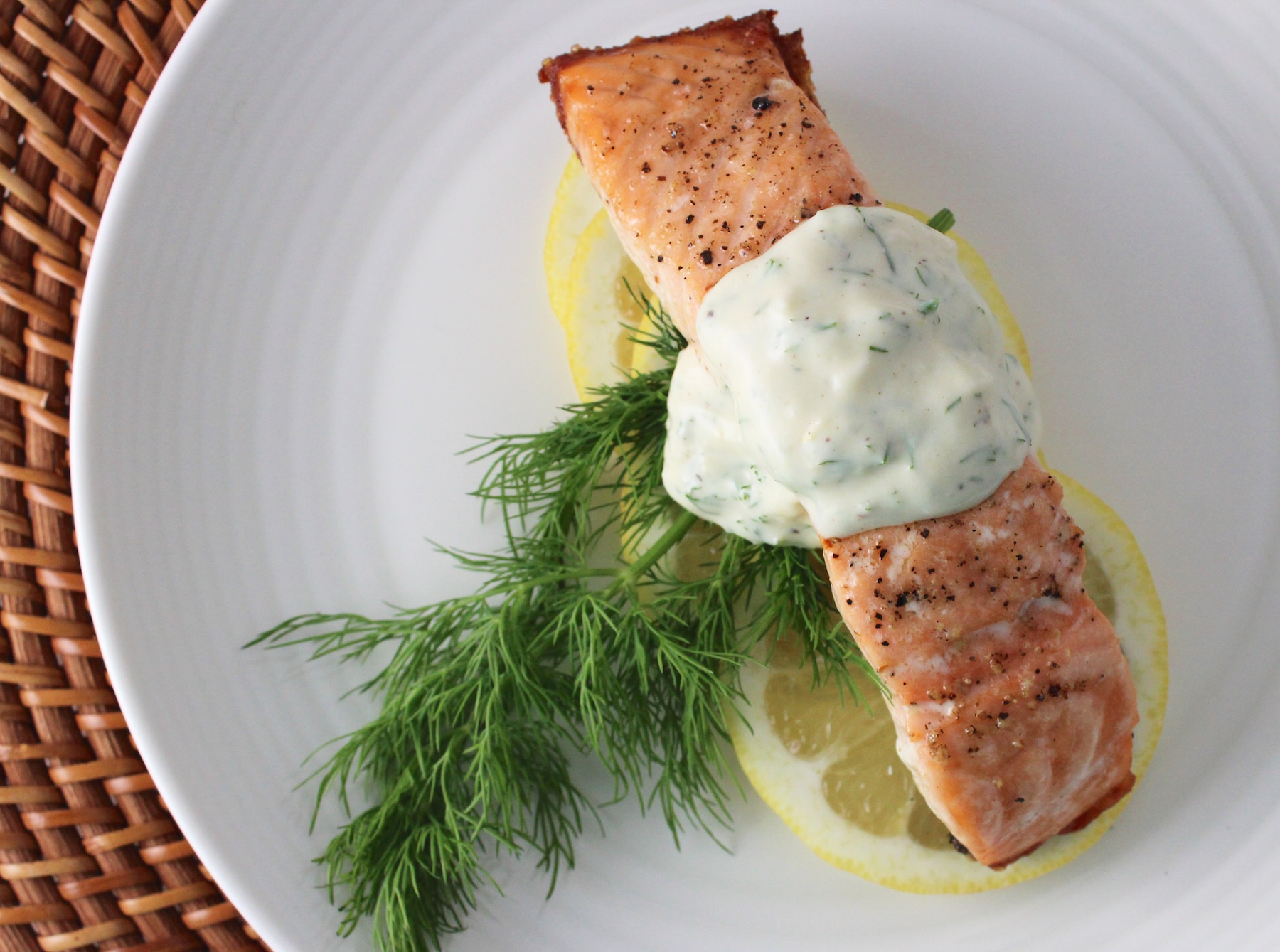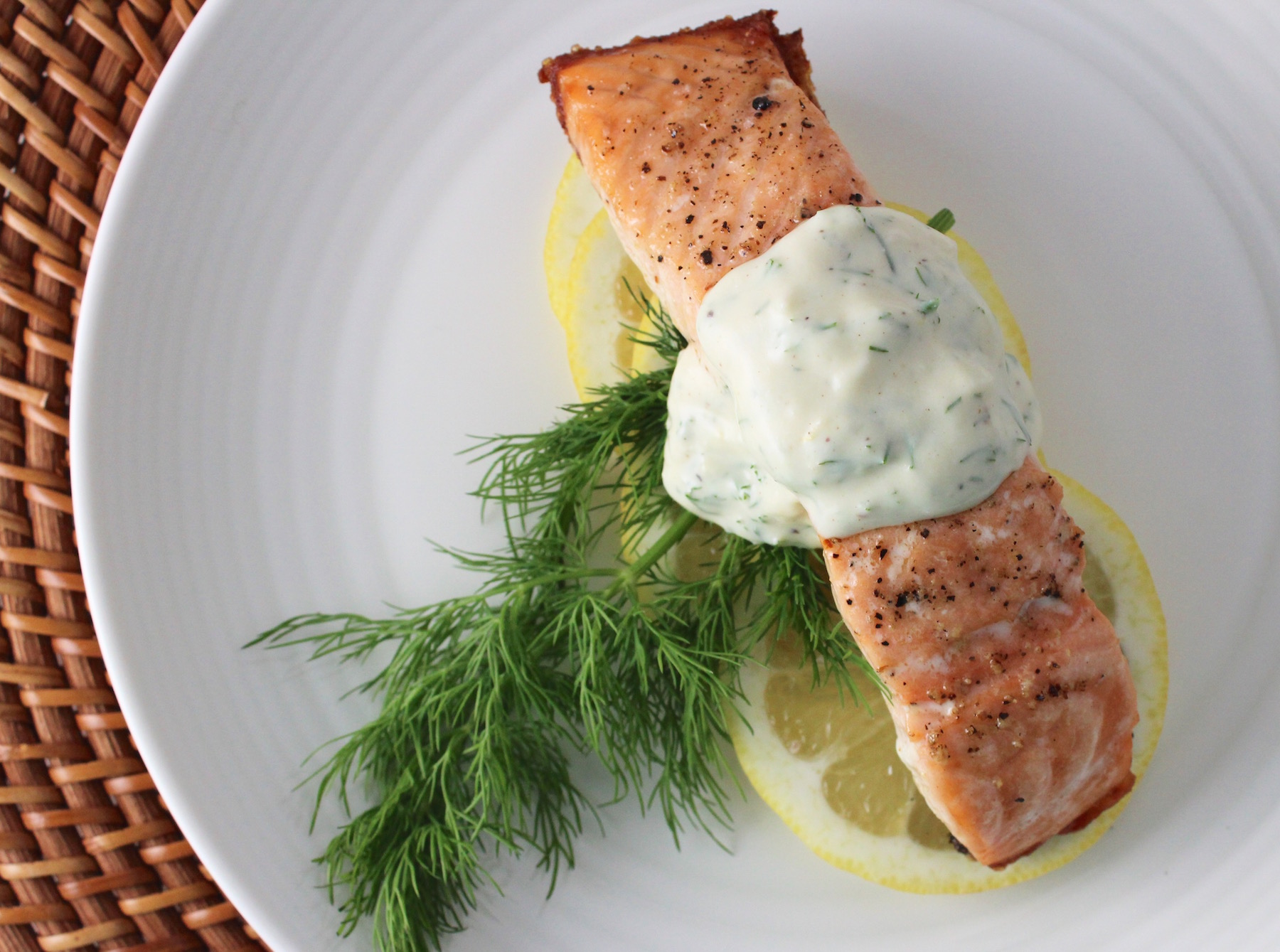 If you're like me, celebrating the holidays is is not only a joyous time, but also, and easy opportunity to overindulge!
So, after clearing the first hurdle of the holiday season (Thanksgiving, that is), it's time for my household to take a pause and get back on track with our healthy eating. Yes, Christmas and New Year's are still on the horizon, but with some careful planning, I think we'll sail through pretty well. I can't lie — you'll probably still see a dessert or two on My Delicious Blog (it has the word Delicious in it for a reason), but you'll also see more lighter dishes and heart-healthy options. This not only makes me happy, but my doctor is very glad to know about my plan 🙂
Today's dish is salmon.  It's not only delicious, it's also good for your heart, can be prepared quickly, and is readily available in supermarkets and fish markets at pretty decent prices. I usually buy fillets with the skin on because when you cook the fish, that layer of skin/fat prevents the flesh from drying out and it locks in more flavor. The skin also acts as a good 'heat barrier,' allowing the flesh to cook at a slightly lower and more even temperature. I've cooked salmon in so many ways — poached, pan-seared, baked, grilled — but my favorite is pan-seared, skin-side down until the skin is very crispy, then I finish baking it in the oven on low heat. It's always delicious, tender and flaky, and that crispy skin offers extra richness and flavor to the delicate fish.
I know some folks are hesitant to cook salmon at home because so many things have gone wrong when they tried: sticking to the pan, creating an oily mess, lingering smells in the kitchen, overcooking or undercooking, etc. I have to admit, sometimes I do prefer to cook salmon outside on the grill to avoid any residual smell in the house but, it can be done well inside the house using a few key tips:
1) Use a non-stick, oven-proof pan
2) For the love of Pete, turn ON the exhaust fan!
3) Thoroughly pat-dry the fillets, otherwise, you'll create steam in the pan. I press a paper towel tightly around the fillets to ensure there's no moisture left.
4) Heat oil in the pan on pretty high heat before placing in the fish, skin side down. This allows the skin to heat up first, which prevents sticking.
5) Once the fish is in the pan, reduce the heat to medium, so you don't scorch it. This allows the skin to cook evenly, ensuring a very crunchy and flavorful bottom layer, with no residual 'fat layer' that's not very appealing.
6) Cook it totally on the stove top, skin side down until the flesh is cooked OR, once the skin is crispy and you start to see a light pink color creeping up from the skin layer, put the pan in a pre-heated oven (~ 325 degrees) and finish cooking in the oven for a couple of minutes (careful not to overcook). You can't go wrong with either method.
This dish came out really yummy. I served the salmon with a tangy sour cream, yogurt, dill and Dijon sauce, alongside roasted asparagus and sautéed spinach with garlic. A very tasty AND healthy dish!
Hopefully I've inspired you to give salmon a second chance and cook it at home 🙂

Seared Salmon with Dill & Dijon Sauce
Seared salmon is extra delicious with this tasty dressing of sour cream, yogurt, dill, Dijon and lemon.
Author:
My Delicious Blog
Ingredients
Sauce:
¼ c. sour cream
¼ c. plain yogurt (or Greek yogurt)
½ c. fresh dill, chopped
1 Tb. yellow onion, grated (or finely chopped)
1 tsp. Dijon mustard (or more, to taste)
1 tsp. lemon zest
dash kosher salt
dash freshly ground black pepper
Salmon:
1 lb. Salmon fillets (skin on), cut into 4 portions (about 4 oz. each)
kosher salt
freshly ground black pepper
1 Tb. olive oil
Fresh lemons
Instructions
Whisk all ingredients together for the sauce. Refrigerate at least 30 minutes before serving.
Thoroughly pat dry the fillets, then sprinkle with salt and pepper. Set aside.
Place oil in a non-stick skillet and heat to high.
Place fillets, skin side down, in hot pan. After 30 seconds, reduce heat to medium.
Cook on stovetop until the fillet is pink and relatively firm to the touch (about 5 minutes). OR, once the fillet starts showing light pink creeping from the bottom crust, pop the pan into a preheated 325 degree oven and finish in oven for about 2 minutes.
Remove from pan (see Note), sprinkle with lemon juice and top with Sauce.
Notes
You can remove the skin layer before serving, but I like to keep it on, so I can pull out more of those tasty, crispy bites.