Moringa is a hearty tree that produces branches with small, dark, pretty leaves. In some areas, it's even referred to as drumstick tree or horseradish tree because of its long, narrow, triangular seed pods. It originated in Himalaya but it's also grown readily in the Philippines, Malaysia, India, and Central and South America.
It grows really fast, is drought-tolerant, and is jam-packed with nutrients like 7 times the Vitamin C in oranges, 4 times the Vitamin A in carrots, 4 times the Calcium in milk, and 3 times the Potassium in bananas.  Leaves and seed pods are both edible and packed with protein that's easily digestible. The dried seeds can even be used to purify water – wow!  Because of its wonderful attributes, it's one of the foods being used to feed many undernourished populations in sub-tropical areas, and it has made its way onto the list of 'superfoods' across the globe.
I've been following stories about it for the last couple of years, and was happy to learn it's also grown locally.  I recently picked some up at Jessica's Organic Farm in Bradenton — they grow it and sell the pretty leaves in clusters at their weekly market.
As for how to use Moringa in the kitchen, I think you can get pretty creative with these leaves.  First you need to remove them from their stems (which are bitter) but when you taste them you'll find that they're a bit like arugula, with a slight peppery, lemony flavor.  That should give you a start as to how to incorporate them into your kitchen.  I've read that they can easily be prepared like other green, leafy vegetables (spinach, collards, etc.) — sautéed in a pan with olive oil and/or tasty flavor add-ins like garlic or shallot, to wilt them.  You can also toss the fresh leaves into salads or soups or curries. Those leaves can also be dried and made into a tea, or pureed into a powder to blend into smoothies or dressings, or to season roasted vegetables, etc.
When I'm trying a new-to-me ingredient, I just think about what I already cook and how I could replace an ingredient with the new one, then I experiment.  For my first round, I decided on a batch of pesto. I thought its 'arugula-like' tendencies would nicely complement my traditional basil pesto, boost the bright flavor and, of course, add more nutritional value. I simply took back my ratios of basil and parsley and balanced them with fresh Moringa leaves.
It came out really tasty on its own, but it's even better when you mix the pesto with warm pasta (including a little reserved pasta cooking water to make it more creamy). Making pesto is a great way to use up a good amount of fresh leaves, especially if you find yourself with a big tree.
I recently visited my new friend Glen, who has quite an extensive garden at his house. He's all about sustainability, so it's not surprising that he has LOTS of Moringa. It grows super-easy in our south Florida climate (from cuttings or seed), and it replenishes quickly after being trimmed. I was even surprised to learn that when a branch falls on the ground, shoots start emerging and it just grows right where it is, like this one: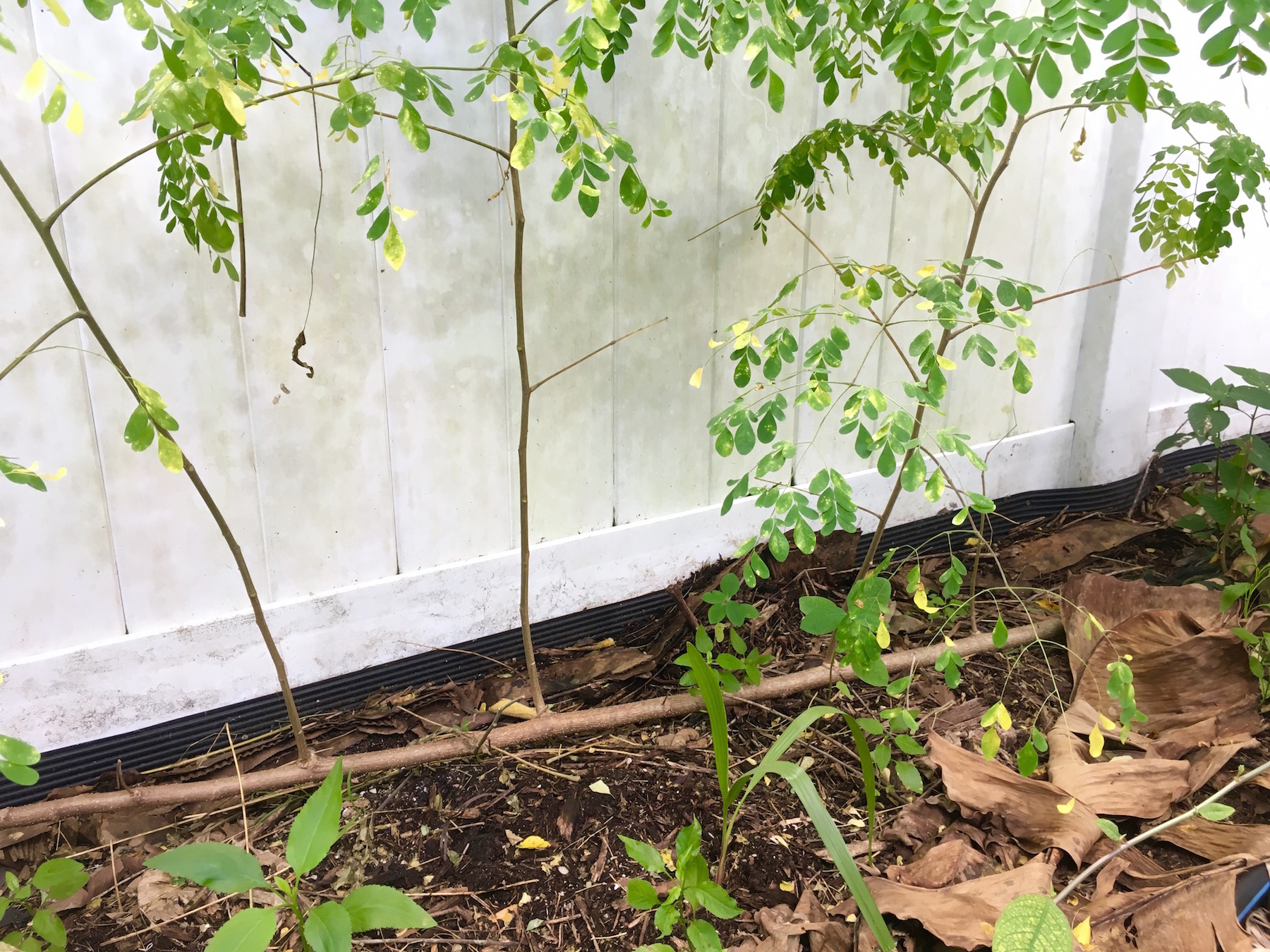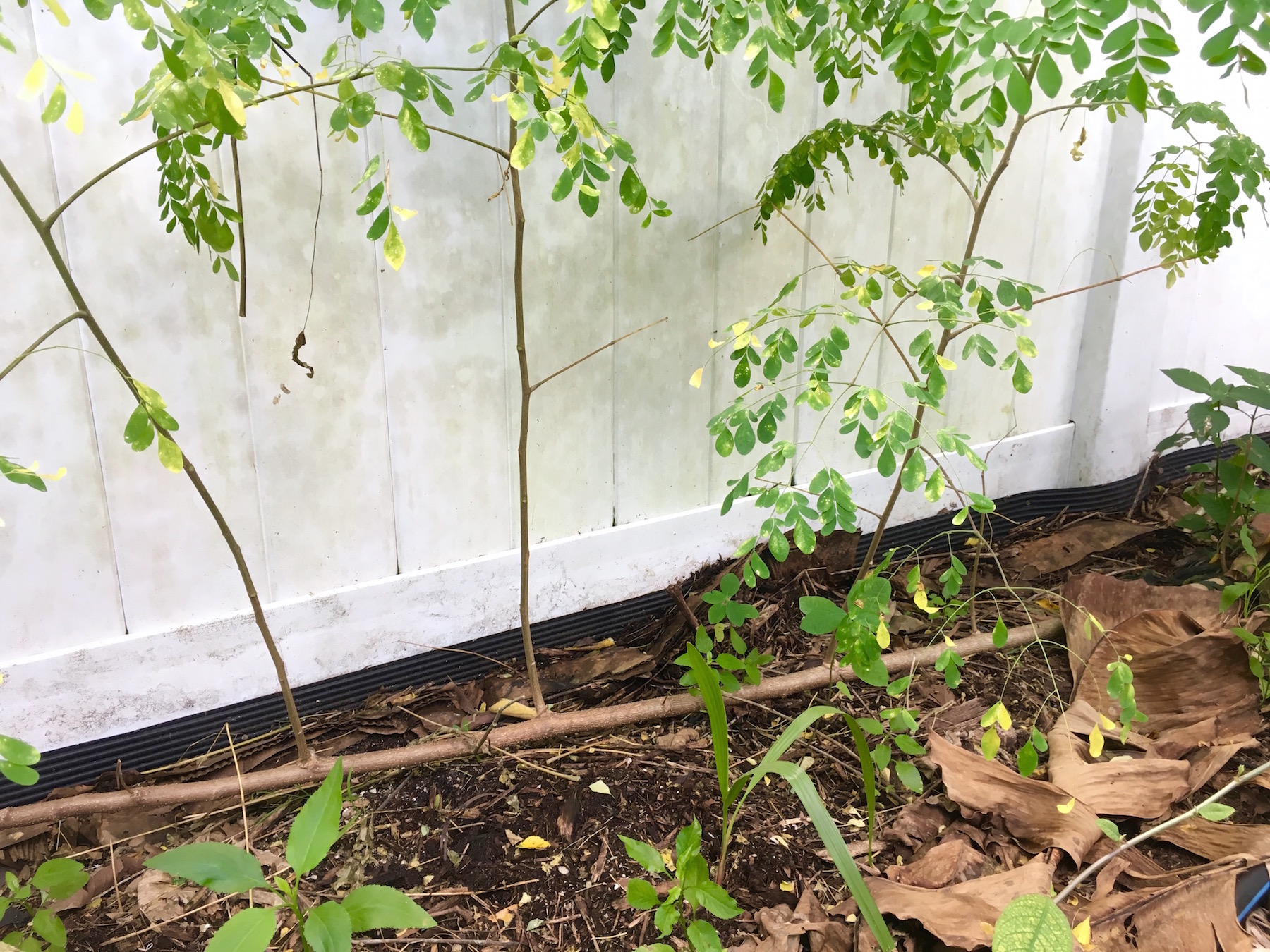 Glen gave me a starter tree for my own garden, so I'm anxious to see it grow.  Note: if you decide to plant one, it can get pretty big and tall (as high as 40 feet), so depending on your planting area, you might want to keep it trimmed to avoid it reaching power lines .  Did you ever see two people more excited about Moringa?!?
Locally, I've seen Moringa at Jessica's and at the Sarasota Farmers Market (be sure to check out Peter Burkard's area because I think he sometimes even has the dried version).
If you see it, pick some up and try it in your own kitchen. It's SO good for you, and it will be fun to try something new!
Stay tuned for more recipes using these amazing leaves 🙂

Moringa & Basil Pesto
Fresh moringa is great when paired with basil, parsley, pine nuts and olive oil.
Author:
My Delicious Blog
Ingredients
½ c. fresh Moringa leaves (removed from branch stems)
½ c. fresh basil leaves
Handful fresh parsley
¼ c. toasted pine nuts
Zest of 1 lemon
1 clove peeled garlic
½ c.+ grated parmesan (add more if you like it really creamy)
Pinch kosher salt
Pinch freshly ground black pepper
⅓ c. extra virgin olive oil
Instructions
Add all ingredients, except olive oil, to the bowl of a food processor.
Process until everything is well-minced and blended.
Leave processor in the 'on' position and slowly drizzle in the olive oil until well-blended.
Taste for seasoning.
Cover tightly and refrigerate overnight.
Remove from refrigerator and allow to reach room temperature before using (mix with pasta, roasted vegetables, etc.).