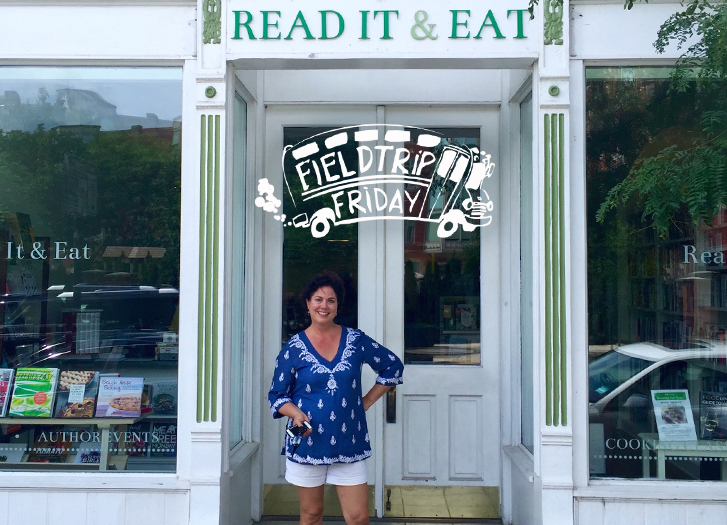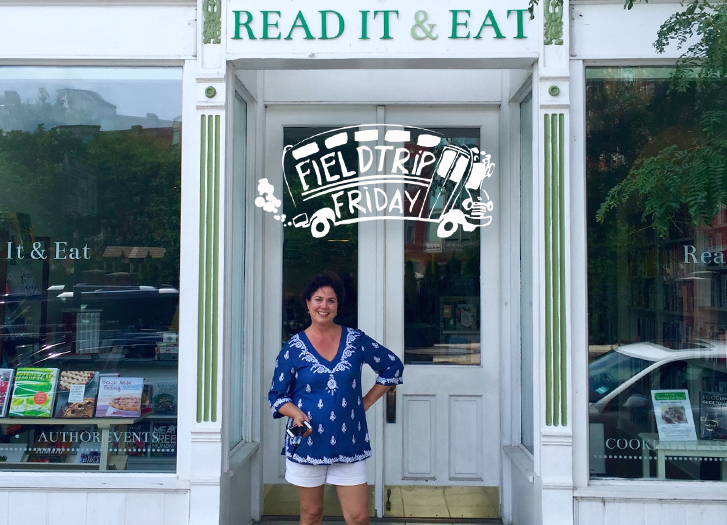 (Field Trip Fridays capture interesting, fun, food-related and/or fishing adventures that I like to share with you!)
I adore reading food memoirs and old cookbooks — the older the better, for me. Spending time in dusty bookstores is one of my favorite things to do because you never know what you'll find. Vintage cookbooks not only document the history of food, but also provide a little humor about how far women have come in the kitchen 🙂
In terms of food memoirs, you'll find at least two on my nightstand at any given time. If you've never read one, well, it's basically a compilation of stories (and sometimes recipes) a writer shares about his or her experiences with food — present day or memories from childhood. They provide a little peek into a person's history, reveal pieces of how he/she was shaped, or simply tell you what inspires them. We all have our own stories, memories and family traditions, so we can all relate to something. It's amazing how food can do that. When I write my blog posts each week, I go back to my experiences and memories – it's not always easy to pull together the posts, but it's certainly fun, and each time I sit at my desk I'm reminded of M.F.K. Fisher's quote "A writing cook and a cooking writer must be bold at the desk as well as the stove."
Now, back to bookstores. For those of us who are somewhat "food-obsessed" we really should not be left alone in a culinary bookstore. And if you didn't know there were such places, well, there are. I've read there are about 15 in the U.S. alone. Yup – if you love to cook, read food journals/memoirs and collect cookbooks, these are dangerous places (in terms of budget and available shelf space), and I'm always required to take someone with me who will prevent me from buying everything.
When my husband and I were in Chicago recently, I was determined to squeeze into our schedule a store I had read about in a culinary magazine. It's called Read It and Eat and it's in the Lincoln Park area. As soon as I walked in I knew it would be my new, favorite place. There were rows and stacks and shelves of books everywhere, all with one thing in common — FOOD. My husband said something like "I'm going to just sit over here while you do your thing" but I really wasn't paying attention. I just wanted to get to the books! I introduced myself to the owner, a lovely woman named Esther Dairiam. She opened the store not even a year ago and was happy with the response it had gotten.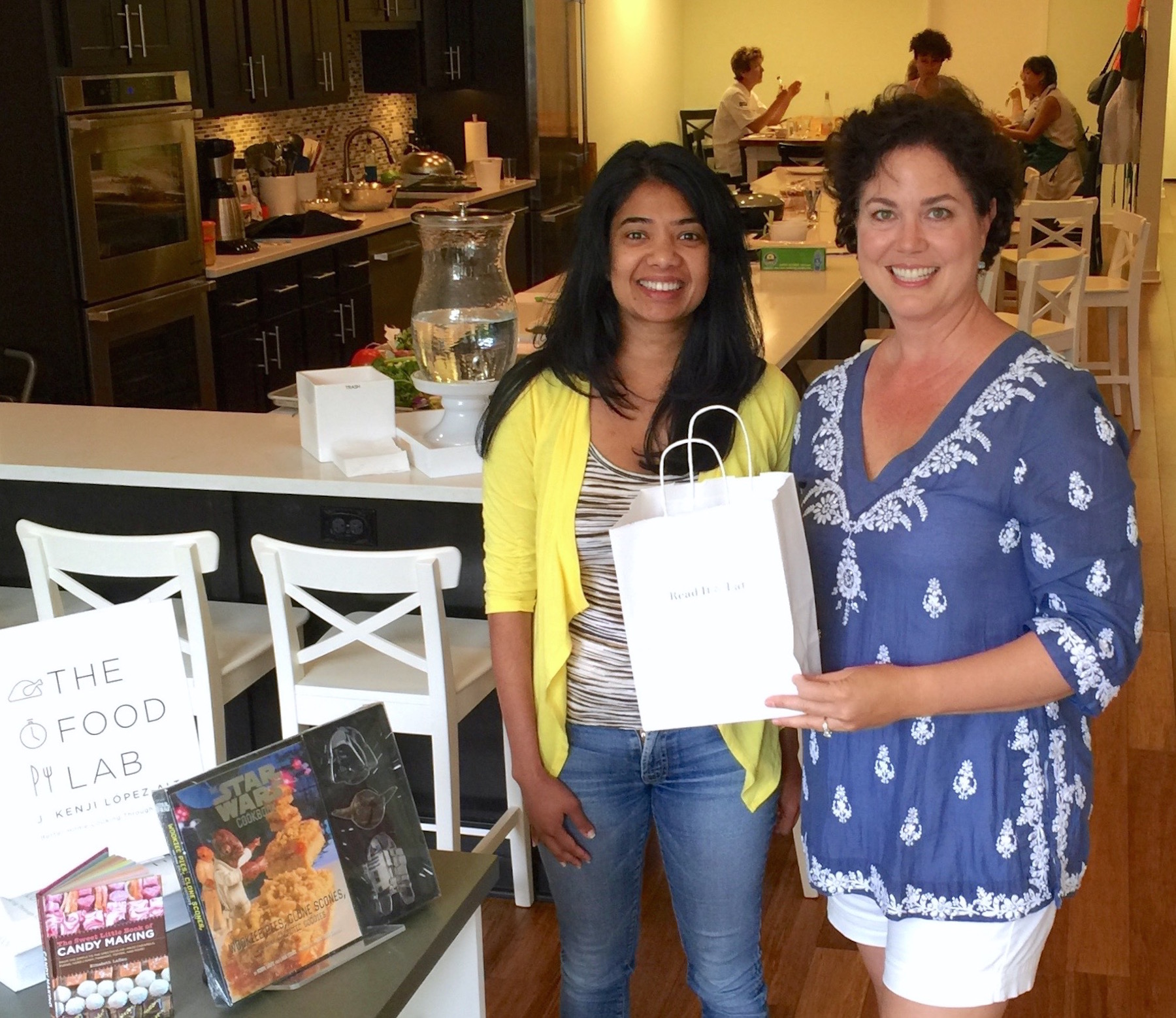 This beautiful, bright store is in a renovated vintage building. It's not a huge space, but it houses a full kitchen that's used for cooking classes and demonstrations, and it's very welcoming. While I was there, two chefs were preparing a delicious-looking dish with chickpeas and chicken and it smelled divine. How nice to sift through books while wonderful aromas surround you!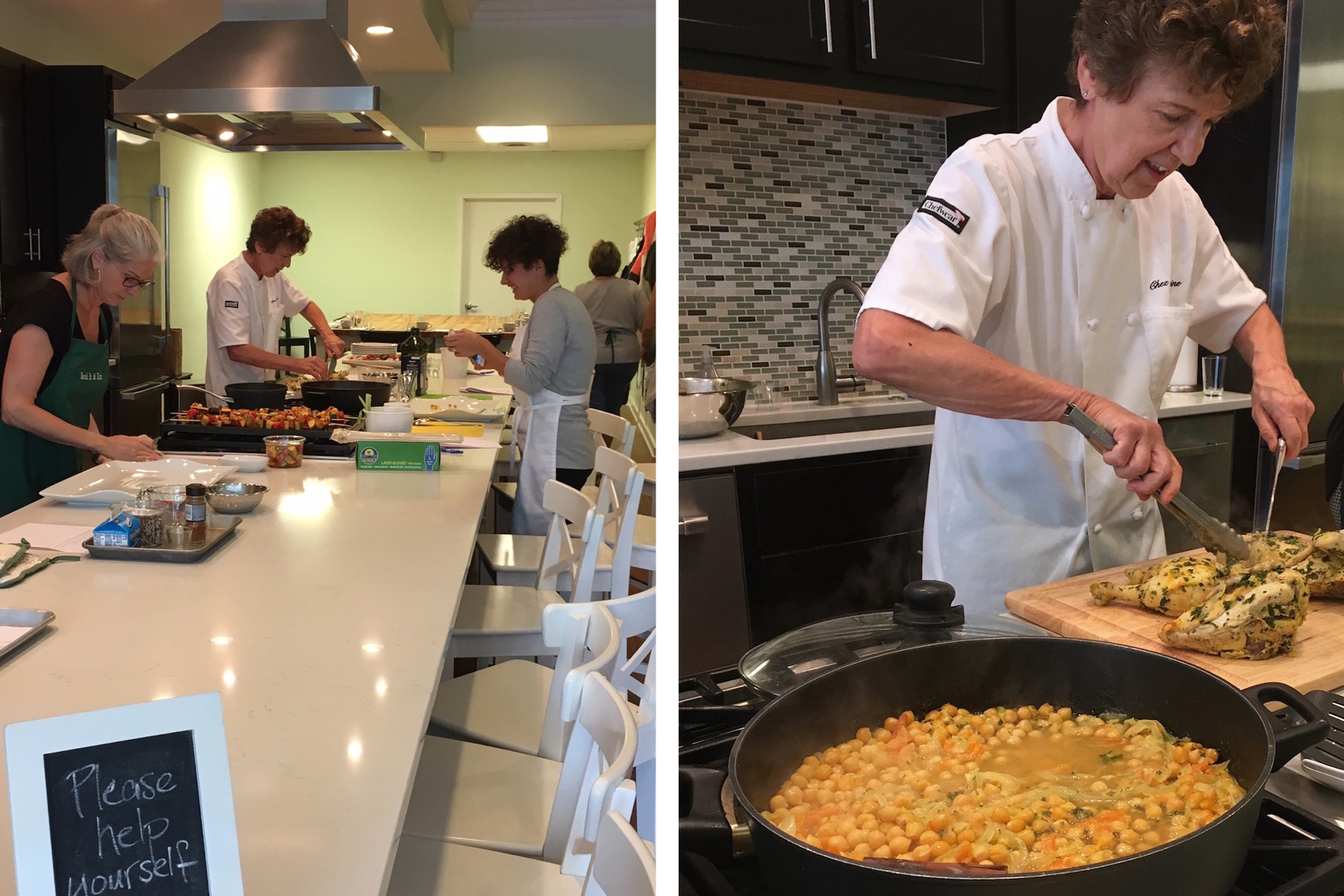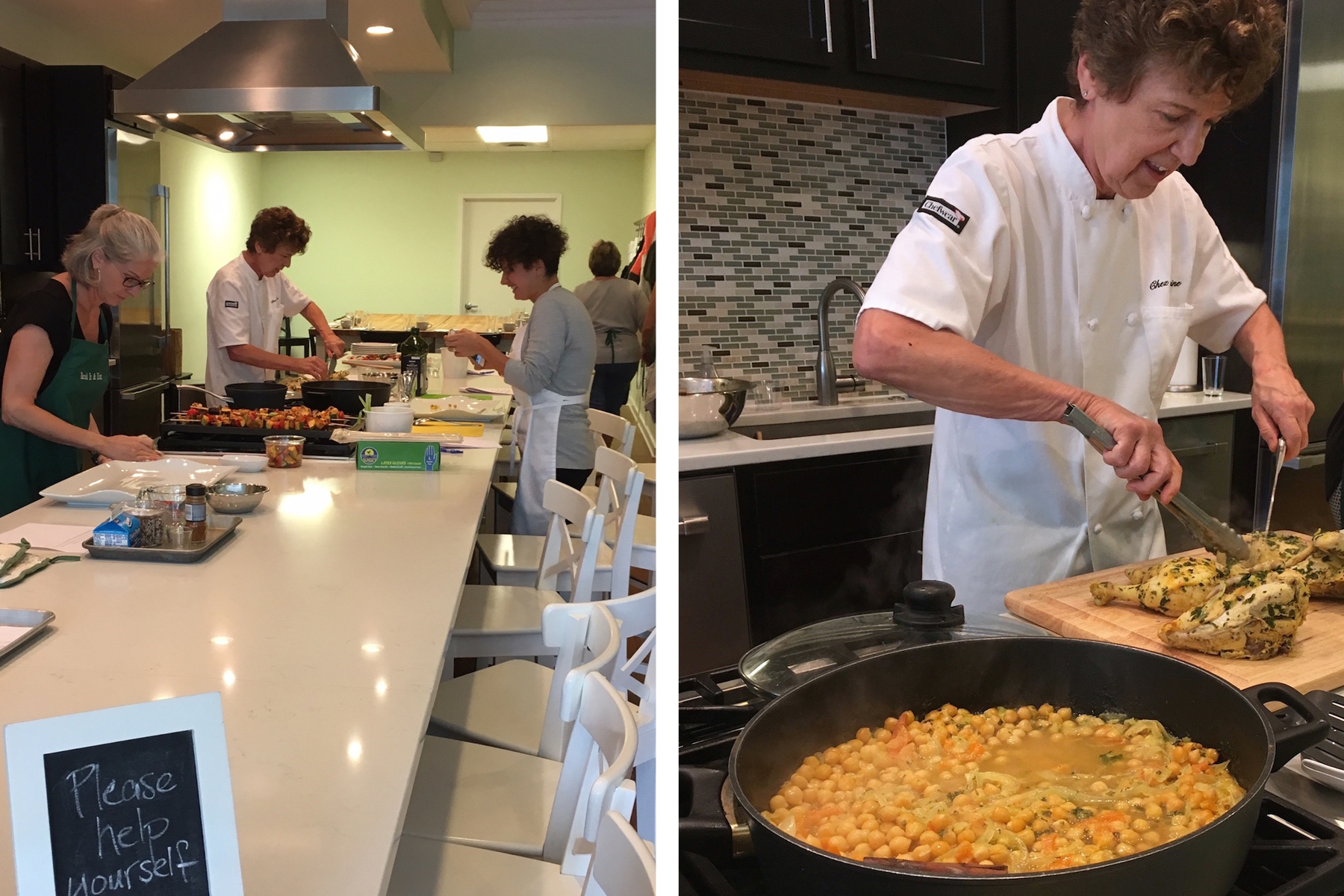 The collection of books is extensive — all are new and some are simply out of print (no dusty books for me this round). Recipes, travel adventures, essays, memoirs and food history — they were all there. How fun to see many of my favorites: Toast by Nigel Slater, Home Cooking by Laurie Colwin, The Man Who Ate Everything by Jeffrey Steingarten, The Tenth Muse by Judith Jones, Tender at the Bone by Ruth Reichl, My Life in France by Julia Child & Alex Prud'homme, The Art of Eating by M.F.K. Fisher, The Language of Baklava by Diana Abu-Jaber, Born Round by Frank Bruni, Climbing the Mango Tree by Madhur Jaffrey, just to name a few. All my friends in one place!
At one point, I found myself carrying a big stack of books, but my husband urgently reminded me that we couldn't fit them all in our carry-on bags. How would I choose?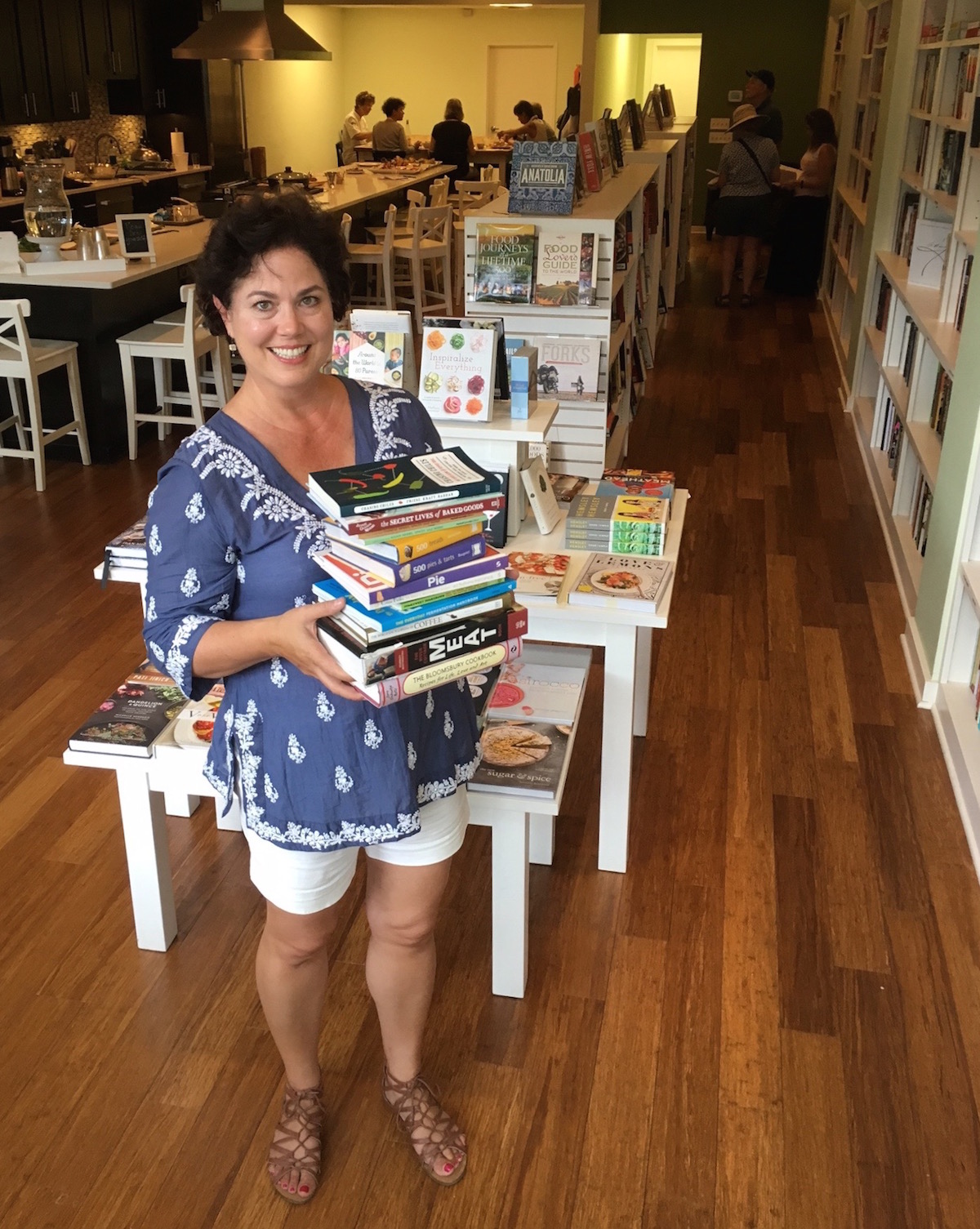 I finally decided on one memoir (More Home Cooking by Laurie Colwin) and one cookbook (a compilation of seafood recipes).
What a fun day.
If you're in Chicago, please visit this beautiful store. But if you're nowhere near Chicago, try to find a culinary bookstore in your area because, for those who love to cook, it's so inspiring. Here's a great article by Eater about culinary bookstores, which even lists a few of the most interesting ones: The Simple Perfection of a Cookbook Bookstore.