Ceviche is a perfect summer appetizer. It's light, bright, refreshing, and doesn't require use of the stove one bit. Even famed food writer MFK Fisher agreed when she wrote in With Bold Knife and Fork that it's "very good in hot weather."  So I, not being one to disagree with such a refined palette, take that as the final word!
Armed with the last batch of scallops my friends shared (see my post for Bay Scallops Casserole) after their trip to Crystal River, Florida, I decided to make ceviche. Truth be told, it wasn't because I was particularly inspired, I just really didn't want to turn on the oven 🙂
Bay scallops are great for ceviche because they're small, tender and sweet, plus, they require little prep and are always delicious. My husband likes his ceviche on the "well-done" side (meaning, the seafood has sat in citrus juices longer than a couple of hours), so I held back my enthusiasm for tasting this recipe for one whole day, allowing my batch to 'marinate' for almost 12  hours. It was hard, believe me, especially when I was anxious to get out a blog post!
The mix-in ingredients can vary depending on what you have available, but try to toss in things that add color and texture. I had some ripe mango and tomato on hand, so that was perfect. I used basil (a fresh, sweet complement), but cilantro would work well, too. I purposely didn't add any spice, but you could easily toss in some minced jalapeño or other pepper you like.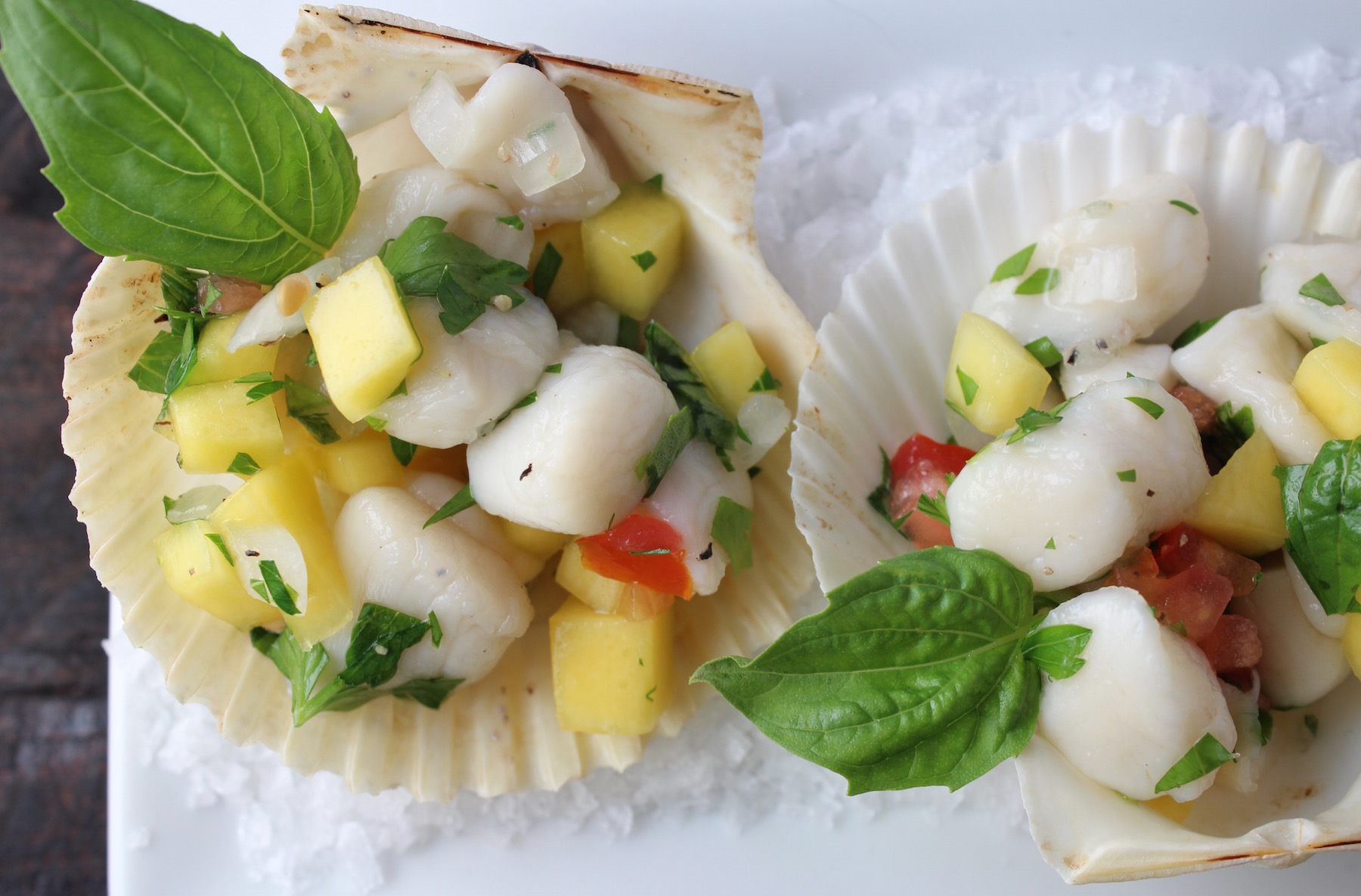 I think you'll find this recipe to be very easy, tasty and quite pretty. Serve it with corn chips, crisp lettuce cups, the scallop shells themselves (if you're lucky enough to have them!) or a buttery cracker. Or, if you're like my husband, simply eat it right out of the bowl with a spoon, because it's really delicious that way, too 🙂

Scallop Ceviche
Tender bay scallops are delicious when paired with sweet onion, mango, tomato and herbs.
Author:
My Delicious Blog
Ingredients
1 lb. bay scallops, cut in half
Juice of one lime
Juice of one lemon
Splash of dry white wine (if you have it)
½ small, sweet onion (small dice)
Handful fresh parsley, minced
Handful fresh basil, minced
¼ c. fresh tomato, seeds removed, small dice
¼ c. ripe mango, peeled, small dice
Dash kosher salt
Instructions
Combine the scallops, lime, lemon, white wine and onion in a deep bowl. Mix well to combine and ensure all scallops are covered (if you find they're not covered, simply add more citrus juice or wine). Cover with plastic wrap and refrigerate at least 8 hours (ideally 12).
Remove from refrigerator and drain all liquid from the scallops. In the same bowl, add parsley, basil, tomato, mango and a dash of kosher salt. Mix and taste for seasoning.
Serve in a pretty dish, on a shell, with crackers or lettuce cups.