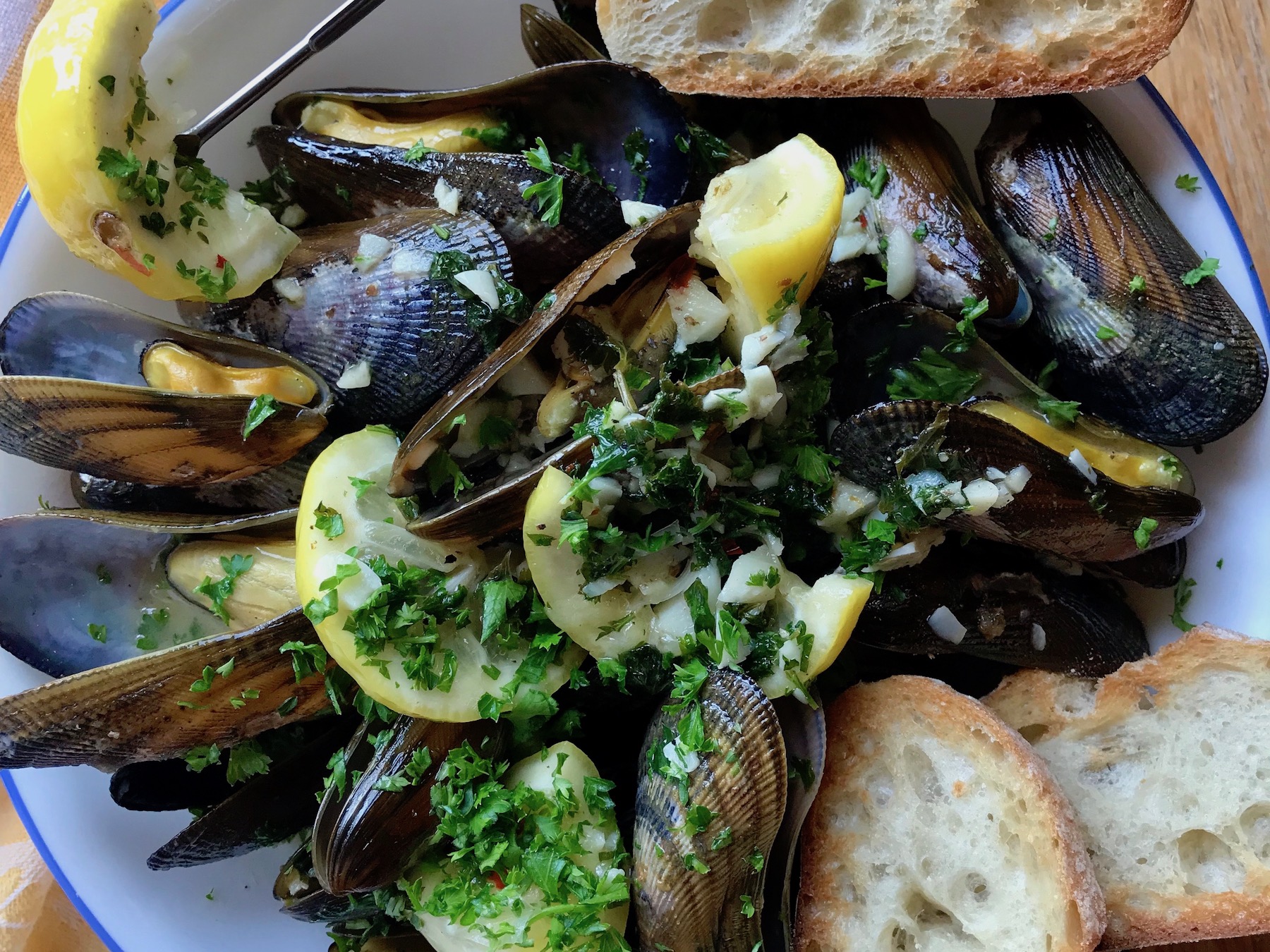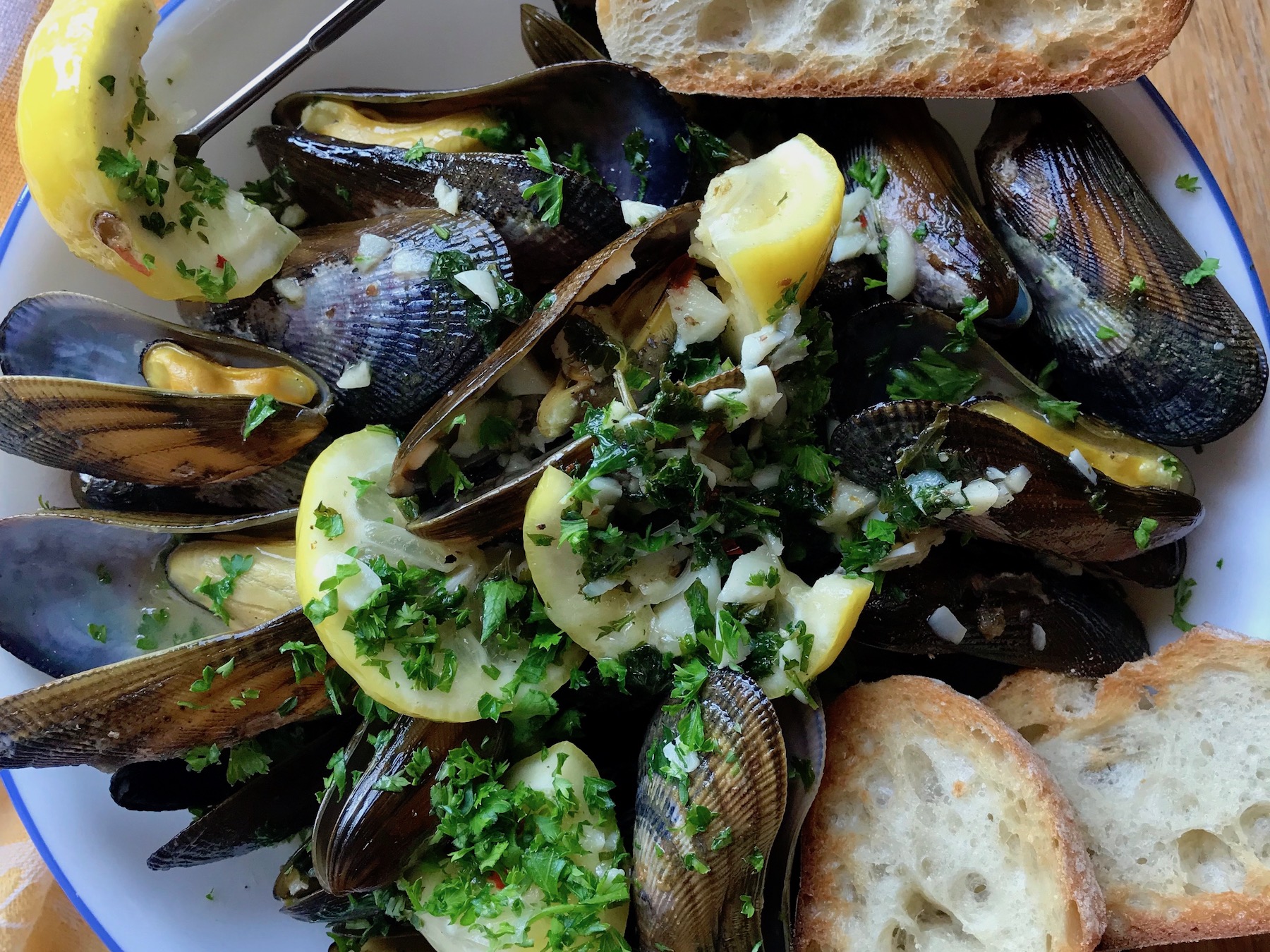 You might remember the recent Field Trip Friday I wrote about my visit to Westport, Massachusetts, in which I referenced an awesome day searching for quahogs, clams and mussels.  A great way to spend the day, digging in the muddy banks of a beautiful body of water and pulling out something awesome, like these mussels: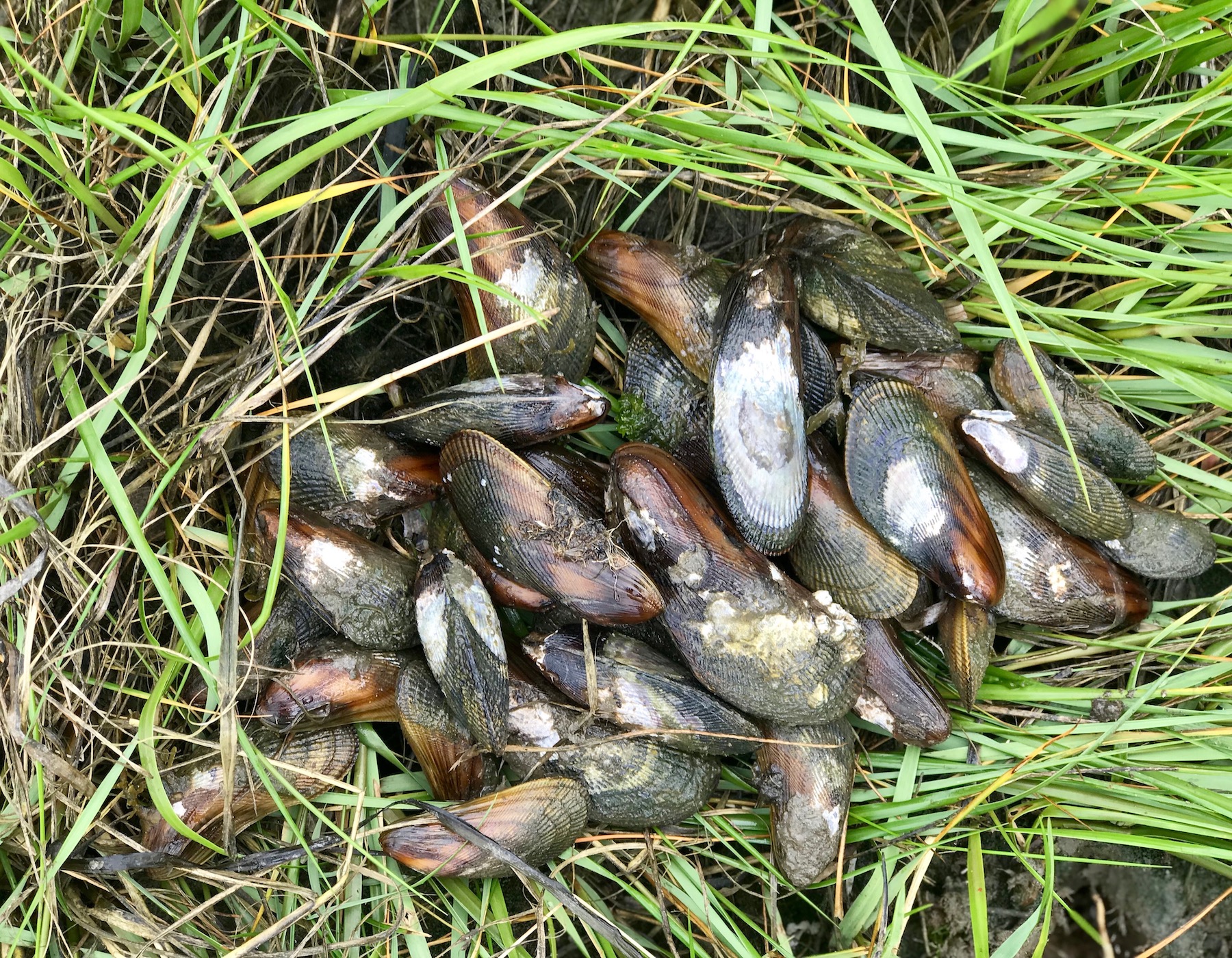 Here we are, with our fabulous finds.  As you can imagine, we were all pretty happy: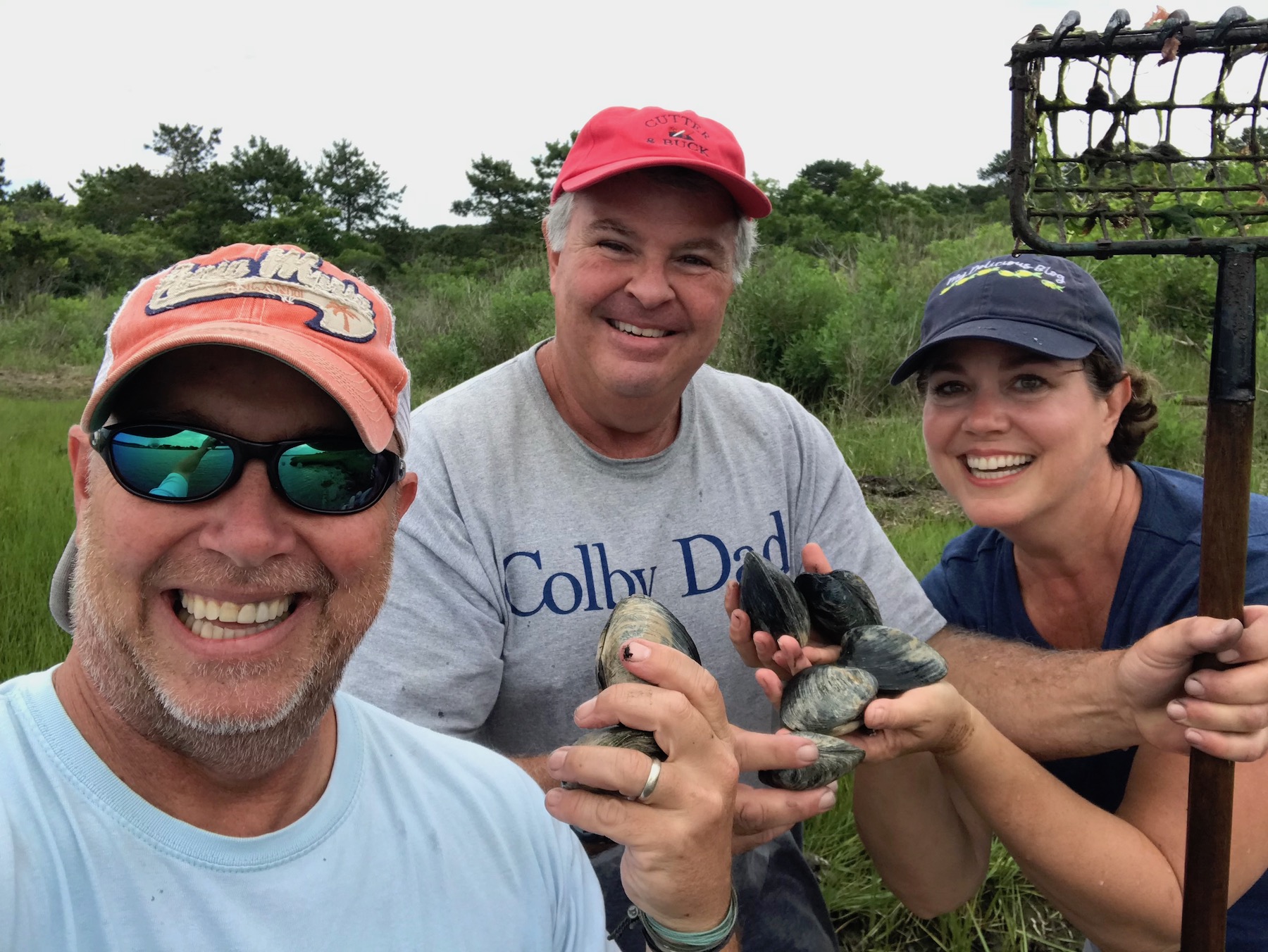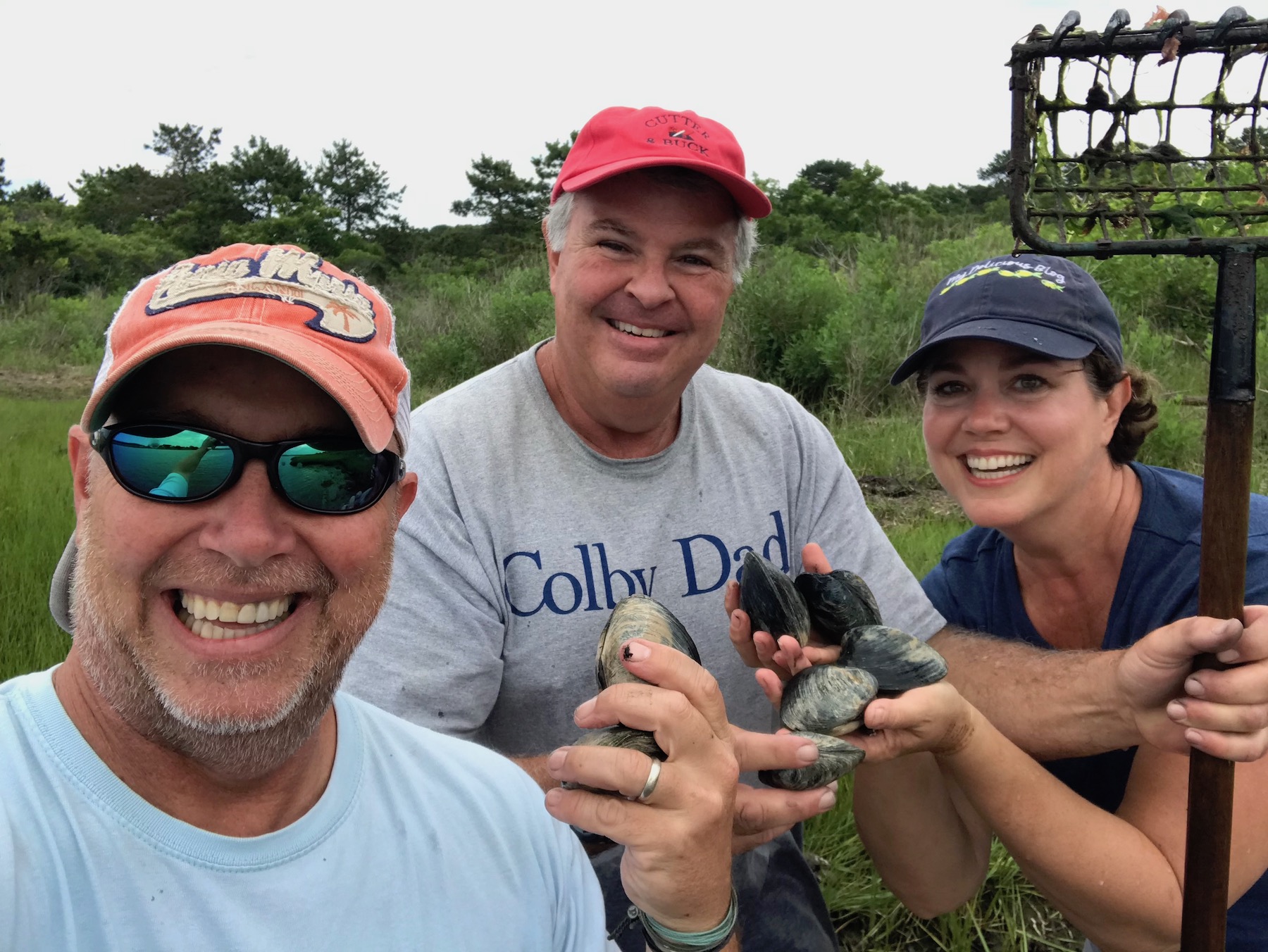 Mussels are low in fat and calories, a great source of Omega-3 fat, high in protein, with lots of other good stuff, so unless you have a shellfish allergy, you should be eating these mollusks frequently!   If you're lucky to live in a coastal area where mussels grow naturally, and even harvest them yourself, that's great, but most folks find them at fish markets.  They can be delivered to markets in as little as 8-12 hours from harvest, depending on where you are, so they're usually very fresh.  But what you may not know is that most mussels you buy in markets or restaurants are grown in farm-raised environments, a sustainable and healthy system.  To learn more about the process, check out
Mussels with Miso, Ginger and Lim
e (with a tasty recipe!).
So, let's just say you're deciding what to make for dinner in order to feed all those hungry souls you're responsible for (or just yourself, which is great, too).  But, you find yourself falling into one or more of these categories:
1) You don't want to spend tons of time in the kitchen;
2) You hate reading all those recipe steps (sort of like reading those instructions for setting up your cable remote);
3) You've been to the grocery store 3 times this week and don't want to go again for new stuff;
4) You're starving and don't want to wait too long for whatever it is to cook;
5) You dread the inevitable clean up due to the onslaught of pans, bowls and utensils needed to create something;
6) You're bored with your regular kitchen creations, want to try something different, but have no idea what to make.
If any or all of these apply to you, I suggest this classic dish of mussels, lemon, white wine, butter and parsley, which nullifies just about all of these issues.  Plus, it's really delicious.  Actually, I even suggest scrapping the whole idea of serving the mussels in individual bowls, and just delivering the whole pan to the dining room table, inviting everyone to dig in.  That way, you can even avoid washing plates and silverware 🙂
And now that I've solved your cooking dilemma(s), I'm off to learn how to set up my new cable remote. . .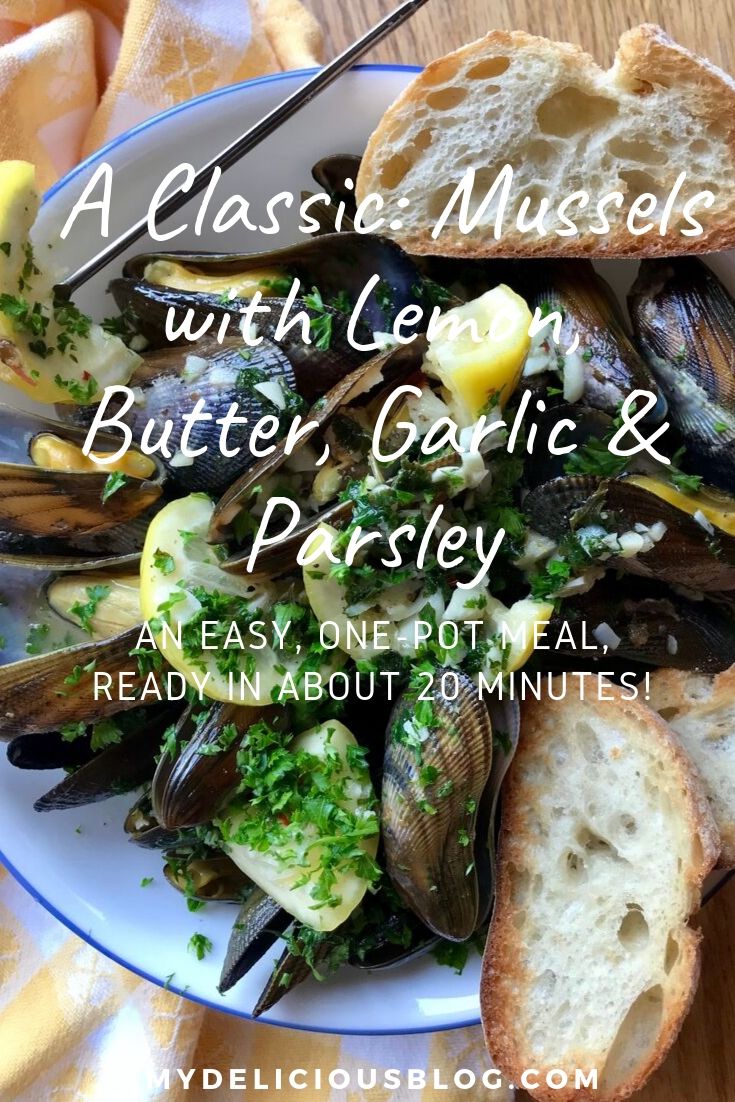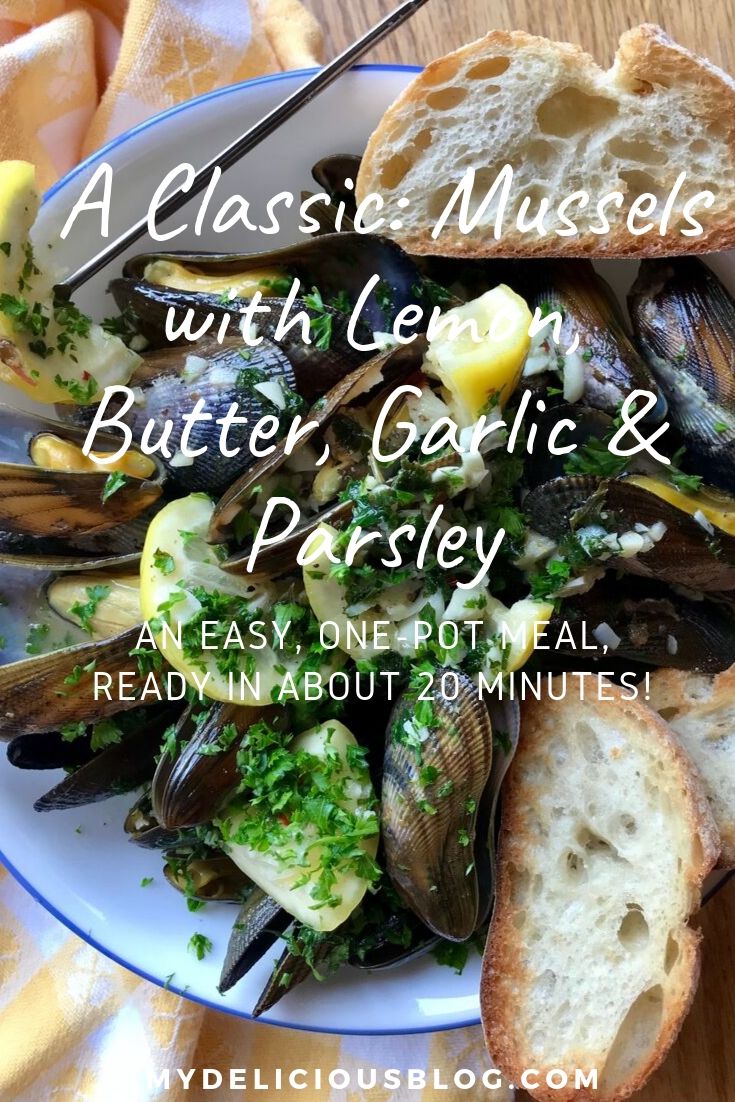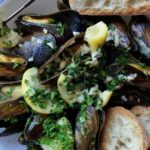 Print Recipe
Classic Mussels with Lemon, Parsley and Wine
Who doesn't love fresh mussels bathed in a tasty sauce of white wine, lemon, butter, garlic and parsley?
Ingredients
1

Lb.

Mussels, cleaned and bearded

2-3

Tb.

Unsalted butter

1

small

Onion, minced

2-3

Garlic cloves, peeled & minced

(use less if you're not a garlic fan)

1

pinch

Red pepper flakes (optional)

3/4

cup

Chicken or vegetable stock

1/2

cup

Dry white wine

1

tsp.

Lemon zest

(about 1 lemon)

2

Tb.

Lemon juice

(about 1 lemon)

1

large

Handful fresh parsley, minced

Kosher salt, to taste

Freshly ground black pepper, to taste

Lemon wedges, for garnish
Instructions
Wash, scrub and de-beard mussels. If any are open, toss them! Refrigerate with ice until ready to cook.

Place butter into a large, deep skillet over medium/high heat.

When butter is melted, reduce heat to medium/low, add onion and garlic (and red pepper flakes, if using). Cook gently until onion is translucent, but don't let the garlic burn!

Add stock, wine, lemon zest, lemon juice, a pinch of salt and a few grinds of pepper. Simmer gently 2-3 minutes to reduce the liquid.

Place mussels into liquid, cover the pan and steam for 6-8 minutes so the mussels open. Lift the lid and check to see if the majority of them are open. If a few haven't opened, toss them! Taste the sauce and season to taste with salt, pepper and/or fresh lemon juice. Optional: add a little more butter to finish the sauce (it makes it even better!).

Turn off heat and transfer mussels to a serving dish. Sprinkle with parsley and garnish with lemon wedges. Serve with crusty bread, pasta or salad (but be sure to have something to soak up all that delicious liquid!).
Notes
Buy mussels the day you plan to cook them since they don't store well for more than 1 day.  Keep them on ice in your refrigerator until ready to put into action.
This is a recipe that doesn't really require exact measurements, so feel free to be flexible and not worry about getting everything perfect 🙂