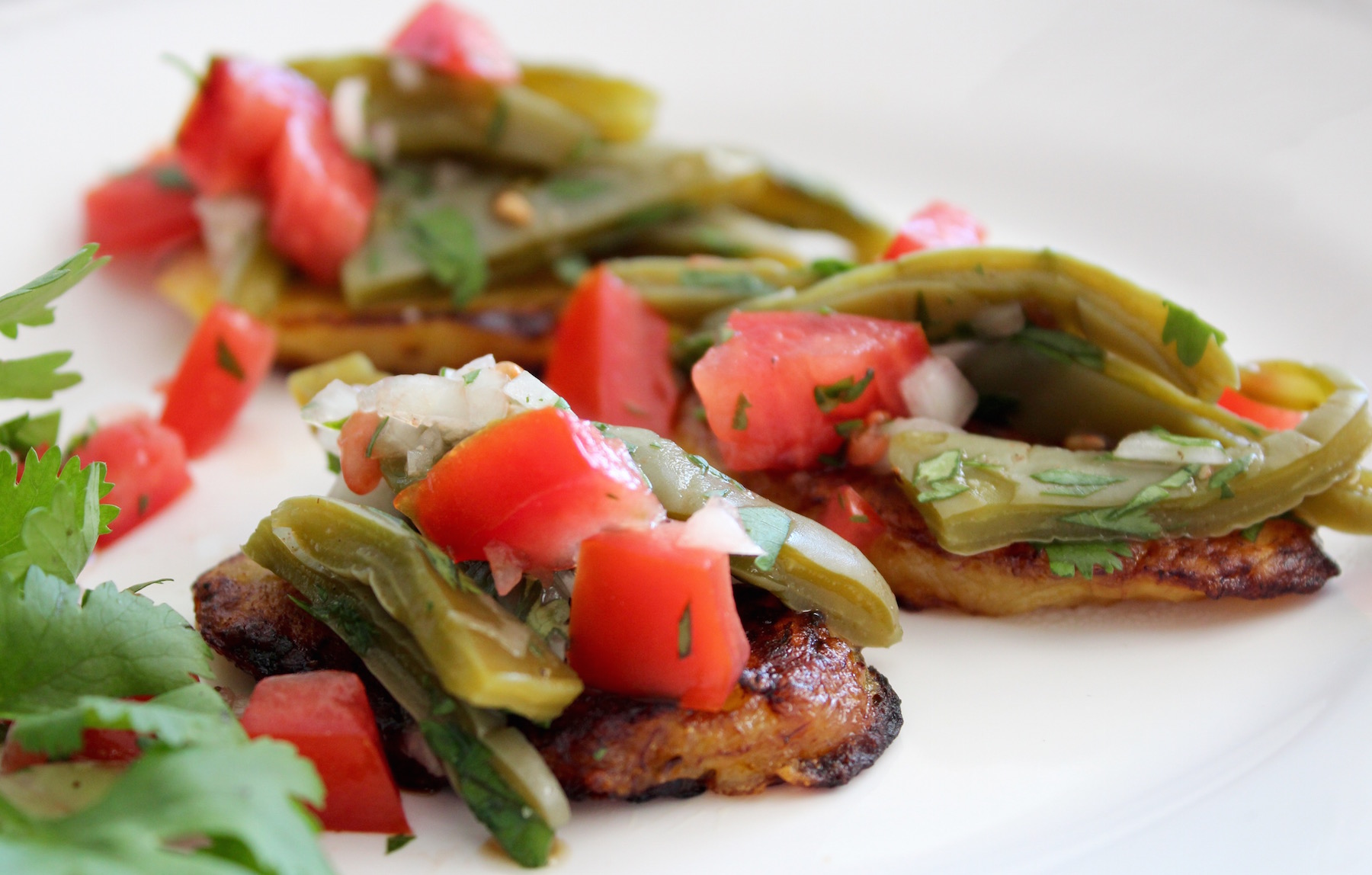 I recently visited the Sarasota Swap Meet to do some research for an article I'm writing for Visit Sarasota. There weren't many vendors, but that's probably because it was Sunday, off season, and a scorcher of a day. I saw lots of gently-used treasures, but the best stuff was at the Latin produce vendor tent tucked in a corner of the field. The place was filled with corn husks, plantains, tropical fruit, chayote, avocado, tomatoes, chiles and tomatillos, and the folks running it were scraping and trimming the thorns off cactus paddles.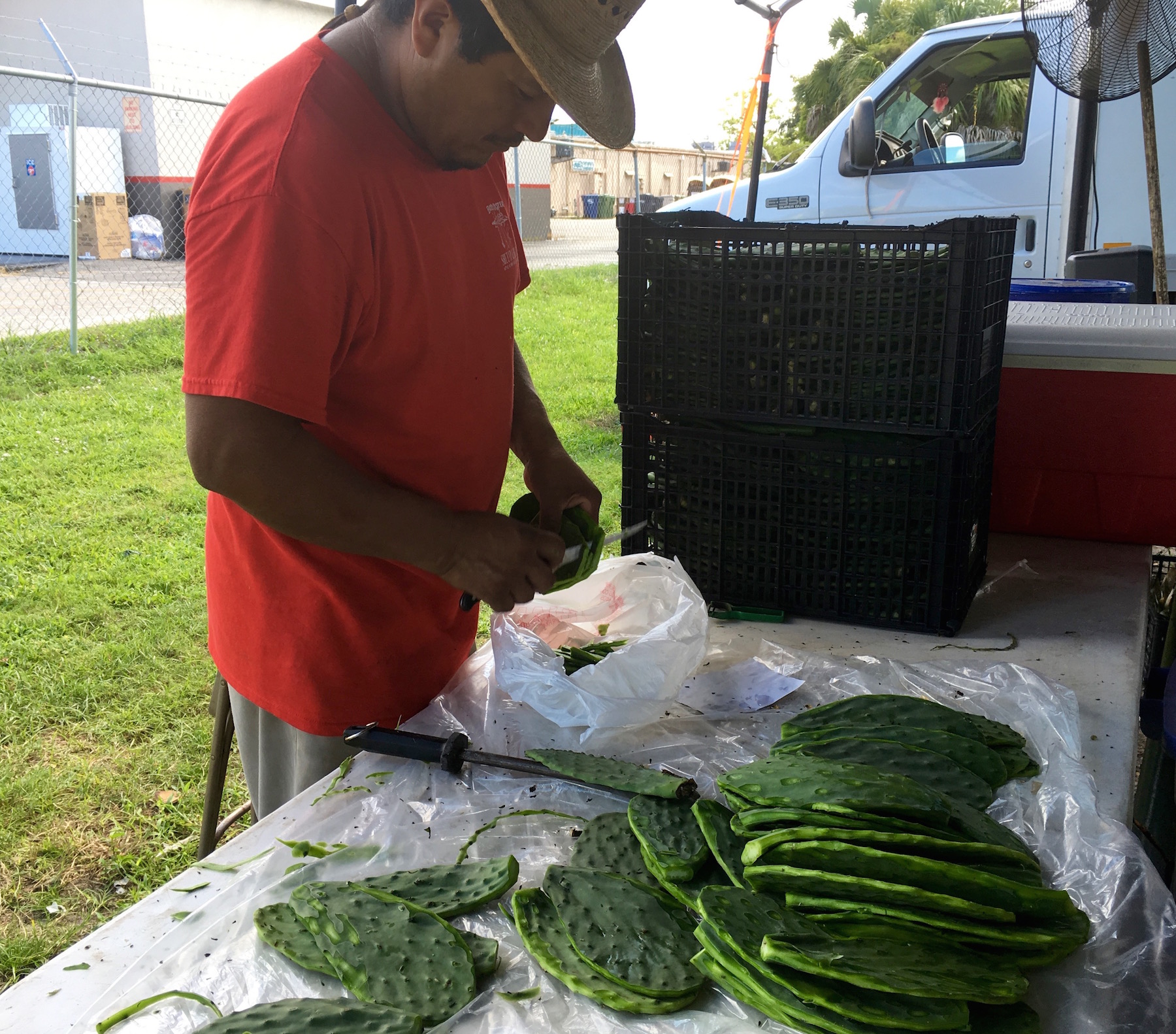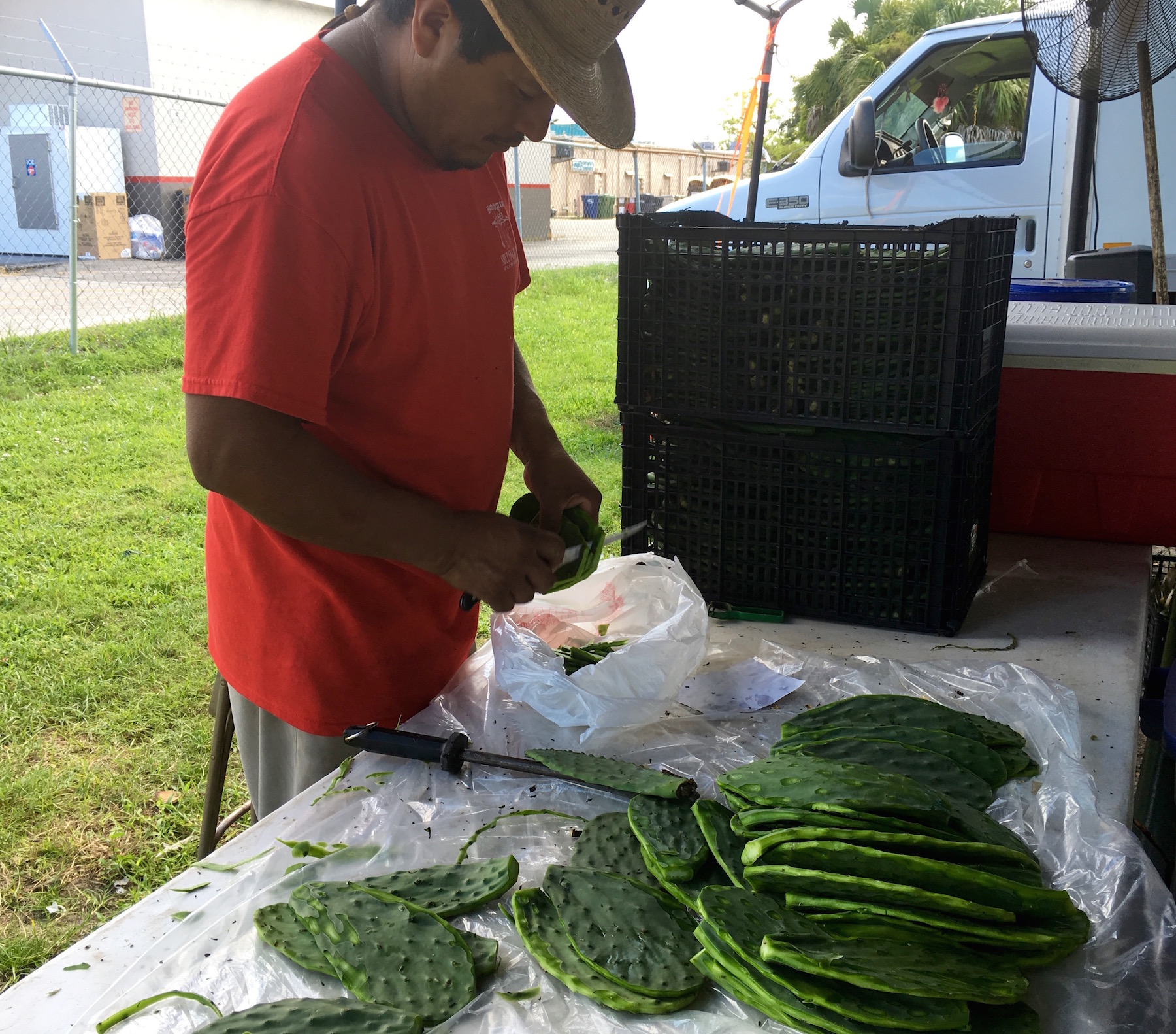 Cactus paddles?!?  A new-to-me food! I stopped in my tracks to watch. There were piles of bright green cactus paddles ('nopales' in Spanish), and once folks cleaned them, they stacked and sliced them into small pieces, using very sharp knives. It all went very quickly, and soon bags of the pieces were handed to waiting buyers. One gal bought 5 pounds! Naturally, I had to ask what she did with them and she told me she makes a traditional salad with tomatoes, onion and cilantro (sometimes Ranchero cheese) after simmering the cactus in water to remove the 'slime' (similar to what okra exudes).
I tasted a piece and it was bright and fresh-tasting, almost like a raw green bean, with the crunchy consistency of green pepper. But I could tell it would be good in a simple, savory salad.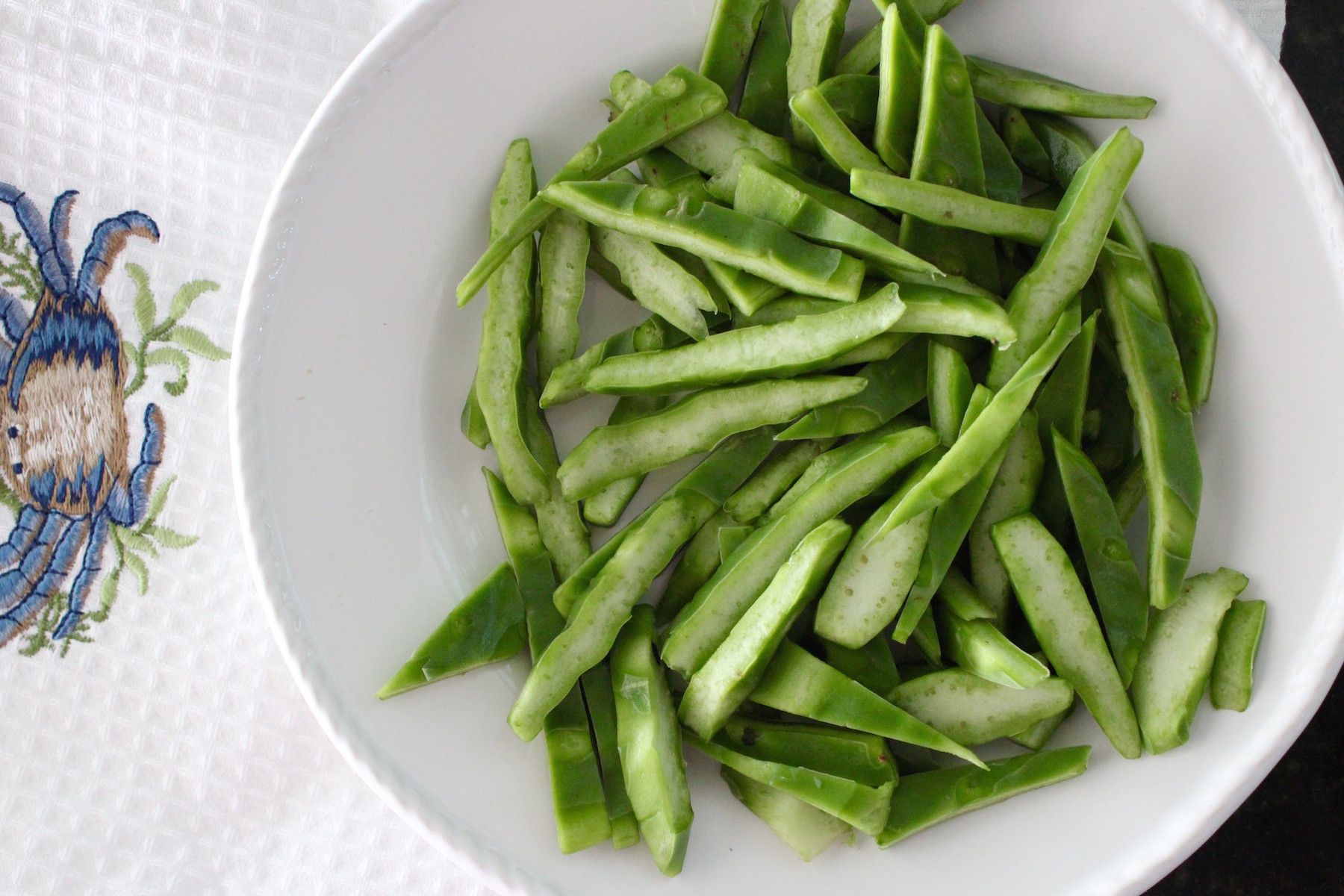 I did some research and found there are several ways to enjoy these small/medium sized cactus paddles (about the size of your hand) from Mexico – sautéed, grilled or simmered. And there are basically two ways of preparing this cactus salad — the simmered (traditional) way like the gal described, or sautéed in oil with onion and garlic — both eliminate the slime, but the method is a matter of preference.
I decided to go with the traditional method, even adding a little sweet onion and cilantro sprigs to the water as it simmered. Once rinsed and cooled, I mixed the cactus with tomato, onion, cilantro, salt, pepper and a little lime juice (no cheese for us, since we're cutting down on dairy). It was really tasty — almost like a cooked green bean, with a little more vibrancy. It's a pleasing salad that's good for you, too. Cactus is full of B vitamins, iron, calcium, Vitamin C, potassium, fiber, antioxidants and lots more good stuff. Plus, it's gluten free.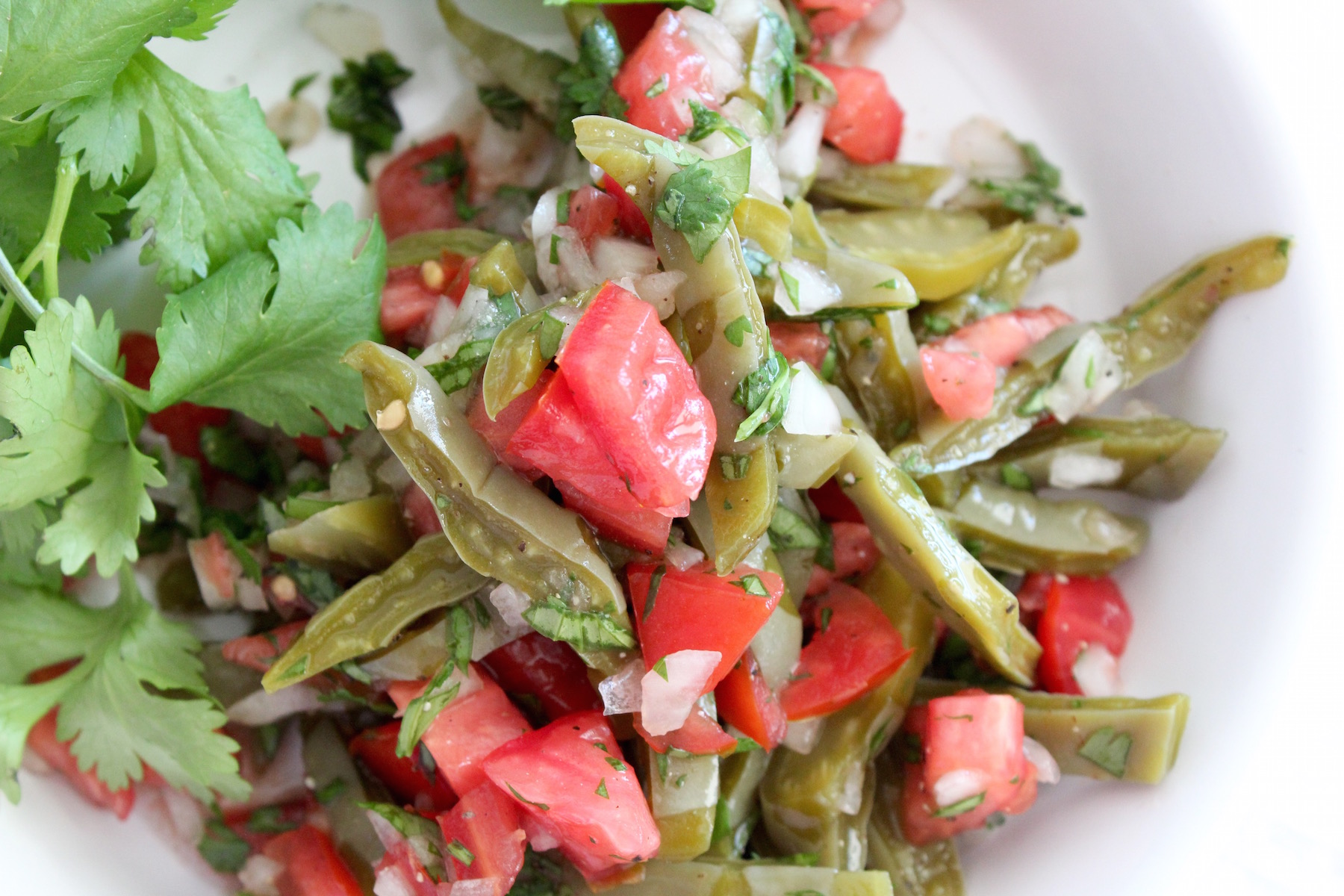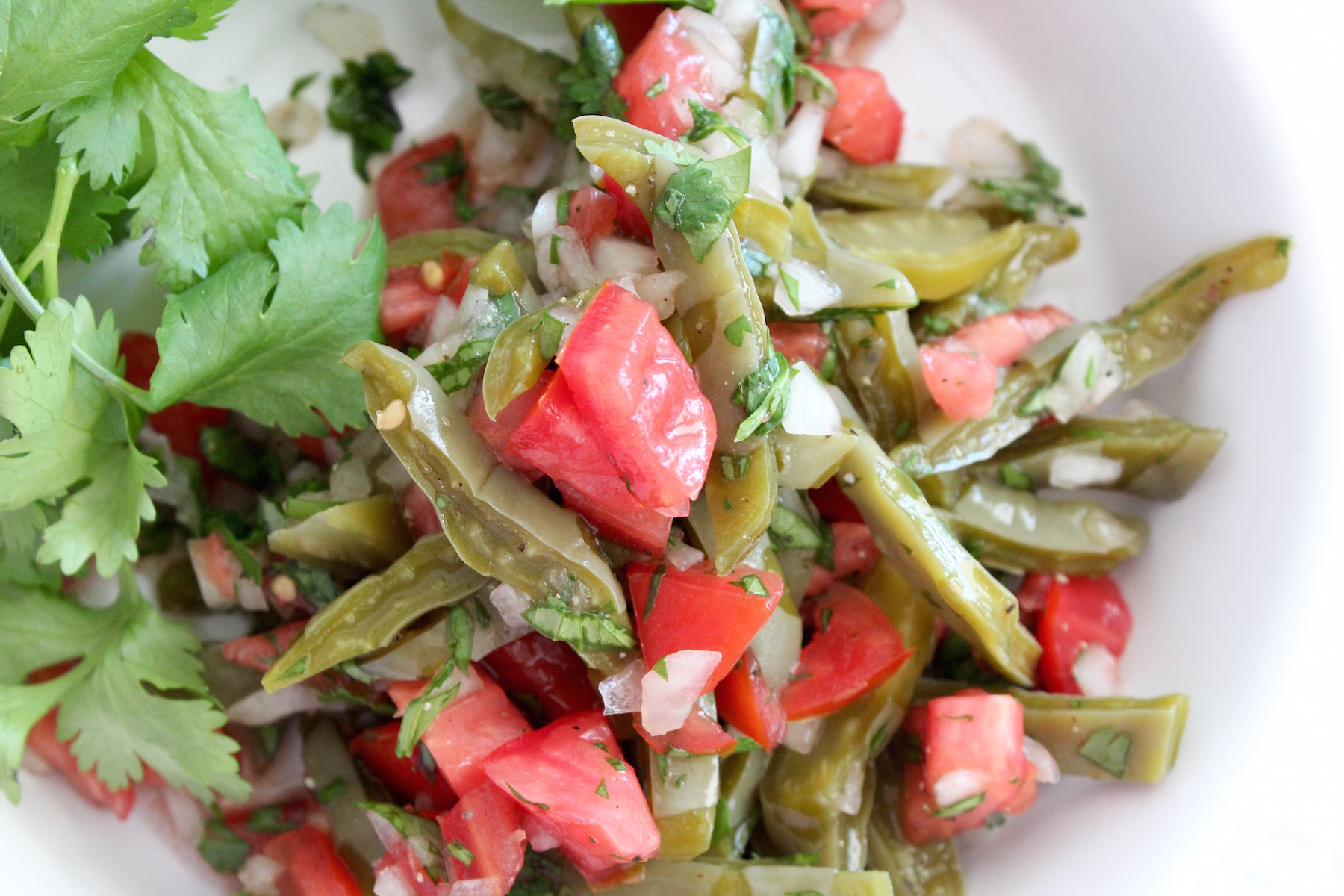 My dish is a blend of two interesting foods. Sweet plantain (which I also picked up at the market), topped with this nopales salad. The plantain was ripe, so I sautéed the slices in a little oil, making them even sweeter and more tender, but with crispy edges.  Sweet and savory — a yummy, gluten free meal!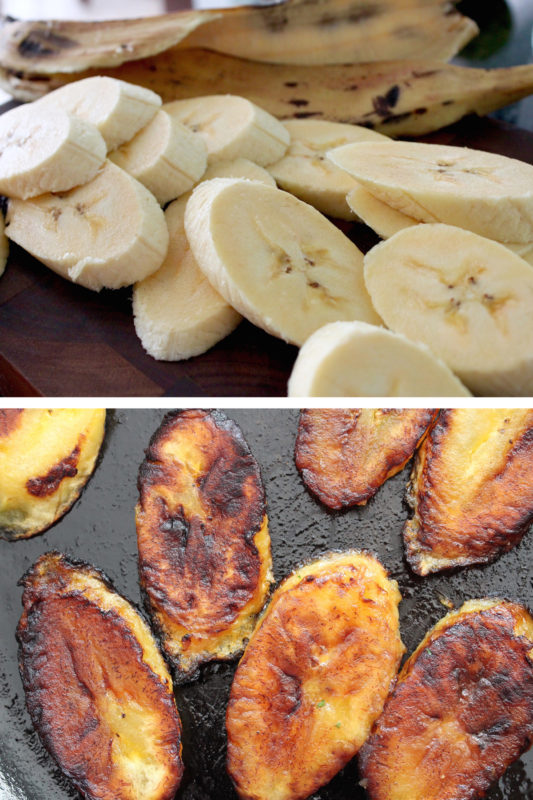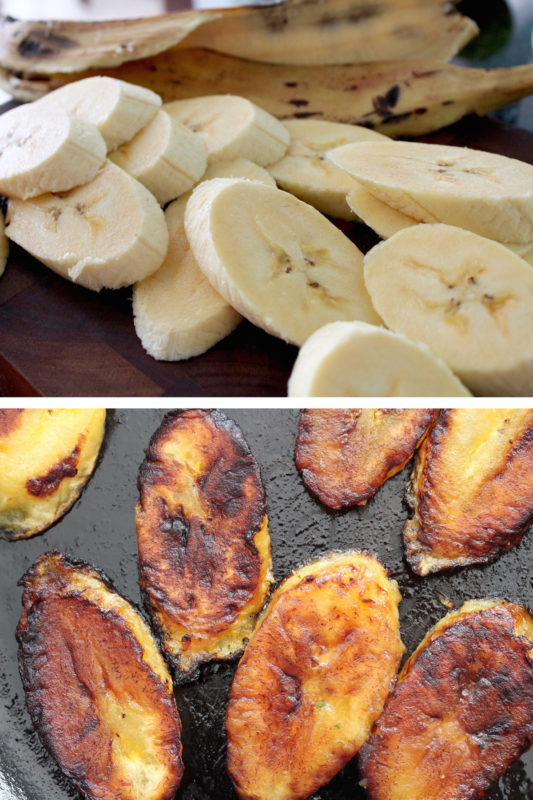 I LOVE trying new foods.  I hope you stop into your local Latin market to find something new-to-you 🙂

Nopales Salad & Fried Plantains
Cactus paddles are delicious when paired with buttery plantains.
Author:
My Delicious Blog
Ingredients
½ lb. cactus paddle (nopales) pieces
1 sweet onion
Handful fresh cilantro (chopped + reserve 2-3 sprigs)
2 Roma tomatoes, seeded & chopped
Juice of ½ lime
Kosher salt and freshly ground pepper, to taste
Ranchero cheese (optional) - *if you use it, reduce the amount of kosher salt
1 ripe plantain (it should be dark yellow with lots of brown spots)
1-2 Tb. vegetable or coconut oil
Instructions
Place cactus pieces in a saucepan and cover with water. Toss in ½ the onion, along with 2-3 cilantro sprigs, and a pinch of kosher salt.
Bring to a simmer and cook over low heat about 10 minutes.
Drain in a colander, rinse thoroughly with cool water and allow to cool for a few minutes.
Add the cooled cactus to a mixing bowl, along with ½ the remaining onion, chopped, the chopped cilantro, the tomatoes, lime juice, salt and pepper. Mix well and set aside until ready to serve.
Peel the plantain and then cut into diagonal slices.
Heat a non-stick skillet to medium/high and add a splash of oil.
Place each slice in the hot oil and cook over medium heat until the first sides are nicely brown. Flip and cook the other side until brown -- it takes a few minutes. Transfer to serving dish, top with the salad and enjoy!
Notes
1) This salad is best served at room temperature, or slightly chilled. If it's too cold, it doesn't have much flavor.
2) It can be served as a side salad, along with eggs, as burrito or taco filling - use your imagination!