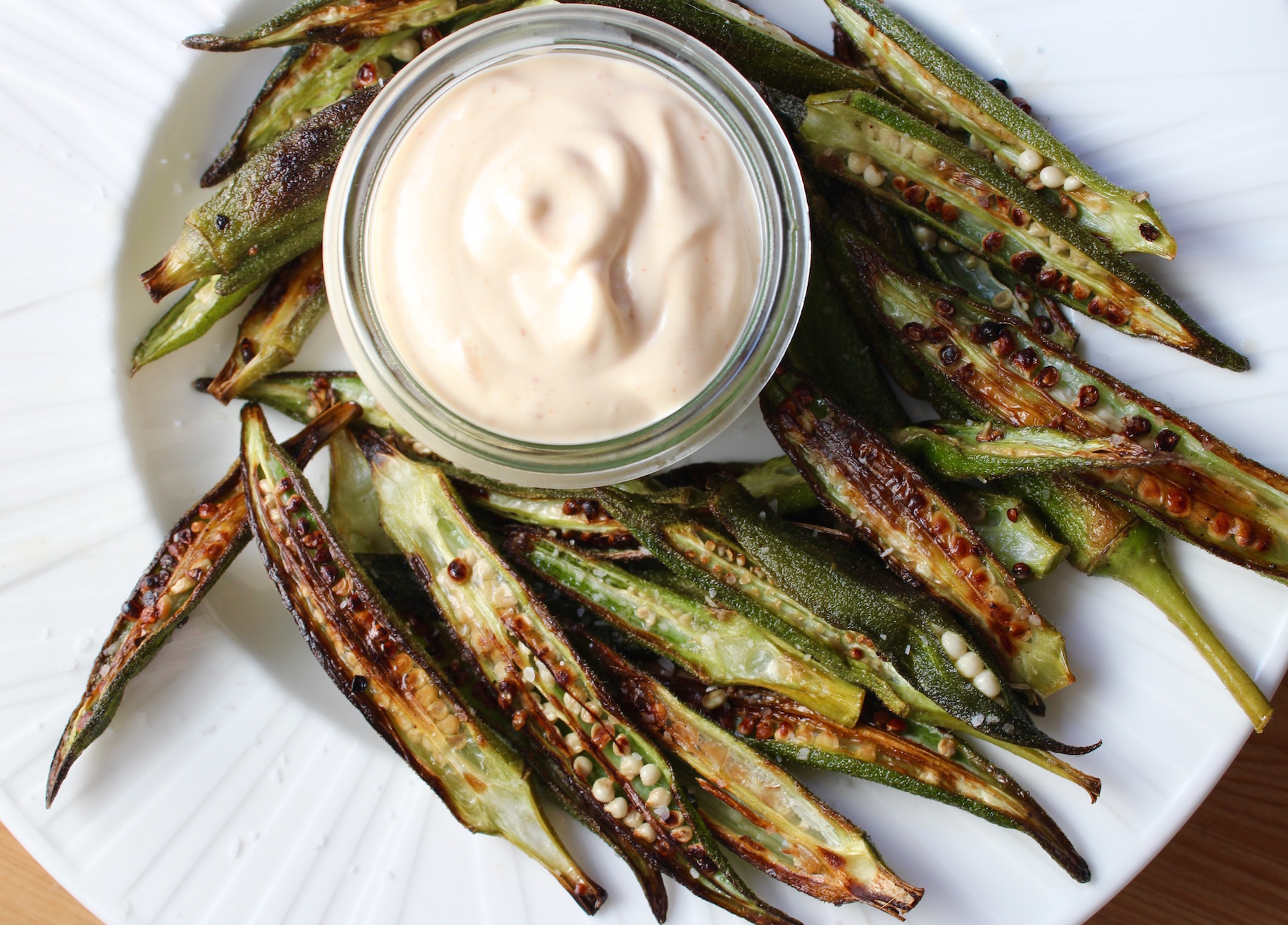 If you've been following me for a while, you know that I am definitely not from the South. . .
Still, I'm fascinated by Southern cooking traditions that include delicious dishes like collard greens, BBQ, corn bread, brisket, creamed corn and fried chicken.  With one exception: Okra.
Okra is something I haven't been able to convince myself to cook.  I think I've especially shied away from it after hearing horror stories that it can be a slimy, gross mess. Who the heck wants to take that on?
For many years I've been steadfast in my plan to eradicate it from my list of must-try foods but, recently, I've softened. . .not sure why. Maybe it's attributed to wisdom, since I recently turned 50? Whatever the reason, I've been reading about it, learning what makes it a healthy part of our diet (it's especially high in Vitamins C and A, by the way), researching how to make it 'non-slimy,' and collecting recipes. So when I recently read my friend Danielle's Crispy Roasted Okra Fries blog post it felt like she was writing it just for me! How did she know that all these years I've been hesitant to cook it? And how did she magically know that putting an easy recipe out there would escalate my plan to give it a try? Gosh, that gal must be super-smart 🙂
Using fresh, petite okra seemed to be the key to her recipe's success, along with a healthy dose of bacon fat (which simply makes anything awesome).  Since okra is in season (August to January is the key time), I picked some up at Worden Farm.  These weren't the Red Burgundy variety Danielle used — they were the more common green variety we're used to seeing. They weren't petite either, but many were on the small side, so I thought they'd work.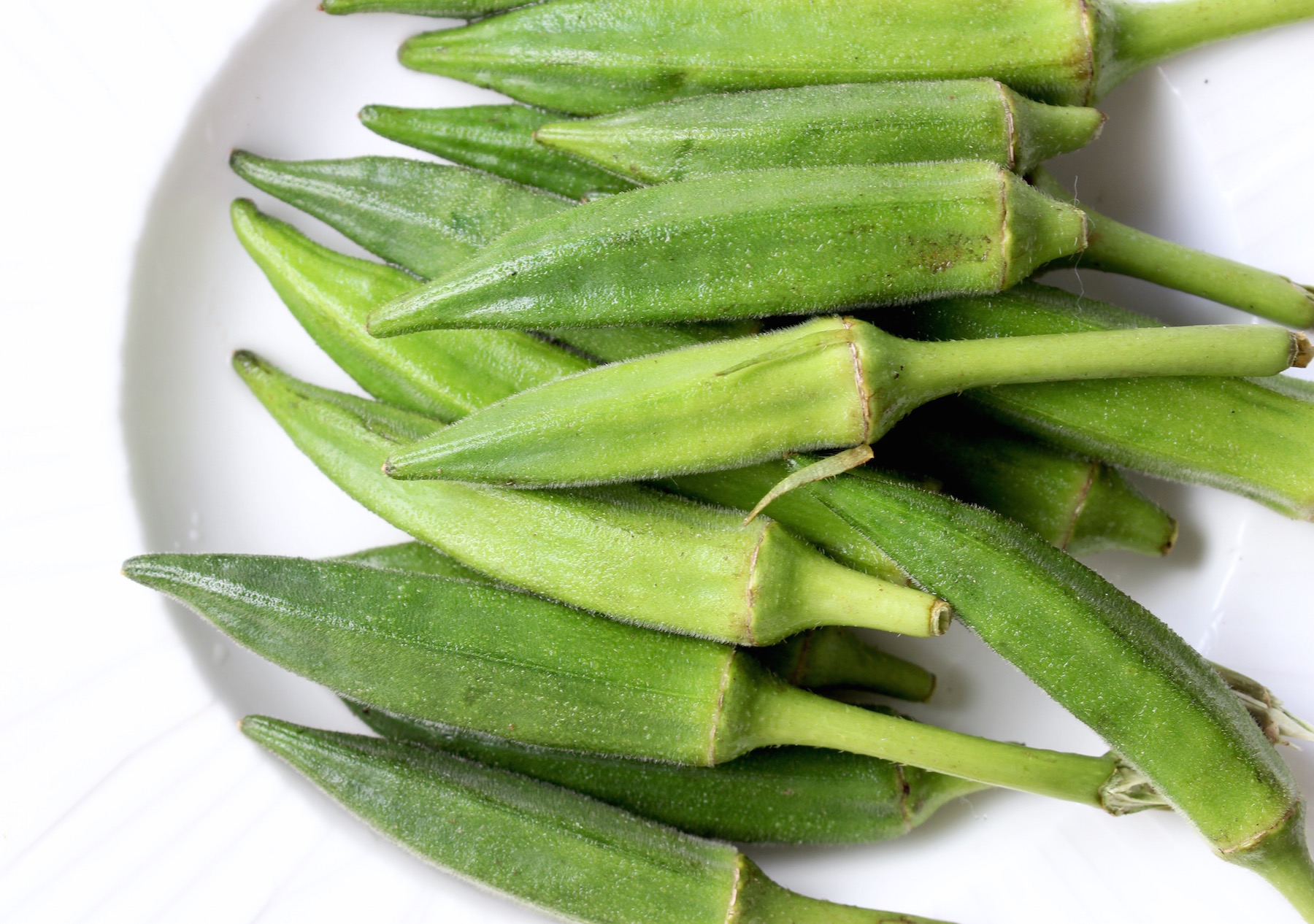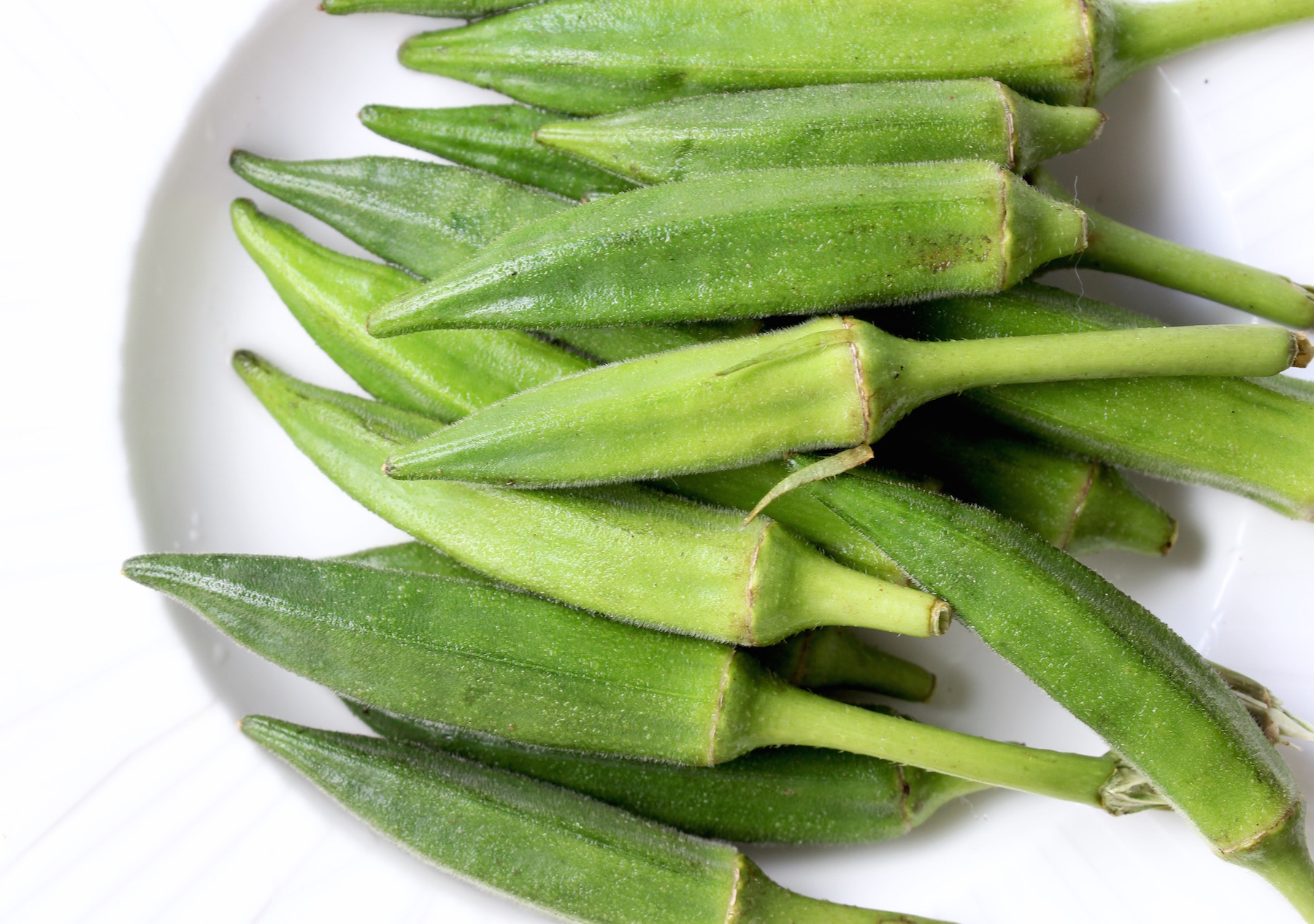 This is an easy recipe that yields a yummy result. The fresh okra offers a wonderfully mild flavor (sort of like eggplant), and the roasting process removes some of its inherent moisture, so what you're left with is crispy, tasty okra with an undertone of bacon (but if you'd like to make them a little more 'healthy' replace the bacon fat with olive or coconut oil).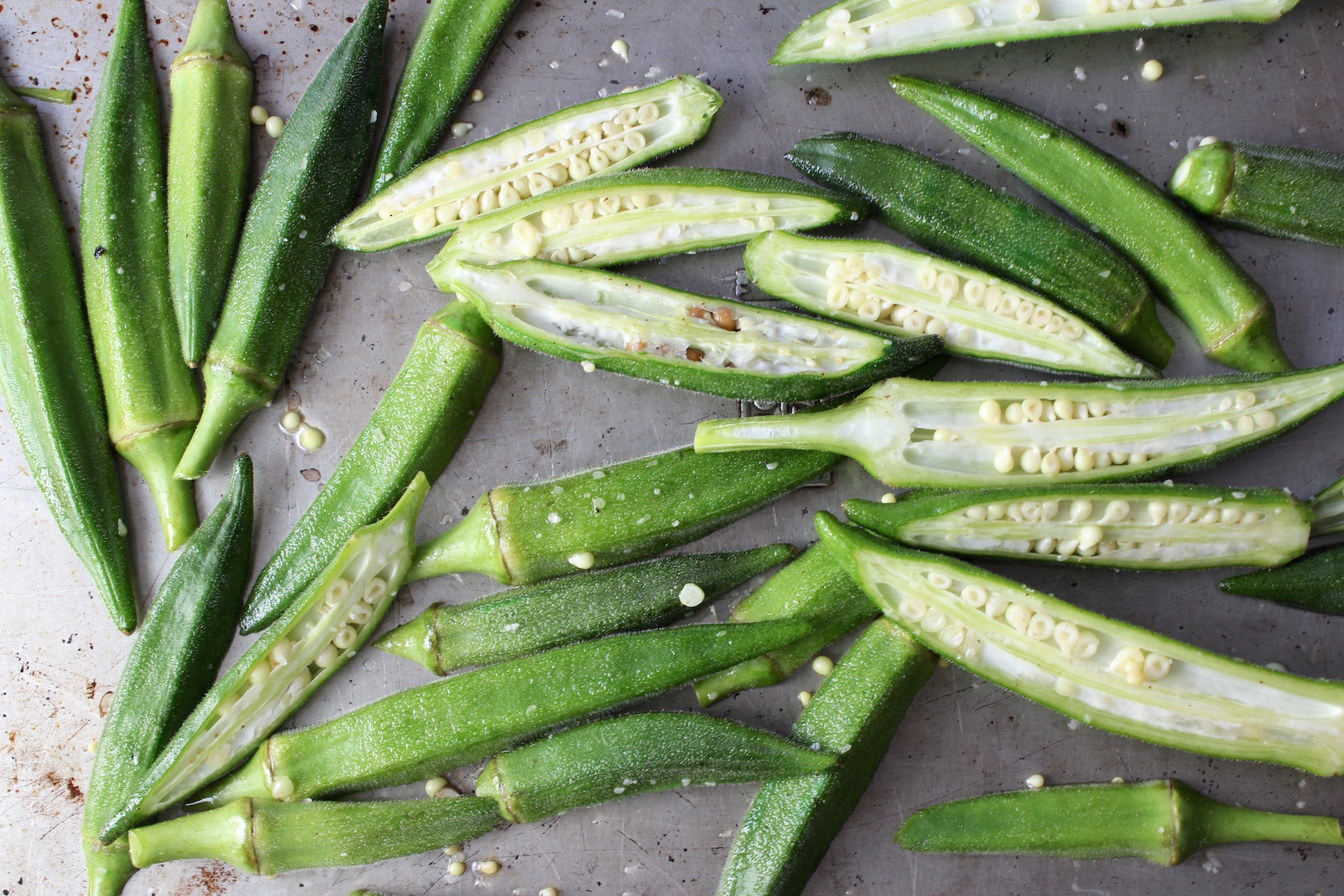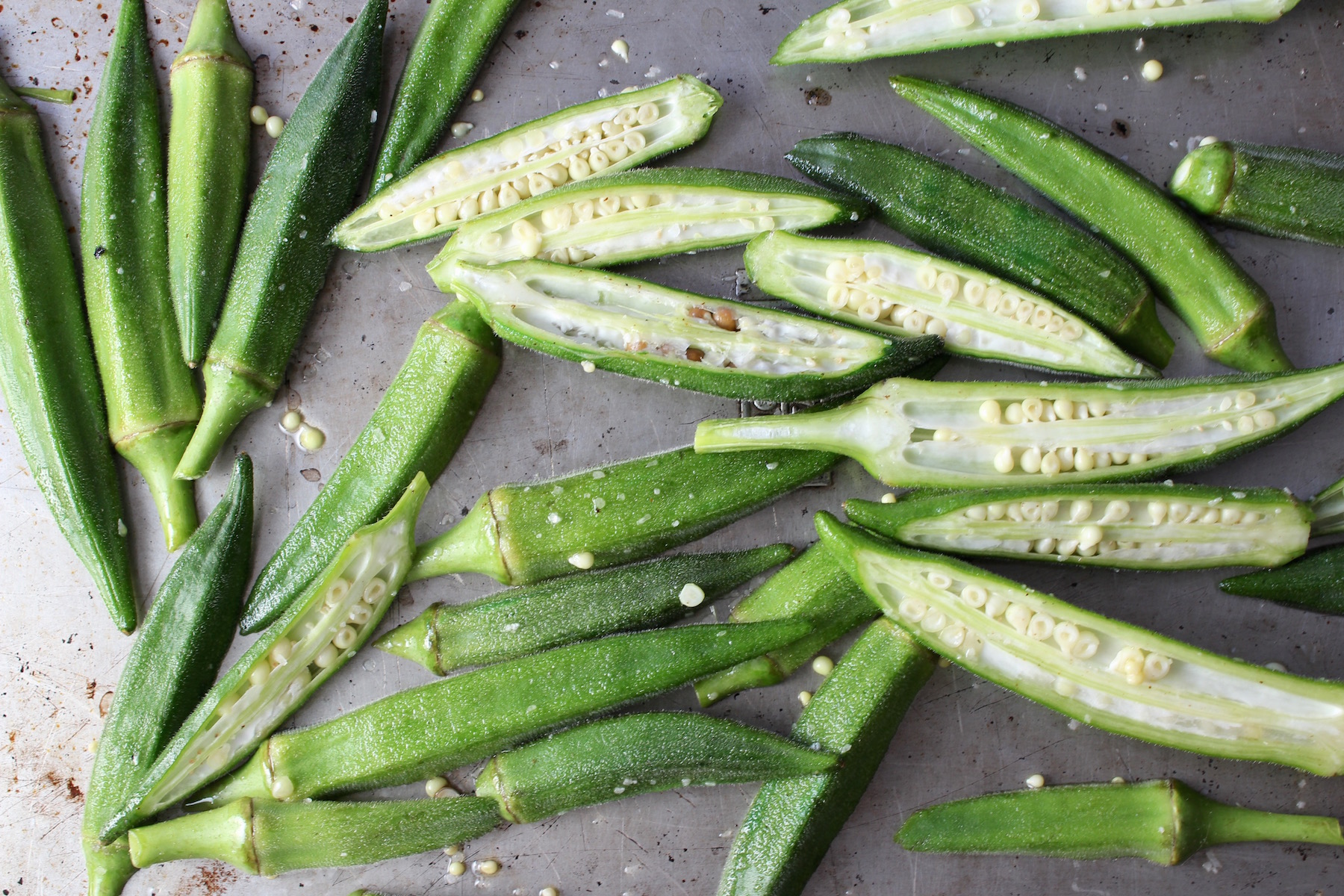 For my first try with okra, I'd say it was a success, and my #1 taste-tester agreed. The only suggestion I offer is that if you don't have petite sizes, cook them longer. My first batch was in the oven for a total of 10 minutes (5 minutes each side) resulting in a nice roasted look, but they were a little too soft for my liking, so I popped them back in the oven for about 5+ minutes to get them crispy, and that worked just fine.  You may have to experiment a little, based on what you get at the market.
I served mine with an easy sauce made with mayonnaise, sour cream, Sriracha and a little salt and pepper. This makes a tasty snack, and is a fun way to incorporate okra into your diet.
I wonder what my next okra dish will be?!?

Roasted Okra
Recipe adapted from SuwaneeRose.com (Crispy Roasted Okra Fries).
Author:
My Delicious Blog
Ingredients
Roasted Okra
3 c. small okra pods
1 Tb. bacon fat
¼ tsp. kosher salt
Dipping Sauce
¼ c. mayonnaise
2 Tb. sour cream
1 tsp. Sriracha (more or less to taste)
Dash kosher salt
Dash freshly ground black pepper
Instructions
Heat oven to 425 degrees and place a baking sheet (or baking stone, if you have one) in the oven.
Rinse okra and thoroughly dry each piece with paper towel or kitchen towel.
Slice the okra in half, lengthwise.
Remove the hot baking sheet from the oven and spread the fat onto it. Toss the okra into the fat, mixing with a large spoon or spatula. Sprinkle with salt.
Place the baking sheet into the oven for about 5 minutes, then toss and put back into the oven until crispy (about 5 minutes) - See Note.
Notes
If your okra pods are not 'petite' sized, leave them in the oven longer, until fully browned and crispy (about 5-8 more minutes than called for).