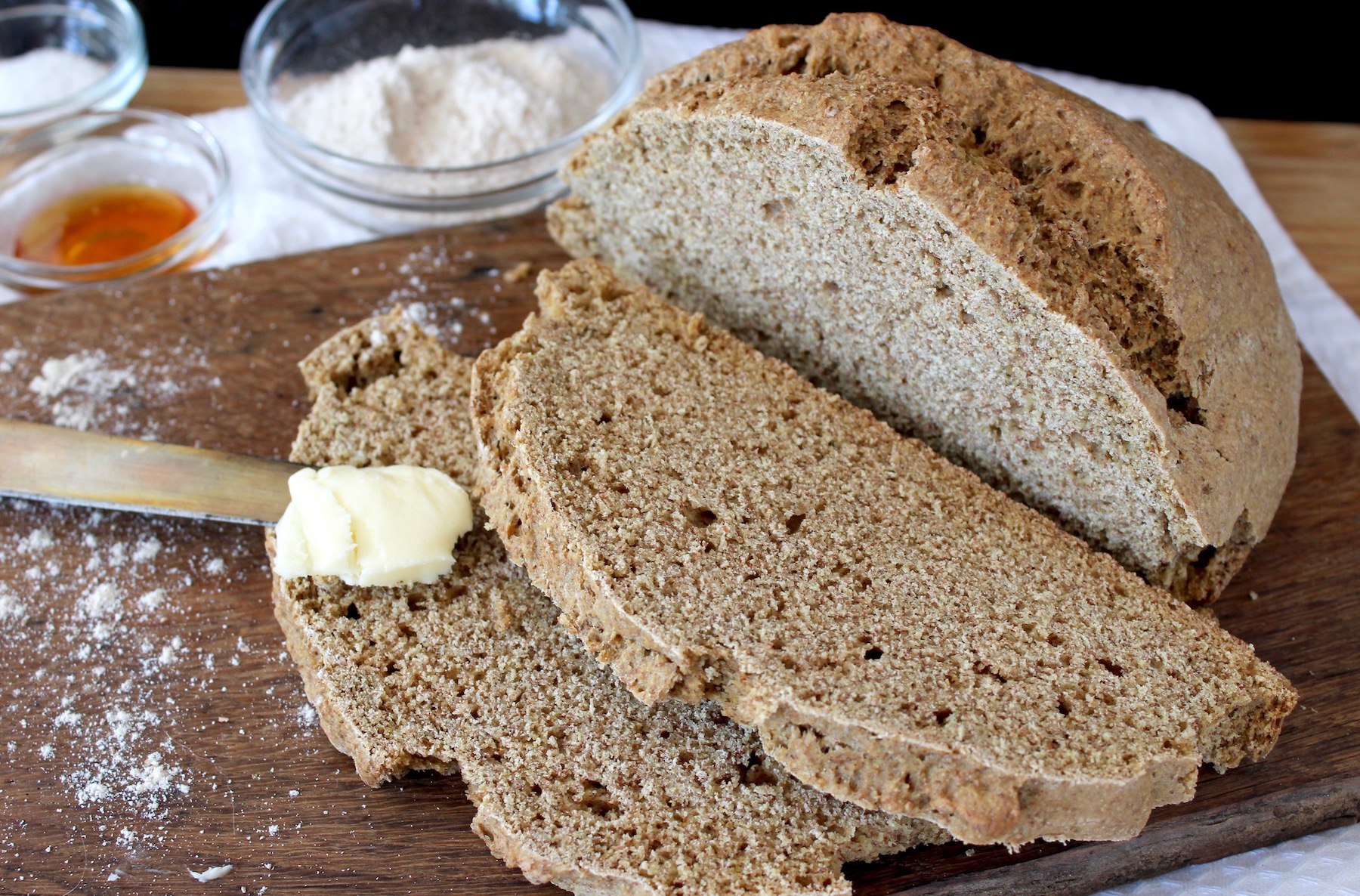 All-purpose flour and yeast have been popular at grocery stores lately.  Could it be that every household in America is baking?
If so, that's wonderful.  I love baking.  And while I'm a little frustrated I can't find these two essential baking ingredients, I'm still glad so many people are doing it 🙂
That said, I really wanted to make bread this week (you know, 'cause I have lots of free time these days).  With no yeast, I figured a quick-bread would be the solution.  Quick-breads usually don't require kneading or rising, and the leavening agent is typically baking soda or baking powder.  If you've ever made them, you know they're not airy and chewy, like yeast-based breads.  They're usually more dense.  But in a pinch, they're delicious.
But I have also run out of all-purpose flour. . .
If you find yourself in the same boat, have you considered an alternate flour?  Spelt is one of my go-to options.  It's one of those 'ancient grains' you've probably heard about, like amaranth, bulgar, millet, barley, quinoa, etc., and it's a close relative to the wheat family (which means it's not gluten-free, so stay away if you have issues with that).  You can always find it at health food stores, but it has been showing up at supermarkets.  These days, you might just see some lonely bags of it on those shelves, next to the vast, empty spaces reserved for more 'recognizable' flours.
Here are some reasons spelt is a good alternative:
It offers a nutty, slightly sweet flavor;
Baked goods turn out lighter and fluffier;
It's a good source of dietary fiber, vitamins and minerals;
It's more water-soluble than wheat, so it's easier to digest;
It can replace all-purpose or whole wheat flour in breads, cookies, muffins and waffles.
I used the recipe from 
Honey & Oats
(Jennifer Katzinger), a low-sugar option with no eggs (but it does require a little kneading, just to tighten up the dough).  It comes together quickly and takes 50 minutes to bake, resulting in a rustic-looking bread with crunchy edges and a tender crumb — perfect for when a bread craving strikes. I especially like a slice of it after it has cooled from the oven, slathered with salted butter.  It also makes great toast.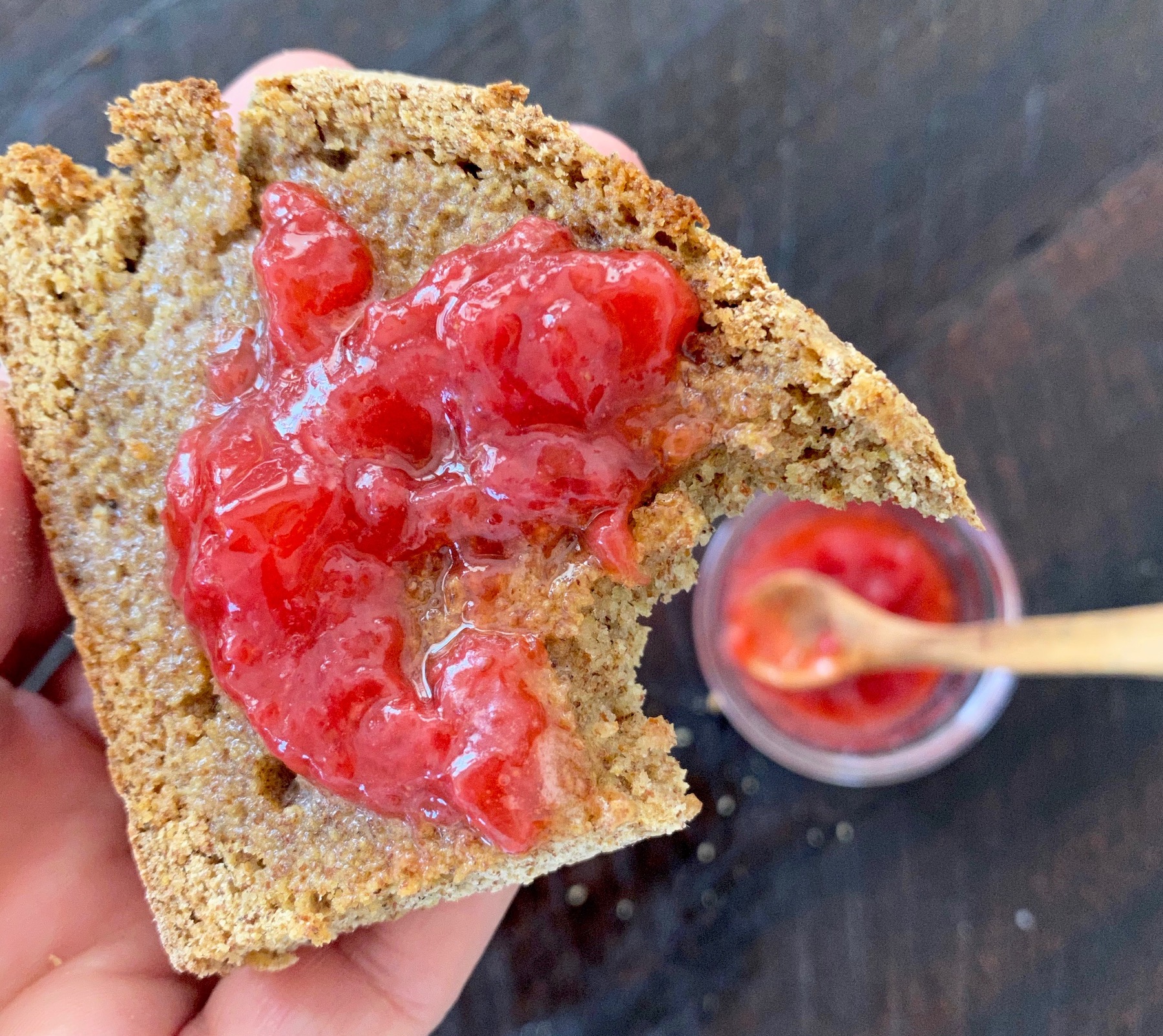 So, if you find yourself coming up short on flour and the only option on the store shelf is spelt, I hope you give it a try.  And be sure to have some salted butter on hand 🙂
Print Recipe
Spelt Quick Bread
A spelt-based solution to bread cravings when you don't have all-purpose flour or yeast, using Jennifer Katzinger's recipe.
Ingredients
3

c.

Spelt flour

1

tsp.

Kosher salt

1

tsp.

Baking soda

2

Tb.

Maple syrup

(alt: honey)

2 1/2

Tb.

Olive oil

1

c. + 1 Tb.

Water
Instructions
Heat oven to 375 degrees.

Sprinkle a baking sheet with a bit of spelt flour, then lightly flour a work surface with flour.

Combine flour, salt and baking soda in a small bowl and whisk to combine.

In another bowl, combine syrup (or honey), oil and water and whisk to combine.

Add wet ingredients to dry ingredients and stir until everything is moistened and smooth.

Turn dough onto floured work area and knead a few minutes (add a bit more flour if it's too sticky). Form into a 6" round disk then transfer to floured baking sheet.

Score the top of the bread with a very sharp knife, then place in the pre-heated oven and bake for 50 minutes.

Remove from oven and allow to cool 40-45 minutes, then slice and enjoy! Cover/seal and refrigerate any leftovers, too.
Notes
There are also lots of yeast-based recipes out there using spelt flour, which will achieve that more 'traditional' chewy, soft bread texture.