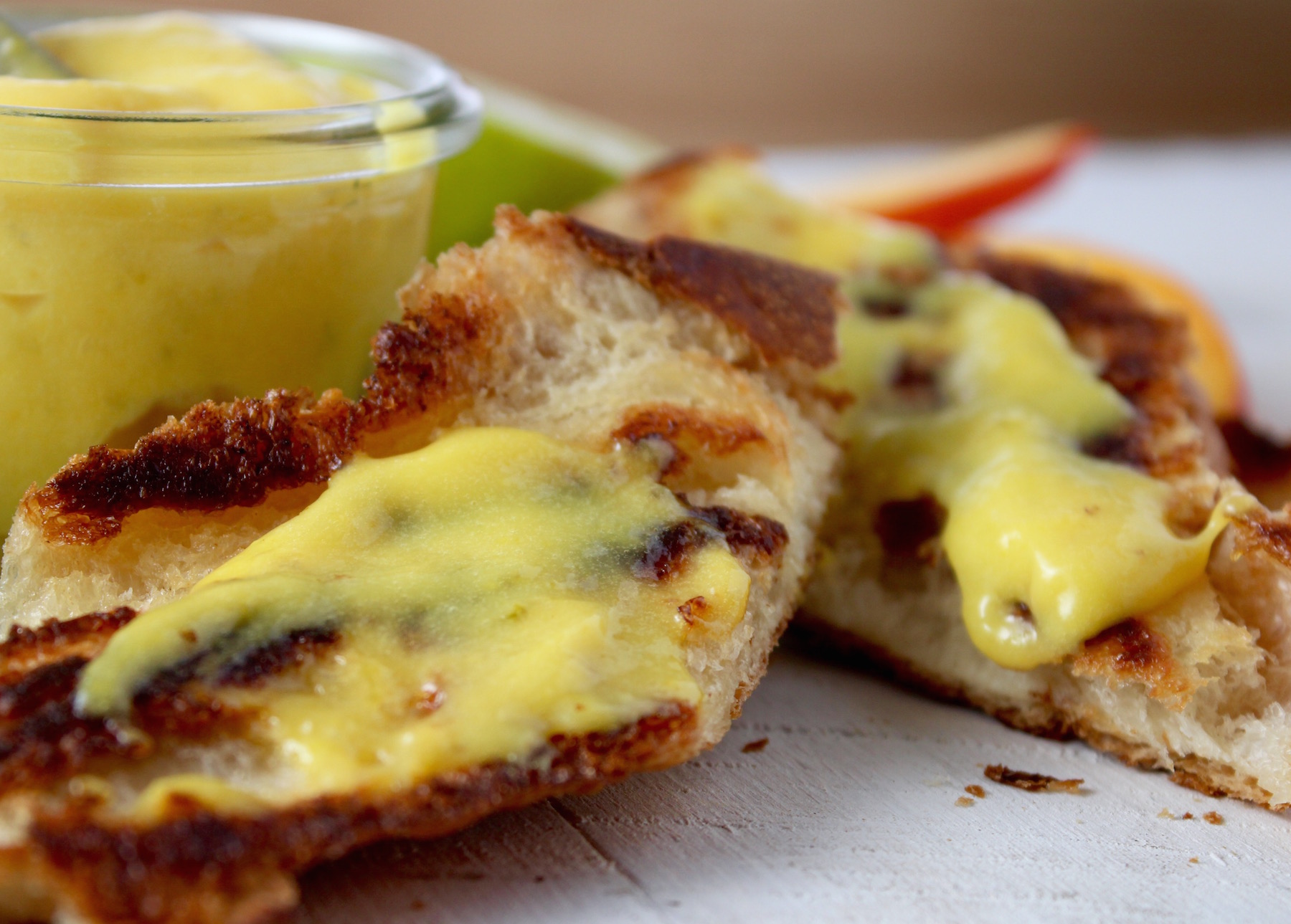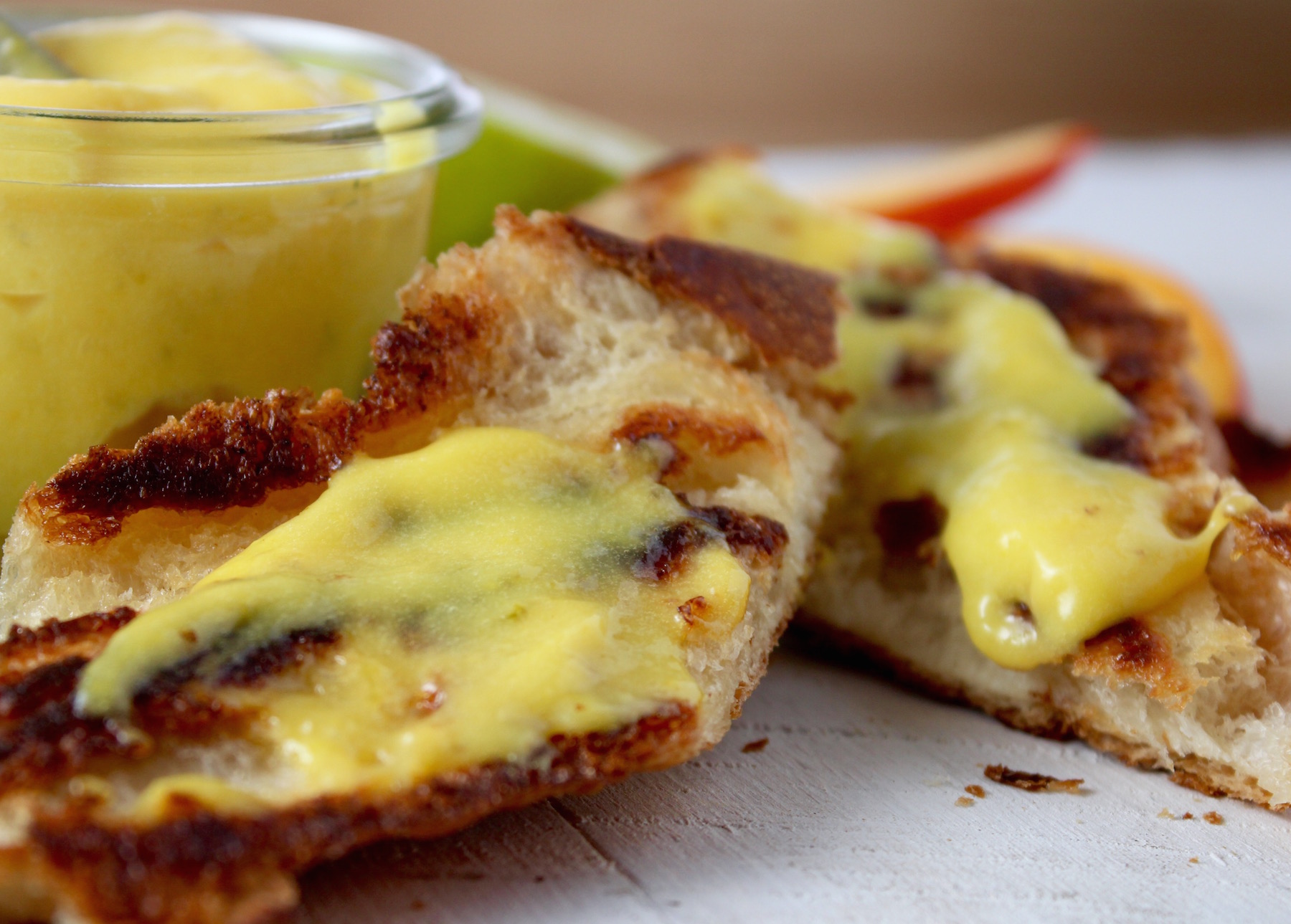 I recently joined an online cookbook club and my first task was to make something from Dorie Greenspan's lovely booked Baking Chez Moi, filled with delicious recipes. I was determined to find something that seemed easy to make (let's be honest, I was not going to tackle puff pastry from scratch) AND incorporated in-season ingredients, like these delicious mangoes my friend Cathy recently gave me.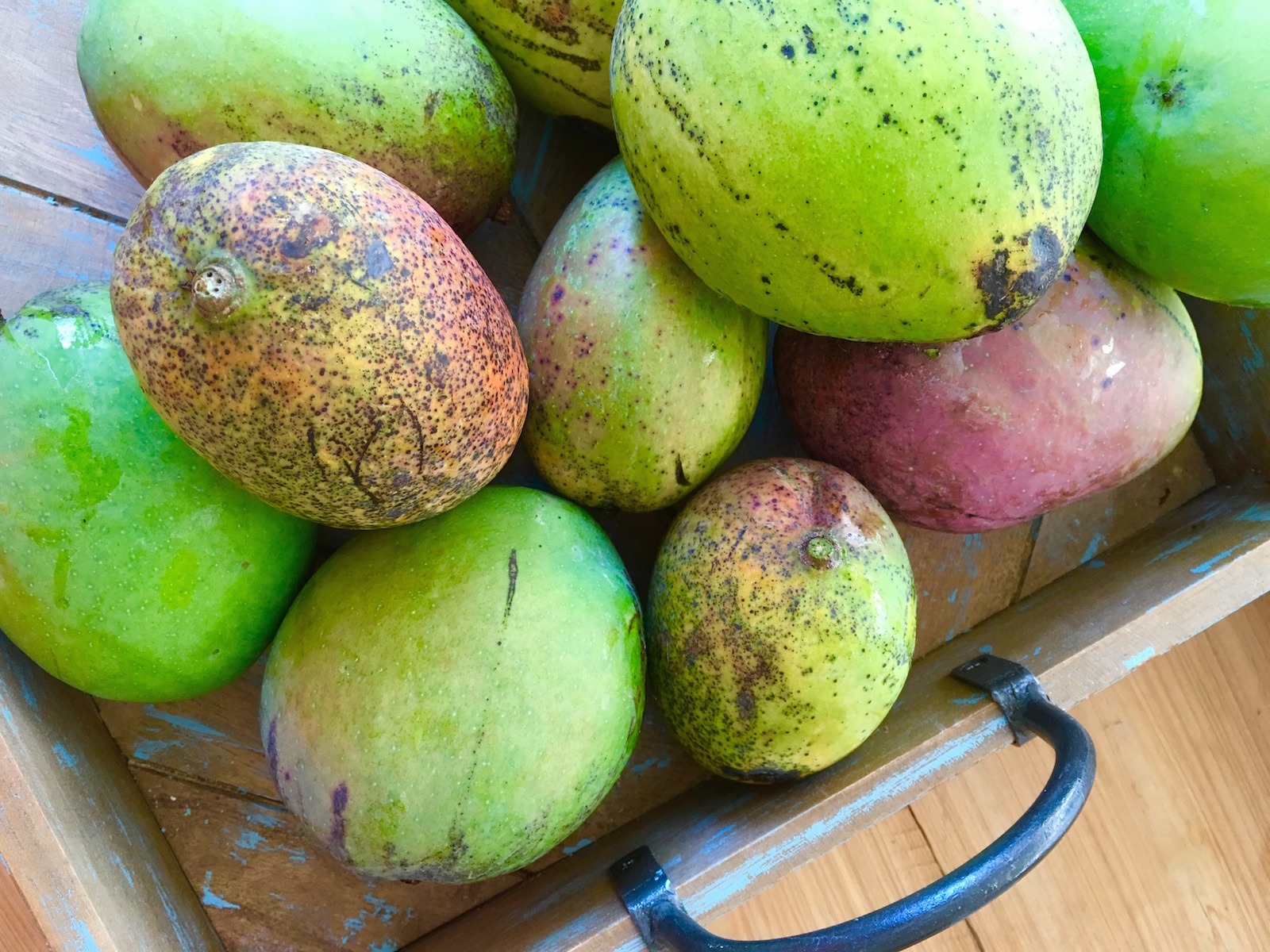 Lo and behold I came upon "Tropical Tartlets" — sweet crust surrounding tasty mango filling!
But did I really want to make crust from scratch? And did I truly want to turn on the oven to bake it, considering our 90+ degree temps and extreme humidity? Honestly, no.
So I did what any somewhat lazy, hot cook would do. I changed up the recipe. Ever do that? I realized that many of the ingredients Dorie used for the filling (eggs, sugar, mango, lime, rum and red pepper) were all a good base for curd, and with a couple more adjustments, it would not only be the perfect consistency, but also, something I could make on the stovetop. Yes, I did have to turn on the stove but, heck, it was much cooler than the oven.
So what is fruit curd anyway? It's a mixture of cooked egg yolks, sugar, flavorings (usually citrus), zest, and sometimes butter – all cooked slowly until it thickens. It's kind of like pudding, but contains higher amounts of citrus juice and zest, so the flavors become more intense as it cooks. You can find jars of it (lemon, typically) at the supermarket, near jellies and jams — a great solution when you don't have time or ingredients to make it yourself. But really, nothing beats homemade curd.
What exactly were those 'adjustments' I made to the recipe? I used only egg yolks, added butter, pureed the mango, used the zest of a whole lime (which I placed in a separate bowl to retain all the delicious oils), and squeezed in some lime juice.  It all worked! The result was a thick, sweet and fruity curd, with notes of lime, rum, and even a little kick. If someone didn't tell you there was mango in there, you might not know for sure, but once you learned it was there, you'd likely say "Ah, yes, of course."
This stuff is really delicious. I love to spread it on toast, mix it into plain yogurt, put a dollop on fresh berries, layer it between cakes or atop little cupcakes. Sometimes I even dip a spoon right into the jar and lick it off the spoon. It's awesome when you're craving something sweet, but don't want to indulge in a big piece of cake or a box of Mallomars.
I hope you give it a try.  If you do, and you get hooked on the stuff, be sure to check out my recipe for Seville Orange Curd — also quite delicious 🙂

Mango-Lime Curd
Filling adapted from Dorie Greenspan's recipe "Tropical Tartlets" in Baking Chez Moi, p. 159
Author:
My Delicious Blog
Recipe type:
Jams and Jellies
Ingredients
1 large ripe mango, pureed (about ½ c.)
2 large egg yolks
¼ c. + 1 Tb. granulated sugar
Zest 1 lime
Juice ½ lime
2 tsp. dark rum
Pinch red pepper flakes (or more if you want it to be spicy!)
4 Tb. unsalted butter
Instructions
Place a medium glass bowl over a pan of simmering water (i.e., create a double boiler). Add egg yolks & sugar and whisk until combined - keep the temperature to medium, so it simmers lightly, not a rolling boil.
While that cooks, zest the lime and place in a small bowl. Place a mesh strainer over the bowl - set aside until ready to use.
To the egg/sugar mixture, add mango puree, lime juice, rum, honey, red pepper flakes and butter.
Stir frequently with a wooden spoon, scraping the sides down regularly. Cook 15-17 mins, until the mixture is thick enough to coat the back of that wooden spoon (i.e., it should be thick enough to stick to the spoon and not run off easily).
Pour the mixture into the strainer over the lime zest bowl. Push the mixture through the strainer using a rubber spatula - this removes the red pepper flakes and any possible lumps. Be sure to scrape the bottom of the strainer, as lots of curd sticks there.
Stir the curd into the lime zest, then transfer to an 8-oz. Mason jar (or any lidded jar or container).
Allow to sit at room temperature, uncovered, about 30 minutes.
Cover, then refrigerate at least 2 hours before serving.