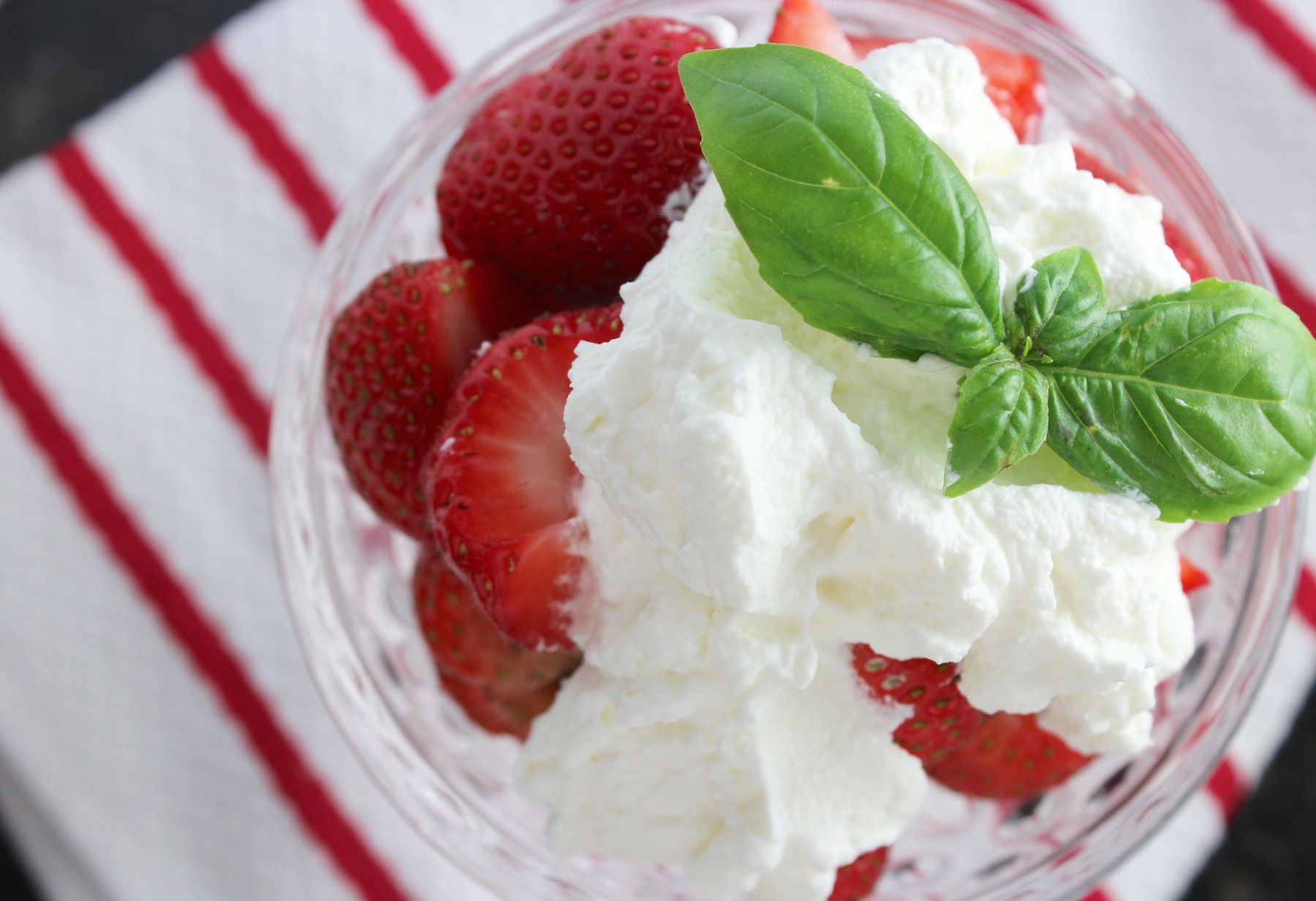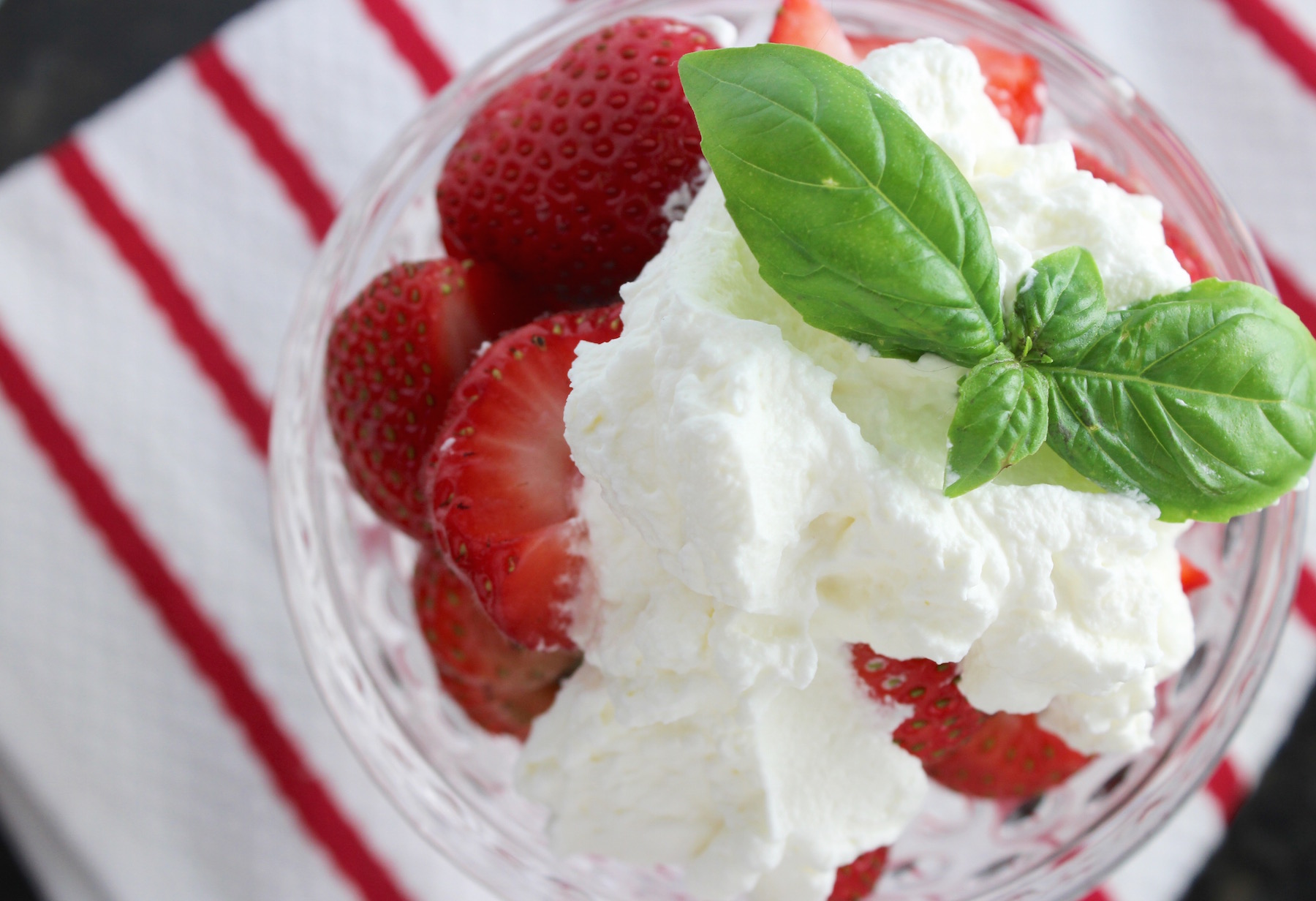 For years I've tried to grow basil in a pot in my home, only to see the poor plants get more withered and sad by the day. . . Well, things have changed at the Coudal house 'cause we now have a garden and my basil is growing like gangbusters! The plants look so happy, getting just enough water and sunlight to thrive.  All it took was Mother Nature's intervention. So I now have a healthy bunch of basil to harvest and remember reading something about basil pairing nicely with strawberries (there's some scientific reason behind it, but I'll share that in another post!).  And even though it's not strawberry season, I found a nice bunch at the supermarket and headed for my kitchen. My husband adores sweets, but I'm challenged to find desserts that not only calm his cravings, but don't add too much sugar to our diet. Then it dawned on me that simple berries topped with homemade whipped cream might do the trick. And what better topping for berries than basil-infused whipped cream?!?  Some of you may not even know that you can infuse cream, but you'll be glad you do now 🙂 There are a couple of ways to do it — a cold method and a warm method. The cold method requires simply combining tender herbs like basil, lemon verbena, mint, tarragon, etc. with cold whipping cream and allowing the flavors to meld in the refrigerator for about a day. The warm method is ideal for infusing dried herbs/spices (lavender, cinnamon, chiles, etc.) and it requires heating the cream, allowing the spices/herbs to warm in it, then refrigerating for at least several hours. Because I was impatient and didn't want to wait a whole day for the 'cold cream' method I decided to experiment with the warm method for my basil. I heated the cream, removed the pan from the heat, tossed in basil leaves, let it steep for about 30 minutes at room temperature, then refrigerated for 3 hours. I whipped it up with some confectioner's sugar and served it with the berries. (Note: this worked fine with the basil, but you can experiment with whatever method works for you). Here's my basil in its cream bath: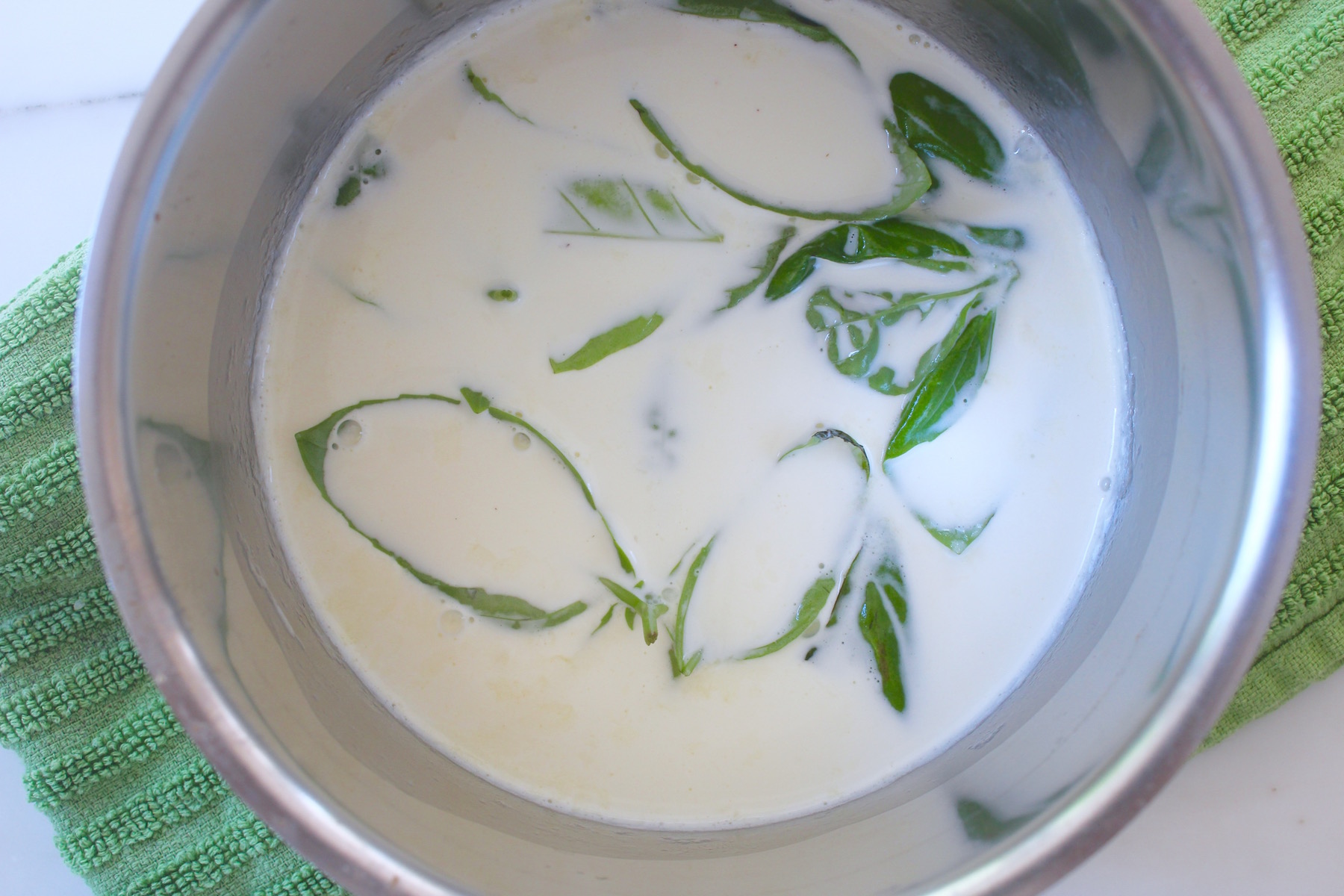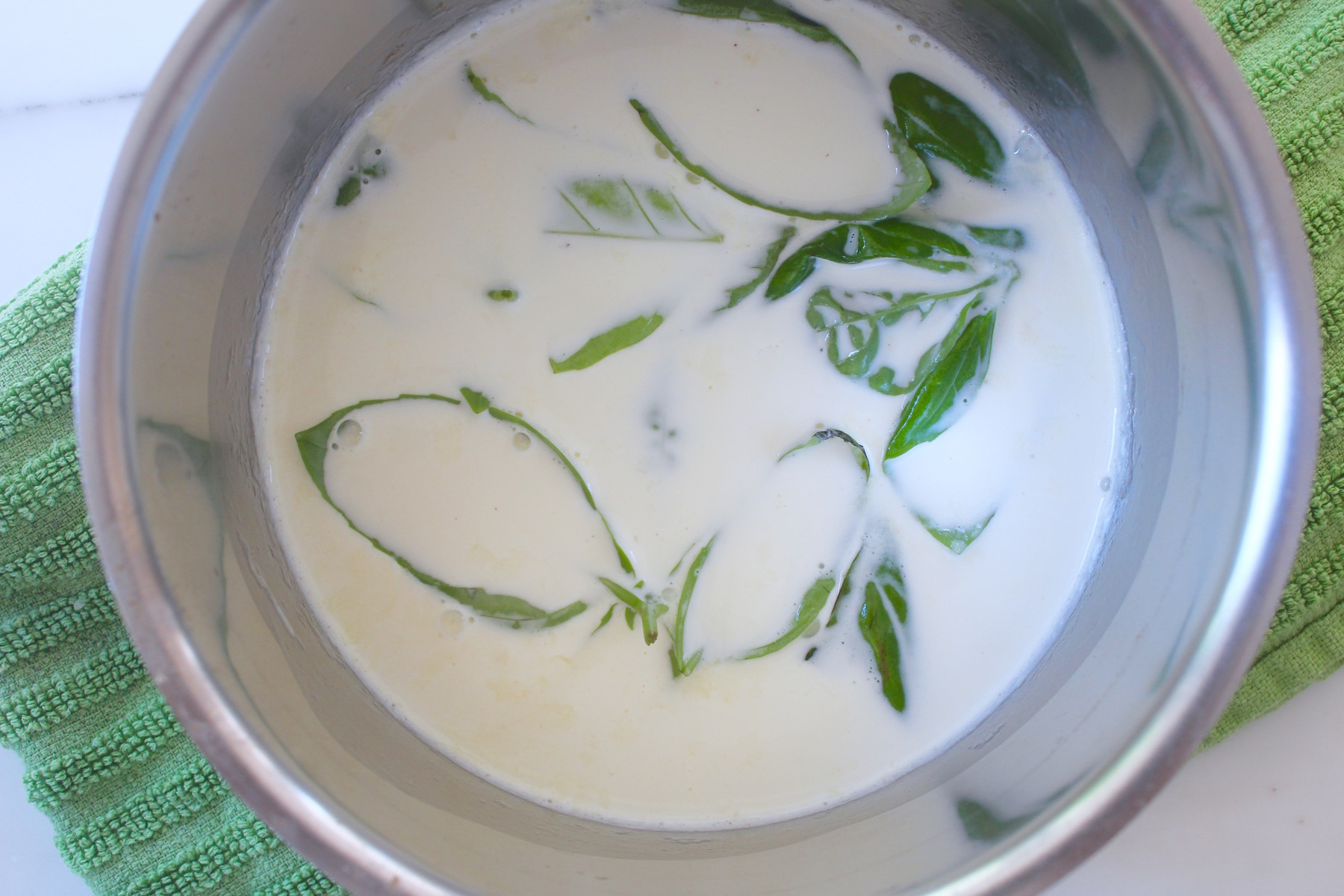 The fluffy whipped cream carries a wonderfully subtle surprise. Try it and see what kind of reaction you get from your loved ones. Some may stop after their first bite and say something like "Hey, there's something different about this" or "I just can't put my finger on it, but there's something really yummy in there" or maybe "Gosh, you're the best cook ever. What the heck did you do to make this cream taste so good?" Then you'll find yourself proudly saying "Oh, it's nothing. I just infused fresh basil into the cream. . ." or "It was really no big deal but, yes, I am the best cook ever!" However it goes down, you'll all be happy. Here are some other tasty combinations to try:
Fresh blueberries with dried lavender cream
Grilled peaches with fresh mint or jasmine cream
Strawberries with fresh coriander (cilantro) cream
Fresh mint cream with chocolate cake
Poached plums with fresh lemon verbena cream
(Please let me know what you think of this post in the below comment section!)
Basil Infused Whipped Cream
Whipping cream offers a little extra something when infused with fresh basil.
Author:
My Delicious Blog
Ingredients
1 c. whipping cream
Handful fresh basil (or other herbs), torn into pieces (about ⅓+ cup)
1 Tb. confectioner's sugar (or other favorite sweetener)
Instructions
Heat cream over medium temperature in a small saucepan - until it just starts to simmer.
Remove from heat and toss in herbs.
Allow to sit at room temperature about 30 minutes, uncovered.
Pour the cream through a mesh strainer into a small bowl to remove the herbs.
Cover and refrigerate at least 3 hours (the longer the better).
Whip as usual, using your favorite sweetener, then serve!