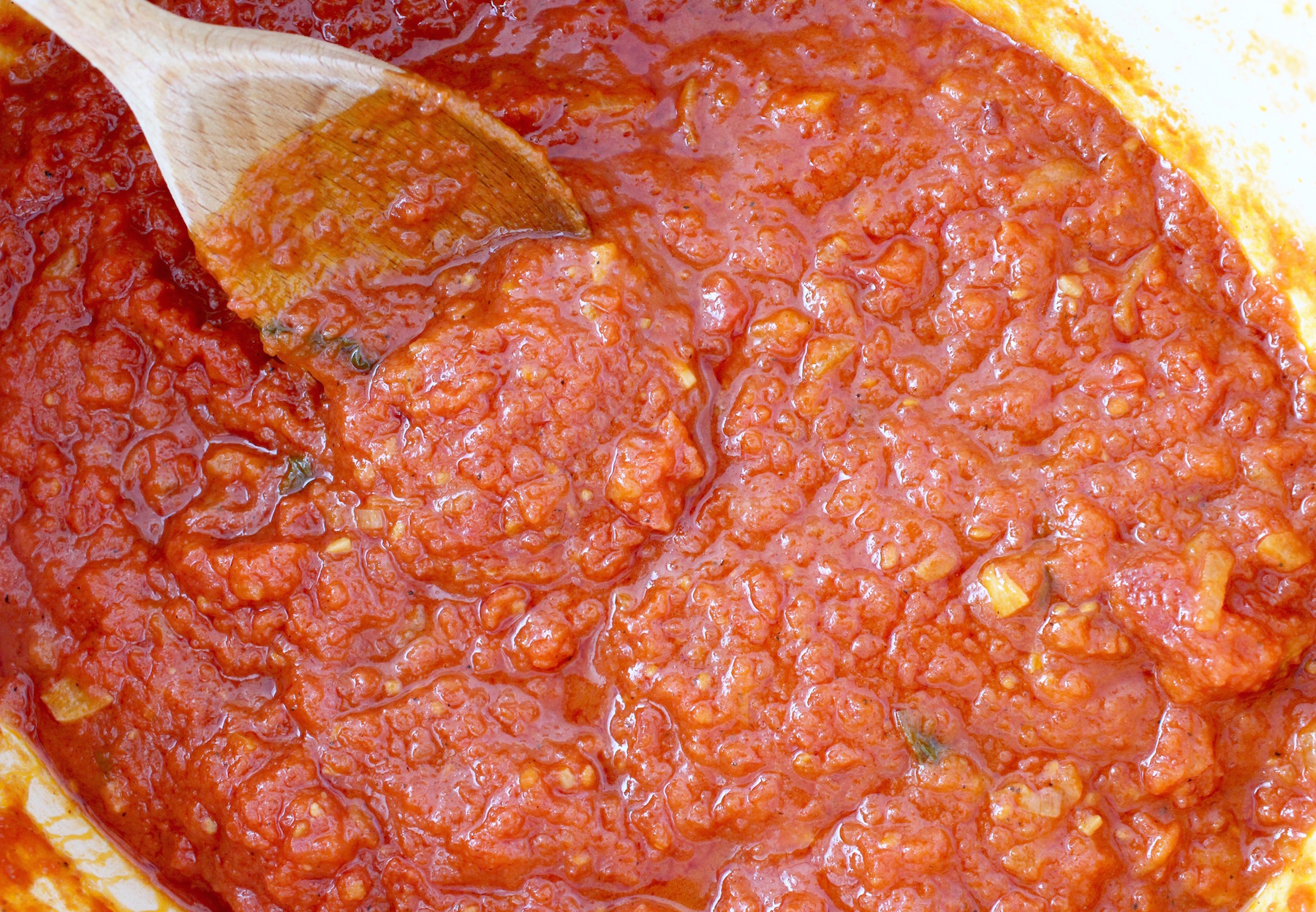 I'm not Italian, but I adore Italian food, and my obsession started as a kid.  My family's old farmhouse had a big yard with a field that backed up to our Italian neighbors.  I was friends with their granddaughter, who lived there with her brother, mother and grandparents, and it was my first exposure to an Italian family. . .
One of the things I remember about that house was the frequency and voracity of the shouting.  Honestly, from the time I crossed the threshold, someone was shouting!  But they didn't seem to be fighting, it was the sort of yelling born out of simple need to get someone to listen to you from across a room (or from one floor to another), or to announce that lunch was ready, or to share an exasperated opinion about what was going on in Washington, or locally, where they were paying too much in taxes. So it didn't feel like there was underlying strife in the house, it was just their way of communicating, and they all seemed to still love each another.  I was fascinated by the dynamics, so I wanted to hang out there as often as possible.
Aside from the yelling, the most fascinating thing about the house was the pristine living room — avocado green carpet, brocade furniture and draperies (which were always closed), dark wood, lots of Capodimonte (remember those Italian porcelain vases and decorative items that were sold on QVC when it first started?), and all the furniture was covered in heavy plastic slipcovers! The room was even cordoned off with a velvet rope (the kind you used to see in movie theaters) signaling that it was ONLY to be used during holidays. So you can imagine, as a kid, how tempting it was to sneak into that room. . .which my friend and I did once, only to get the wrath of her grandmother, who actually chased us out with a rolling pin, while yelling.
But my fondest memories involve the dynamics in the kitchen, which was my first stop when I visited.  Someone was always cooking, no matter what time of day — eggs with sweet peppers, red sauce, sausage and peppers, focaccia, roast pork with potatoes, soup, pasta, cakes, cookies — and insisted we sit and eat. Obviously, I hated to leave.
For some reason I was thinking about my old friend this week, so I decided to make a batch of red sauce — my motives not only nostalgic, but also therapeutic.  With all the bad news across the world lately, sometimes I need to sneak away from reality and enjoy the simple pleasure of a bowl of pasta mixed with homemade sauce.  For me, things just feel a little better when I've got that bowl in my hands.
My recipe may not have been handed down from an Italian great-great-grandmother, but it's pretty tasty, after several years of tweaking and experimenting.  And here's a tip: try to slice your garlic as thinly as possible!  Remember the scene from Goodfellas in which mob boss (Paul Cicero) is making sauce from a makeshift kitchen in jail, slicing each garlic clove with a razor blade?  That's ideally how thin the garlic should be, so it literally melts into the sauce.  But, heck, who has a razor blade on hand, or the time?  Just do your best 🙂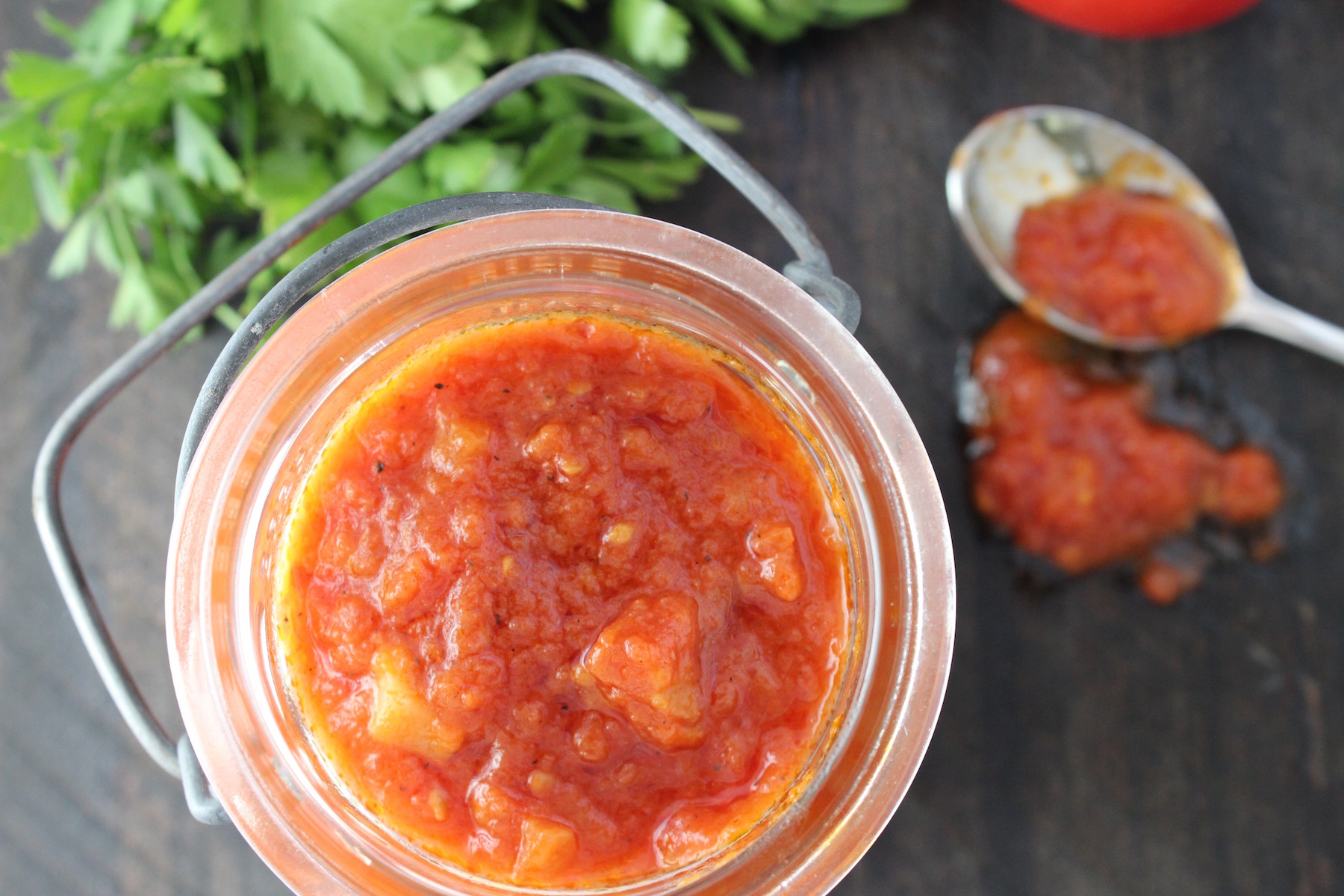 Virginia Wolf once said "Uno non può pensare bene, amare bene, dormire bene, se non ha mangiato bene" which translates to "One cannot think well, love well, sleep well, if one hasn't eaten well."
Maybe that's why I love to eat so much.  Mangia!

A Batch of Red Sauce
Plum tomatoes are super delicious in this easy red sauce.
Author:
My Delicious Blog
Ingredients
¾ c. olive oil (not extra virgin)
1 large Spanish onion, finely diced
12 cloves garlic, peeled and thinly sliced
Pinch red pepper flakes (optional)
2 cans (28-oz) whole plum tomatoes (imported and/or San Marzano, if possible) (*)
1 tsp. kosher salt
½ tsp. ground black pepper
Handful fresh basil leaves, julienned
2 Tb. unsalted butter (**)
Instructions
In a heavy ceramic pan, add oil, garlic and onions (and red pepper flakes, if using); cook over medium heat until soft and slightly brown.
Place whole tomatoes in food processor (in 2 batches, one for each can) and process until smooth. Pour tomatoes into onion/garlic mixture. Add salt and pepper and stir well.
Bring to a low simmer and cook about 45 minutes. If it boils too too much, reduce heat to a gentle simmer. Stir frequently to avoid sticking.
Turn off heat. Stir in butter and basil, then serve.
Notes
(*) - I find that whole tomatoes (in a can) offer more flavor than crushed tomatoes in a can, so you'l find that the extra step of pureeing them in a food processor will be worth it in the end.
(*) - Adding butter is a technique employed by famed Italian chef, Marcella Hazan, who added it to enrich the sauce.