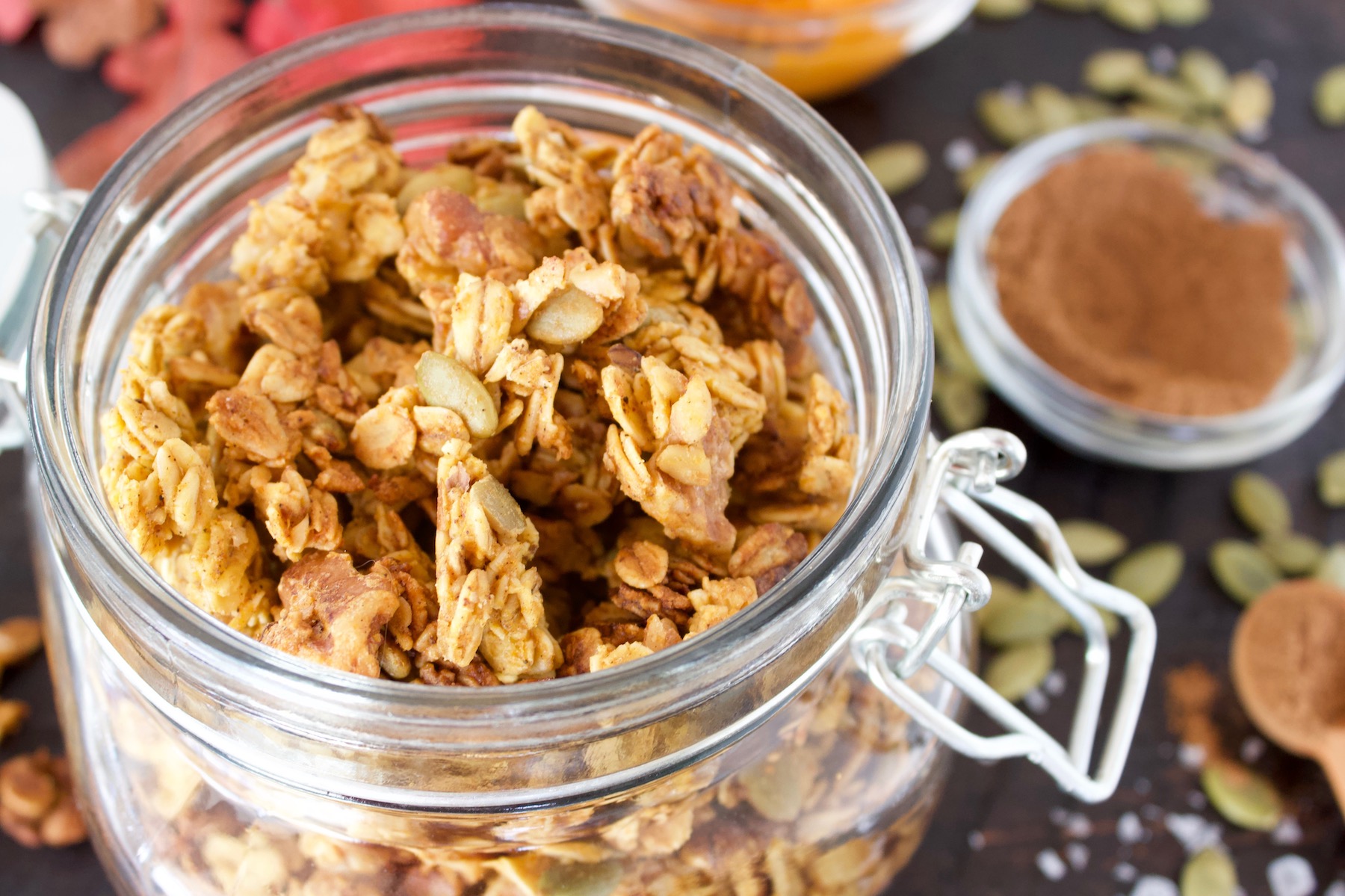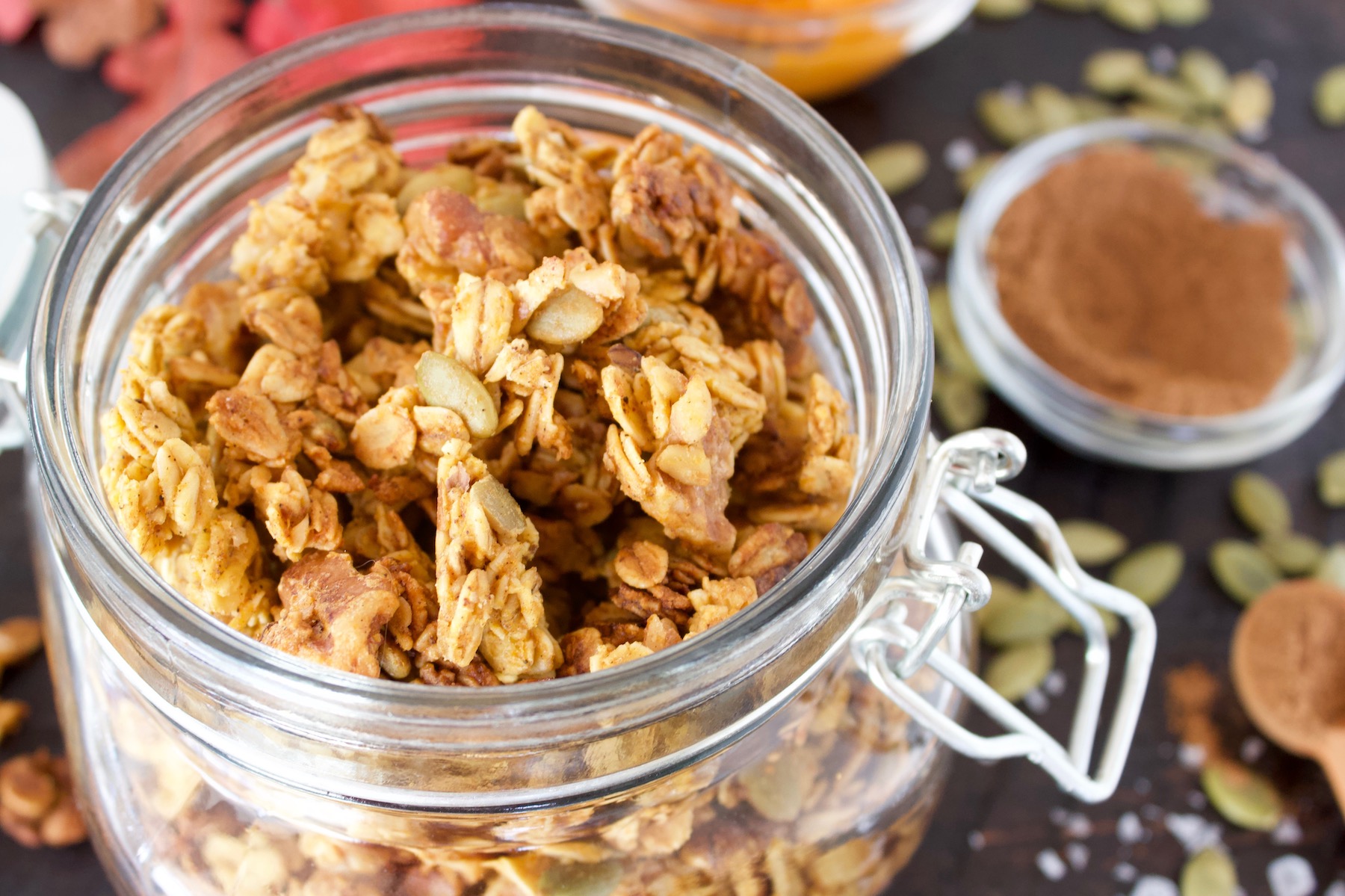 Yes, it's time to think about Fall dishes like warm soups, cocoa, roasted root veggies and, of course, all-things-pumpkin!
If you love pumpkin, there are endless opportunities to enjoy the Fall-inspired squash and its signature pumpkin spice flavors of cinnamon, nutmeg, ginger, allspice and cloves.  You'll find that magical stuff in bars, pies, cookies, lattes, cold brews, pancakes, muffins, coffee creamers, ice cream, lotions, chips, and tons more.  This year, the newest thing is pumpkin-flavored SPAM®, but I don't think I can muster that.
USA Today published an article recently titled "
Enough is Enough!  For the respect of food, we need to draw the line with pumpkin spice
" in which they define acceptable uses, and what's definitely not acceptable (protein powder, chicken wings and chocolates are at the top of the list).  There's clearly a lot of passion concerning this flavorful spice blend, one that conjures up images of cool weather, snuggly sweaters, gold and red colored leaves, good hair days, and opportunities to warm up with cozy beverages.
When did this craze for pumpkin spice-flavored stuff start?  Some say it didn't originate at Starbuck's, as you might imagine.  It was actually a candle company in New Mexico that released a pumpkin spice candle in 1995.  Once marketing firms found out there was interest, well, the rest is history.  Personally, I like a little pumpkin spice in my coffee this time of year.  For those of us who live in a balmy climate year-round, it's a way of feeling like the season is shifting, even if just mildly 🙂  I also love a thick slab of pumpkin pie and, of course, sweet pumpkin bread loaded with raisins.  That's about it for me.
But I do have a friend who adores pumpkin, and since her birthday is coming up, I decided to make her something tasty.  I spotted the recipe for
Pumpkin Maple Pecan Granola
 on a blog called Minimalist Baker – one of my favorites.  I never thought about combining pumpkin puree into granola, but that's just what they did, along with that infamous pumpkin spice flavor.  I modified the recipe ever-so-slightly, based on what I had in the kitchen and found it to be an easy recipe that makes a lovely, crunchy granola, without any overwhelming pumpkin spice flavor (but you could certainly add more if you really love the stuff).
Enjoy it as cereal with your favorite milk, or just keep a box of it at your desk for a quick snack.  It's a great way to enjoy pumpkin flavor AND to celebrate Fall 🙂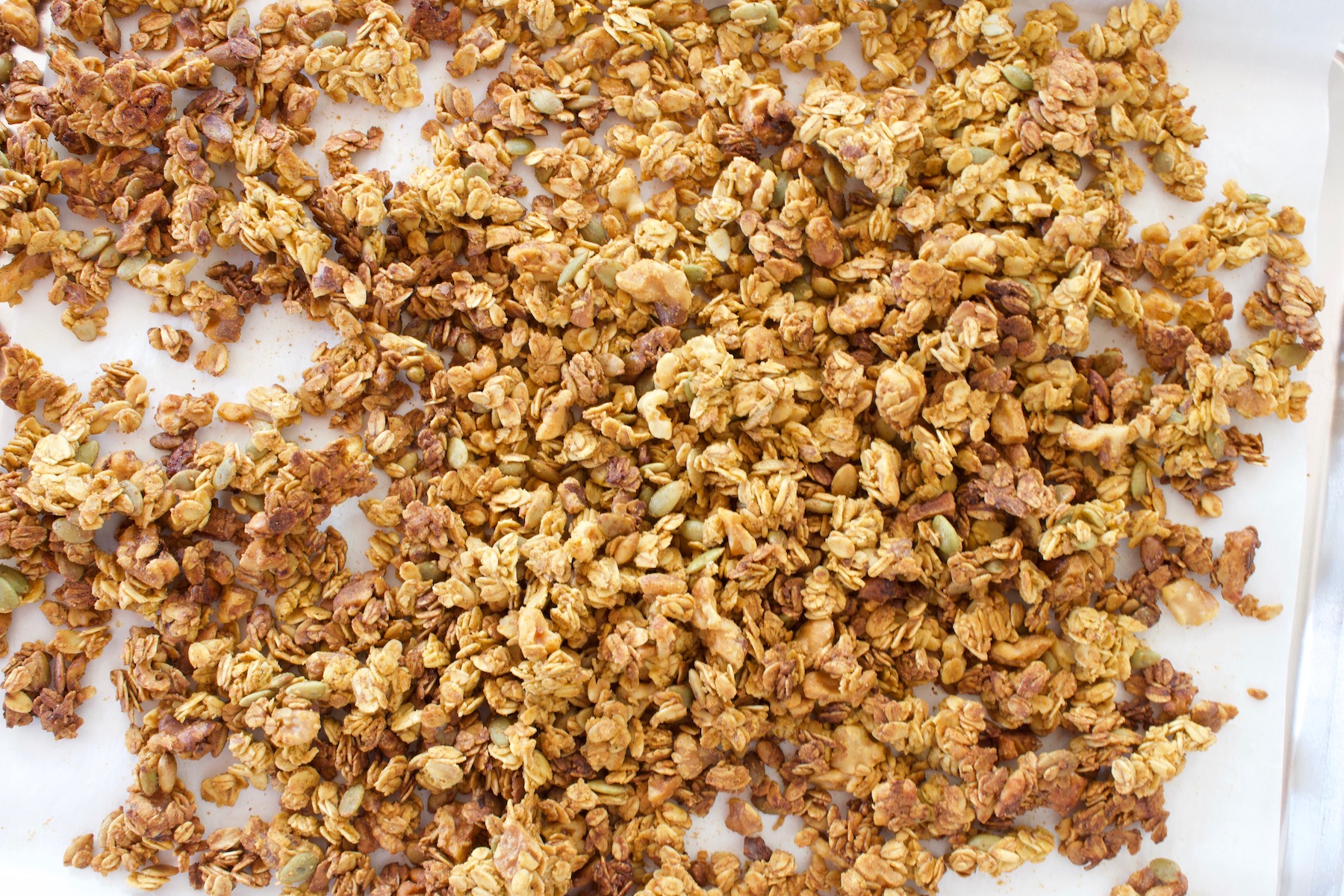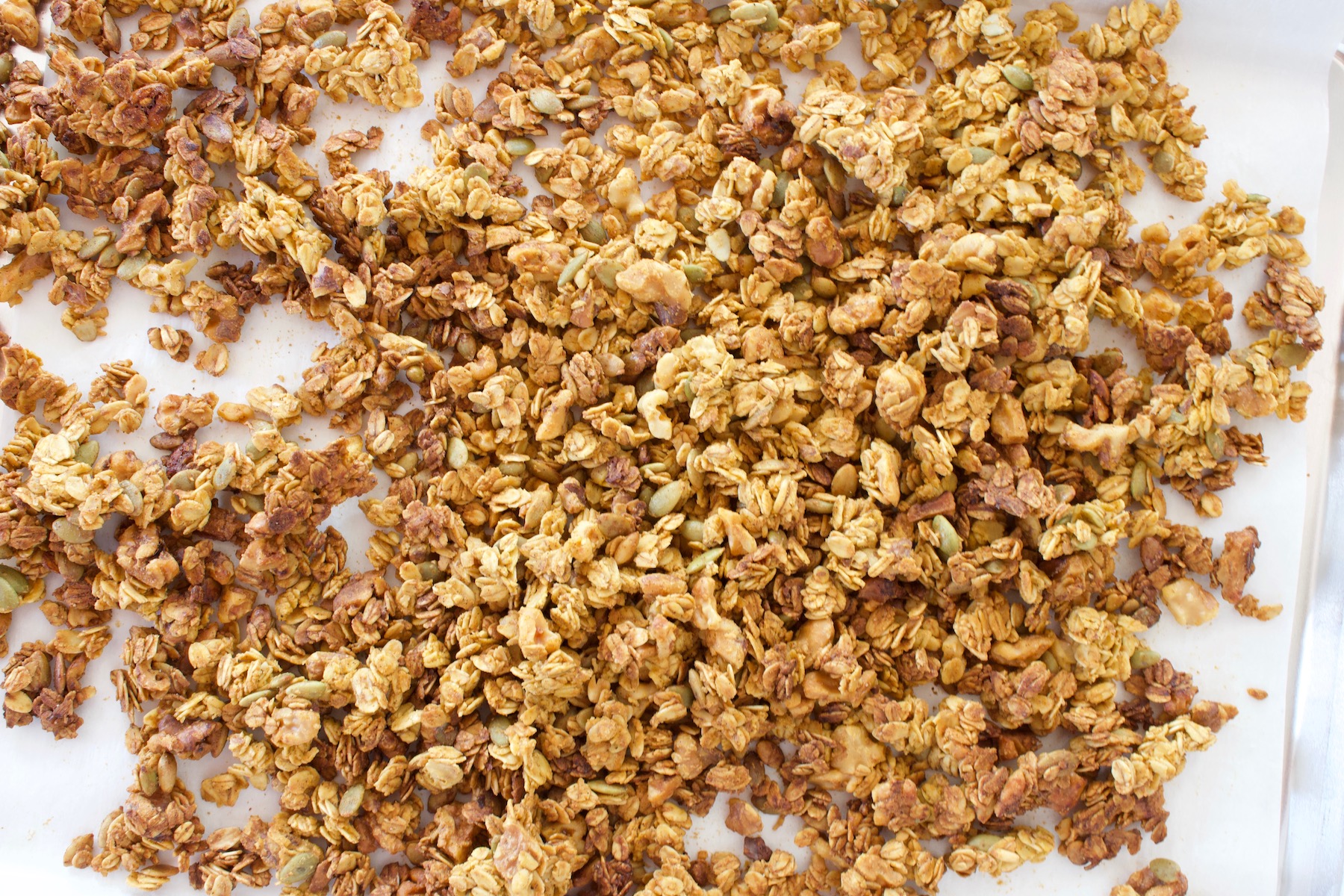 P.S. if you don't have a jar of pumpkin pie spice, you can easily make it using spices you probably already have in your pantry.  Combine 3 Tb. cinnamon, 2 tsp. ground nutmeg, 2 tsp. ground ginger, 1 tsp. ground cloves and 1 tsp. allspice.  Keep it in a lidded jar and you can make anything you want with that pumpkin pie spice blend.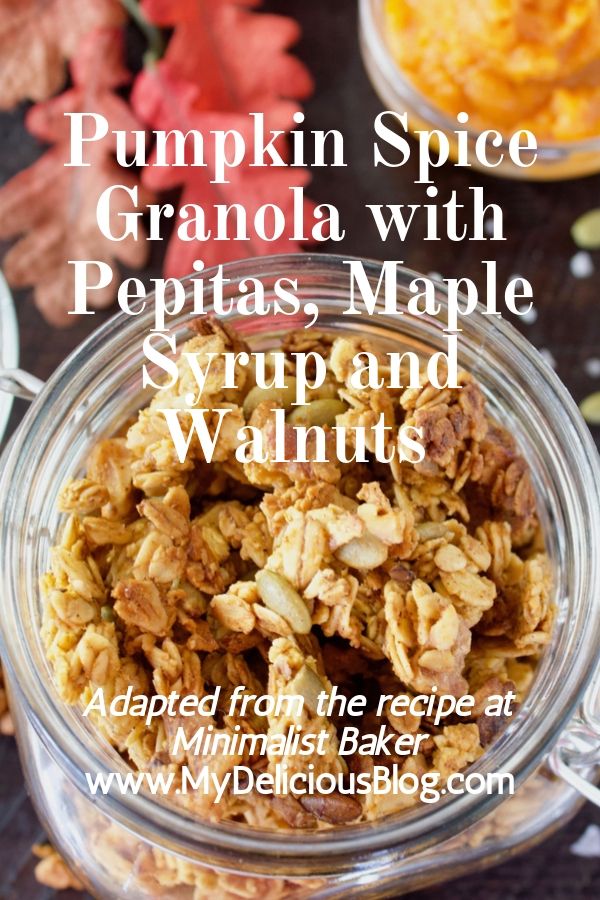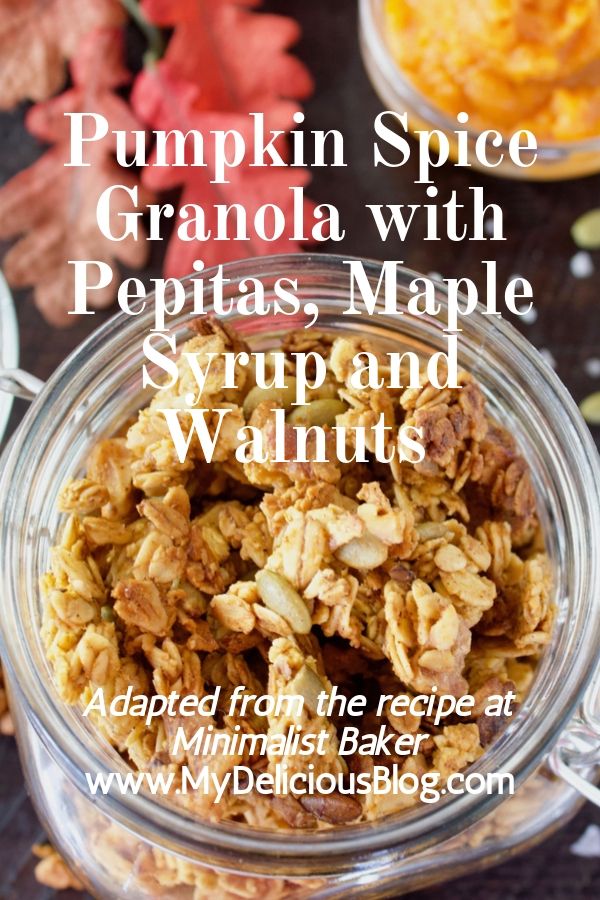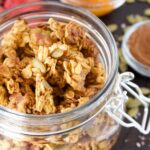 Print Recipe
Pumpkin Spice Granola
A deliciously crunchy granola with classic Fall flavors of pumpkin pie spice, adapted from the recipe on Minimalist Baker.
Ingredients
3

c.

Whole, rolled oats

1 1/4

c.

Nuts, roughly chopped

(walnuts, pecans or almonds work well)

1/3

c.

Raw pepitas (pumpkin seeds)

3

Tb.

Granulated sugar

1/2

tsp.

Sea salt

3/4

tsp.

Pumpkin pie spice

(alt: see Notes for homemade version). Add more if you really like pumpkin spice!

1/4

c.

Olive oil

(alt: coconut or vegetable oil)

1/3

c.

Pure maple syrup

(alt: honey or agave)

1/3

c.

Pure pumpkin puree (not pie mix)
Instructions
Preheat oven to 340 degrees. Line 2 baking sheets with parchment; set aside.

In a large mixing bowl, add oats, nuts, seeds, dry spices, sugar and salt; stir to combine.

In a small pan over low heat, add oil, maple syrup and pumpkin puree; whisk to combine. Once warm, pour it over the dry ingredients and mix with a sturdy spoon (work quickly because it cools quickly).

Transfer equal amounts of the mixture to each baking sheet.

Bake 25-30 minutes. Rotate the pans halfway during the cooking time. Remove from oven when nicely browned but not burned; allow to cool on baking sheets so it gets crispy.

When thoroughly cool, transfer granola to a lidded container and enjoy!
Notes
If using walnuts in this recipe, check the granola around 15-18 minutes to ensure they're not burning -- walnuts tend to heat faster than pecans or almonds 🙂 
Homemade pumpkin pie spice: 3 Tb. ground cinnamon, 2 tsp. ground nutmeg, 2 tsp. ground ginger, 1 tsp. allspice, 1 tsp. ground cloves.  Mix together and keep in a lidded container.