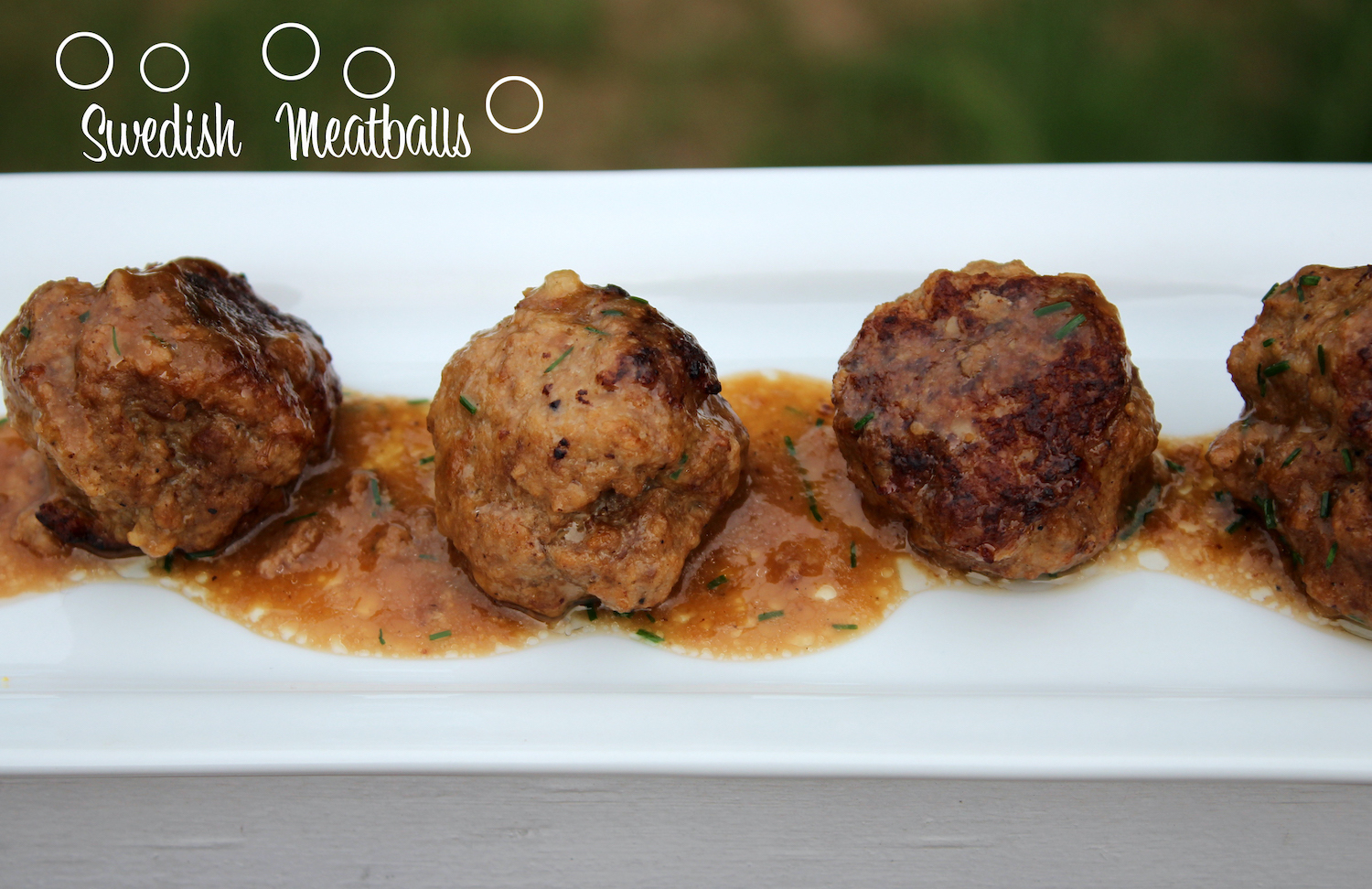 My husband told me that he knew he was going to marry me the night I made him dinner for the first time (I had made Swedish Meatballs with mashed potatoes and green beans).  Now, we've all heard that expression "the key to a man's heart is through his stomach", but I had no idea my dinner would lead to such life-changing events!
This is one of my favorite meals.  It's an easy recipe, handed down through my family as long as I can remember.  The gravy is not heavy or sticky, the meatballs are tender and flavorful and pair well with any type of potato or starch, and they even re-heat well (this is important only if you actually have leftovers, which we typically don't).
After we married and bought a house, we hosted our first backyard dinner party.  Along with lots of other stuff, my mom and I each made big batches of meatballs and when we merged them we thought we had surely made too many and would have tons of leftovers.  Not so.  After our 50+ guests left, we were shocked to see only two meatballs sitting in the chafing dish.  Brendan and my dad were happy to polish them off. . .
Don't tell anyone but, sometimes, when no one's looking, I like to stuff a bowl with mashed potatoes, meatballs and gravy, and skip a vegetable altogether.  Is there anything more comforting than that?!?

Swedish Meatballs
My grandmother's favorite dish - her version of Swedish meatballs.
Author:
My Delicious Blog
Ingredients
1 lb. ground beef (chuck has the most flavor)
¾ c. plain bread crumbs
1 tsp. onion salt
¾ tsp. cornstarch
¾ c. whole milk
1 large egg
⅛ tsp. ground nutmeg
1 tsp. kosher salt
½ tsp. freshly ground black pepper
1 Tb. unsalted butter
2 Tb. all-purpose flour
2 15-oz. cans beef broth (low sodium, if possible)
3 Tb. chopped chives or parsley (optional)
Instructions
Mix all ingredients through salt & pepper until well combined.
Form meat mixture into medium-sized balls.
Line a large dish with paper towels (for meatballs after browning).
Heat a large, non-stick skillet and add a little vegetable or olive oil.
Over medium heat, brown meatballs, turning to brown all sides.
Remove from pan when brown (the meatballs will not be cooked through); remove fat from pan and allow meatballs to sit on the paper-towel lined dish.
In the same pan make a roux with the butter and flour. Whisk until it's browned and you no longer smell raw flour. Pour in the beef broth and whisk to combine.
Return meatballs to pan. The gravy will thicken as it gets warmer. Simmer on low heat for about 30 minutes, until the meat is fully cooked. Serve over mashed potatoes or buttered egg noodles. Top with chopped parsley or chives.