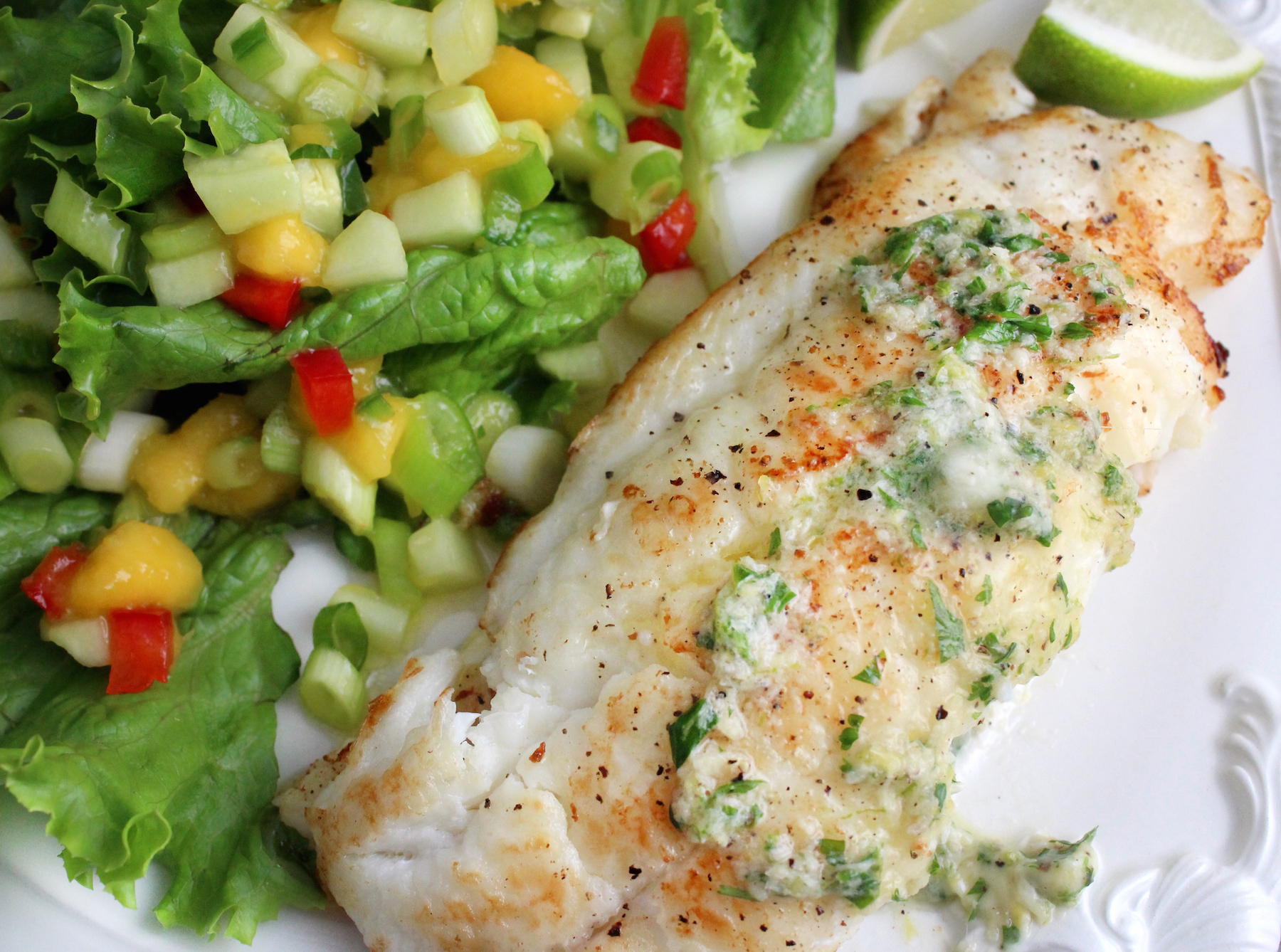 Hogfish! It's a reef fish that likes rocky bottoms throughout Florida's coast, and it's in the Wrasse family (which means it's delicious). It's unusual-looking in that it has a long, hog-like snout that allows it to feed on bottom-dwelling crustaceans, but its crimson color is amazing. This fish is hard to catch on hook & line, so it's primarily harvested by spearfishing. If you're lucky enough to get it, you're in for a treat. The delicate, bright white flesh is fantastic and it simply melts in your mouth. I think it's ideal pan-seared, baked, or as a ceviche.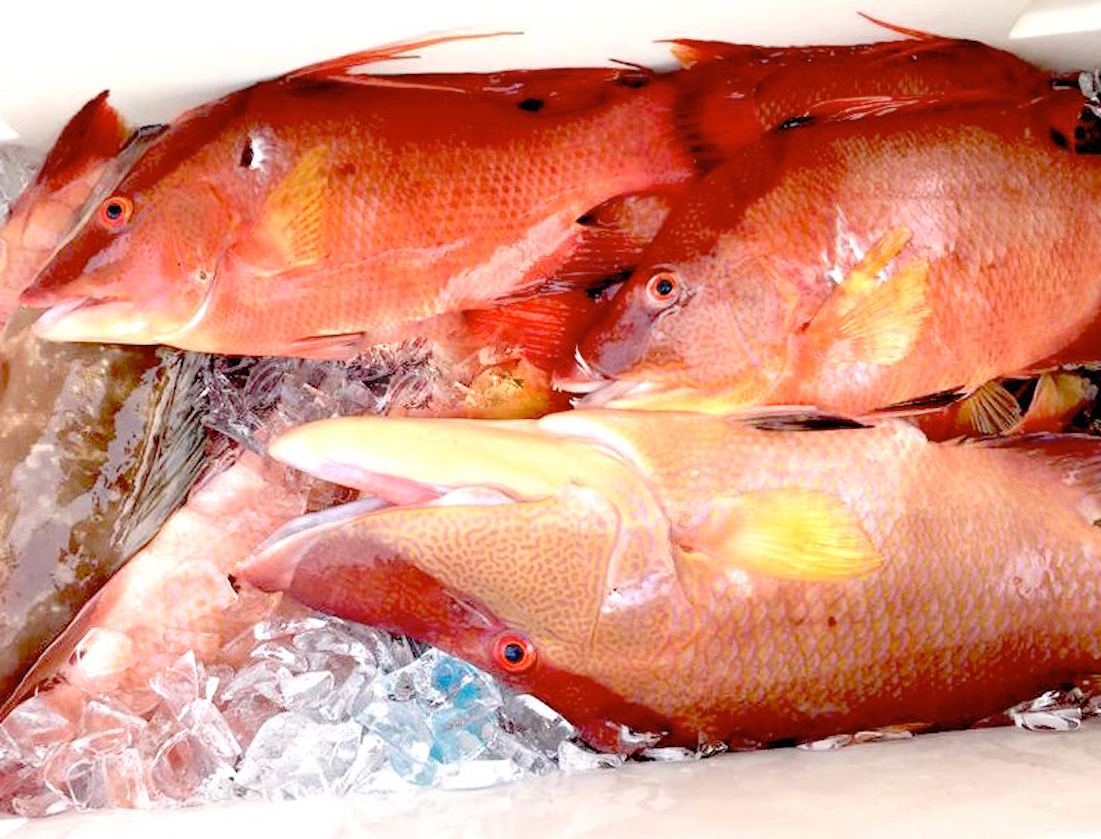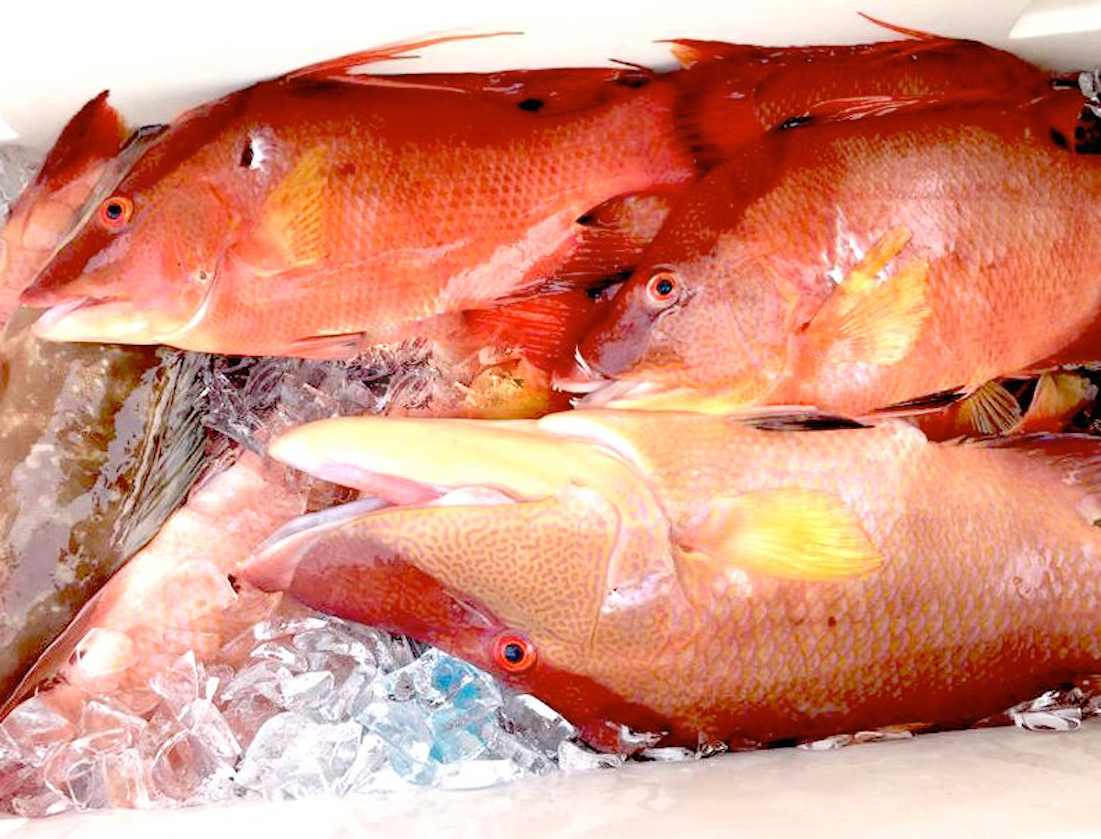 Speaking of Hogfish, we recently visited Hogfish Bar & Grill on Stock Island (north of Key West) to try their "Famous Hogfish Sandwich". Let's just say there's a reason it's famous — it's doggone delicious! A great place to visit if you're in that neck of the woods, but a little challenging to find (as proven by our 4 turnarounds after missing the signs). While enjoying the scenery, we watched a Frigatebird nab a Key West grunt from the marina basin and fly off. The fish must have been too heavy, so he dropped it, on the deck, right next to our table. Talk about fresh fish! BTW – Brendan nudged our little friend back into the water. . .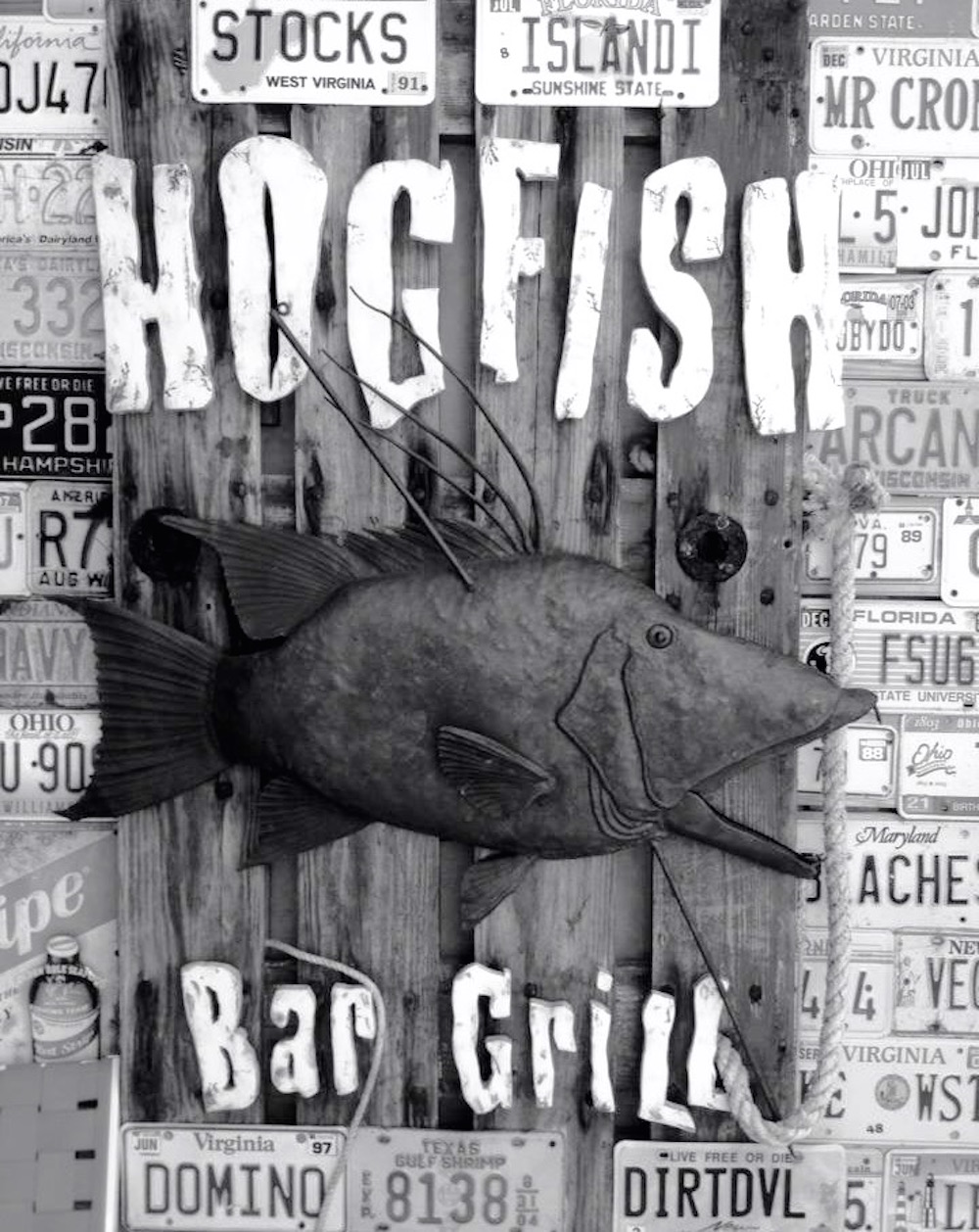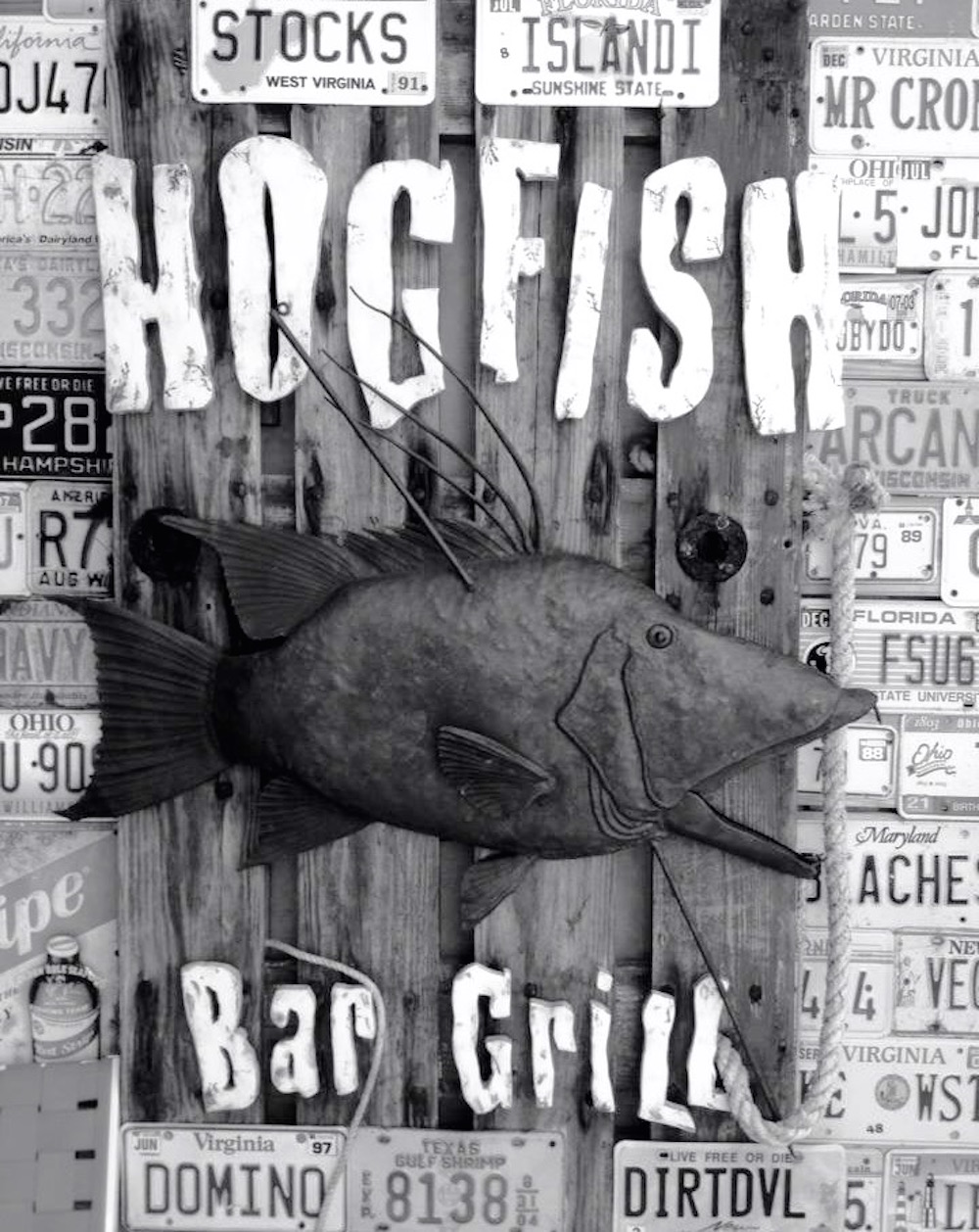 I've never spearfished, but some friends recently did off the coast of Venice, FL. One told me when she first saw the Hogfish they were the color of the sea floor but, when hit by a spear, a bright red color washed over them from head to tail. It reminded her of those coloring books we had as kids, when we stroked a wet brush over a picture and colors appeared. What an amazing thing to experience underwater!
When cooking Hogfish, I like to allow its mild flavor to come through, so I decided on a pan-sear with a zing of flavor via my homemade Ginger-Lime compound butter. I lightly dusted each fillet with salt & pepper then placed them in a hot pan with olive oil & butter. I topped the cooked fish with the butter and served with a side of Mango-Cucumber salsa over leafy greens.  A delicious, light, summery meal that works with any delicate white fish.  Enjoy!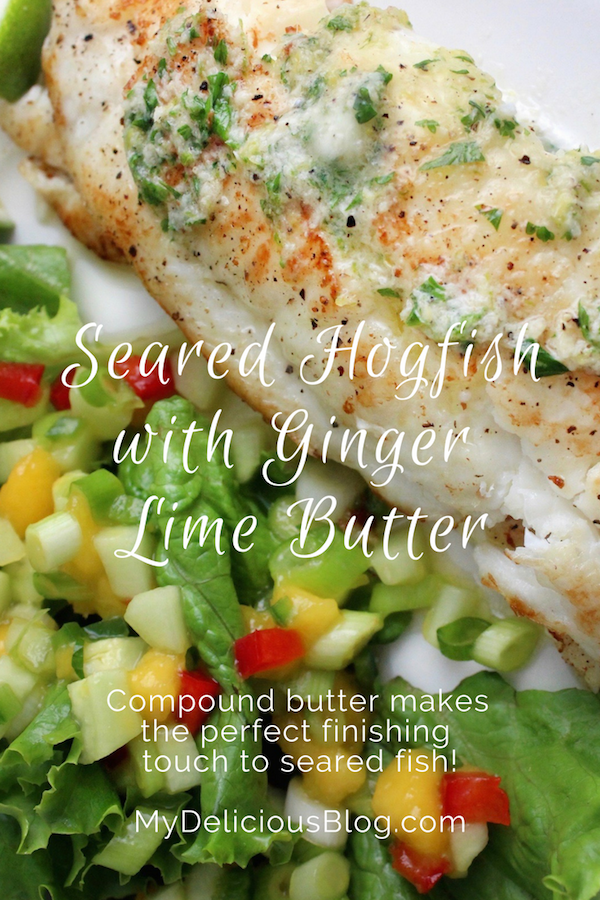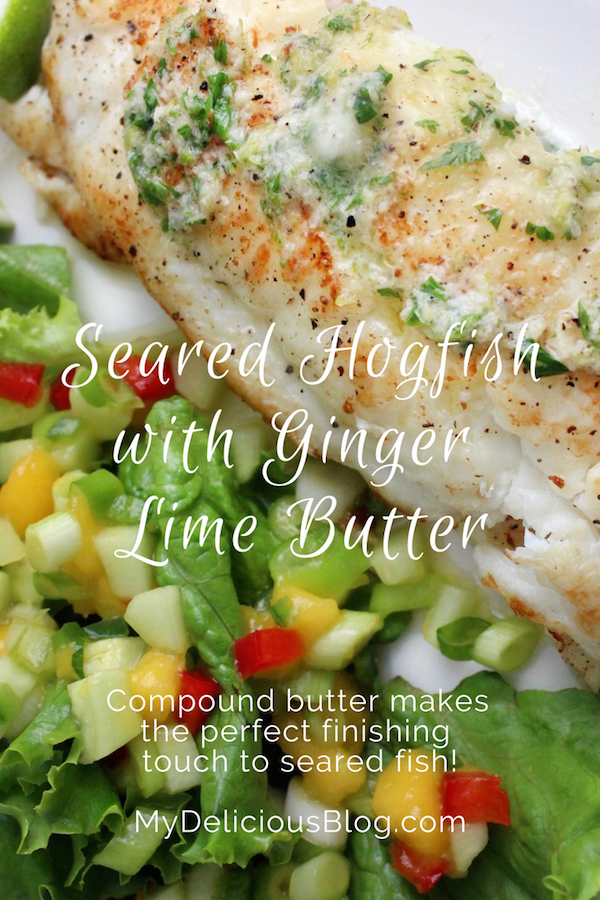 Note: Compound butters are a mixture of softened butter, herbs and a variety of tasty ingredients. When melted on hot fish or seared meat, the infused flavors make a great "finish" to a dish without overpowering the main ingredient.

Seared Hogfish with Ginger Lime Butter
Fresh Hogfish is awesome with this flavorful butter.
Author:
My Delicious Blog
Ingredients
For the Hogfish:
2 Hogfish fillets, skinned, de-boned, dried with a paper towel
1 Tb. olive oil
1 Tb. unsalted butter
Kosher salt
Freshly ground black pepper
For the Ginger-Lime Compound Butter:
1 stick unsalted butter, room temperature
2 Tb. fresh ginger, peeled & grated
Zest of one lime
Zest of one lemon
2 Tb. fresh parsley (flat leaf or curly), minced
½ tsp. kosher salt
¼ tsp. freshly ground black pepper
For the Mango-Cucumber Salsa:
½ c. fresh mango, cut into small pieces
½ c. English cucumber, cut into small pieces (if using a regular cuke, peel & remove seeds before chopping)
¼ c. scallions, sliced thinly
2 Tb. red bell pepper, minced
1 tsp. fresh lime juice
1 tsp. honey
Salt and pepper to taste
Instructions
Prepare the compound butter by combining all ingredients in a mixing bowl and stirring until well combined. Transfer to a small serving bowl (for easy scooping) and refrigerate until ready to serve. OR place the butter on a piece of parchment paper or plastic wrap and tightly roll into a narrow log. Pinch ends of the log and refrigerate at least one hour (this method allows you to slice off a few servings at a time). You can even freeze what you don't use, up to 6 months.
Prepare the salsa by mixing all ingredients together then refrigerating about 1 hour.
When ready to cook the fish, heat a non-stick skillet to medium/high and add olive oil and butter.
Lightly salt & pepper each fillet, then place in pan. Since the fillets are usually thin, it only takes about 1-2 minutes on each side.
Remove to serving dish and, while hot, top with a generous amount of butter.
Serve alongside pretty green lettuce topped with the Mango-Cucumber Salsa.
Notes
Compound Butter may be kept in the refrigerator for up to 1 week (but it probably won't last that long because it's so yummy!). It can also be frozen (in a tight container) for up to 6 months.