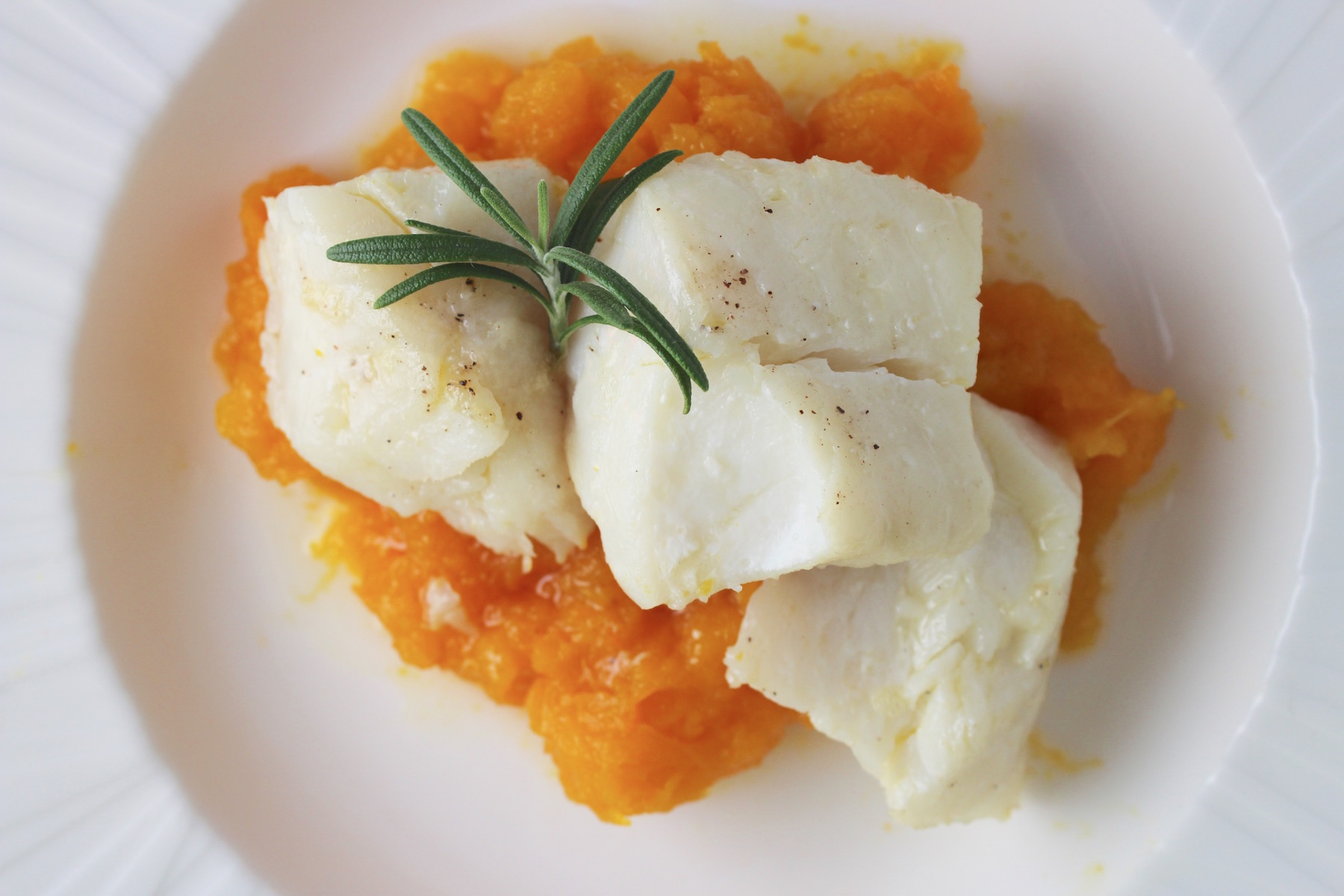 Cooking fish can sometimes be daunting, especially if you don't do it all the time. Even those of us who cook it regularly can experience it getting away from us, resulting in a dry, tough, or smelly mess.
But there's a foolproof way to achieve moist, flavorful, tender and "velvety" fish. Poaching!  You're probably familiar with this classic technique for cooking poultry and fish. You simply heat a tasty liquid, which usually consists of stock, wine, peppercorns, bay leaf, garlic, etc. Then you place the protein into this warm bath of tasty ingredients and allow it to ever-so-gently simmer. The liquid cooks it and produces a delicate, healthy dish.
And you can achieve similar results by using olive oil as your poaching liquid base. . .
This is one of those recipes that's all about simplicity, which is usually the best foundation for a good recipe. You just heat the oil with whatever will impart some yummy flavor — garlic, fresh herbs, ginger, shallot, lemon, hot pepper, etc., then place your fish in a pan and cover it with oil, ensuring each piece is coated. Then you put it in the oven at a low temperature for about 20-25 minutes.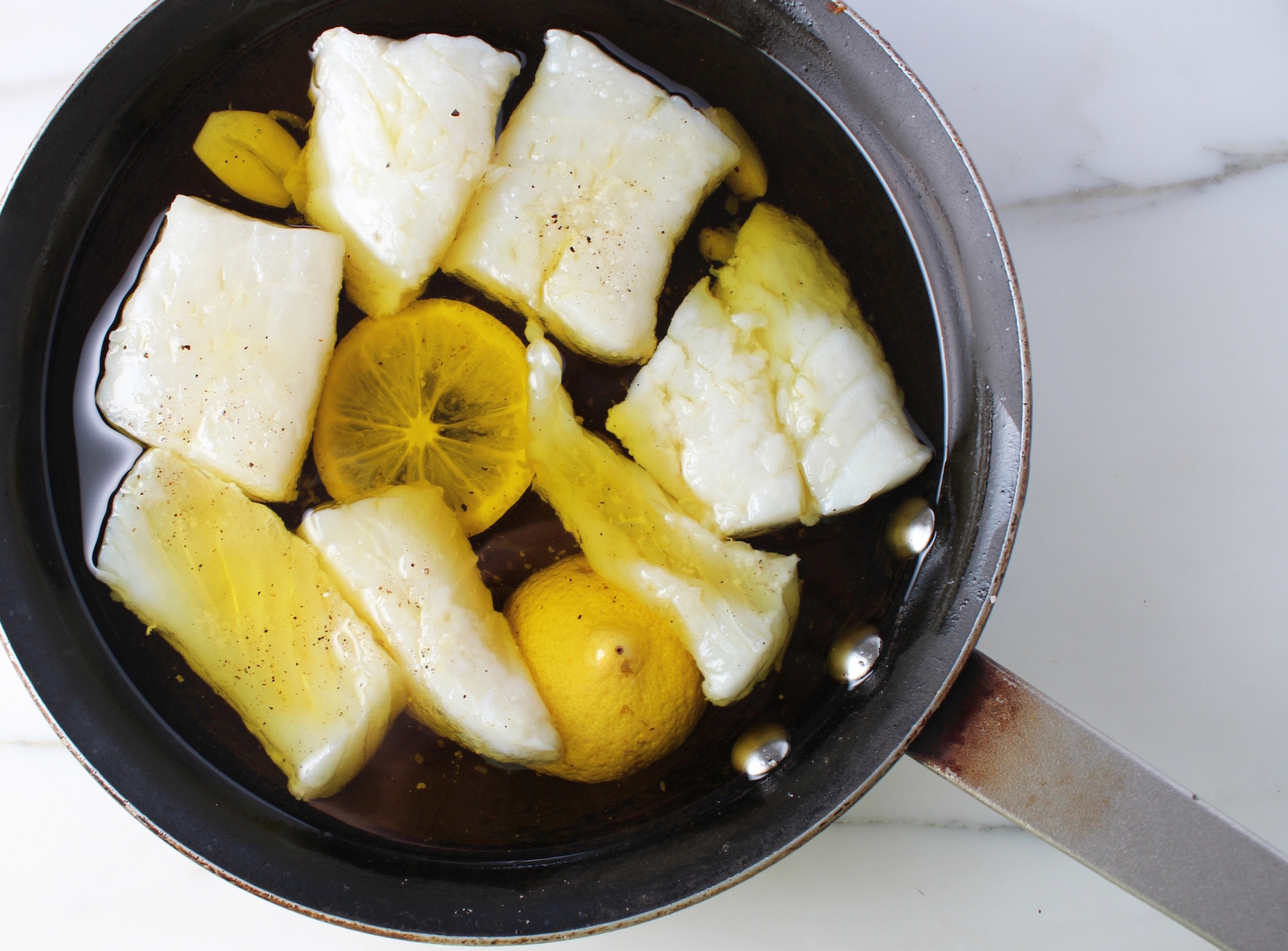 Because you're cooking at a low temperature, the oil won't overheat — it simply surrounds the fish in flavor and warmth, allowing it to cook gently. It's a wonderful way of honoring the flavor and texture of fresh fish. And don't worry, it won't taste like you're eating a mouthful of olive oil when you bite into it.
You can use this method for any seafood, but it works especially well with denser types of fish like halibut, salmon, amberjack, etc. that can easily dry out if cooked improperly. And unlike pan-searing, poaching is very forgiving.  I know from experience. One time I forgot my batch in the oven because I had to take a phone call, so the fish sat for an additional 10 minutes in the oven. When I realized what had happened, I quickly pulled it out and expected to have a disaster on my hands. But it was perfectly fine – the fish had not overcooked because it was still in its bath of warm oil, just waiting for me to retrieve it. That certainly would not have happened if I had it in a pan on the stovetop. . .
If you want to give your cooked fish a little brightness, top it with fresh lemon juice, or olive tapenade, or gremolata (with parsley or mint) or whatever else strikes your fancy. I served mine with delicious roasted Calabaza squash, mixed with a little salted butter. Tasty!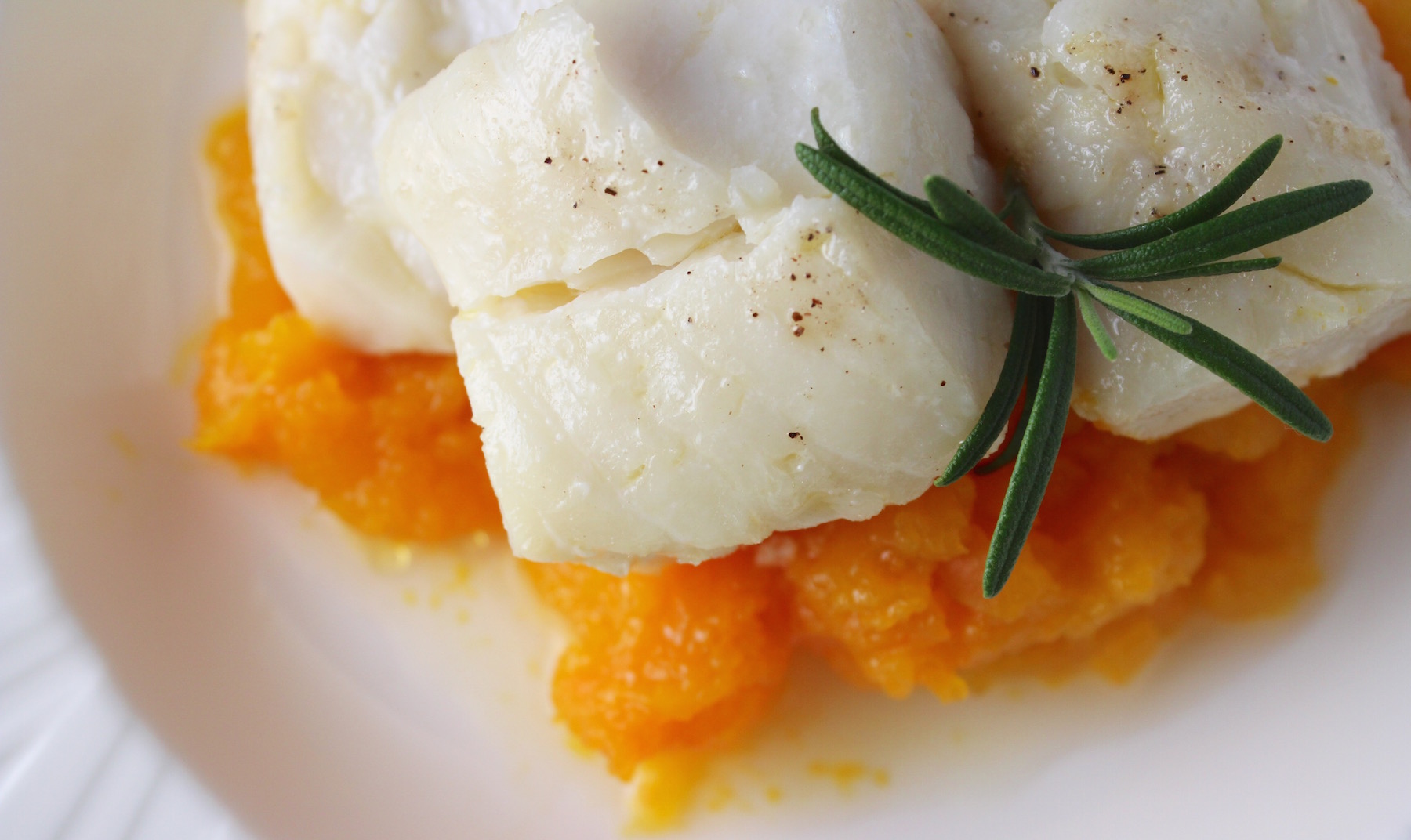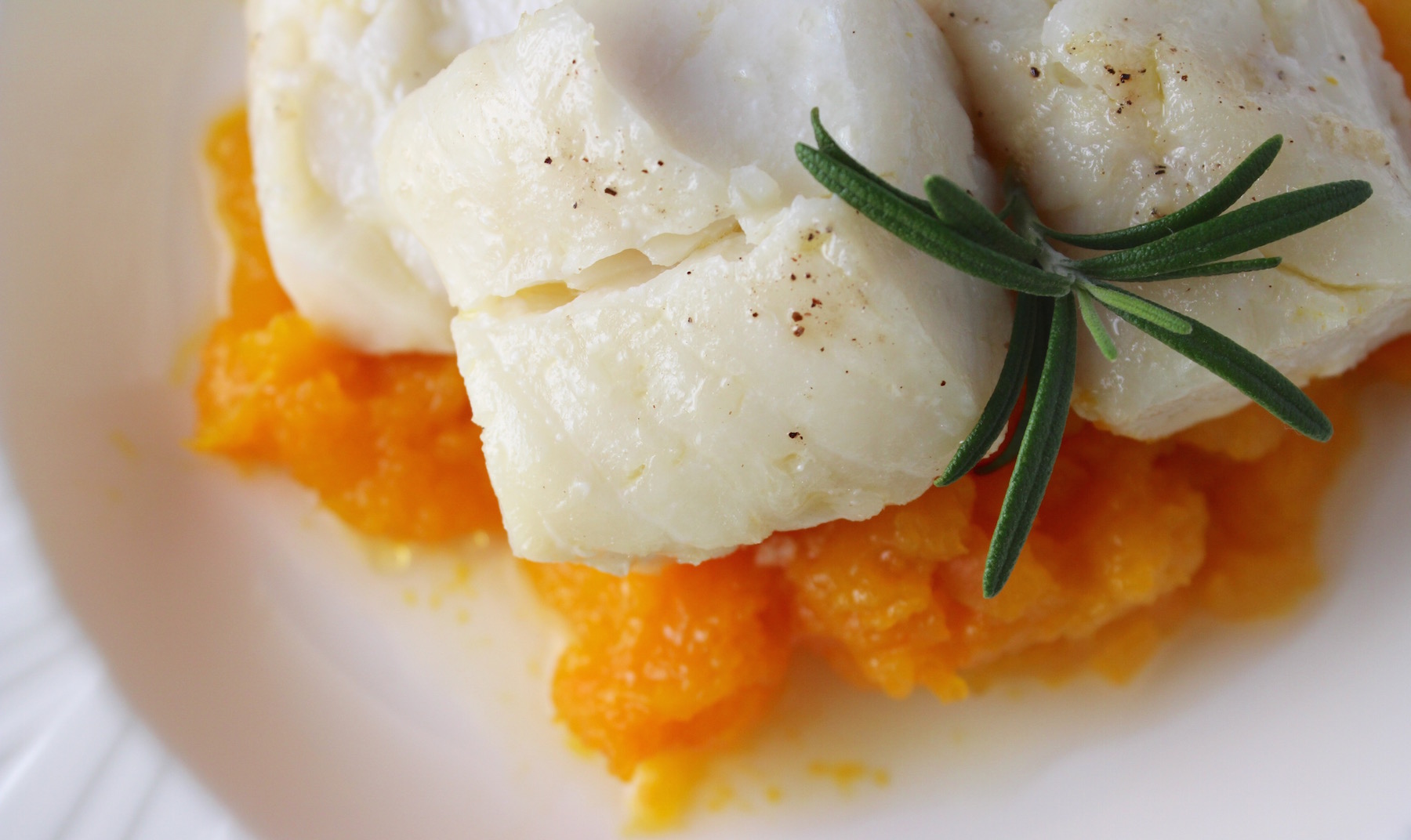 Olive Oil Poached Cod with Rosemary, Garlic & Lemon
Flaky white fish is perfectly cooked when poached in delicate olive oil.
Author:
My Delicious Blog
Ingredients
1 lb. fresh fish fillets, cut into 3" pieces (to easily fit your pan), room temperature
3+ c. extra virgin olive oil (not necessarily a premium brand, but good quality)
2-3 sprigs fresh rosemary
2 garlic cloves, peeled and slightly crushed
2-3 lemon slices (seeds removed)
Kosher salt
Freshly ground black pepper
Instructions
Heat oven to 275 degrees.
In a medium saucepan, add the oil, rosemary, garlic and lemon slices over medium heat for about 5 minutes.
Sprinkle each piece of fish with salt and pepper, then place in a casserole dish in one layer (they shouldn't be too snug, to ensure even cooking). Cover with the warm oil. Add more oil if the tops are exposed.
Allow the fish to sit for about 5 minutes before putting in the oven.
Place in oven for about 25-30 minutes.
When you notice some of the white albumen (protein) from the fish rising to the top of the oil, the fish is done; remove from oven.
Remove the fish with a slotted spoon. Top with fresh lemon juice (and tapenade, gremolata, etc.) and serve.
Notes
1) The left over poaching oil can be used again for more poaching, or in salad dressing, with pasta, for croutons, etc. After removing the cooked fish from the baking dish, allow the oil to thoroughly cool, then remove lemons, garlic or herbs. Top a glass or other round container with a paper coffee filter. Pour the oil into the coffee filter, a little at a time. The oil will slowly drip from the filter and the cooking bits will be removed. Discard the filter when finished. Cover oil tightly and refrigerate until next use. The oil will keep for about 2 weeks.
2) This is also a great dish when planning ahead for a dinner party. Cook the fish as directed, allow it to cool, then place the whole dish in the refrigerator for up to a few days. When ready to serve, simply re-heat in a low oven.