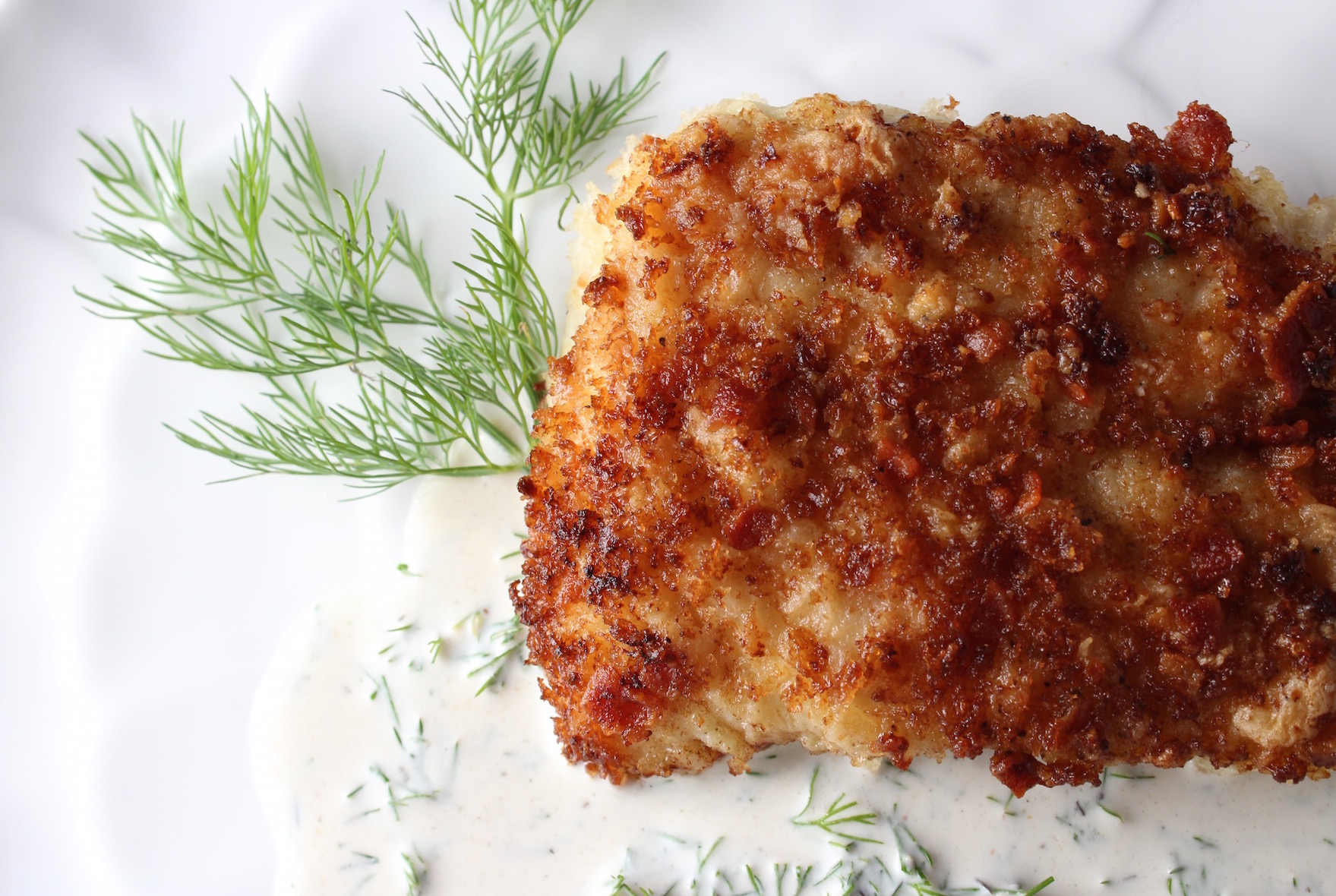 Grouper is a great fish that can be prepared in several ways and it's always delicious. It's also pretty sturdy, so it can handle direct grilling, searing and sautéing, but I prefer the pan-searing method because, to me, that really locks in the moisture of the fish. Recreational Red Grouper is currently closed in Gulf waters but I had some in my freezer from one of hubby's offshore trips, so I cooked some up for tonight's dinner.
Remember that Crunchy Scamp with Basil Cream Sauce recipe I posted a while back? The one with the Panko crust? Well, as Emeril says, this recipe "takes it up a notch" by adding bacon to the Panko. That's right — BACON. Why didn't I think of this sooner? The crunchiness of the Panko crust gets even better with the surprise flavor of smoky bacon. Some of you have heard my motto that "bacon makes everything better!" and it's so true. Ok, I didn't actually coin that motto, but I certainly do subscribe to it 🙂
I paired the cooked fish with a ranch/dill sauce, but you could use just about any sauce you like. This dish was crunchy, tasty, light and pretty darned delicious.  Check out the bacon-y crust below.  Looks delicious, huh?!?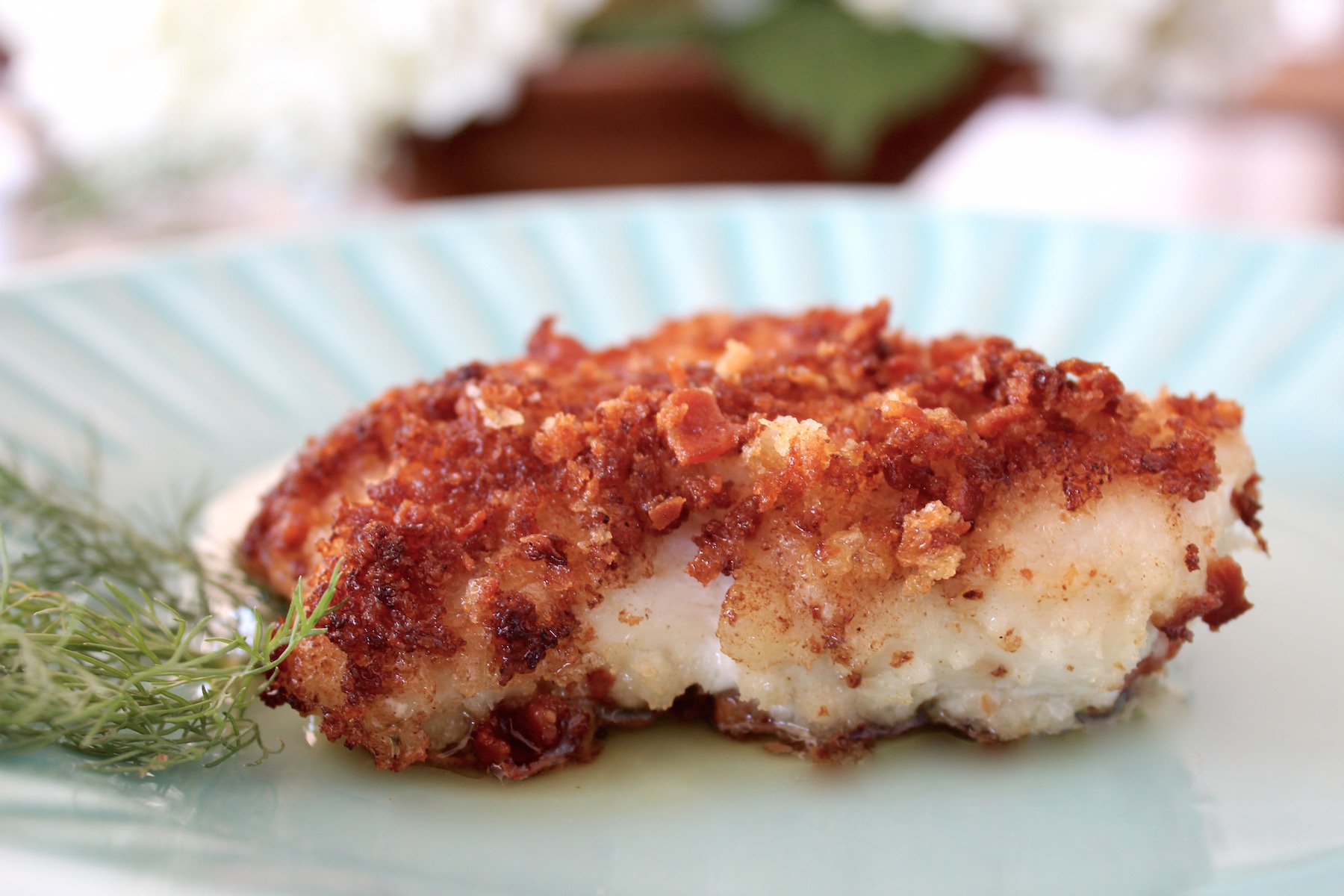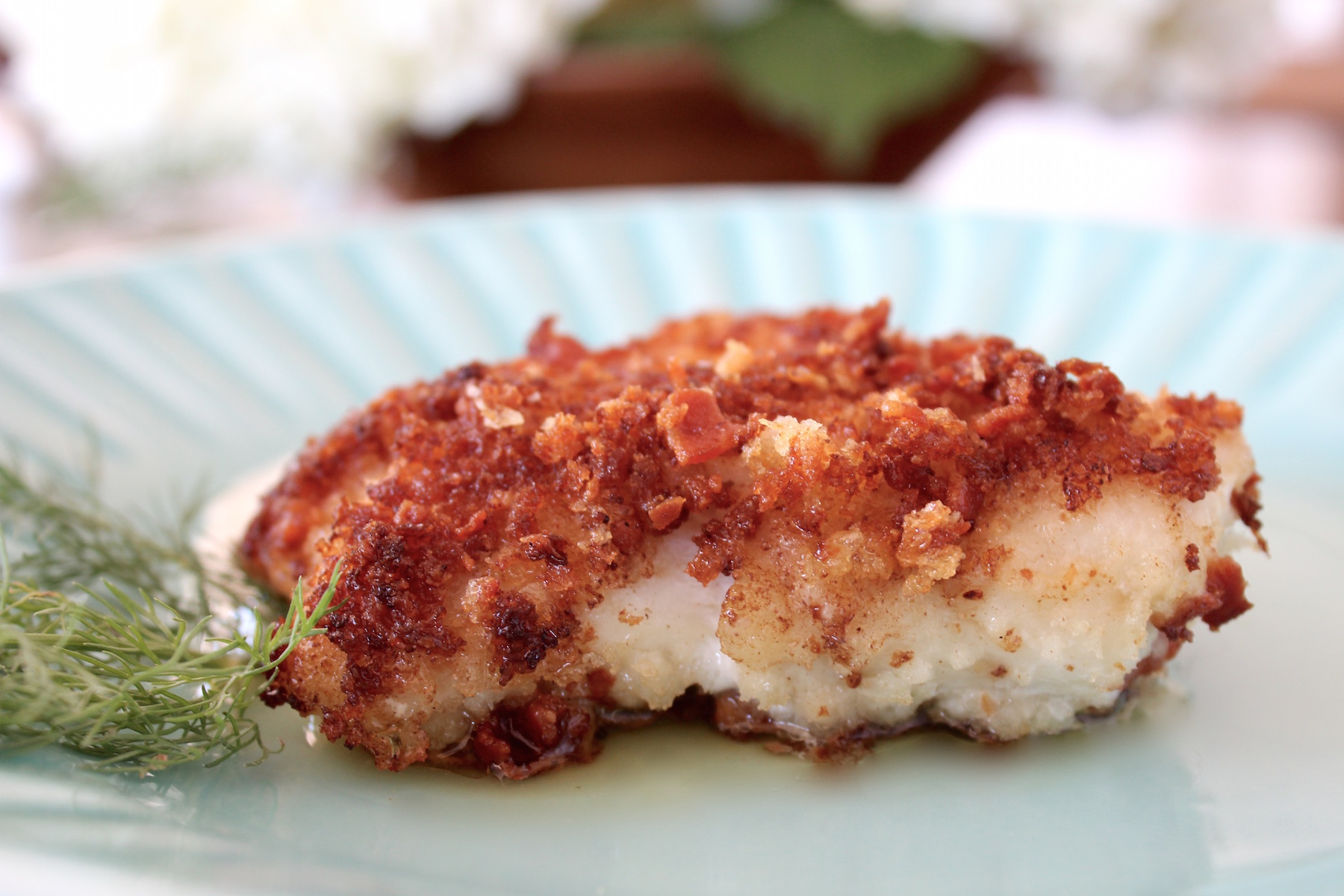 If you haven't worked with Panko much, you really must try it. It's a Japanese-style bread flake typically used for deep frying, giving food that crunchy texture we all love. The flakes stay crispy longer than standard breadcrumbs because they don't absorb as much fat. Because of this, it's especially good with delicate seafood. I keep some in my pantry at all times and am always glad I do.

Bacon Crusted Grouper
Flaky white fish works great with this crunchy, flavorful coating of bread flakes and bacon.
Author:
My Delicious Blog
Ingredients
Ranch/Dill Sauce
4 Tb. sour cream
2 Tb. plain lowfat yogurt (or more sour cream if you don't have it)
1 tsp. white vinegar
1 small garlic clove, mashed & minced
¼ tsp. kosher salt
¼ tsp. freshly ground black pepper
¼ tsp. onion powder
¼ tsp. sugar
2 Tb. fresh dill, chopped (or more, to taste)
1 tsp. lemon zest
Fish
4 slices bacon
1 lb. Grouper fillet (or any other white, flaky fish), cleaned, de-boned, 4 portion sizes
½ - 1 c. Panko (depending on how large your fillets are)
1 egg
2 Tb. coconut oil
Kosher salt & freshly ground black pepper
Instructions
Prepare Ranch/Dill Sauce:
Whisk all ingredients in a small bowl. Refrigerate at least 1 hour before serving. Taste and adjust for seasoning, if necessary, before serving.
Prepare the Fish:
Heat oven to 350 degrees.
Place bacon slices in a non-stick/oven proof skillet and cook until crispy. Cool, then mince into tiny pieces (just about the size of the Panko pieces) and combine with the Panko.
Remove bacon fat/drippings with a paper towel to clean the pan (it will also be used for the fish).
Prepare dredging dishes: 1 for a beaten egg; 1 for the Panko/bacon mixture.
Pat dry each piece of fish with a paper towel. Lightly salt and pepper each side.
Dredge fish in egg then Panko/bacon (you may need to help it stick to the fish, but just pile it on and it will come together in the pan once you start searing it). Set aside until ready to place into hot pan.
Heat pan to medium/high. Add coconut oil and wait about 30 seconds for it to heat up.
Carefully place each fillet in the hot oil. Reduce heat to medium so it doesn't scorch. When the first side is a deep brown color (about 1-2 minutes, depending on thickness of your fillets), flip the fish. Allow it to cook another minute or so, then turn off heat and place the pan in the hot oven.
Cook for about 2 minutes, until the fish is firm to the touch. Remove from oven and plate with the Ranch/Dill Sauce.