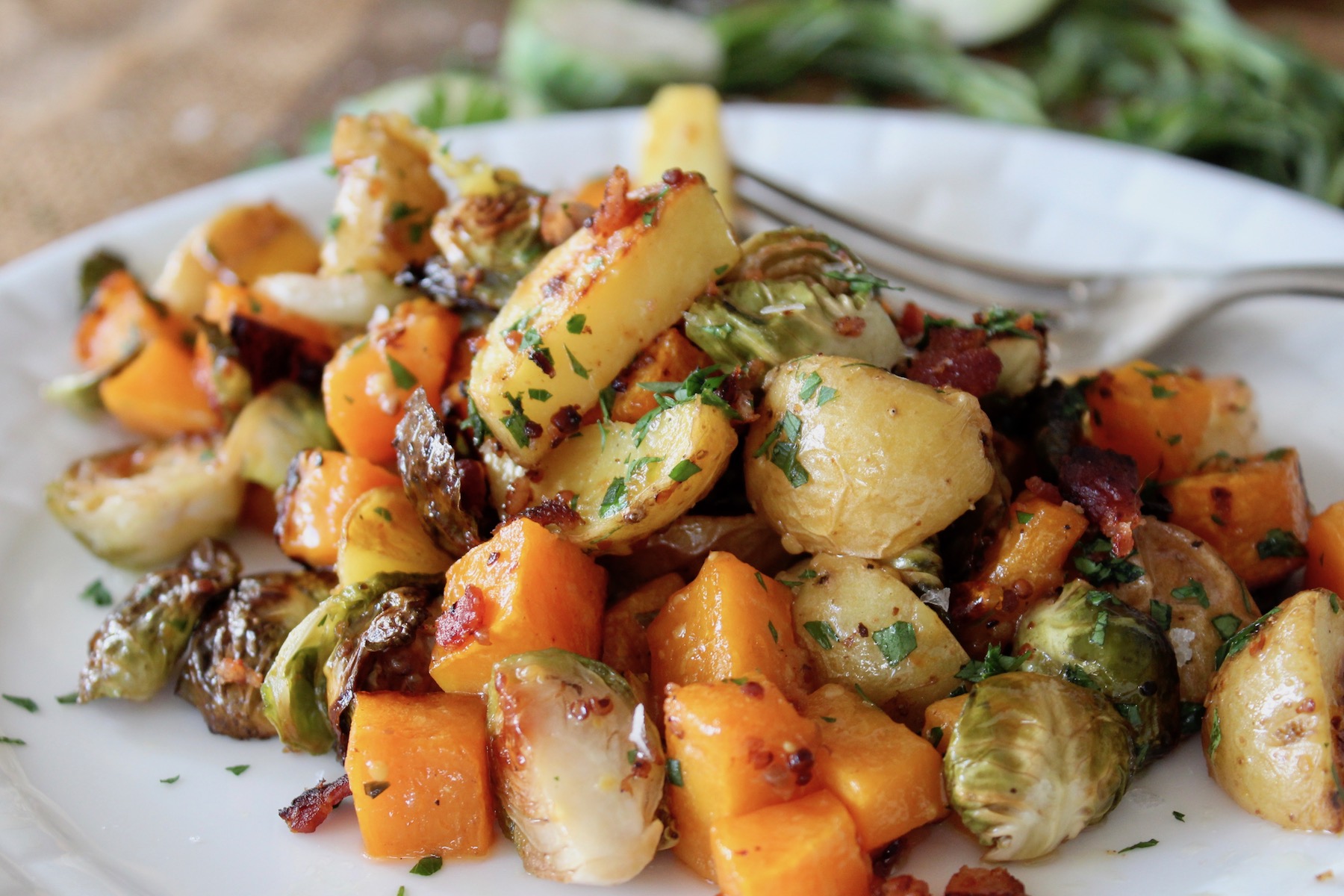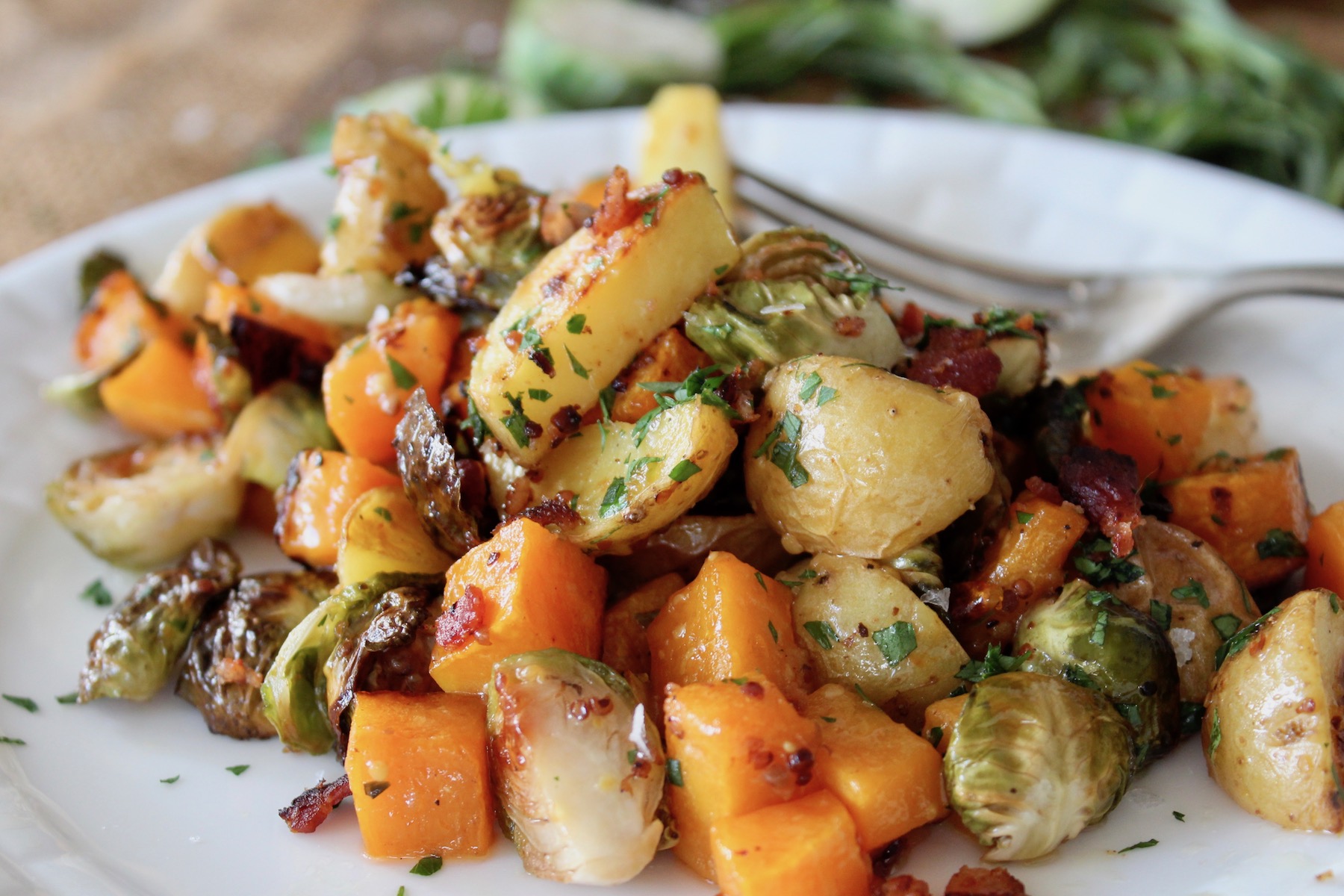 "You don't win friends with salad," says Homer Simpson.  I disagree!  I adore salad and actually have lots of friends who love it, too.  Heck, I've even started new friendships over salad!
Fresh salad is awesome – tender greens, crisp veggies, something crunchy like toasted nuts or bacon, maybe grilled salmon or chicken or some sweet, sliced apple.  Oooh, and maybe something sweet and chewy like dried cranberries or golden raisins — all bathed in a yummy dressing, ready to be dug into with a fork.  But today we're not talking about cool, refreshing salad.  Today it's all about warm, 'cooked' salad.  No crisp lettuce here (unless you really want to add some, that is).
A warm salad can be a meal in itself — hearty veggies roasted to enhance natural flavors, their textures softened by the gift of heat, paired with a dressing to make those flavors dance in your mouth.  Doesn't that sound good?  I love to roast vegetables for warm salad, especially when Fall temps arrive.  This is a great time to use Brussels sprouts, hearty squash and whatever else you see at the farmers market.  And since one of my resolutions this year is to learn to LOVE Brussels sprouts, it's another opportunity for me to cook them in a way that makes me want to reach my fork into more than just one.  This salad does just that.
It can be served as a dinner meal with crusty bread slathered with salty butter.  It can be mixed with your favorite crisp greens, or sautéed greens like chard or spinach.  It can be paired with polenta, brown rice or quinoa.  It can also be a side dish along with a grilled protein like chicken or salmon.  There's really no firm recipe — just roast or saute whichever veggies you love, toss them in this tasty honey mustard dressing, and you're good to go.  Here's my batch before hitting the oven: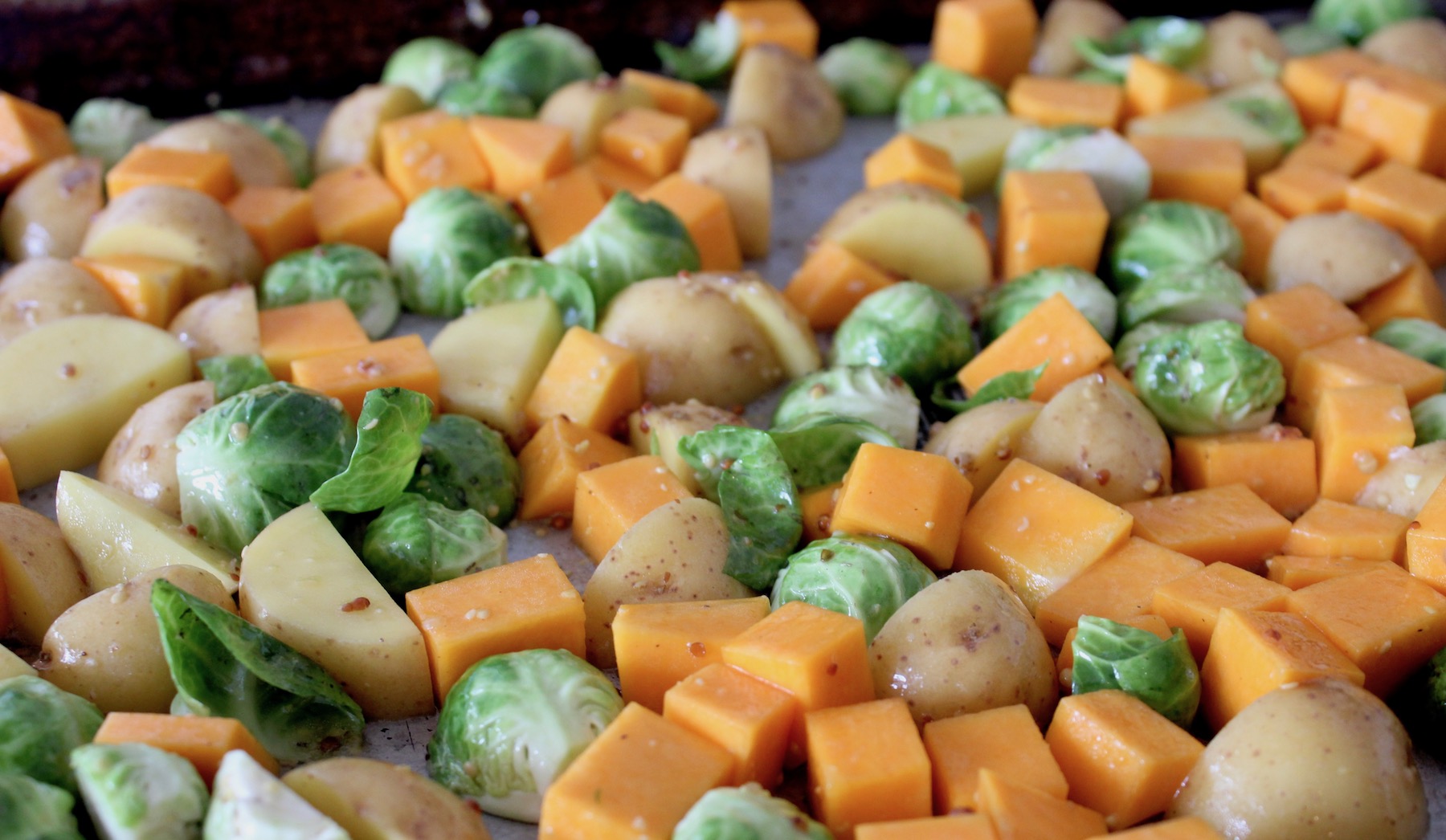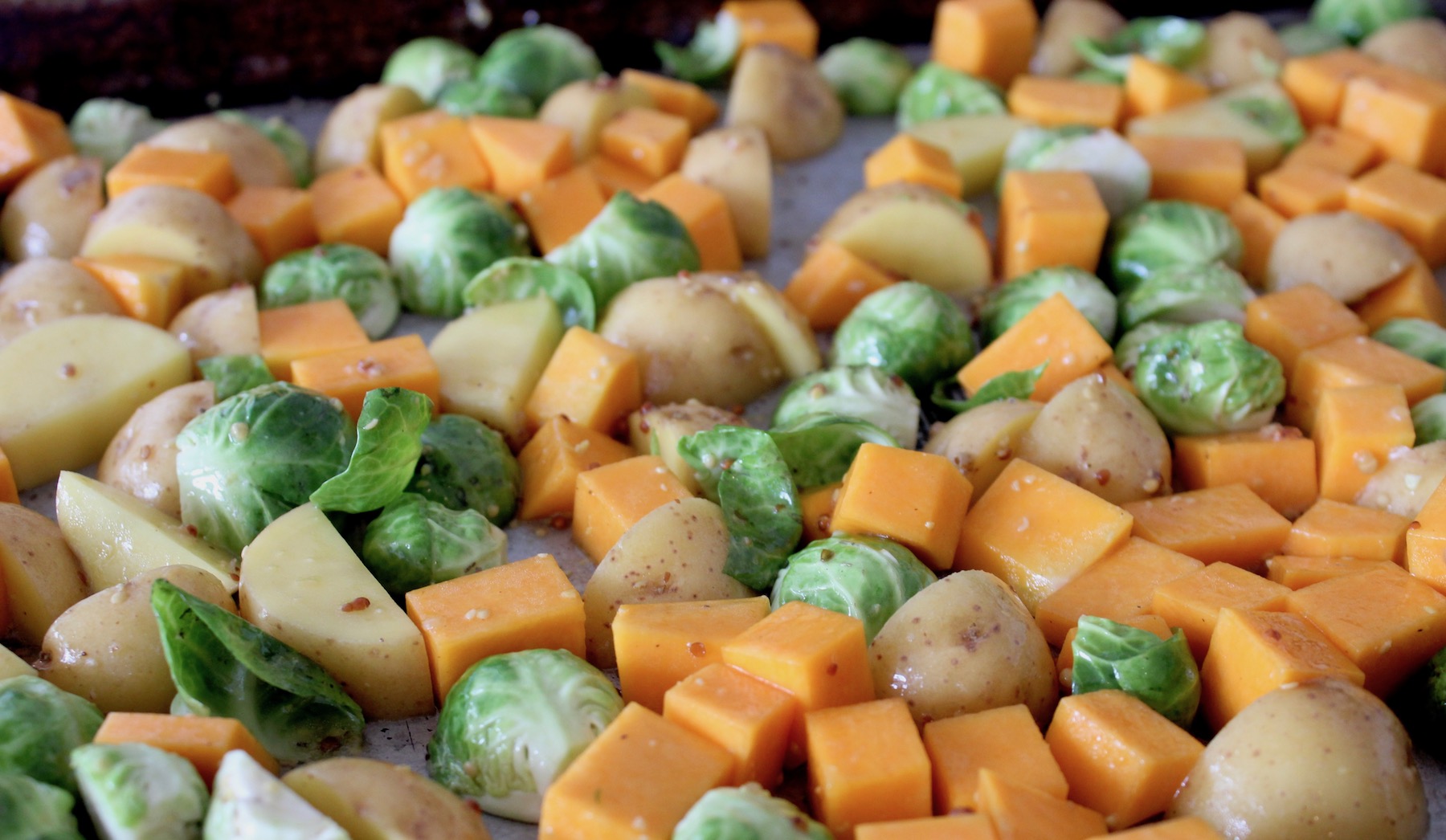 You'll see that I added some little potatoes (I know, they're technically a starch, but let's not get too bogged down in details).  I also used fresh tarragon and parsley, which pair nicely with honey-mustard dressing.  I even topped my finished ssalad with crispy bacon, an optional ingredient, but oh-so-tasty.
It's a yummy dish.  And if you prepare it for others, be prepared to make a new friend or two 🙂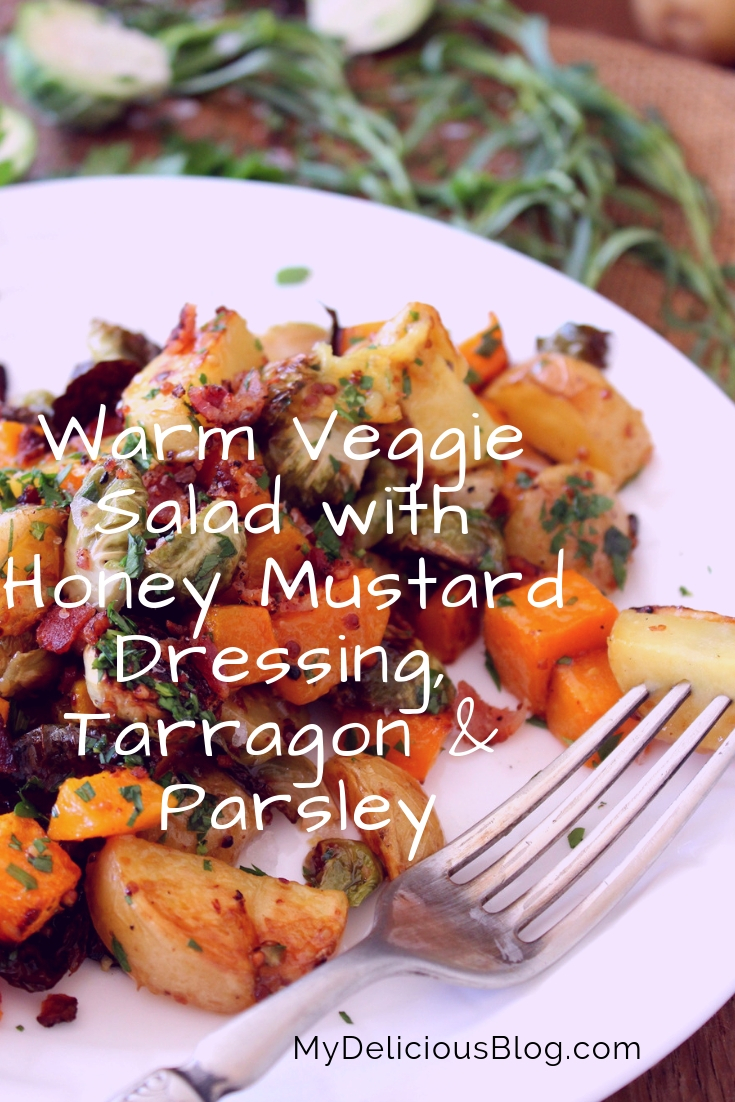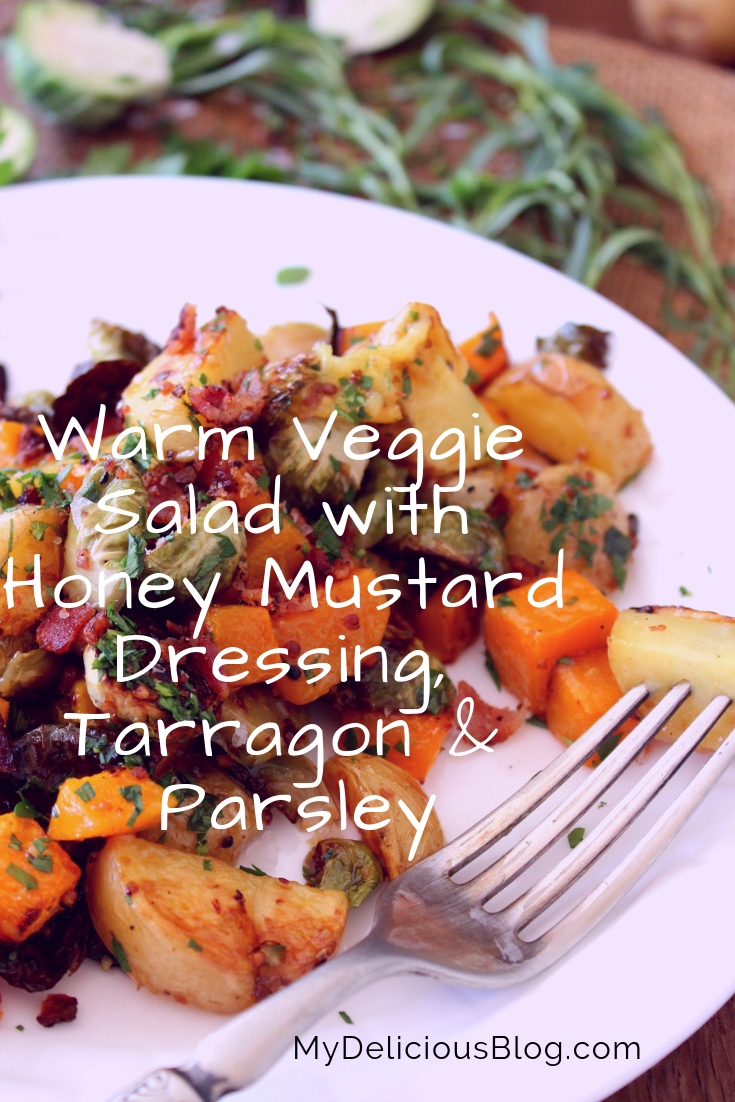 Warm Vegetable Salad
This roasted veggie salad with Brussels sprouts, butternut squash and potatoes is a great Fall dish!
Author:
My Delicious Blog
Ingredients
~2 c. (about 24) Brussels sprouts, halved
~2 c. Butternut squash, peeled & cubed
Handful baby potatoes (gold, red, whatever you have), halved
1 Tb. minced fresh tarragon
1 Tb. minced fresh parsley
3-4 slices bacon (optional)
Sea salt or other finishing salt, to garnish
Honey Mustard Dressing
2 Tb. red wine vinegar
1 tsp. fresh lemon juice
2 Tb. whole-grain mustard
2-3 tsp. honey
¼ tsp. kosher salt
⅛ tsp. freshly ground black pepper
½ c. olive oil
Instructions
Heat oven to 400 degrees.
Make the dressing. Add vinegar, lemon juice, mustard, honey, salt and pepper in a small bowl. Whisk to combine. Slowly drizzle in olive oil and keep whisking until it's emulsified (i.e., thick and well-mixed). Set aside until ready to use.
If using bacon, place the strips in a hot, non-stick saute pan over medium heat. Cook until nicely browned and crispy. Transfer bacon to a paper towel to cool, then chop finely and set aside.
Wash the Brussels sprouts, cut off the stems and halve each sprout.
Cut a Butternut squash in half (around the middle) and reserve the round/seeded part for another recipe. Cut off the top stem end of the squash, then slice off the skin. Cut the squash into planks, then ½" strips. Line up the strips so they're even, and cut across them with a sharp knife, into 1" squares.
Cut the potatoes in half (or quarters if they're big).
Place sprouts, squash and potatoes onto a large rimmed baking sheet. Spoon on 3 Tb. of the dressing, mix to combine, then spread veggies into one layer. (Tip: I like to ensure all the cut sides are facing down, to get maximum browning).
Place baking sheet in the oven to roast about 15 minutes. Remove from oven, flip the pieces using a spatula, then return to oven for 15-20 minutes longer.
While waiting, mince the parsley and tarragon.
Remove pan from oven. Spoon onto the veggies 2-3 Tb. of the dressing and stir (you can add more, to taste). Sprinkle on the herbs, stir gently to combine, then sprinkle with a little finishing salt and serve. If using bacon, sprinkle it on top once the veggies are on the serving plate.
Notes
If you serve as a main course, this salad will easily fill 2 hungry people. If served as a side dish, 4.