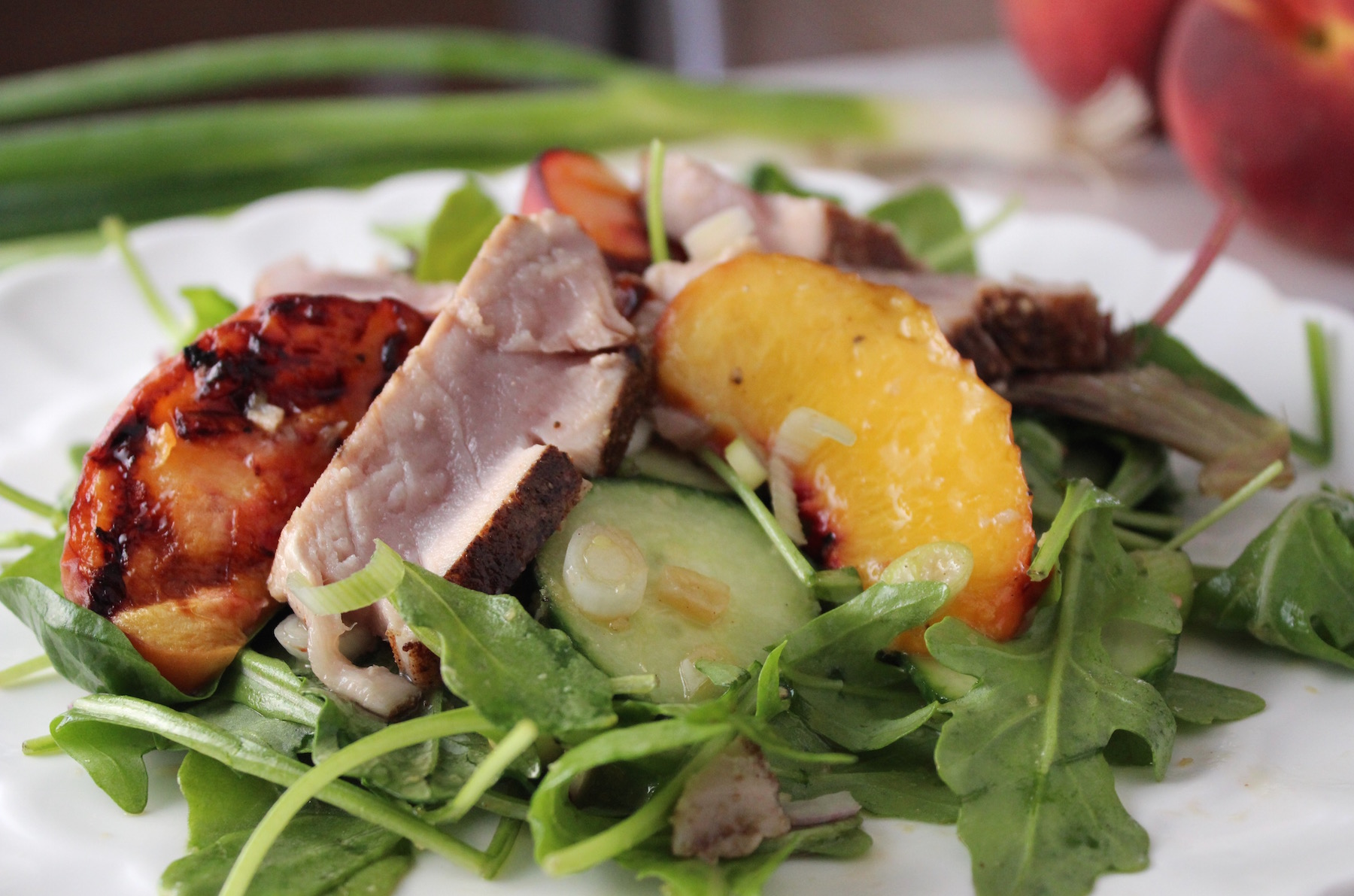 Yellowfin tuna (commonly known as ahi tuna) is a game fish readily found in Gulf waters off the coast of Louisiana, one of the few locations that offer a year-round tuna season. It's a fast, aggressive swimmer, known to be a tough fighter once you hook it, so it's challenging to anglers, but the rewards are great. If you get one to the boat, you're a happy angler because the flesh is lean and firm, offering a rich flavor that works amazingly well in raw (i.e., sushi) and rare kitchen preparations.
If not used in sushi, it's typically seared on high heat for a minute or two, each side (depending on how thick the steaks are), then sliced and served. I like mine cooked a bit longer than that (basically, I prefer it to be more than simply 'introduced' to the grill, then quickly escorted away!) but I do like it to have a pink center. Whatever your preference, this fish simply melts in your mouth. And, luckily, we don't have to go offshore to enjoy it because it regularly shows up on menus and can be found in fish markets.
I've never caught one, but my friend Glenn and his pals recently took a trip to Louisiana and brought several home, like this one: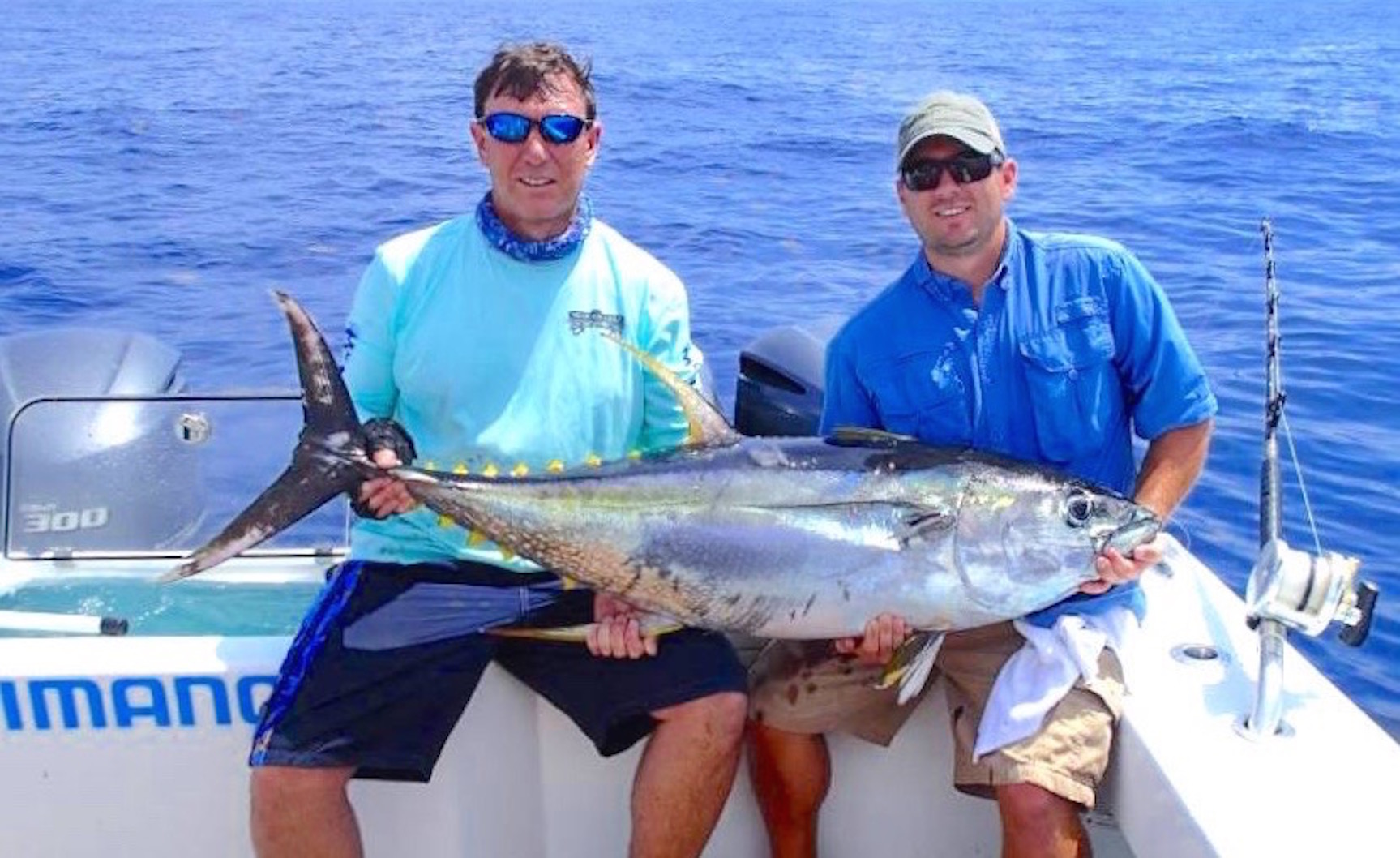 He graciously shared some steaks, so I wanted to make something tasty in honor of the beautiful meat.  I decided on a simple sear in a cast iron skillet, some grilled peaches, and a fresh salad with ginger dressing. It was DELICIOUS — a cool, refreshing dish for summer, which didn't require a lot of kitchen clean up!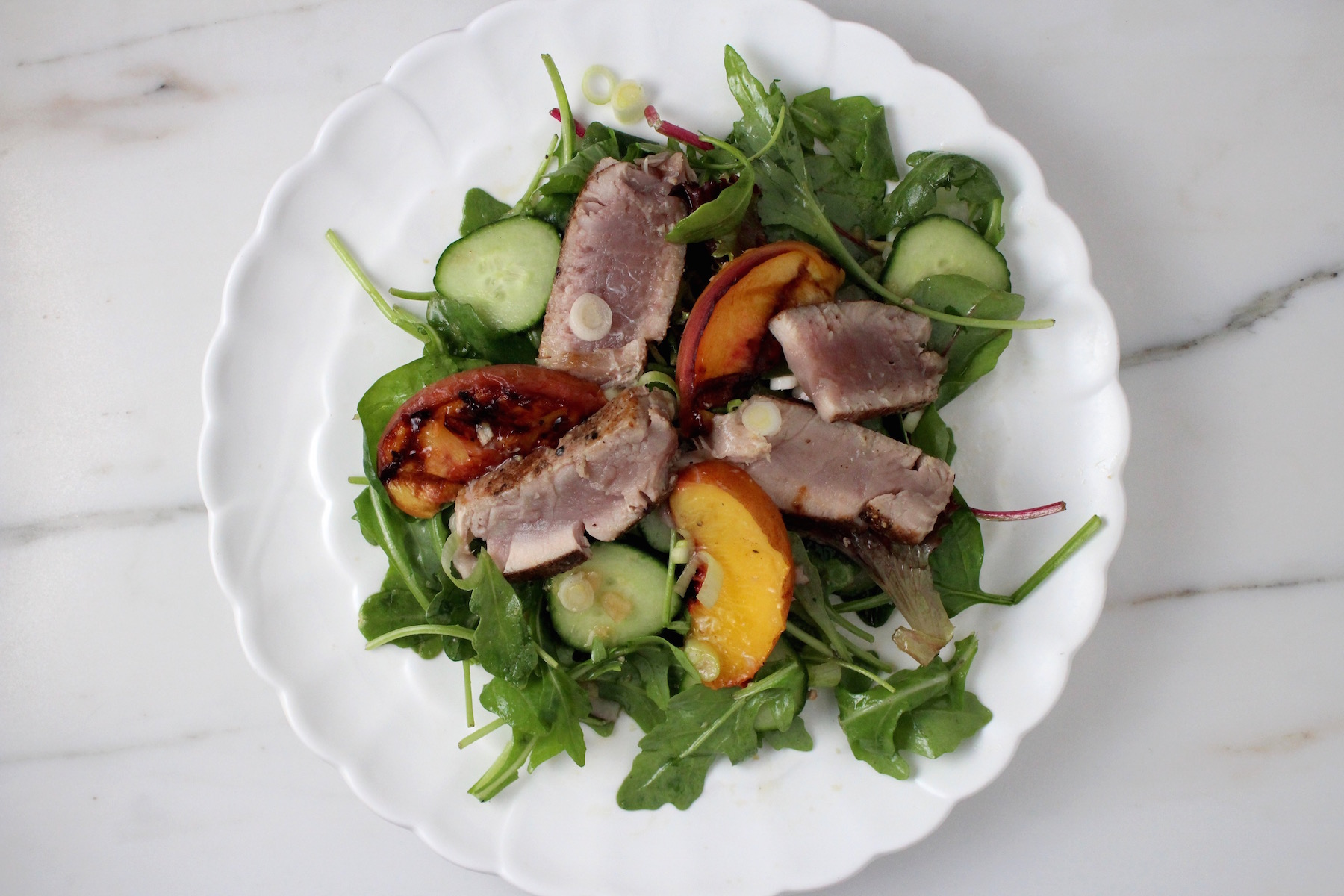 Seared Yellowfin Tuna, Grilled Peach & Ginger Salad
Delicious Yellowfin tuna pairs beautifully with fresh peaches and this spicy ginger dressing.
Author:
My Delicious Blog
Ingredients
Spicy Ginger Dressing:
1 Tb. (about 1") fresh ginger, peeled, grated
1 clove garlic, peeled, grated
1 Tb. low-sodium soy sauce
1 Tb. rice vinegar
1 Tb. honey
3 Tb. olive oil (not extra virgin) or canola oil
pinch red pepper flakes
pinch kosher salt
pinch freshly ground black pepper
Grilled Peach Salad:
1 ripe peach
2 large handfuls of baby greens or mixed lettuce
½ c. English cucumber, sliced thinly
½ c. celery, chopped
Handful scallions, sliced
Cooking spray
Fish:
2 (6-8 oz.) Yellowfin (or Blackfin) tuna fillets
1 tsp. blackening seasoning (I like Redfish Magic)
pinch kosher salt
pinch freshly ground black pepper
1 tsp. canola oil
Instructions
Combine all dressing ingredients in a small bowl. Whisk to combine, then set aside.
Combine the salad ingredients in a large mixing bowl, then set aside.
Heat grill to low.
Cut peach in half, remove pit and coat with cooking spray.
Place peaches on the grill, cut side down. Check after about 2 minutes to ensure they're gently grilling, not burning. After a few more minutes, turn to heat the other side for another 5 mins.
Remove peaches and allow to rest on a cutting board about 10 minutes before serving (this allows the peach juices to settle).
While peaches rest, heat grill to high and place a cast iron skillet directly onto the grill (or grill burner). If you don't have a grill, heat your oven to 400 degrees and place the pan in the center rack of the oven to get it hot.
Season each fillet with blackening seasoning, salt and pepper.
Test the skillet with a dab of water - if the drops bounce, it's hot enough.
Add canola oil to skillet.
Place fillets in skillet for about 2 minutes then flip and cook another 2 minutes. The goal is to get a medium/rare consistency (or less, depending on your taste).
Remove from pan and allow to rest on cutting board about 5 minutes.
Slice the fish and the peaches.
Just before serving, mix the salad greens with the dressing, then place the fish and peaches on top, along with a sprinkling of scallions.