So, when did folks start to put stews, chilis and dips in bowls of bread?
I simply had to get the answer to this burning question. . .
Based on my research, it seems that the practice dates back to Medieval times when folks used round, flat, bread to serve food, especially porridges and stews.  They called them 'trenchers' — bottoms of sturdy breads sliced off and used as serving plates. The practice was usually employed at places like monasteries, manors and castles that had large kitchens regularly baking bread for big groups of diners. Trenchers served not only as serving tools, but they were also edible, and could even be eaten by a hungry diner once the food was gone. But according to the book Fast and Feast by Bridget Ann Henisch, "Any man who ate his own trencher must have been particularly hungry, as the bread used was rather coarse and stale, to make it solid enough for the purpose." So, as an alternative, diners either gave their 'plates' to dogs or poor individuals nearby. . .
Now that we have this burning question answered, let's talk about something tasty for today's version of a bread bowl 🙂
Fall is officially here, so it's a good time to make belly-warming dishes, and bread bowls are perfect for just that. And since October is National Seafood Month, I decided to make a seafood stew for individually-sized bread bowls. There are a few steps, but it's basically a quick and easy recipe that yield delicious results.  I served these babies with a fresh green salad 🙂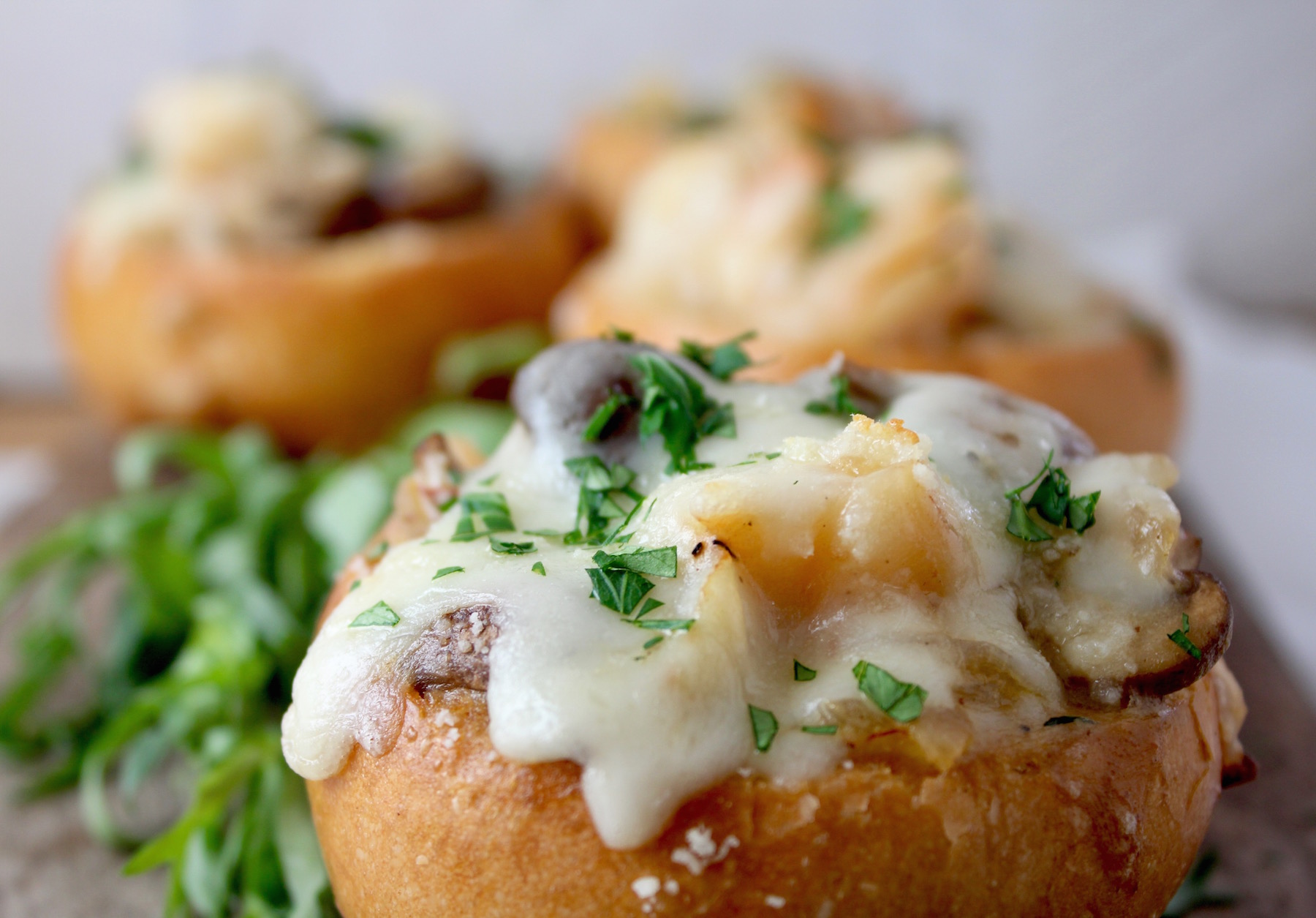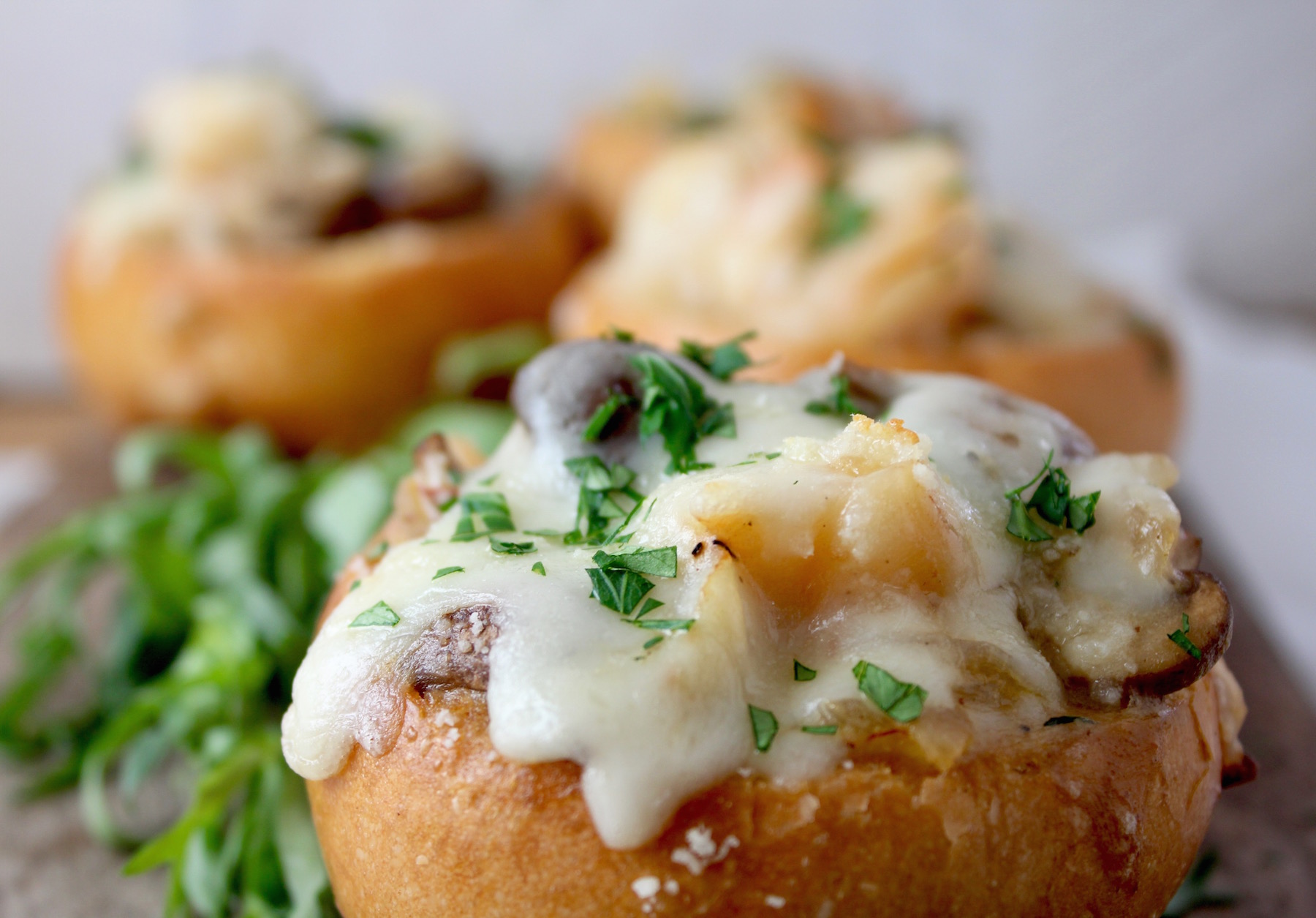 As for which seafood to use, you can use my combination, or what you like, or simply whatever's on sale at the fish market. Basically, I don't believe there are any hard and fast rules when it comes to seafood stew. As for me, I had a pinch of saffron threads left over from another recipe I made 6 months ago, and I picked up fresh tarragon at the market because, well, it just looked really fresh. So I paired the two into a creamy sauce. But if you don't have saffron, you can use use turmeric (maybe about 1/4 tsp.) — it will give you a similar golden color as that of saffron. If you don't have (or don't like) tarragon, consider using fresh thyme or basil.  You can also shake up the ingredients, like, if you don't want mushrooms, use carrots.  If you don't have half and half, use heavy cream or whole milk (with milk, it will be just a little less creamy). If you like it spicy, add some hot sauce (or maybe some of that tasty harissa). If you don't have white wine, add more stock. Be creative and I'm sure it will be delicious.
P.S. if you're cutting down on carbs, just spoon the filling into small, buttered casserole dishes, toss a slice of provolone over the whole thing, and broil a few minutes until the cheese is melted and bubbly 🙂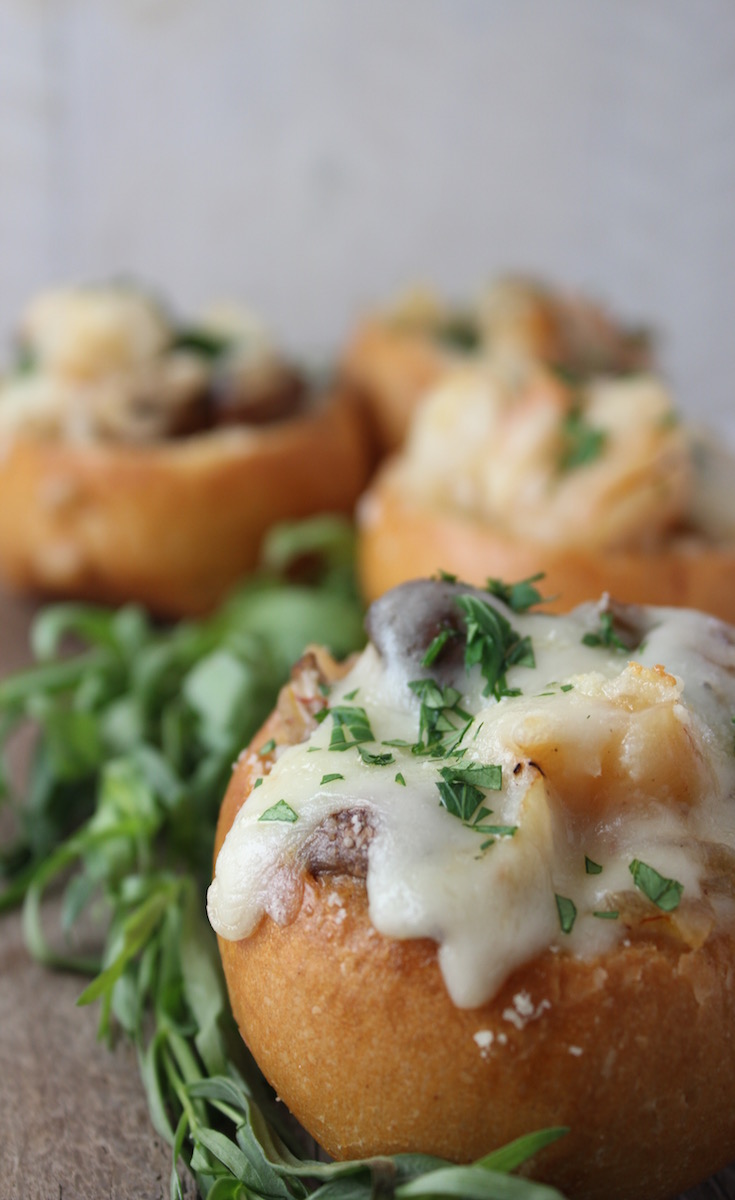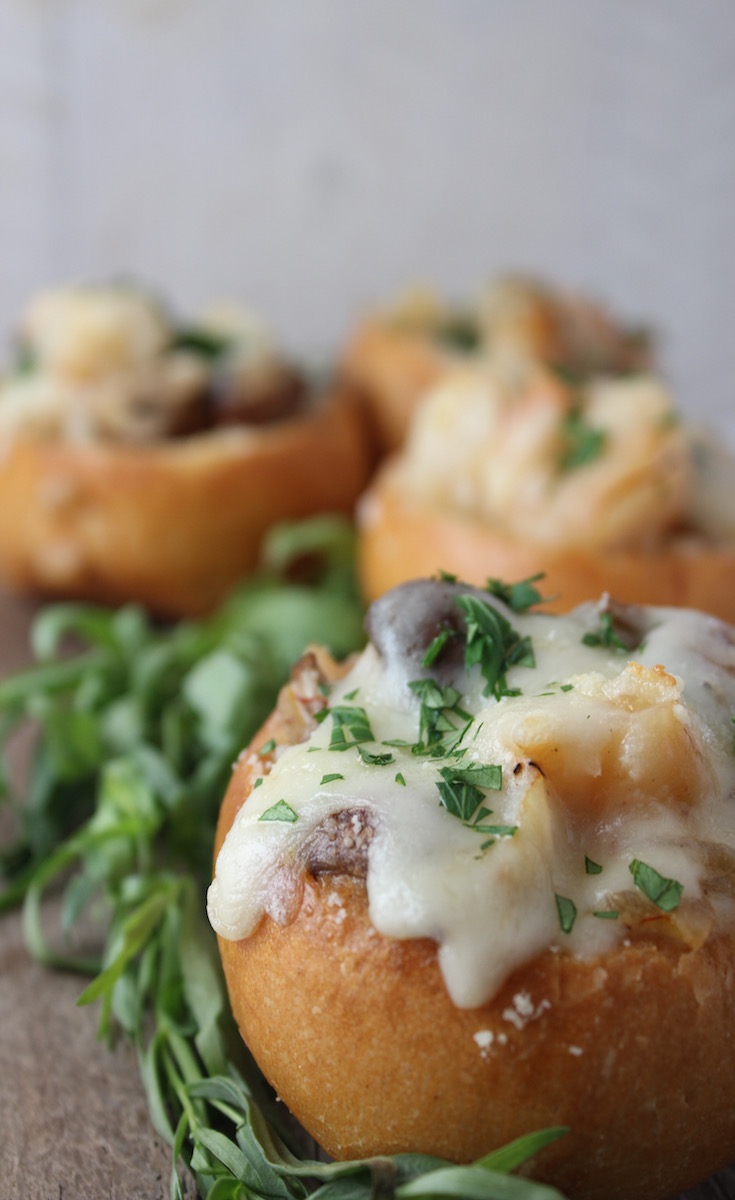 Seafood Stew in Bread Bowl
This crunchy, buttery bread bowl holds a delicious seafood stew filling. Perfect for any time of the year.
Author:
My Delicious Blog
Ingredients
Bread Bowls
6 small breads (like Sourdough, Pumpernickel or Country)
Seafood/Filling:
½ lb. medium-large shrimp, shelled, deveined & tails removed
¼ lb. sea scallops, cut into 4 pieces each
¼ lb. fresh salmon, skin removed
1+ c. sliced Portobello or Button mushrooms
Sauce:
Pinch saffron threads
¾ c. dry white wine
5 Tb. unsalted butter, room temperature (reserve 1 Tb. to make a thickener w/flour - see note below)
1 medium onion, chopped
1 rib celery, chopped
1-2 cloves garlic, mashed & minced
¾ c. chicken stock
1 Tb. all-purpose flour
¼ c. half & half (or heavy cream)
2 Tb. fresh tarragon, chopped
Salt & pepper, to taste
½ c. Provolone, shredded
Instructions
Set oven to 375 degrees.
Soak saffron threads in a small bowl with the wine and set aside until ready to use.
Prepare bread bowls: cut off tops/remove bulk of the soft bread inside to form a little bowl. Place on baking sheet, then sprinkle the insides and outsides of each with a little olive oil. Place in oven 5-7 minutes (until edges of bread are slightly browned); set aside until ready to use.
Prepare seafood: In a non-stick skillet, heat 1 Tb. butter over medium/high heat. Add shrimp, fish and scallops. Sprinkle with kosher salt and fresh ground pepper. Cook just until the pieces are barely cooked through. Transfer to a dish.
In the same skillet, heat 1 Tb. butter over medium/high heat. Add mushrooms and saute until browned on all edges (approx. 5 minutes); transfer to the seafood dish.
In the same skillet, heat 2 Tb. butter over medium heat. Add onion and celery and cook until slightly translucent. Add garlic, wine (with saffron threads) and stock. Simmer over medium heat until liquid reduces about half.
Mix 1 Tb. softened butter with 1 Tb. flour until smooth. Stir into pan until well-combined/thickened.
Turn off heat, add cream and tarragon. Taste for seasoning, then add seafood/mushrooms.
Spoon into breads. Top each with shredded provolone. Place in oven about 5-7 minutes, until cheese is nicely browned, then serve.