When I was a kid my family regularly visited my grandparents in Fall River, Massachusetts — a city known for not only textile manufacturing, but also, a unique
culinary
history.  It all started in the late 1800s, when the Fall River and New Bedford areas attracted Portuguese folks from the Azores seeking work in the whaling industry or the cotton mills.  They not only brought their industrial skills, but also, their culinary traditions, which still run deep in that area. We're French Canadian, but our family really embraced Portuguese delicacies. We couldn't go home without a huge sweet bread, a spicy chourico & pepper grinder (one of my grandfather's favorites), a meat pie or a treat from the bakery (custard tarts and malasadas were some of my faves). Let me tell you, there's nothing like a fresh sweet bread – it's one of the most heavenly things you'll ever eat. To me, it was a world of decadent, homey, sweet and spicy flavors, and I relished it all. Portuguese soups are particularly flavorful, due to the use of spicy chourico or linguica (sausage made from ground pork, garlic and sweet or spicy pimenton) — two of my FAVORITE things. Traditional Caldeirada, a Portuguese fish stew, is made with potatoes, tomatoes, several types of fish and shellfish. Caldo Verde is another traditional Portuguese soup made with kale, potato and chourico or linguica.  So, during a recent rainy week in Florida, I decided to make soup and, because I had some older fish and even some chourico in the freezer, I decided to make a combination of these two styles of soup. You can use any seafood you like — I used Amberjack (a sturdy, semi-firm fish) because I had it available. To cut down on white potatoes, I added a sweet potato, which brought in some pretty color, too. Basically, you can't go wrong with this soup — use what you have in your fridge/pantry, and it still makes a delicious meal, especially on a rainy day.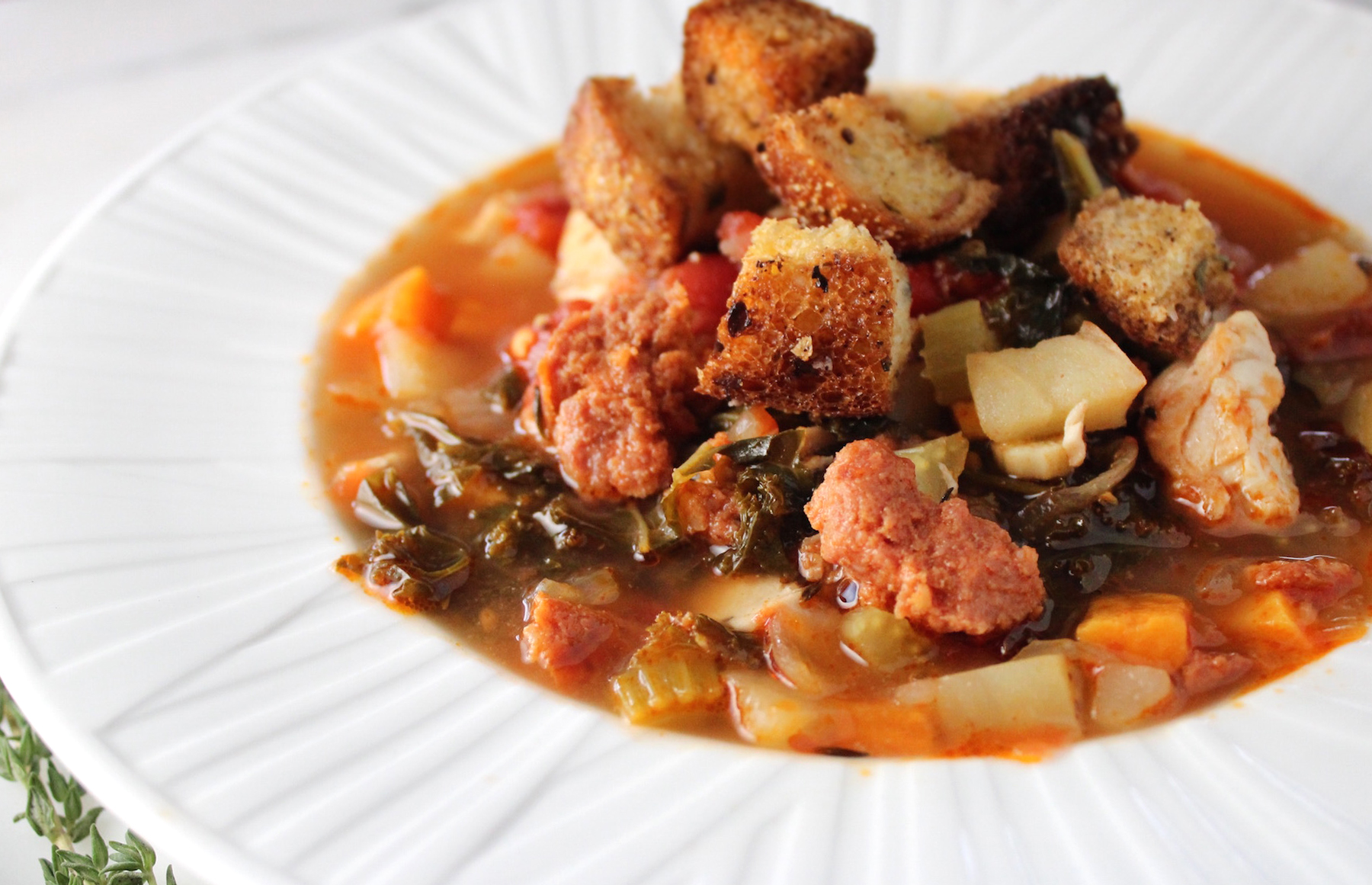 BTW – if you've never seen an Amberjack, here's one I caught a while back — Brendan worked hard to bring it up to the deck:
While I was cooking, Brendan was painting in his studio but came upstairs saying the smells were so amazing he had to see what it was. It reminded me of something I read in Brillat Savarin's book
The Physiology of Taste
in which he wrote "We eat nothing without being conscious of its smell, either at once or upon reflection; and towards unknown foodstuffs the nose always acts as an advance sentry, crying '
Who goes there
?'" Brendan's nose was definitely acting as a sentry that day 🙂 If not cutting down on carbs, top the soup with Rosemary-Garlic croutons — they're easy to make and let you use up day-old bread. Once you start making croutons, you'll never buy them again!  Here's a pic just before I popped them in the oven: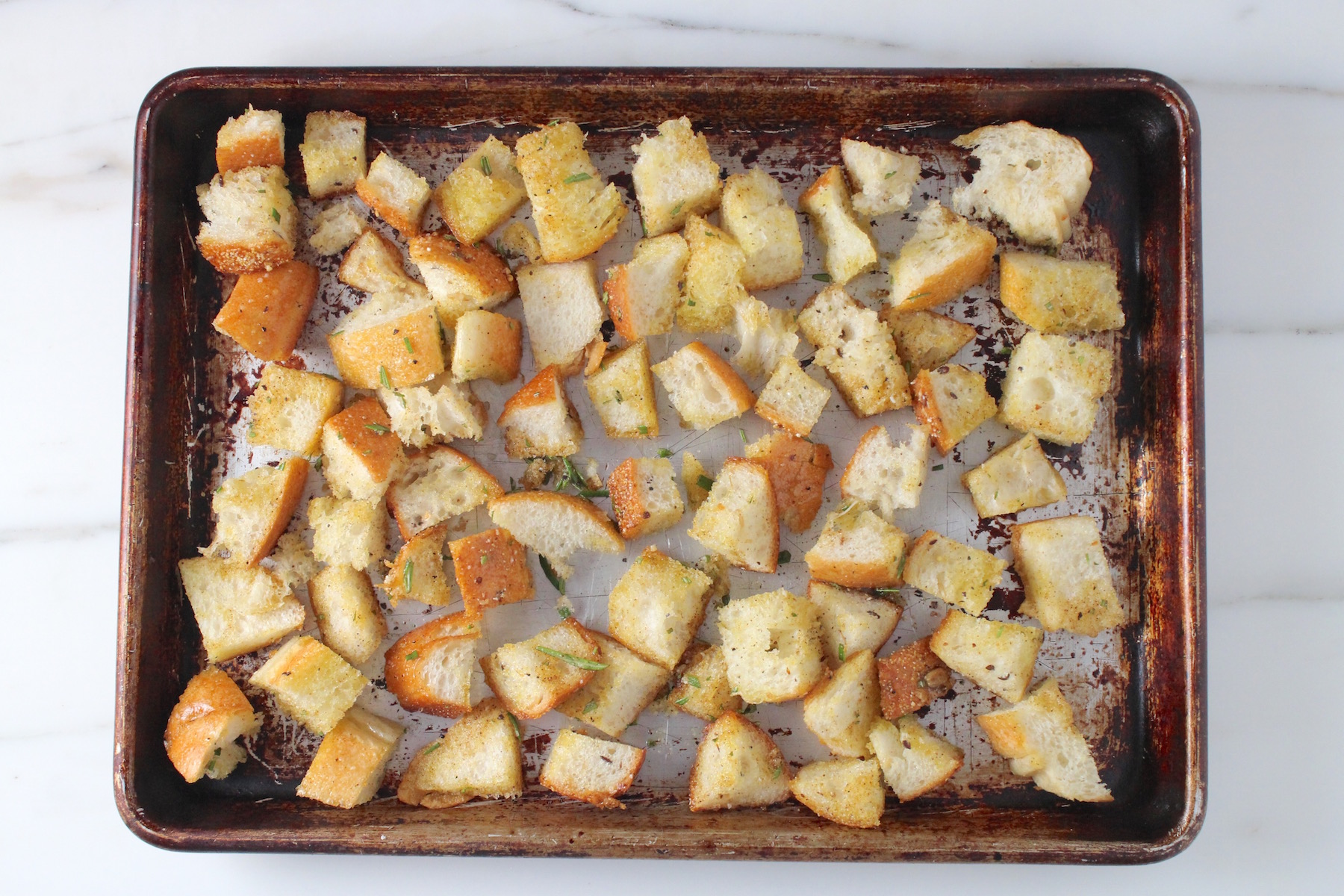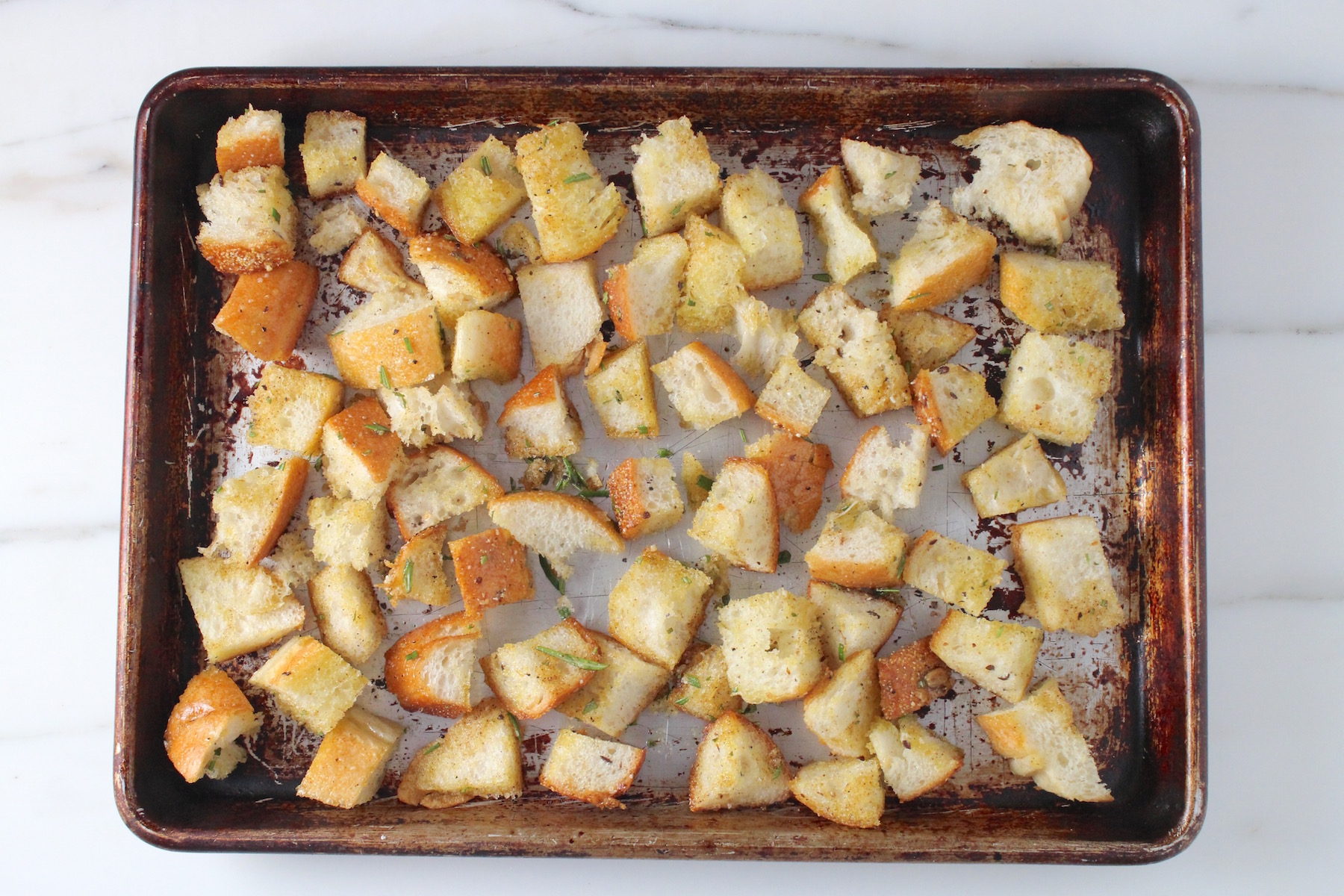 Portuguese-Style Fish Stew
Fish, fresh veggies in a tomato broth make this soup simply divine.
Author:
My Delicious Blog
Ingredients
Soup:
4 Tb. olive oil
2 yellow onions, chopped
1 celery rib, chopped
4 cloves garlic, minced
4 sprigs fresh thyme
2 bay leaves
½ lb. chorico or linguica, skin removed, broken into chunks
1 large white potato (skin on), small cubes
1 large sweet potato (skin on), small cubes
3 quarts chicken stock
4 c. fresh kale, chopped
½ of a 28 oz. can whole plum tomatoes, slightly mashed (use more if you like more tomatoes)
1 tsp. kosher salt
½ tsp. freshly ground black pepper
½ lb. semi-firm/sturdy fish (I used Amberjack), 1-2" chunks
Rosemary-Garlic Croutons:
2 Tb. olive oil
1 Tb. unsalted butter, melted
1 Tb. fresh rosemary, minced
½ tsp. garlic powder
½ tsp. paprika
½ tsp. kosher salt
¼ tsp. freshly ground black pepper
4 slices day-old, thick, crusty bread (about 3 c.), cut into 1" chunks
Instructions
For the Soup:
In a large soup pot, heat olive oil on medium/high.
Add onions, garlic, celery, thyme, bay leaves and chorico (or linguica). Mix to combine, allowing the sausage and oils to coat the ingredients.
After about 2 minutes, reduce heat to medium.
Add potatoes and cook a few minutes until they're slightly soft and well-combined.
Add stock, kale, tomatoes, salt and pepper. Reduce heat to low.
Simmer until potatoes are cooked (about 10 minutes), then add fish and lightly combine.
Gently simmer a few more minutes.
Check for seasoning (add more salt & pepper, if needed) then serve.
For the Croutons:
Heat oven to 350 degrees.
In a large mixing bowl, combine olive oil, butter and spices.
Add bread chunks and mix to coat thoroughly. If they seem too dry (depends on your bread), add a bit more olive oil.
Spread onto a baking sheet and bake about 10 minutes -- check periodically to ensure they don't burn!
Remove from oven and allow to cool on baking sheet before sprinkling on soup.