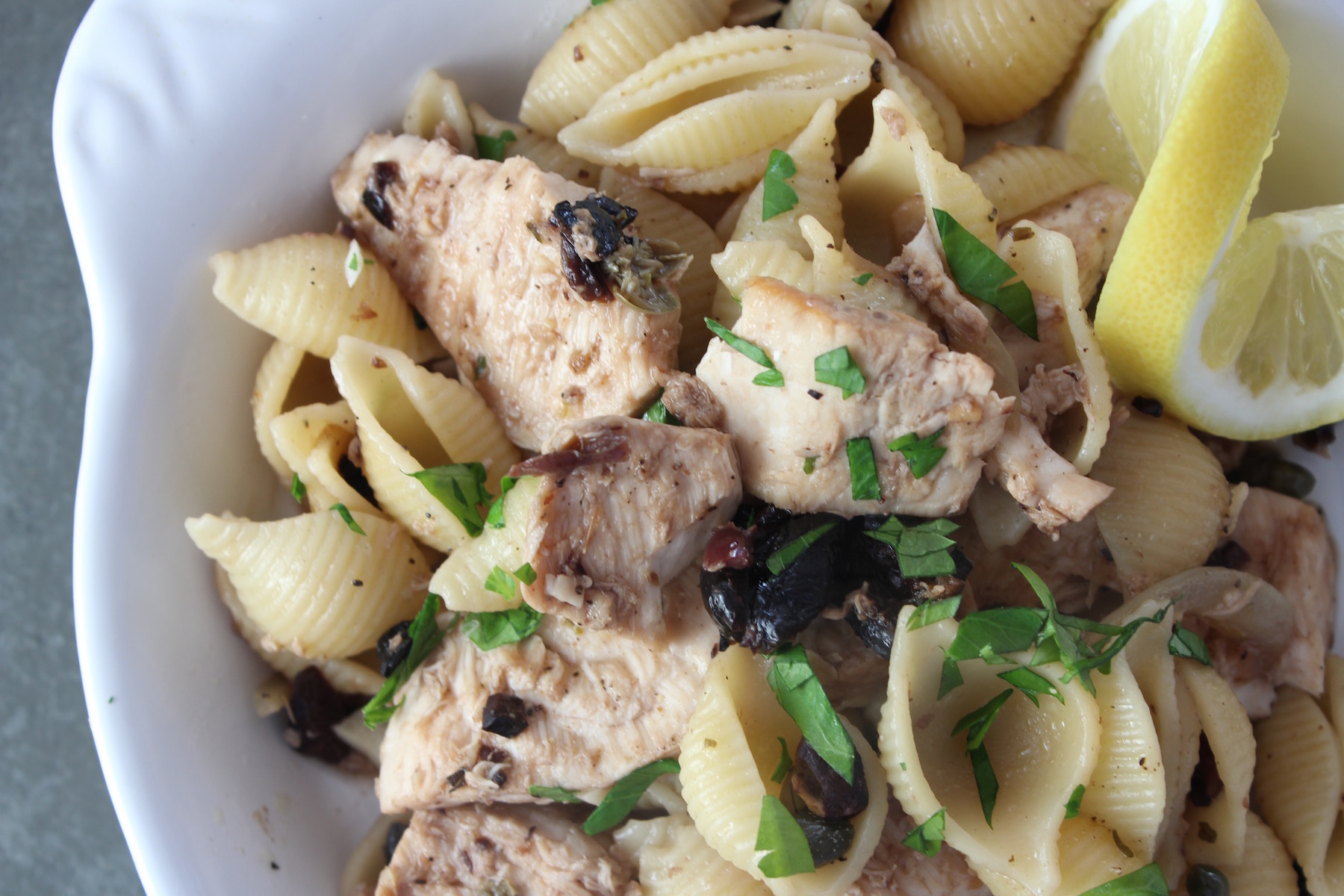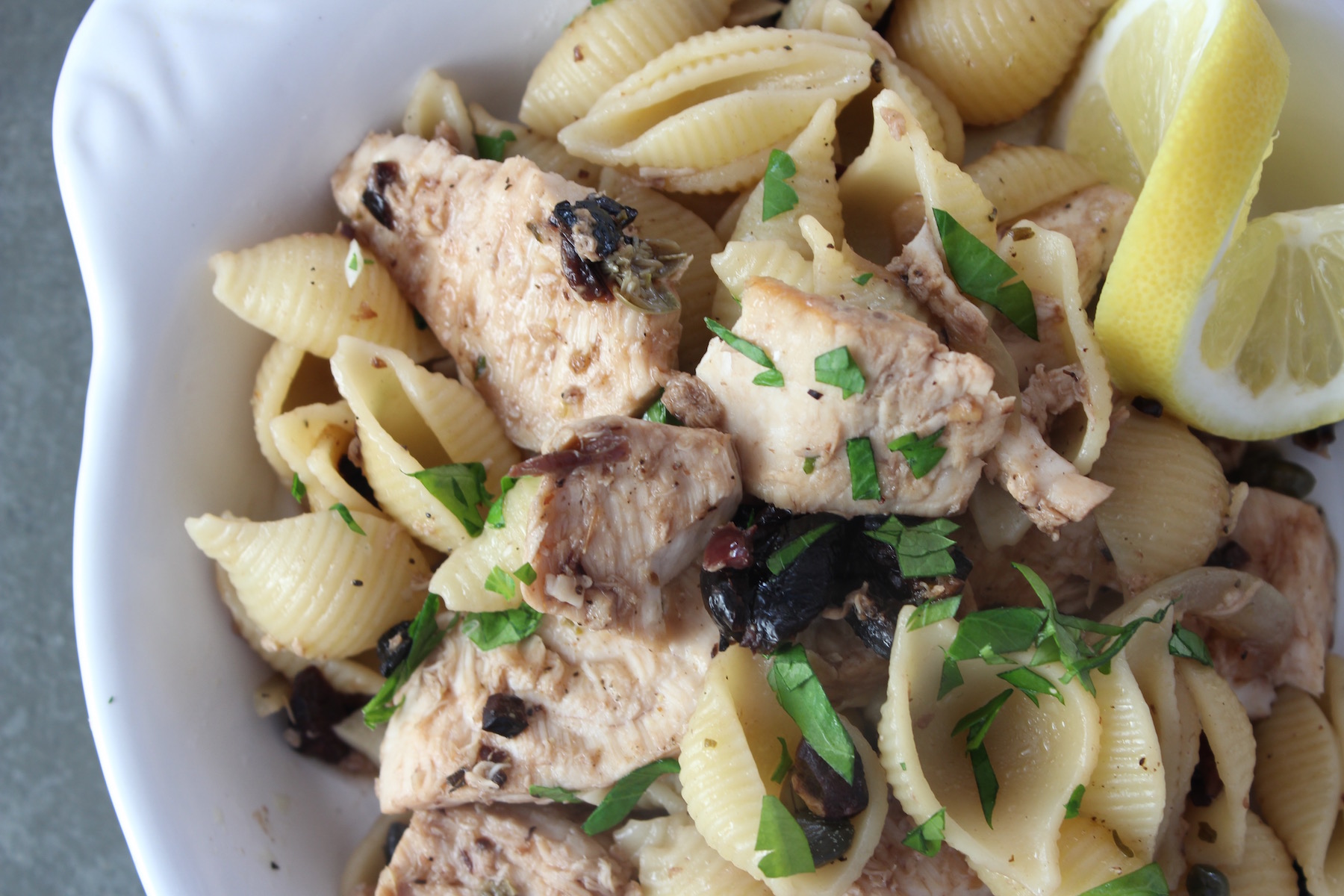 I've mentioned before that I love reading food memoirs, and one of my favorites is Judith Jones' The Tenth Muse. . .My Life in Food.  In it, she captures many wonderful stories about her experiences in the culinary literary world, including all the amazing chefs she had the privilege of knowing and working with, including Julia Child, of course. Since I'm always on the lookout for interesting-looking seafood recipes, I was excited to find in the book a recipe that came to her from renowned chef James Beard (a giant in the American culinary world, if you're not familiar with the name).
It's titled James Beard's Swordfish-Olive Pasta and it fell under the simple category of "Here are some of the things I love to cook for myself." Judith is one of the most experienced culinary pros in America, and she has been exposed to some of the finest food (and chefs) around so, if this recipe, including all the others, was good enough to make it into her book, something told me it had to be really delicious!
She wrote about the first time she tried this dish: "One day when I went down to Jim's West Twelfth Street house to work with him on his pasta book, he greeted me with the happy news that the evening before he had just tasted a fabulous pasta dish with swordfish that he was going to make for me for lunch. It has become one of my favorite pastas, and I often make it for myself after I've enjoyed a big slice of broiled swordfish and set aside a piece for this dish." I wonder where he tasted this 'fabulous pasta dish'? I assume it was in his own test kitchen, but I'm not sure?!? However it came to be, oh how I wish I could have been a fly on the wall of that apartment as these two tasted that dish. . .
The great thing about this recipe is its simplicity — fresh fish, salty/briny olives and capers, tender pasta and tasty herbs/spices. It also comes together in mere minutes, which is a plus when you're scrambling to get dinner on the table quickly.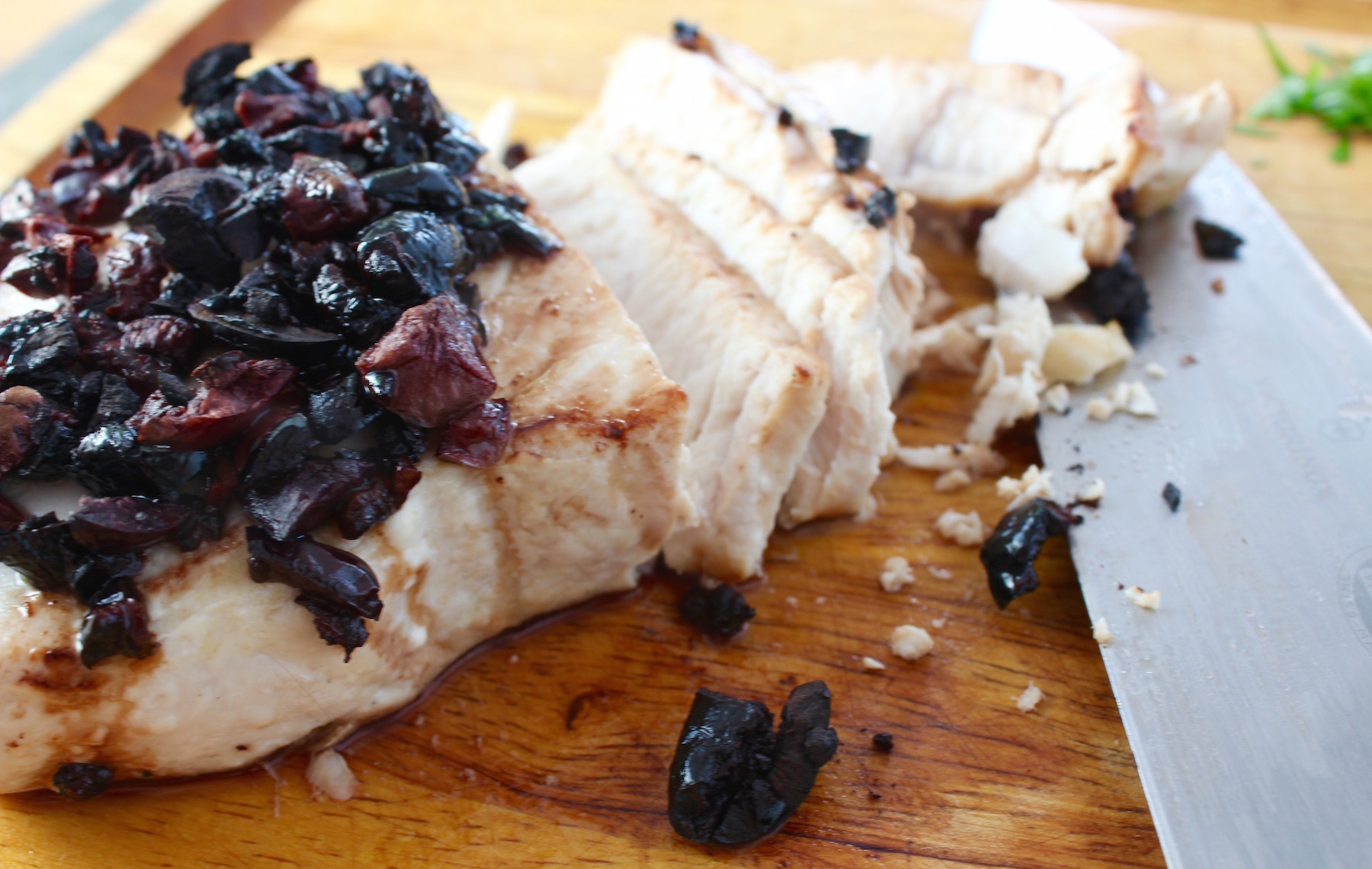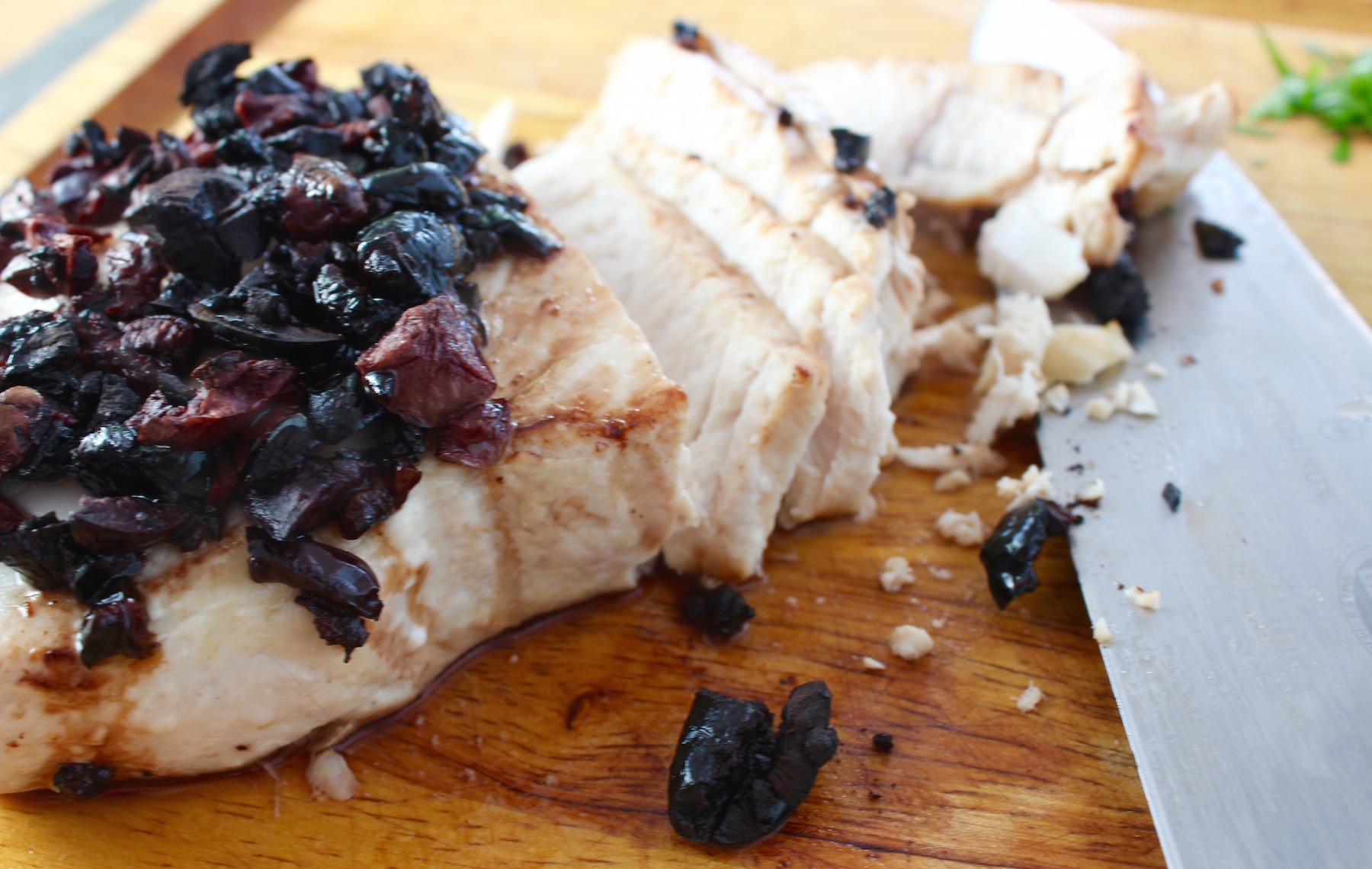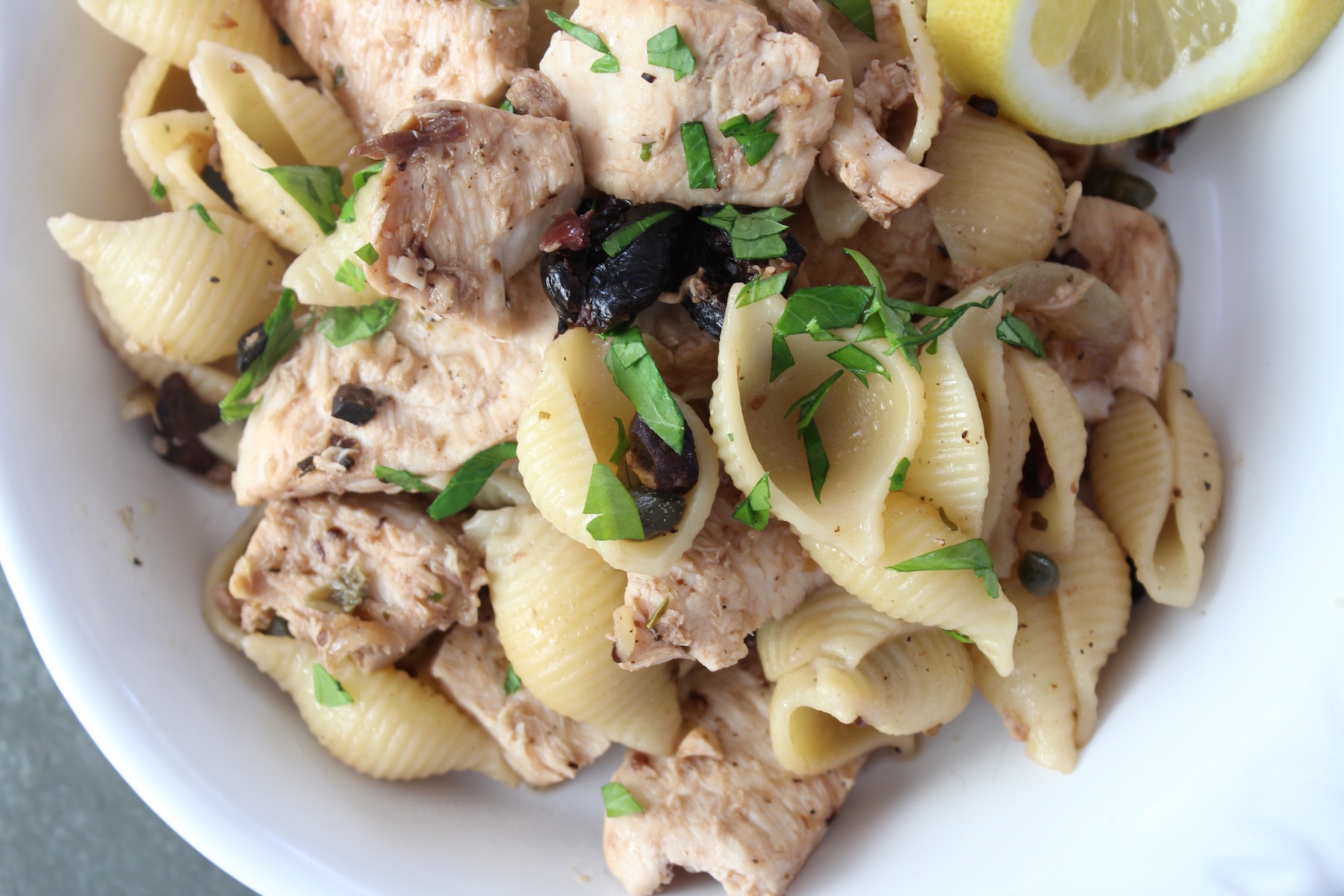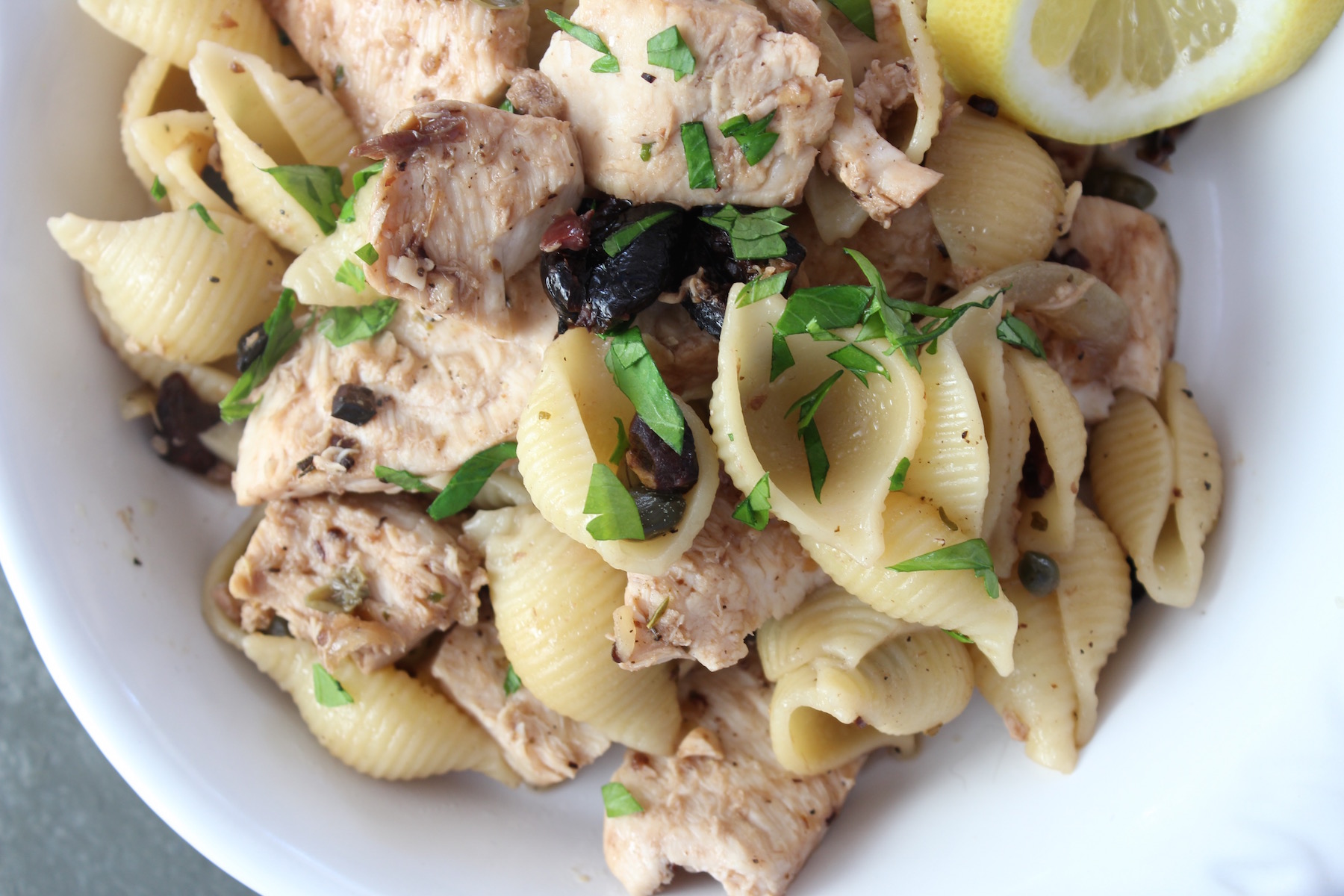 This is a wonderful dish to serve if you love the delicious flavor and texture of Swordfish, but I think it could work well with other relatively firm fish like Mahi Mahi, Grouper, African Pompano, Haddock, or even Salmon.
I hope you give it a try. And if you do, please give a nod to the late, great James Beard 🙂

Swordfish & Olive Pasta
Adapted from James Beard's Swordfish-Olive Pasta recipe.
Ingredients
6 oz. swordfish, about 1" thick, skin removed
⅔ c. finely chopped Italian black olives
kosher salt
freshly ground black pepper
6-8 oz. dry pasta (fusilli, penne, ziti or shells)
2 shallots, peeled & thinly sliced
2 large garlic clove, peeled & thinly sliced
4 Tb. olive oil
1 tsp. dried oregano (or herbs de Provence)
4 tsp. capers
Handful fresh parsley, chopped
Fresh lemon
Instructions
Turn Broiler on High.
Line a baking sheet with parchment paper (or foil) and drizzle a little olive oil over it; set aside.
Bring a large pot of salted water to boil, then add the pasta and cook according to package directions.
While pasta cooks, place fish on baking sheet and under the broiler for about 4 minutes on first side.
While the fish cooks, saute shallot and garlic in olive oil until soft, but not browned. Add dried herbs and capers and stir; set aside.
Flip the fish, top with the olives and broil 2-3 minutes longer.
When the fish is cooked, slice it thinly and combine it (including the olives) with the onion mixture.
When pasta is cooked, reserve 1 c. of pasta water, then drain in a colander.
Mix the pasta with the swordfish, adding some pasta water intermittently to make a light sauce.
Season with salt and pepper, to taste. Top with fresh parsley and a squeeze of lemon.
Notes
I doubled Judith's published recipe so it serves two, and tweaked some of the details. But one thing that's a must is SAVING SOME OF THAT PASTA WATER so you have a light sauce!!