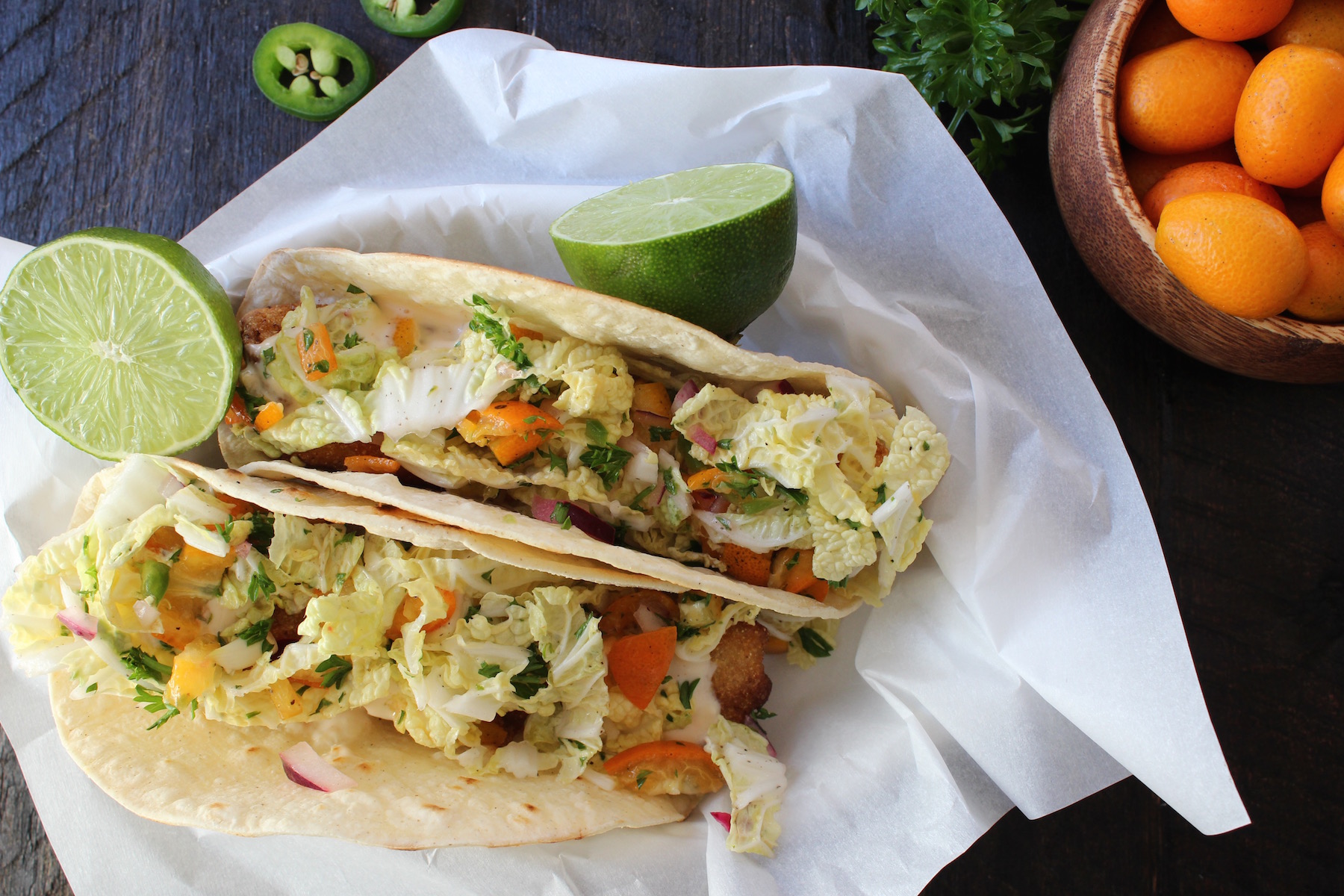 Fish + Taco = Delicious.
In our circle of fishing friends, fish tacos are one of our go-to recipes because they're easy and fast, you can get creative with them, and they're always tasty and satisfying.
When I make them, I usually dust the fish with blackening seasoning then saute or grill it — two of the more healthy methods. I've also had fried fish in tacos (the traditional Baja Style) and I must say that it truly is a wonderful thing. The fish cooks quickly in the hot oil so it's moist and juicy, and the crunchy texture adds a nice balance alongside cool, fresh slaw and a creamy sauce. It really doesn't get much better than that.
So, when a friend recently gave me a FryDaddy, I immediately thought how great it would be for fish tacos!  Once in a while, of course, not every time. I'm not a frying fanatic, you know. . .:)
Today I decided to christen my new piece of equipment, as well as, try a recipe shared by my friends who love the fish 'batter' from the Hot and Hot Fish Club in Birmingham, Alabama. The restaurant's tasty recipe calls for marinating the fish in a bath of buttermilk and hot sauce, then dipping it into a dry mix comprised of cornmeal, corn flour, flour and seasonings before deep frying it. It's a take on the traditional southern method of cornmeal battered fish and, I must say, it's really yummy — crunchy, flavorful and not greasy at all, so it worked really well with my batch of tacos.
I usually make a tasty cabbage slaw and today's version is probably something you'd never expect. . .I combined Napa cabbage (a type of Chinese cabbage – tender, sweet and delicious), fresh parsley, red onion, jalapeños, lime juice, honey and, wait for it. . .kumquats! I've got a huge batch of kumquats in my fridge and have been trying them in a variety of recipes, so I thought they might be tasty in this slaw! The sweet/tart orange flavor packed in these little gems nicely complemented the spicy, salty fish and my favorite creamy sauce — it all worked beautifully inside a hot, toasted tortilla.  Take a look at this — doesn't it look delicious?!?  Well, it was.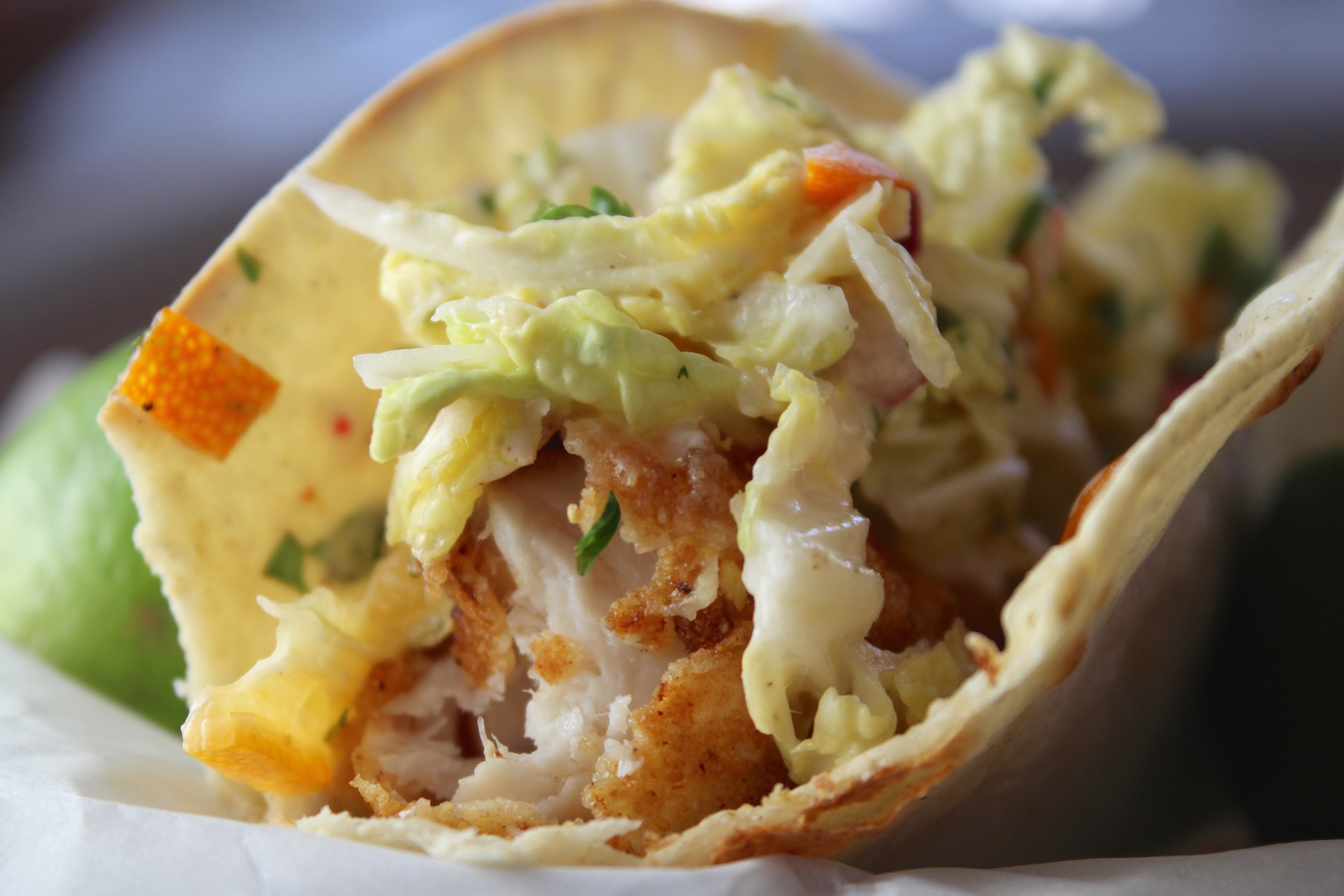 You can use just about any sturdy, white fish for this recipe. We had some Red Grouper on hand, courtesy of our friends who worked hard to bring the feisty fish to the boat recently.
If you'd like to try another version of a fish taco, check out my Amberjack Fish Tacos post.  Enjoy!

Fish Tacos with Kumquat, Jalapeño & Napa Slaw
Fry Mix adapted from the Hot and Hot Fish Club Cookbook.
Author:
My Delicious Blog
Ingredients
Fry Mix, Fish & Marinade
1 c. finely ground yellow cornmeal
1 c. corn flour
1 c. all-purpose flour
2 Tb. + 1 tsp. kosher salt
½ tsp. cayenne pepper
½ tsp. freshly ground black pepper
1 c. low-fat buttermilk
Several dashes of hot sauce (I used Tabasco) or cayenne pepper
1 lb. fresh fish, de-boned, cleaned and cut into approx. 3-4" pieces/rectangles (to fit snuggly into a tortilla)
8-10 corn or flour tortillas
Creamy Taco Sauce
½ c. mayonnaise
½ c. sour cream
¼ c. whole milk
1 Tb. Sriracha sauce (more to taste)
1 garlic clove, minced
½ lime, juiced
Kumquat, Jalapeno Napa Slaw
2 c. Napa, finely shredded
Handful of kumquats (about 8-10), stems removed, seeded, chopped
4-6 Tb. red onion, thinly sliced or chopped
½ jalapeno, seeded, chopped
Handful of fresh parsley, chopped
Juice of 1 fresh lime
2 Tb. vegetable oil
Dash kosher salt
Dash freshly ground black pepper
Instructions
For the Fry Mix, Fish & Marinade:
Combine all the dry ingredients in a large bowl and mix well. Store in a dry, airtight container at room temperature until ready to use.
Combine buttermilk, hot sauce and fish in a shallow dish (add a bit more buttermilk if the fish isn't fully covered). Refrigerate about 30 minutes.
In the meantime, make the Creamy Taco Sauce and the Slaw.
For the Creamy Taco Sauce:
Combine all ingredients in a bowl and whisk until well combined. Refrigerate until ready to use.
For the Slaw:
Combine all ingredients in a bowl and stir to combine. Refrigerate until ready to use.
For the Frying/Assembly:
Add peanut or vegetable oil into a cast-iron skillet or a deep fryer (you'll need enough oil to cover the fish in a skillet, or to get to the fill line in the fryer. I used about 24 oz. in my deep fryer).
Heat oil to at least 300 degrees (test with a deep fryer thermometer). To test heat, toss in a tiny piece of fish and if it bubbles rapidly and floats, it's ready to go.
Dip each piece of fish into the Fry Mix, then place carefully into the hot oil. Work in small batches (3-4 pieces at a time, so the temperature doesn't drop too quickly).
Cook for about 3 minutes, then remove each piece with slotted spoon or tongs and place on paper towels.
Allow the temperature to come back to at least 300 degrees, then make another batch. Repeat until all fish is cooked.
Heat flour or corn tortillas in a dry skillet or on a grill.
Assemble the tacos with a piece or two of fish, some creamy sauce and slaw. Sprinkle a little of lime if you wish, and you're good to go!