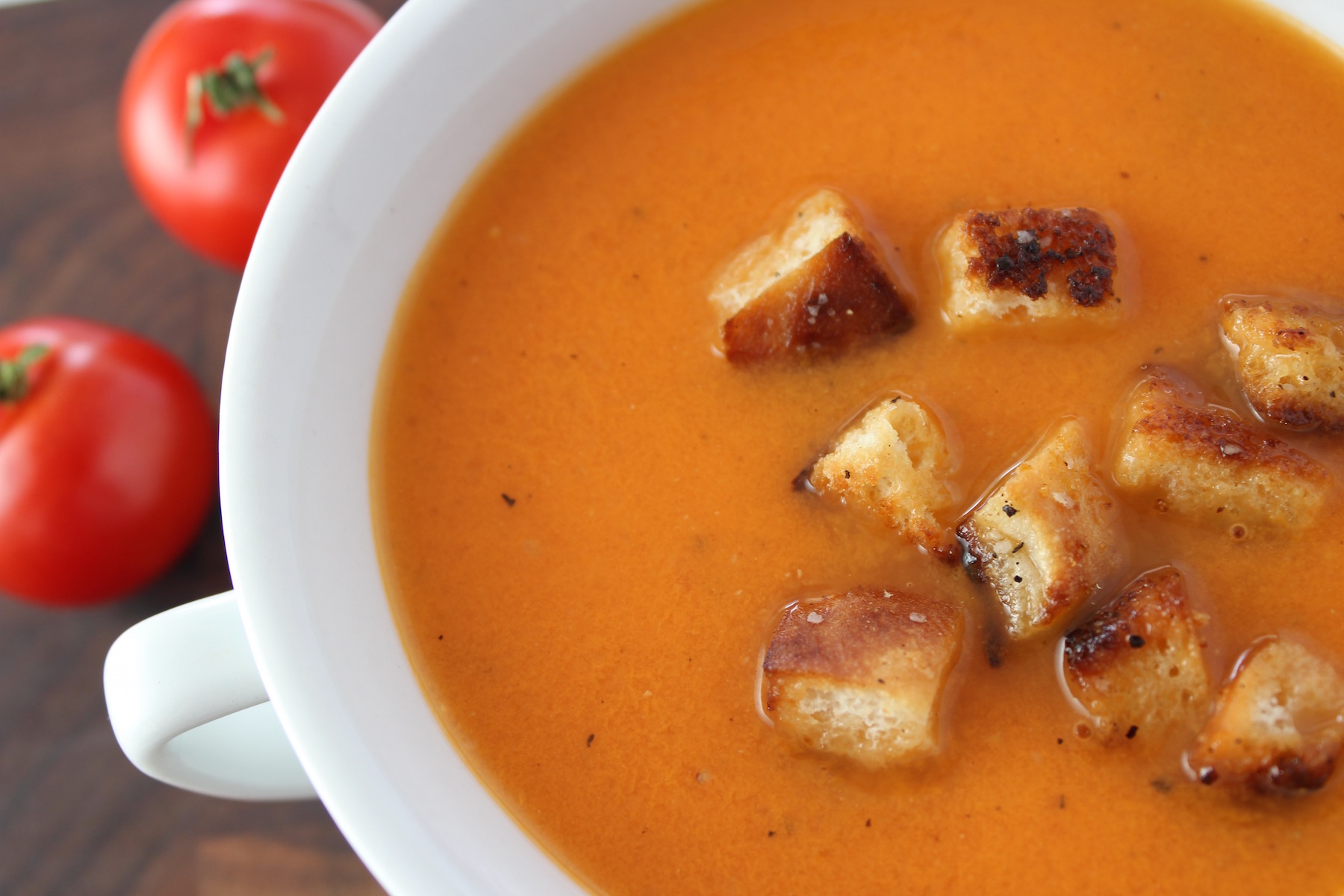 When I was a kid, I was definitely not a fan of tomato soup. My mom usually served it on days when I had been playing in the snow for hours and basically would have eaten anything because I was starving (and frozen). But it was definitely a tough go — the only saving grace was that she served it with a crispy, golden grilled cheese sandwich. There was just something about the consistency, sweetness and thickness of that soup that didn't appeal to me. Am I alone?
Even as I got older and able to make my own lunch choices, tomato soup was never a 'go-to' soup for me.
Until now. . .
Because I finally decided to see what it would be like to make my own tomato soup! Something in me knew it would just be better than that canned stuff 🙂
So, armed with a batch of beautiful, in-season tomatoes, I got busy. I researched many recipes to find out how folks were making it, then formed some opinions as to how I'd make mine.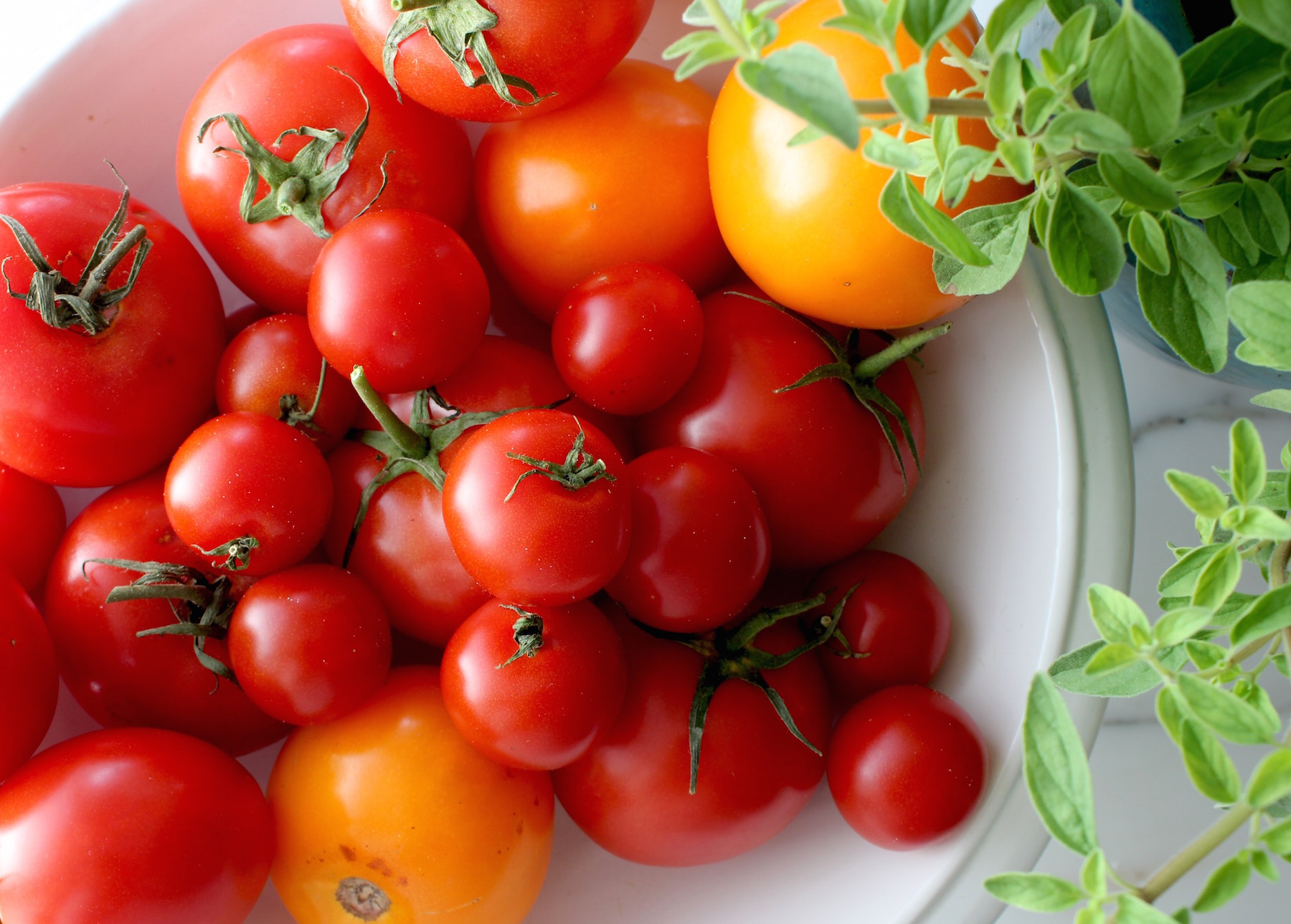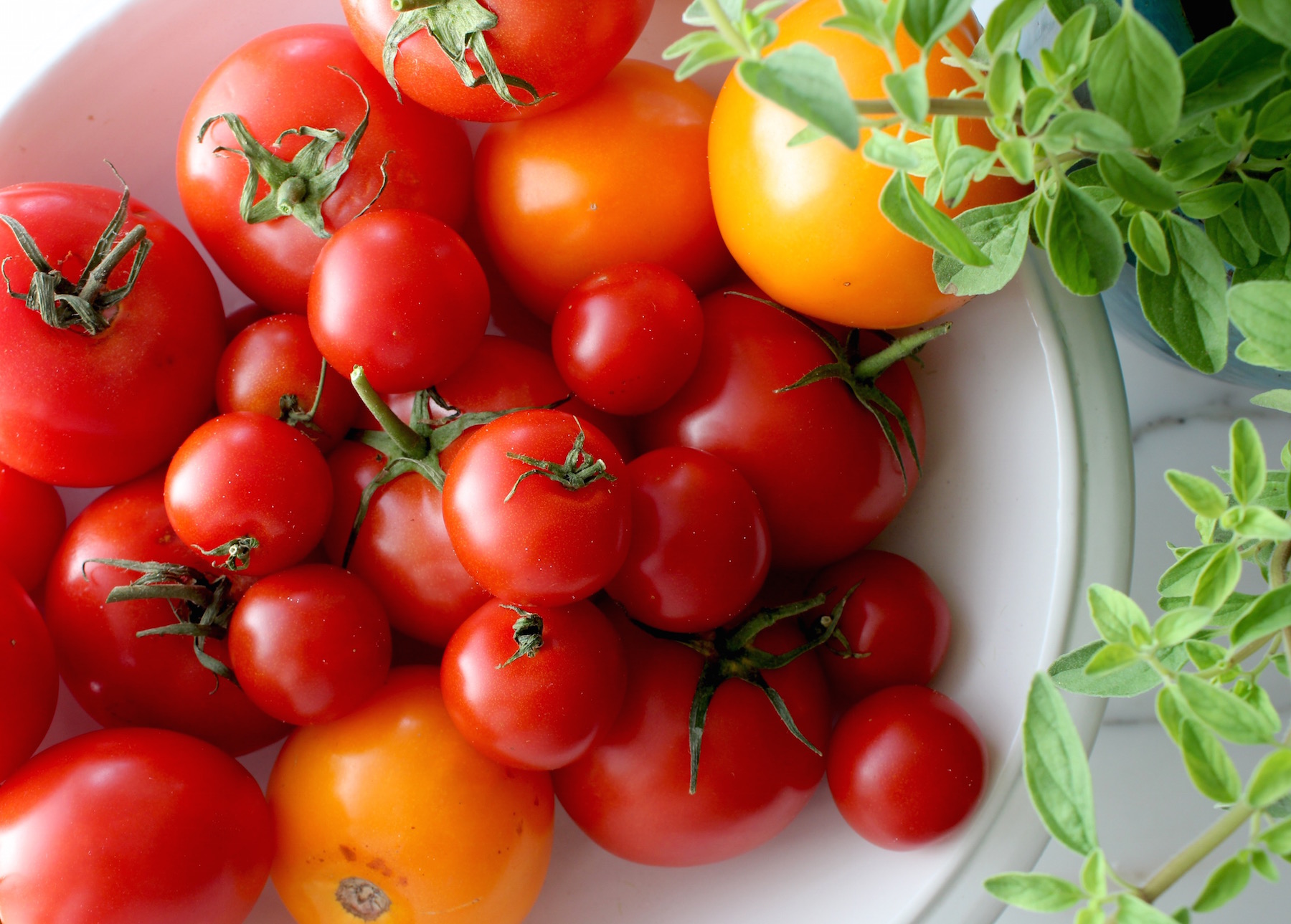 My inspiration recipe ultimately came from Grace Parisi, the "Recipe Goddess" at Food & Wine magazine.  It's a basic recipe with minimal ingredients which, from my experience, usually results in a delicious dish. Many recipes I looked at called for adding cream (for richness) and sugar (to reduce the amount of acidity in the tomatoes), but this one added neither.  By using sweet onions (I used Vidalia), the sugar in them offsets the acidity of the tomatoes, and the soup gets its creaminess from the use of butter and slow simmering. It's a lovely combination.  But I'm sure you could add some heavy cream at the end, and no one would complain 🙂
I modified the recipe a bit and even added my not-so-secret weapon. . .nutmeg. We're all familiar with nutmeg's pairing with sweet treats, but you might not be familiar with it being used in many Italian sauces. The sweetness of this fragrant spice brings savory foods to a whole new level by adding a layer of complexity that's not easily definable. It leaves you asking "Hmmm. . .what is that? I taste something delicious and I'm not sure what it is" but you're definitely glad, whatever it is, is in there.
I tasted this soup before I added the nutmeg. It was delicious – you could taste the fresh tomatoes and a hint of basil but, in my opinion, it was missing a little something. And that little something was nutmeg.  Even my official taste tester (Brendan) agreed, after a blind test 🙂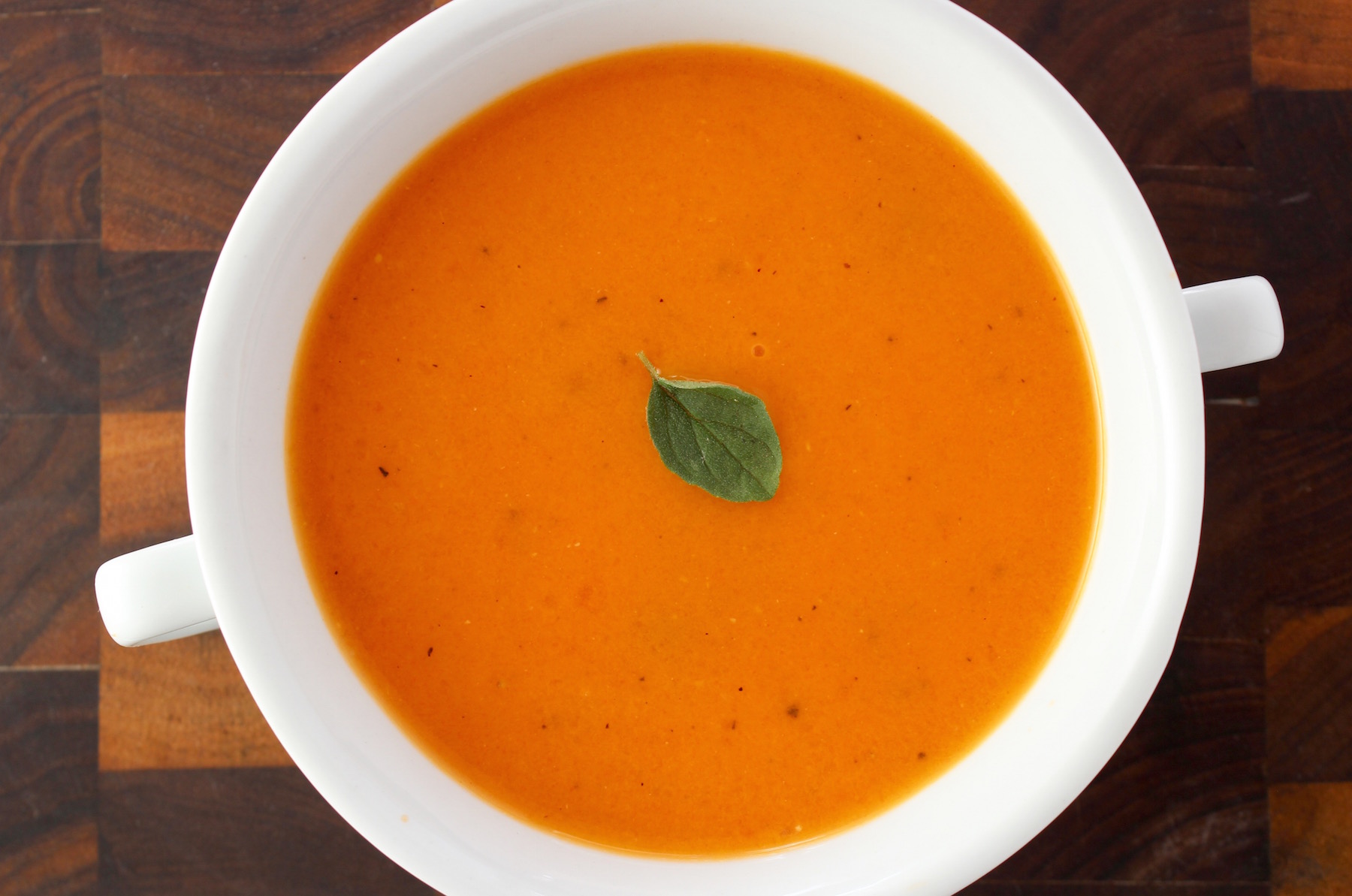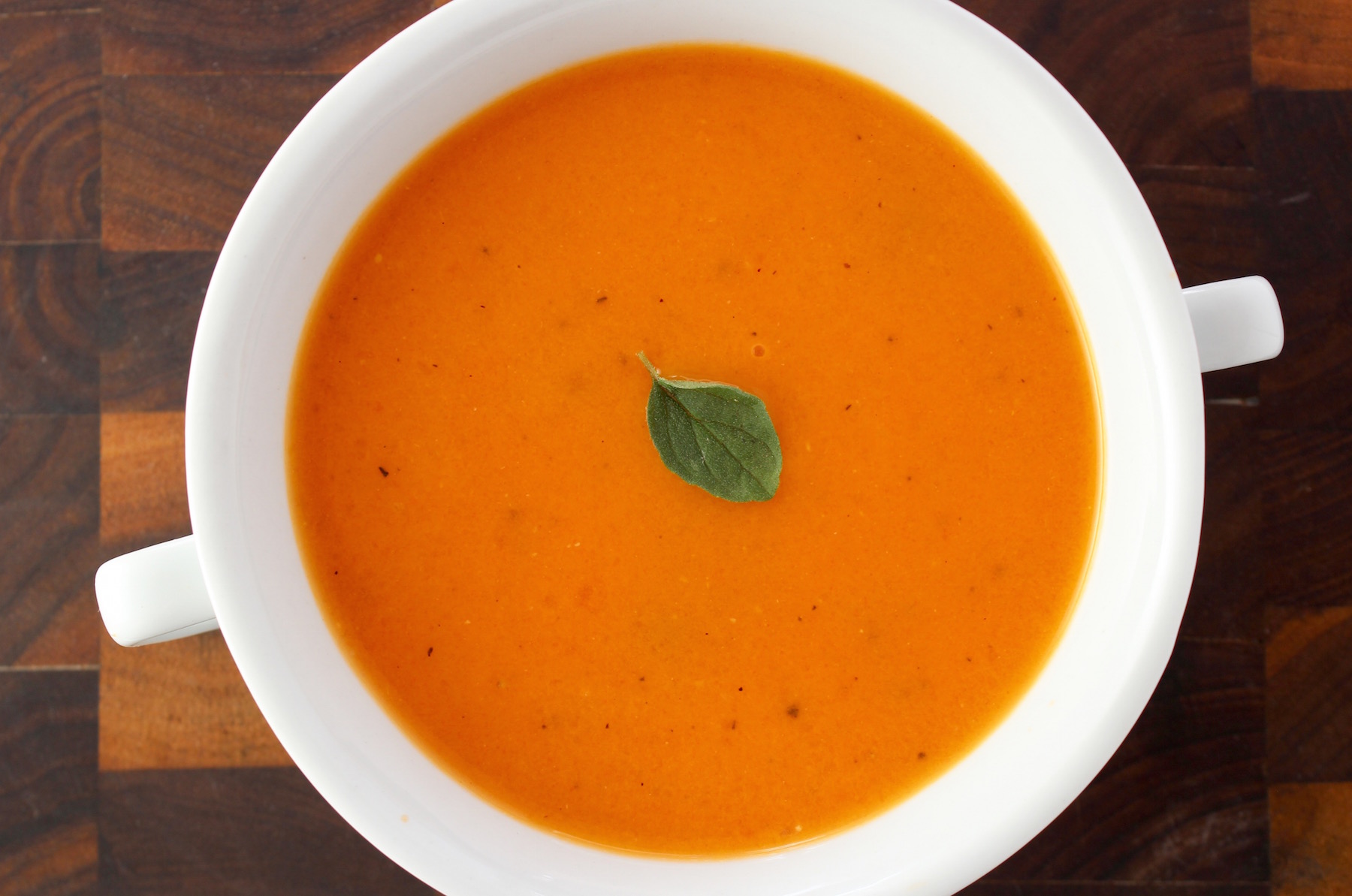 This is a beautiful, easy and delicious soup. It's especially great during tomato season, when you just can't keep your hands off all those beautiful fruits at the farmer's market. Or is that just me? Anyway, it's a great way to use up lots of tomatoes AND fill your bellies with something warm and delicious.

Fresh Tomato Soup
Inspired by Grace Parisi's "Summery Fresh Tomato Soup"
Author:
My Delicious Blog
Ingredients
4 Tb. unsalted butter
1 c. chopped, sweet onion (Vidalia)
1 tsp. tomato paste
4 c. fresh tomatoes (about 6 medium tomatoes)
2.5 c. chicken stock (homemade, ideally)
2 basil sprigs/stems
½ tsp. kosher salt
¼ tsp. freshly ground black pepper
2 dashes ground nutmeg (fresh, if you have it)
Fresh basil to garnish (optional)
Croutons (optional)
Instructions
Fill a medium pot with water and bring to a boil.
Using a sharp knife, cut a large 'X' in the bottom of each tomato (sort of like a hot cross bun). When water boils, carefully drop each tomato into the water and allow them to sit for about 1 minute. Remove the tomatoes and allow to cool for a couple of minutes. Carefully peel off the skins; cut off the stem end and cut each tomato in half; squeeze out/discard the seeds; chop into large chunks, retaining any juices they exude; set aside.
Drain the water from the pot then add the butter and onion and cook over medium heat, just until onions are translucent (approx. 5 minutes).
Add the tomatoes/juices, along with tomato paste; allow to simmer a few minutes.
Add chicken broth, basil sprigs, salt and pepper.
Simmer over low heat about 20 minutes.
Discard basil sprigs then add nutmeg.
Using an immersion blender, puree mixture until very smooth. (If you don't have an immersion blender, transfer small quantities of the soup to a food processor or blender, then return to the pot).
Taste for seasoning.
Serve with croutons or chopped basil.