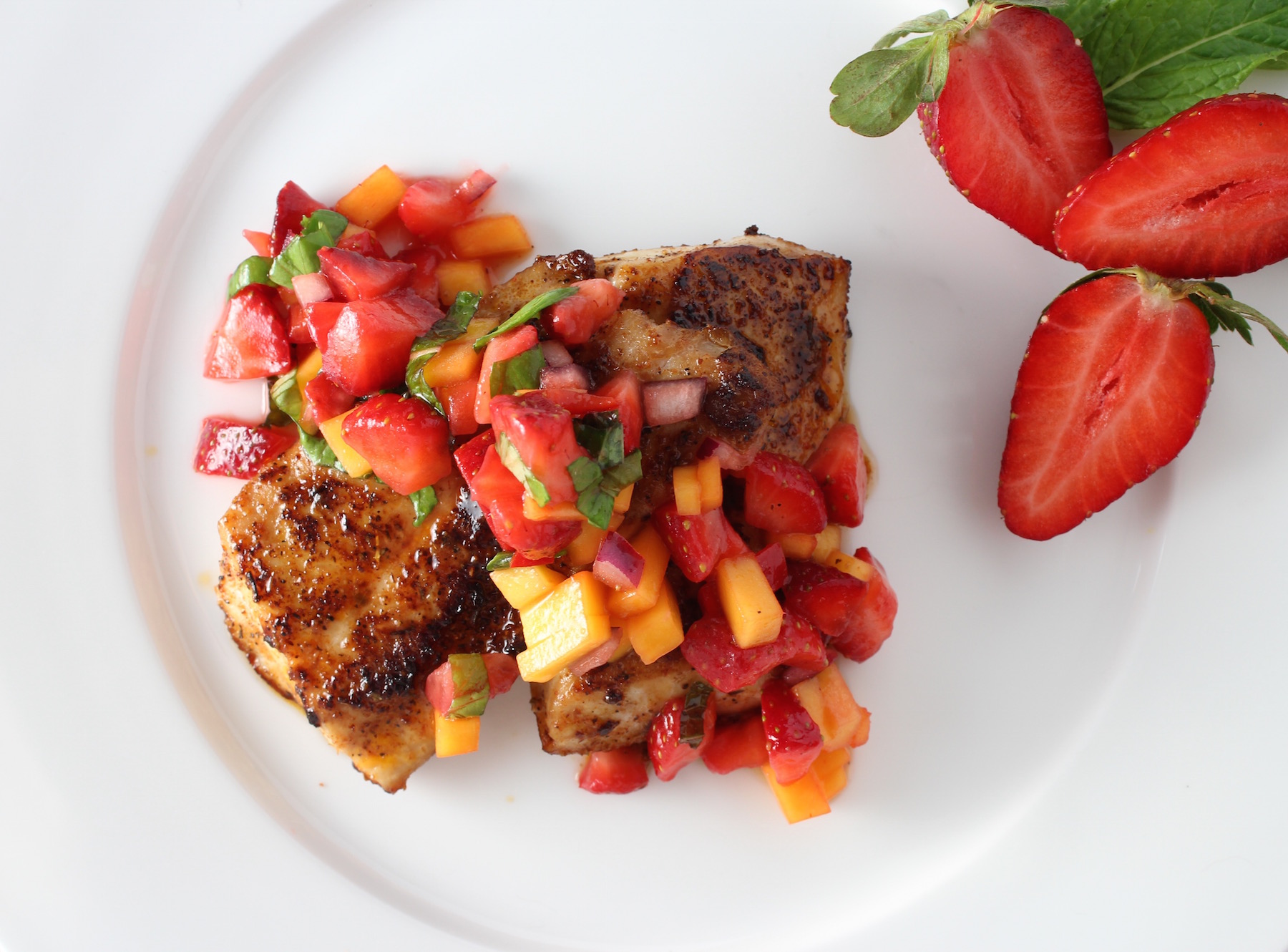 This time of year, strawberries are in peak season in Florida, and I've been busy coming up with recipes incorporating the beautiful berries I recently picked at a U-Pick farm. Getting them off the vine is a real treat – there's nothing like chomping into a fresh, pristine berry that's been warmed by the sun. So good! But even if you can't pick them yourself, the berries available at farmer's markets and supermarkets are really good (and well priced because they're in season). Basically, I can't get enough of these things!
There are so many sweet dessert options for berries, but I also love incorporating them into savory elements to create something tasty. This salsa combines sweet strawberries, juicy mango, fresh mint, lemony basil and a little vinegar to give it some zing. I used it to top hot, blackened Mahi Mahi and it was the perfect pairing. The sweet, juicy berries and mango, along with a little burst of mint and basil nicely complemented the tender, spicy fish. My husband said it was one of his favorite fish dishes, and that's high praise, since he's eaten lots of fresh fish 🙂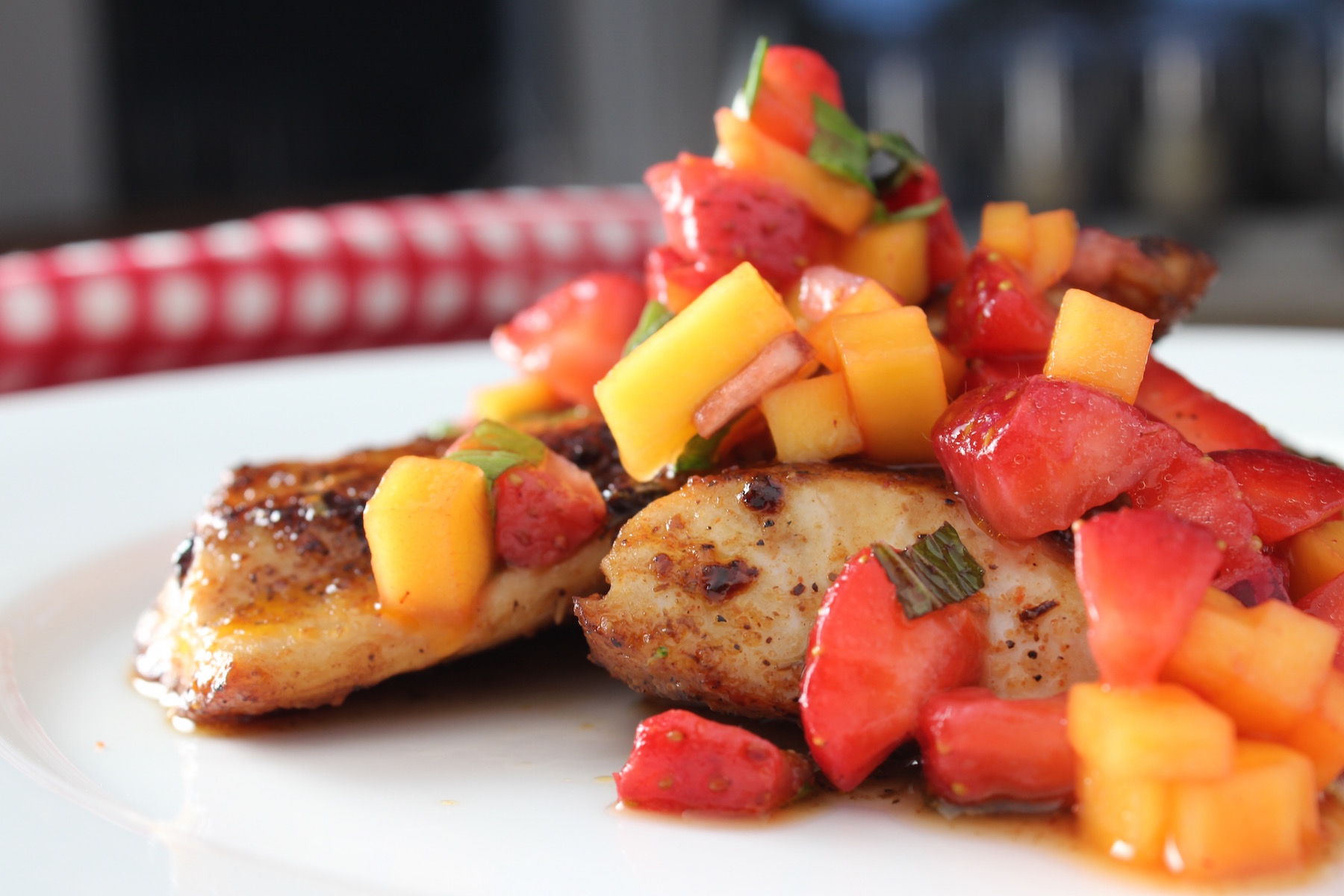 Here's a pic of Brendan with some Mahi Mahi (sometimes called 'Dolphin Fish') he caught in the Gulf of Mexico.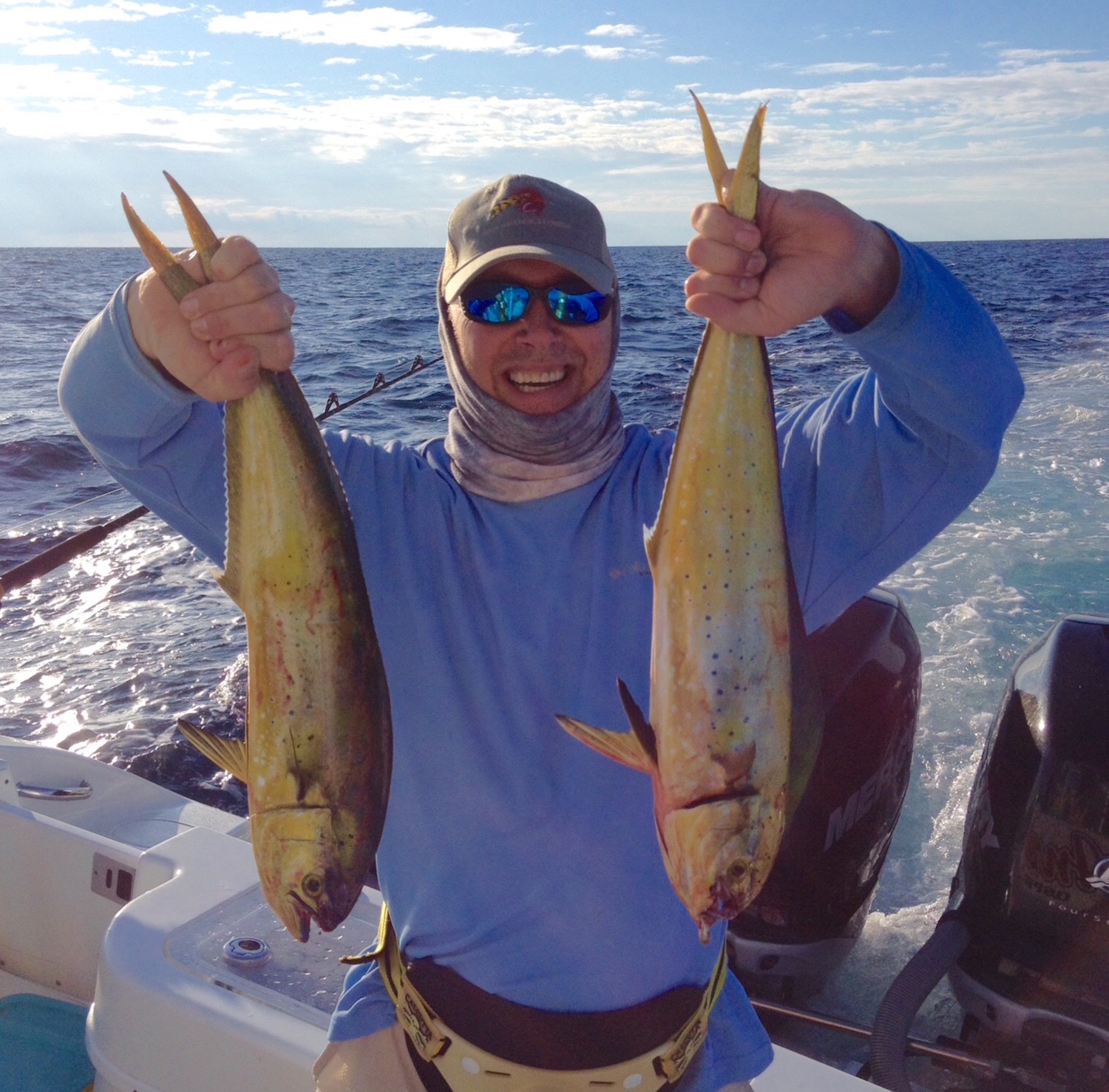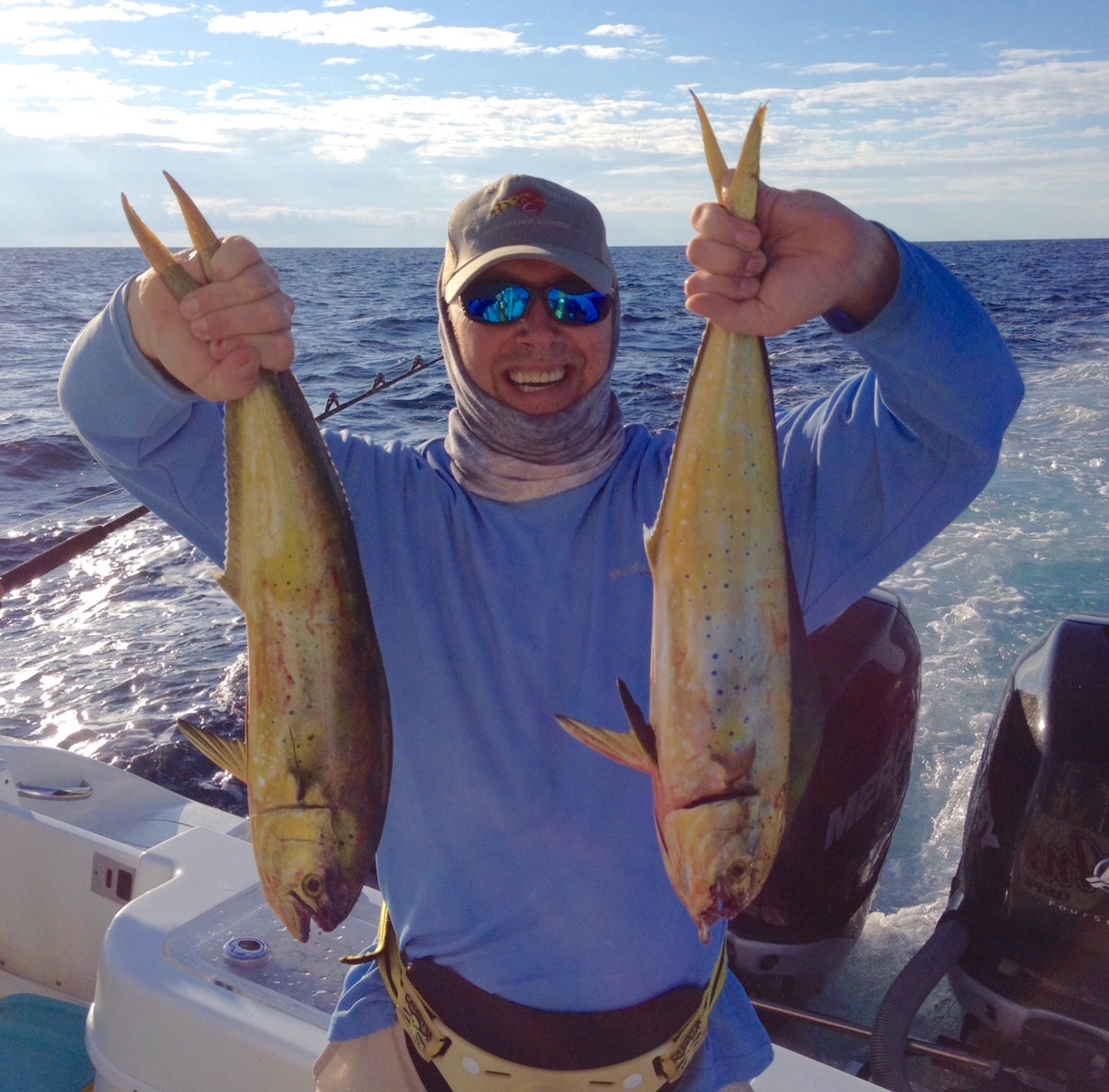 I love Mahi Mahi – it's a species that's abundant, fast-growing and quite beautiful (i.e., it lights up with neon colors when hooked, so it's awesome to see).  This fish is fun to catch because it gives you a good fight and if you find ONE, you're likely to find more because it loves to gather in schools.  The flavor is delicate and a little sweet — so delicious.
Not only was this dish colorful and pretty on the finished dish, it all came together in less than 20 minutes!

Mahi Mahi with Strawberry, Mango & Mint Salsa
White flaky fish pairs perfectly with this delicious strawberry, mango, mint and basil salsa.
Author:
My Delicious Blog
Ingredients
Salsa
1 c. fresh strawberries, small dice
¼ c. fresh mango, small dice
1 Tb. red onion, minced
1 tsp. red chile, seeded and minced
3-4 mint leaves, thinly sliced
3-4 basil leaves, thinly sliced
1 Tb. olive oil
1 Tb. red wine vinegar
½ tsp. granulated sugar
Fish
1 lb. Mahi Mahi fillets (or any other white, flaky fish - enough for 2-3 servings)
1 Tb. blackening seasoning (I used Paul Prudhomme's Redfish Magic)
1 Tb. unsalted butter
1 Tb. extra virgin olive oil
Instructions
Combine all the Salsa ingredients in a small mixing bowl. Cover and refrigerate about 15 minutes before serving.
Sprinkle fillets with blackening seasoning on both sides.
Heat a nonstick skillet to medium/high. Add butter and olive oil. When warm, carefully place fillets. Reduce heat to medium and allow to cook for about 2 minutes. Turn fish and cook for another minute or so. (Mahi fillets are relatively thin, so they don't require a lot of cooking time.)
Serve with the Salsa.