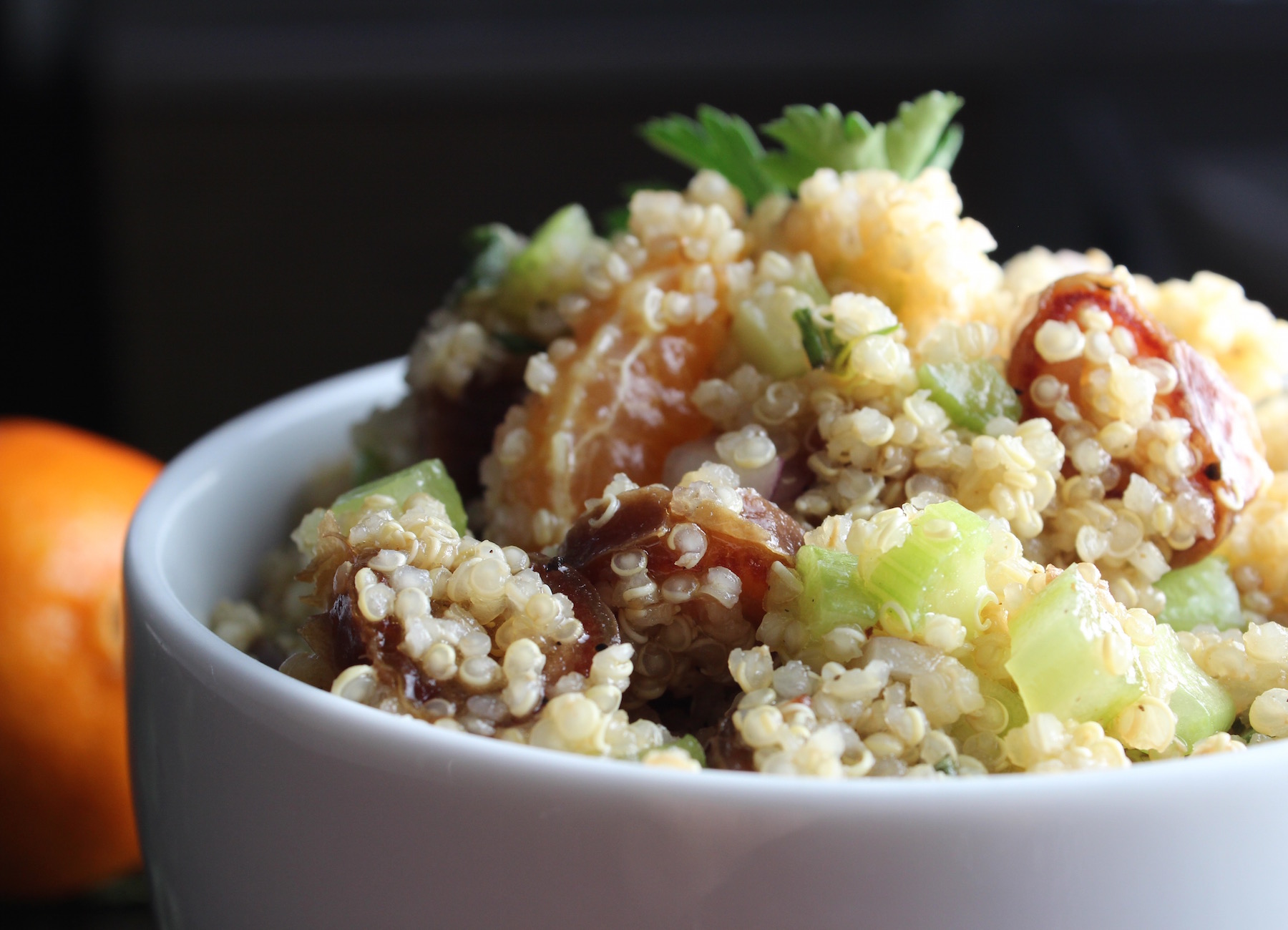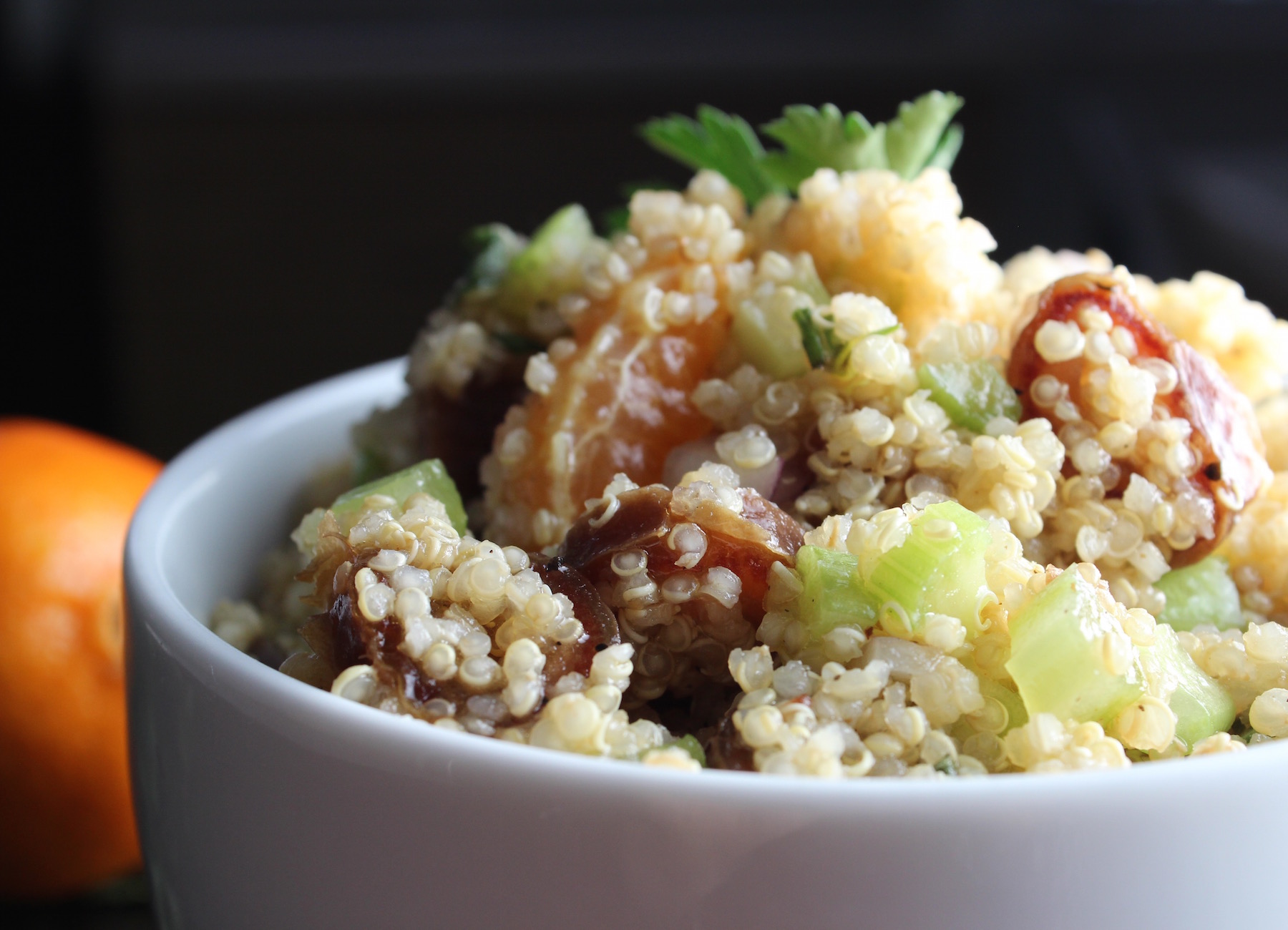 In our house, we LOVE quinoa (pronounced keen-wa). My husband especially loves to find a batch in the fridge because it offers a healthy, protein-packed snack before he heads to the gym. As for me, I love the fact that it's so easy to prepare, it's delicious, and you can pull a salad together quickly (like this one) using just about anything you have on hand.
If you haven't tried quinoa, PLEASE put it on your list of things to try in the new year 🙂  It's considered a "superfood" because it's a tiny seed (it's not even a grain!) that's chock-full of iron, magnesium, fiber, antioxidants, flavonoids and anti-inflammatories. It also offers important heart-healthy monounsaturated fat, along with small amounts of omega-3 fatty acid. There are lots of varieties, but they generally fall within the red, white or black categories. The red and black offer a slightly stronger flavor and more dense texture, so I tend to stick with the white variety because it's mild and pairs well with just about anything you mix in. If you're open to the idea of trying it in 2016, I suggest giving each one a try to see what you think.
When cooked, quinoa offers a slight crunch, along with a mild, 'nutty' flavor. It's so versatile – it can be served warm or cold as a salad with tasty add-ins; served warm as a side dish (I like to add raisins, pine nuts and herbs); spiced up with sweet or savory flavorings; made into crispy cakes (like these Quinoa & Kale Cakes); served as a warm breakfast cereal with cinnamon and honey, and the list goes on.
The process for cooking quinoa is simple — basically 1 cup of dry quinoa to 2 cups water, bring to a simmer, cover and allow to sit for about 15 minutes. Fluff with a fork and you've got about 3 cups of cooked quinoa. Note: some like to rinse the quinoa in water before cooking to remove any potential bitterness left in the skin, but I've never really had an issue with bitterness.
I regularly experiment with healthy combinations and I just tried this one — dried dates, fresh tangerines, tender basil and crunchy celery mixed with a light lime/tangerine/olive oil dressing. The tartness of the lime is offset by the sweetness of the dates, and the competing textures (crunchy, chewy and delicate) all work well together. It's a light salad that you can eat all by itself or top with grilled chicken or another favorite protein. I actually like it all by itself — it just feels healthy as it's going down 🙂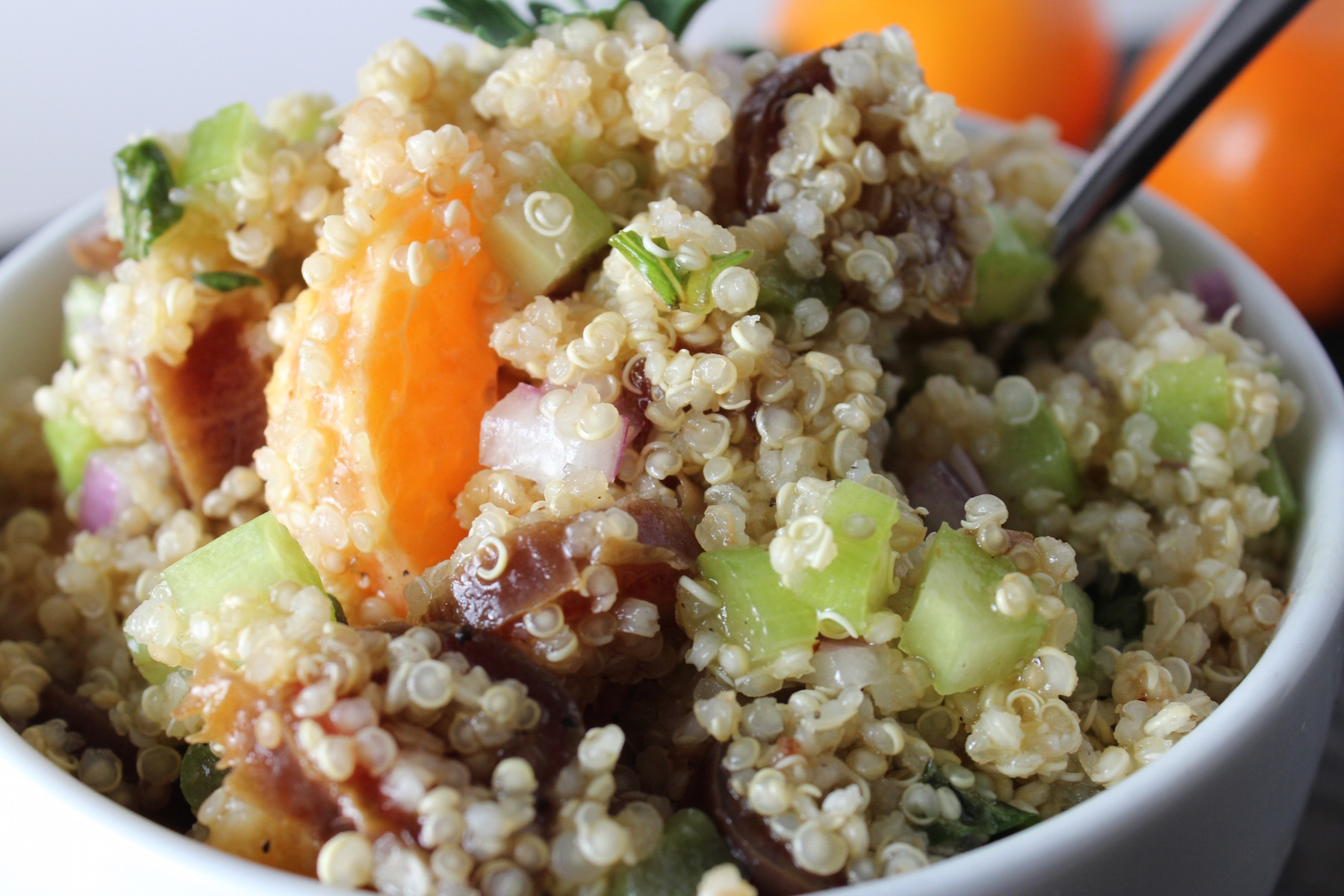 Quinoa, Date & Tangerine Salad
Quinoa is perfectly delicious when paired with tangerine, dates and basil.
Author:
My Delicious Blog
Ingredients
Salad:
1 c. dry quinoa
2 c. water
pinch salt
Handful dried dates (about ½ c.), sliced or chopped
1 tangerine, peeled, segmented, seeds removed
Handful fresh basil, minced
1 stalk celery, chopped
Dressing:
Juice from 1 small tangerine (about 2 Tb.)
Juice from ½ fresh lime (about 1 Tb.)
3 Tb. olive oil (not extra virgin) OR vegetable oil (you want a mild flavored oil)
pinch kosher salt
pinch freshly ground black pepper
Instructions
Combine dry quinoa with water and salt. Bring to boil and cover. Turn off heat and allow to sit for about 15 minutes. Remove cover and fluff with fork before combining with remaining ingredients.
Make the dressing by whisking all ingredients in a small bowl; set aside.
While the quinoa is still at room temperature, combine it with the dressing. Add in dates, tangerine segments, basil and celery. Add extra salt or pepper, to taste. Serve immediately or refrigerate until ready to serve.