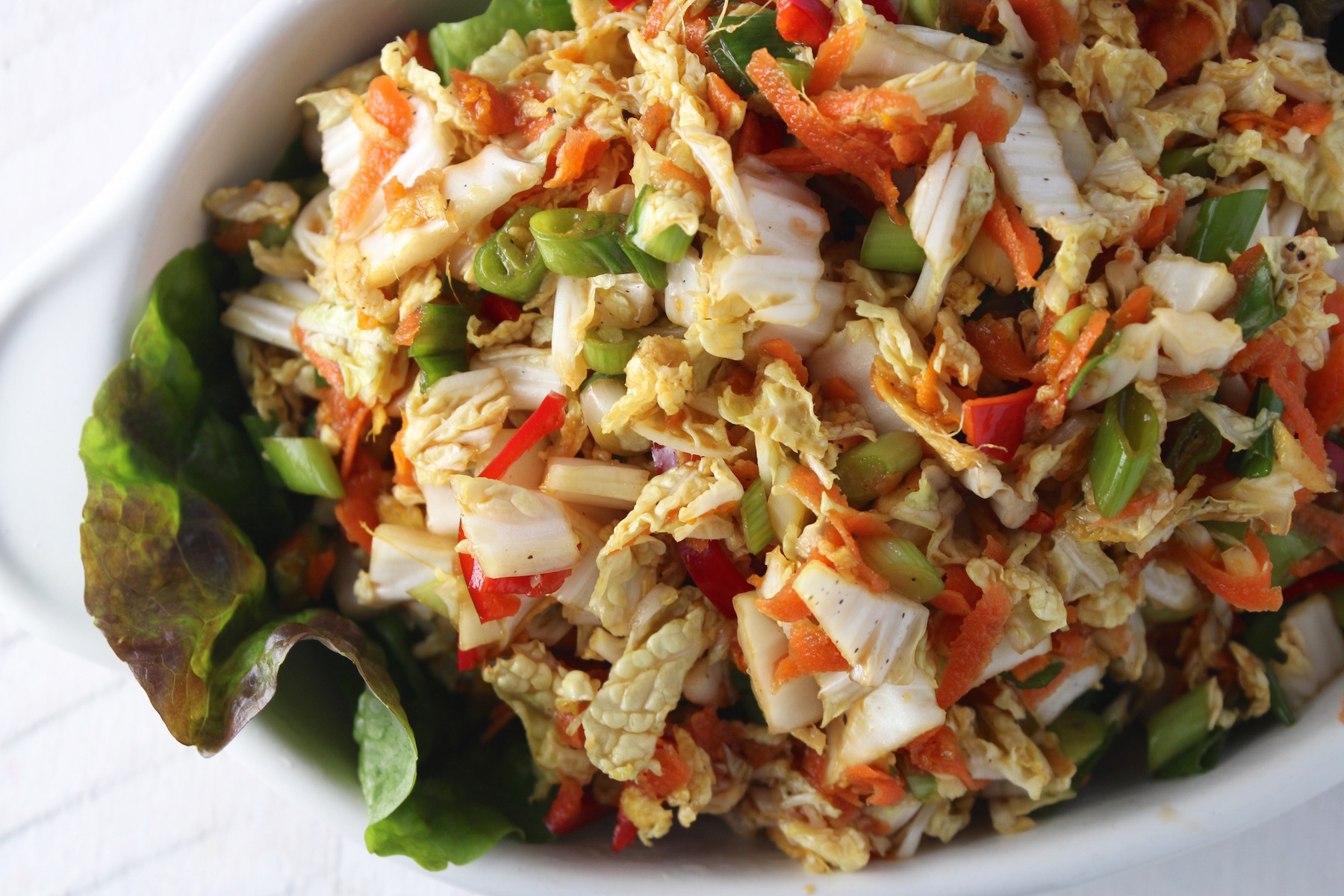 Last Sunday I found myself standing in front of the refrigerator taking stock of what I had and trying to figure out what to make for dinner. I finally realized I had been standing there for quite some time after getting a flashback of doing the same thing as a kid and hearing "We don't own stock in the electric company, so close the refrigerator door!" Anyway. . .I finally got inspiration when I spotted the half head of Napa cabbage that I used recently for
tasty fish tacos
. And I was especially excited to try the fresh Turmeric rhizomes I picked up at the farmer's market that weekend. Turmeric has been getting a lot of play in the news lately because it has powerful antioxidant and anti-inflammatory properties. You've probably enjoyed it already if you like curries or yellow mustard, because turmeric is one of the staple ingredients in each! The little roots look a lot like ginger, but they have a deep orange color (which stains just about anything they come in contact with, so be careful!).  Here's what they look like when cut:
The flavor of fresh rhizomes is not as intense as the dried version, but it's definitely peppery and could even be described as bitter. Because they're a lot like ginger, you can use the roots in a variety of recipes and preparations — grated, chopped, juiced, and they'll impart delicious flavor and color. So, armed with my cabbage, turmeric, ginger, carrot and green onions, I thought coleslaw would make a nice addition to our grilled pork chops.  But since I didn't want to stain a creamy-based dressing and make it that distinct turmeric color, I decided on a vinegar-based dressing with Asian flavors. There was definitely some heat in this slaw, considering the ginger, turmeric AND red chile, but you can adjust flavors according to your preferences. This makes a nice side dish or a topper for grilled meats or fish.  Hmmm. . .I bet it would even be good on fish tacos!
Turmeric, Ginger, Carrot & Napa Slaw
Turmeric is the delicious ingredient in this crunchy slaw.
Author:
My Delicious Blog
Ingredients
Slaw
2 c. Napa cabbage, chopped finely
1 small carrot, peeled & grated
1 tsp. fresh ginger, grated
1 tsp. fresh turmeric (about 1 rhizome), peeled & grated
4 scallions, thinly sliced
1 Tb. red chile pepper, seeded and sliced thinly
Dressing
2 Tb. low sodium soy sauce
1 tsp. toasted sesame oil
1 Tb. light brown sugar
2 Tb. red wine vinegar
dash kosher salt
dash freshly ground black pepper
Instructions
Combine all the Slaw ingredients in a mixing bowl. (For the ginger and turmeric, use the small grate section on your box grater, or use another fine grater).
In a separate bowl, combine the Dressing ingredients, whisk and set aside.
When close to serving time, combine the two (so the cabbage retains a bit more crunch).
Notes
To 'peel' the ginger or turmeric, simply use the back/sharp edge of a spoon to easily scrape off the thin skin.