Porgy may not have the glamour or "pedigree" of an American Red Snapper or Black Grouper but, in my fishing circle, we know a quality fish when we get one!  It's not the prettiest fish you've ever seen, but it's definitely delicious when cooked — mild, white and flaky. Porgy is another species sometimes referred to as "trash fish" since it's not in high demand (and rarely found on menus), but I prefer to call it "under-appreciated."  Once you try it, you'll be glad you did.
Here's a pic of me (on the left) with my friend Wendy, who caught this 8+ pound Jolthead Porgy recently.  What a gorgeous fish!
They're typically small to medium in size and are usually cooked whole. But, since I had access to this big fish, I was able to use its beautiful, bright white fillets for my recipe.
I pan-seared the little fillets and served them over a bed of corn salad tossed in garlicky buttermilk dressing. It's tasty, light and delicious, and makes a perfect summer meal. Actually, any nice, white fish (or even salmon, for that matter) would pair well with this fresh & tasty salad — it's good with just about anything, and I even like it all by itself for a lunch.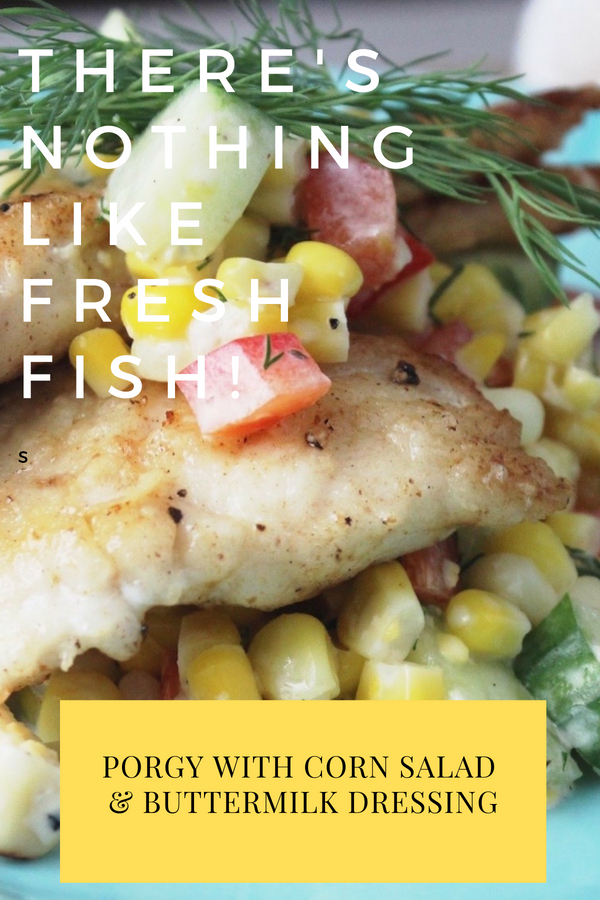 Porgy with Roasted Corn, Tomato & Buttermilk Salad
Any flaky white fish will work great with this pairing of fresh corn and tomatoes salad, but Porgy is especially delicious.
Author:
My Delicious Blog
Ingredients
For the Buttermilk Dressing:
1 garlic clove, peeled
dash kosher salt
3 Tb. sour cream
3 Tb. mayonnaise
1 Tb. white vinegar
¼ c. buttermilk
¼ tsp. freshly ground black pepper
¼ tsp. onion powder
¼ tsp. sugar
2 Tb. fresh dill, chopped
zest from ½ lemon
For the Salad:
3 ears corn, with husks
½ pint red grape tomatoes, halved
½ medium English cucumber, small dice
½ medium red pepper, small dice
½ medium red onion, small dice
For the Fish:
2 (6-8 oz). Porgy fillets, skinned & de-boned
dash kosher salt
dash freshly ground black pepper
1 Tb. olive oil
1 Tb. unsalted butter
Instructions
Prepare the Buttermilk Dressing:
On a cutting board, chop garlic clove with a large chef's knife. Sprinkle garlic with a dash of kosher salt and continue to chop. Tilt your knife at a 30-degree angle to the cutting board and drag it over the garlic, scraping it across the board's surface to "smash" it. Scoop up the garlic and scrape it again with your knife. Repeat until it's a smooth paste.
Add garlic mixture to a small bowl, along with remaining ingredients. Whisk and taste for seasoning.
Cover and refrigerate until ready to use. (You can add as much as you like to the salad - I usually use 3-4 Tb. and like to have some left over for another salad).
Prepare the Salad:
Heat grill to medium/high.
Pull corn husks toward the base/stem and remove the silks. Return husks to original position, then put the corn in a large bowl of cold water to soak about 10 minutes. Remove and shake off water.
Place corn directly on the grill and close cover. Grill for about 20 minutes, turning periodically, until kernels are tender.
Remove from grill; allow to cool about 30 minutes, then remove husks.
Over a shallow bowl, stand corn up straight and hold by the stem. Slice kernels off with a downward motion of your chef's knife, one row at a time (they'll fall into the bowl).
Add tomatoes, red pepper, red onion, cucumber and refrigerate about 30 minutes.
Mix corn salad with Buttermilk Dressing just before serving.
Prepare the Fish:
Season fillets with salt and pepper.
Heat a non-stick skillet to medium/high, along with olive oil and butter.
Add fillets to skillet.
Cook about 2 minutes each side, then flip.
Serve over dressed salad and top with fresh dill.
Notes
Note 1: If you don't have buttermilk, add ½ tsp. white vinegar to ¼ c. whole milk. Allow to sit a few minutes until it thickens, then use in recipe.

Note 2: No time to crush fresh garlic into a paste (although, it is pretty tasty and well worth the effort)? Simply use ½ tsp. garlic powder.

Note 3: Porgy tends to be 'boney,' so be sure to double check for little bones before cooking!