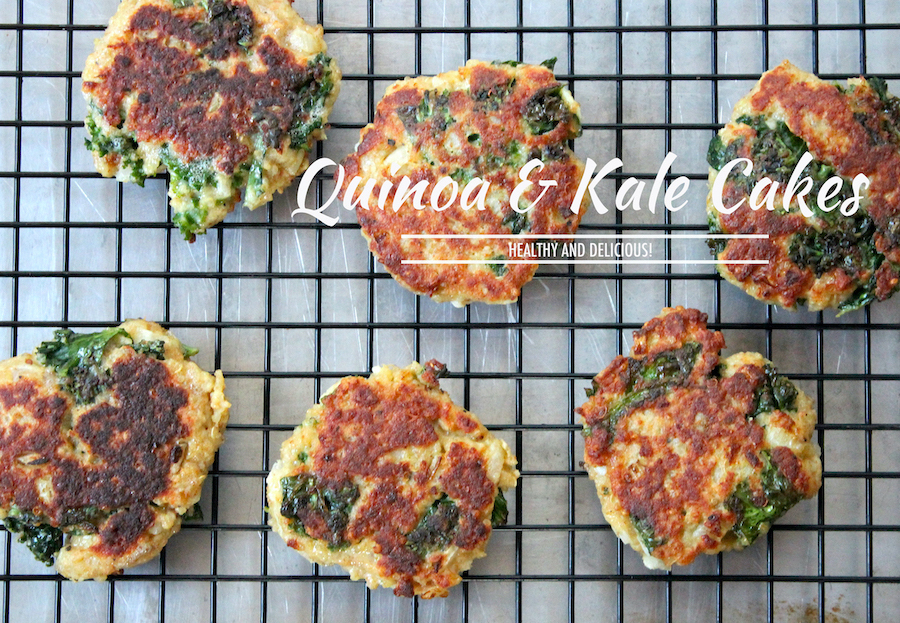 During a recent "let's eat kale every day" kick at our house, I tried several ways of preparing kale.  Some recipes were winners (like this one); others were, well, not winners.  I have a pretty easy gauge for determining if a recipe is good or not.  Whenever my hubby says "this is interesting. . .but maybe you don't need to make it again," that's my signal to toss it!  Most of the time, though, he's pretty pleased.
Quinoa is an ancient grain (I believe it dates back more than 5,000 years!) that's chock-full of good stuff.  It's called a "superfood" and has been gaining popularity in the last few years, but I remember my mom serving it when I was a kid (and that was a long time ago).  In addition to high levels of magnesium and iron, it's a complete source of protein and a good source of fiber and calcium, which is great for vegans or those who are lactose intolerant. Since quinoa is such a great source of protein, you can use it as a meat replacement if you're a vegetarian, or just trying to cut down on your meat consumption.
This recipe is yummy, healthy and pretty easy to prepare.  The key is to to blanch the kale, otherwise it's too tough in your tender little cakes.  It's also good to eat the cakes fresh from the pan so they're still a little crispy.  I like to cook small batches at a time and refrigerate the rest of the mixture for the next day or so — that way they're fresh, crisp and warm.  I suppose you could also cook them ahead, refrigerate or freeze for another time.
I served these little gems with a big green salad and it was a delicious, satisfying dinner.
P.S. hubby gave his approval for this one!

Quinoa & Kale Cakes
A healthy combination of kale and quinoa, made into crispy patties - great for snacks or a main dish.
Author:
My Delicious Blog
Ingredients
1 c. uncooked quinoa
2 c. water
3 eggs, beaten
⅓ c. parmesan cheese, freshly grated
3 cloves garlic, minced
½ tsp. kosher salt
2-3 scallions, chopped
¾ c. breadcrumbs (ideally freshly prepared. but plain/off the shelf is fine)
1 c. kale, stems removed; steamed & chopped*
1 Tb. olive oil
Instructions
Prepare quinoa according to package directions. When cooked, set aside to cool then fluff with a fork.
In a large bowl, combine quinoa with remaining ingredients.
Shape the quinoa mixture into small, flat patties.
Heat a non-stick skillet on medium/high and pour in a little olive oil.
When oil is hot, place 4-6 patties in the pan (try not to overcrowd them, so they can get crispy edges). Reduce heat to medium to avoid burning the patties.
After a few minutes, flip each patty (add a bit more olive oil, if needed) and cook another 2-3 minutes.
Remove from pan and cool on a wire rack (not a paper towel, since they may get soggy).
Optional : top with applesauce, sour cream with herbs.
Notes
You can also keep this mixture in the refrigerator for a few days in order to make a few of the patties at a time.