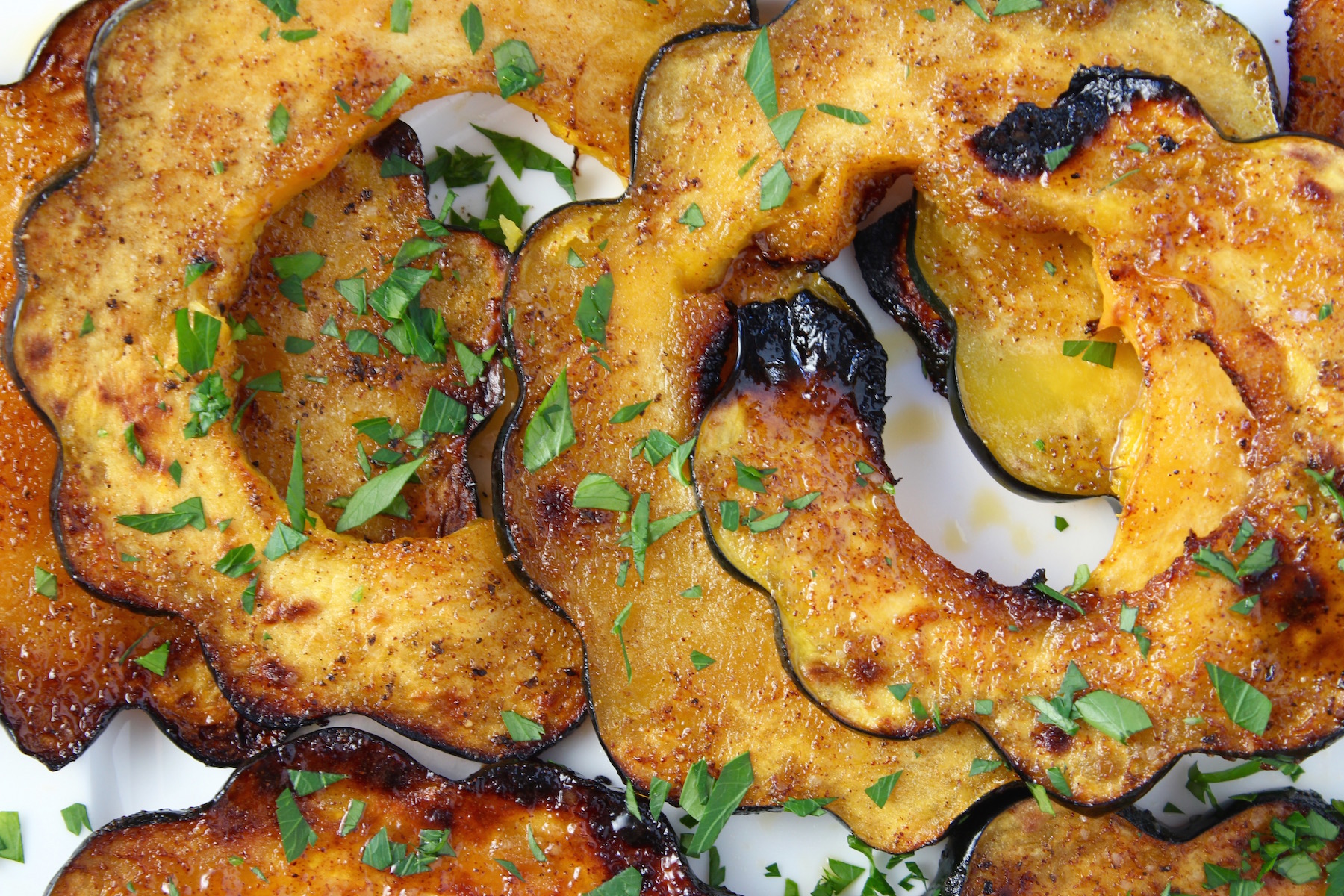 Now that winter squashes are in season, I'm a happy girl. I can't get enough Butternut, Acorn, Hubbard and Kabocha 🙂
But this post is about one particular squash. . .Acorn. You know, that adorable dark green squash with the unique shape that resembles an acorn? Like many winter squashes, it's packed with stuff like Vitamins A, B and C, potassium, magnesium and fiber. It's not only good for you, it's simply GOOD. And ever since I was a kid I've enjoyed it pretty much the same way – cut in half, sprinkled with cinnamon, butter, a little salt, and sometimes brown sugar, roasted in the oven until soft. Simply delicious.
This week I picked up a petite-sized squash and decided to try something different due to its size. Instead of splitting it in half, I cut off the stem end and scooped out the seeds. Then I sliced it thinly and placed them on a baking sheet — they looked like little flowers! I hadn't really thought about my next step, other than the fact that I wanted them to be flavorful, including my beloved cinnamon. Then I remembered the local honey I bought at the farmer's market, and mixed it with the cinnamon. Tasty, of course, but I wanted more. Enter Sriracha sauce – definitely something 'more' that makes just about anything magical. And to finish off this sweet/savory combo, I tossed in a little olive oil and salt, then brushed it onto each piece and popped them under the broiler for about 10 minutes.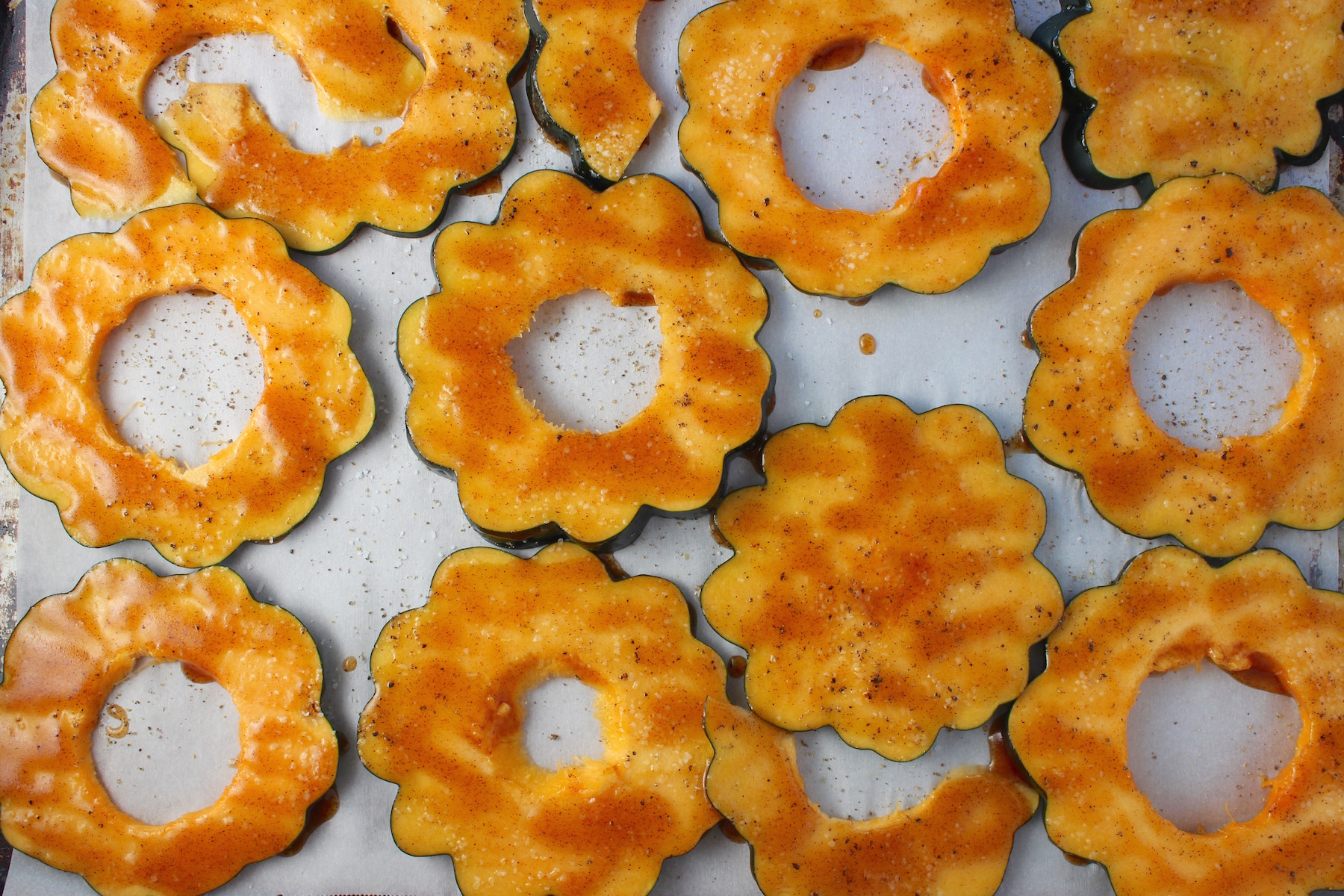 Talk about tasty! The squash was loaded with flavor, and had lots of little pieces that got charred under the broiler: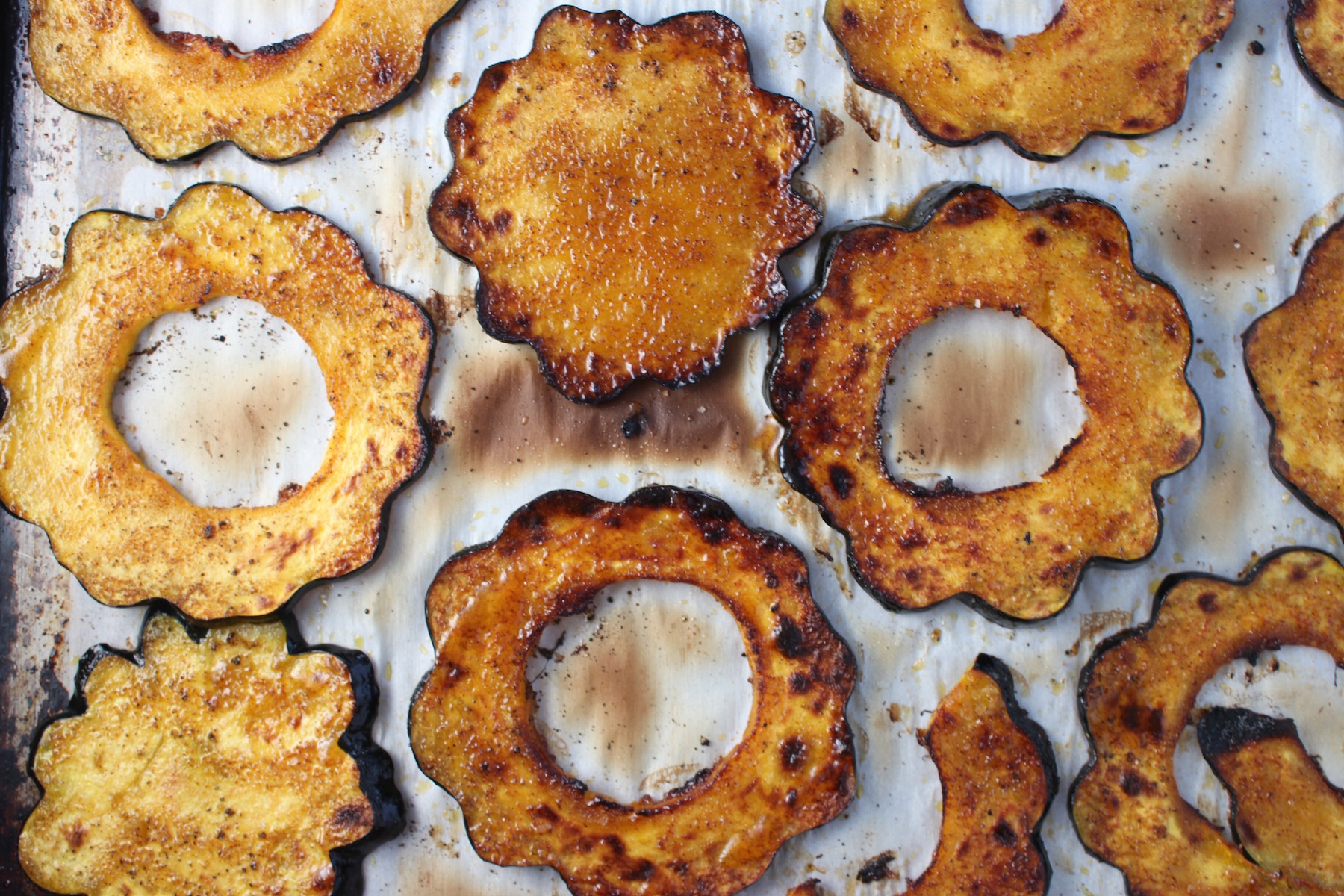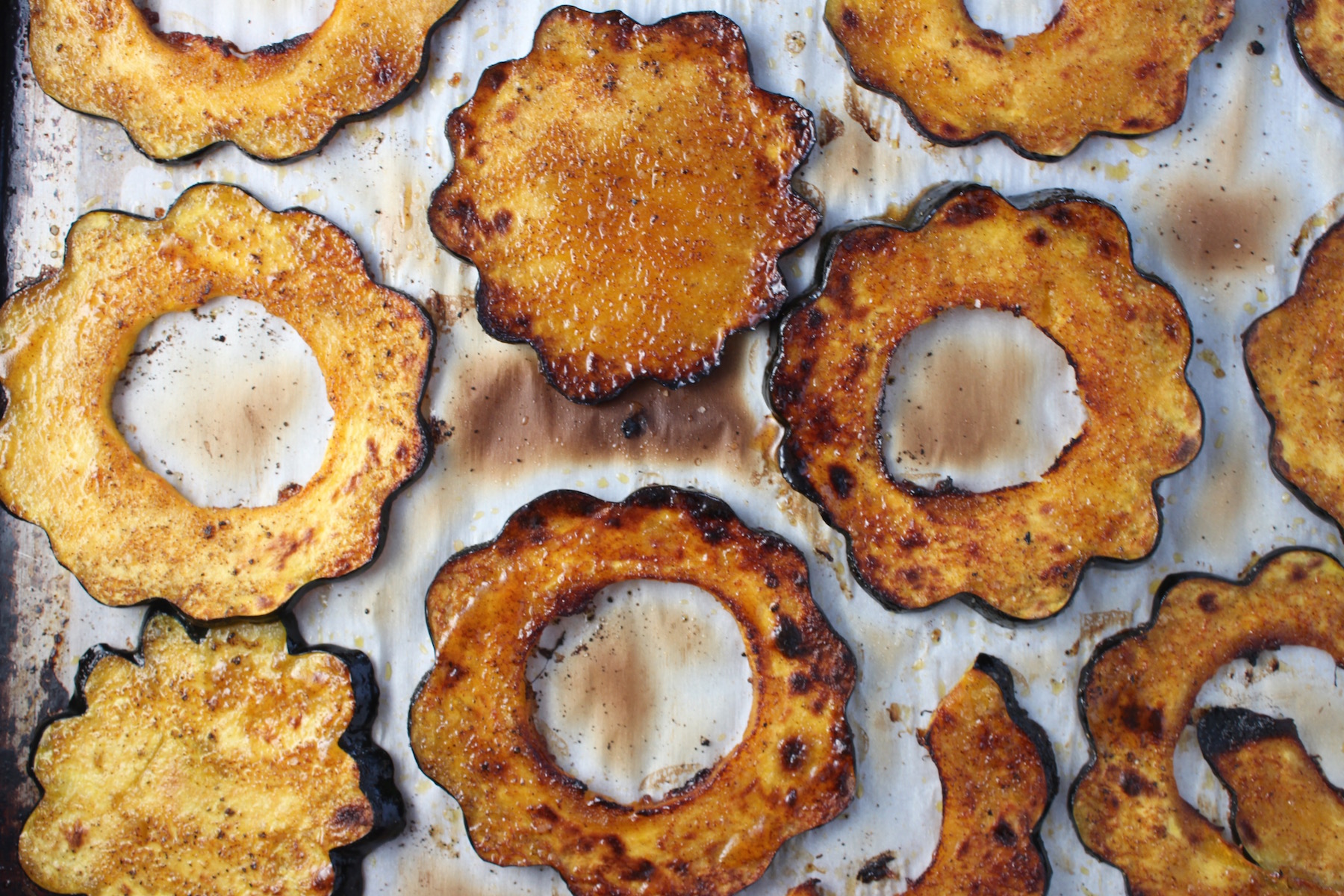 Full disclosure though. . .the only thing that was challenging about this dish was deciding HOW to eat them. I hadn't really thought of that. I ended up cutting a slice in half, then it was easy to peel away the soft skin from the flesh with my knife, and I enjoyed the pieces with my fork. Unfortunately, I hadn't suggested this to my husband in time, and found him eating the slices with his fingers, trying desperately to get the tasty squash away from the skin with his teeth. No, it wasn't pretty, and it was kind of messy, as you might imagine. But once he tried my method, he was good to go.
So I think there are four possible morals to this story:
1) Don't be afraid to try new ways of cooking classic dishes — it can be fun (and tasty).
2) Be prepared to give directions to your guests about how to peel the squash before they dig in!
3) If all else fails, consider just making the tasty sauce and slathering it all over two squash halves, then baking it like you usually do, OR
4) Simply scrap this whole idea and stick with your favorite, tried-and-true method — that will always be a winner!

Spicy Roasted Acorn Squash
Any hard squash will be delicious with this yummy, spicy dressing.
Author:
My Delicious Blog
Ingredients
1 Acorn squash
3 Tb. honey
½ - 1 Tb. Sriracha (depending on how spicy you like it)
¼ tsp. ground cinnamon
Pinch salt
¼ c. olive oil
Fresh parsley (optional) for garnish
Instructions
Set broiler to high.
Cover a baking sheet with parchment paper; set aside.
Slice off the stem end of the squash, then scoop out/discard the seeds.
Cut the squash in half, then place flat side down on the cutting board (I cut my squash in whole slices, but it's a little tricky, so the half method works best!). Slice squash into ½" slices and place onto baking sheet.
Mix honey, Sriracha, cinnamon and salt. Whisk in olive oil until it's emulsified.
Brush sauce onto the squash slices (don't be afraid to slather it on).
Place the sheet under the broiler for about 8-10 minutes until a knife inserted into the thickest one comes out clean. Keep an eye on them so they don't burn!
Cool slightly before serving. Garnish with minced parsley for color (optional).