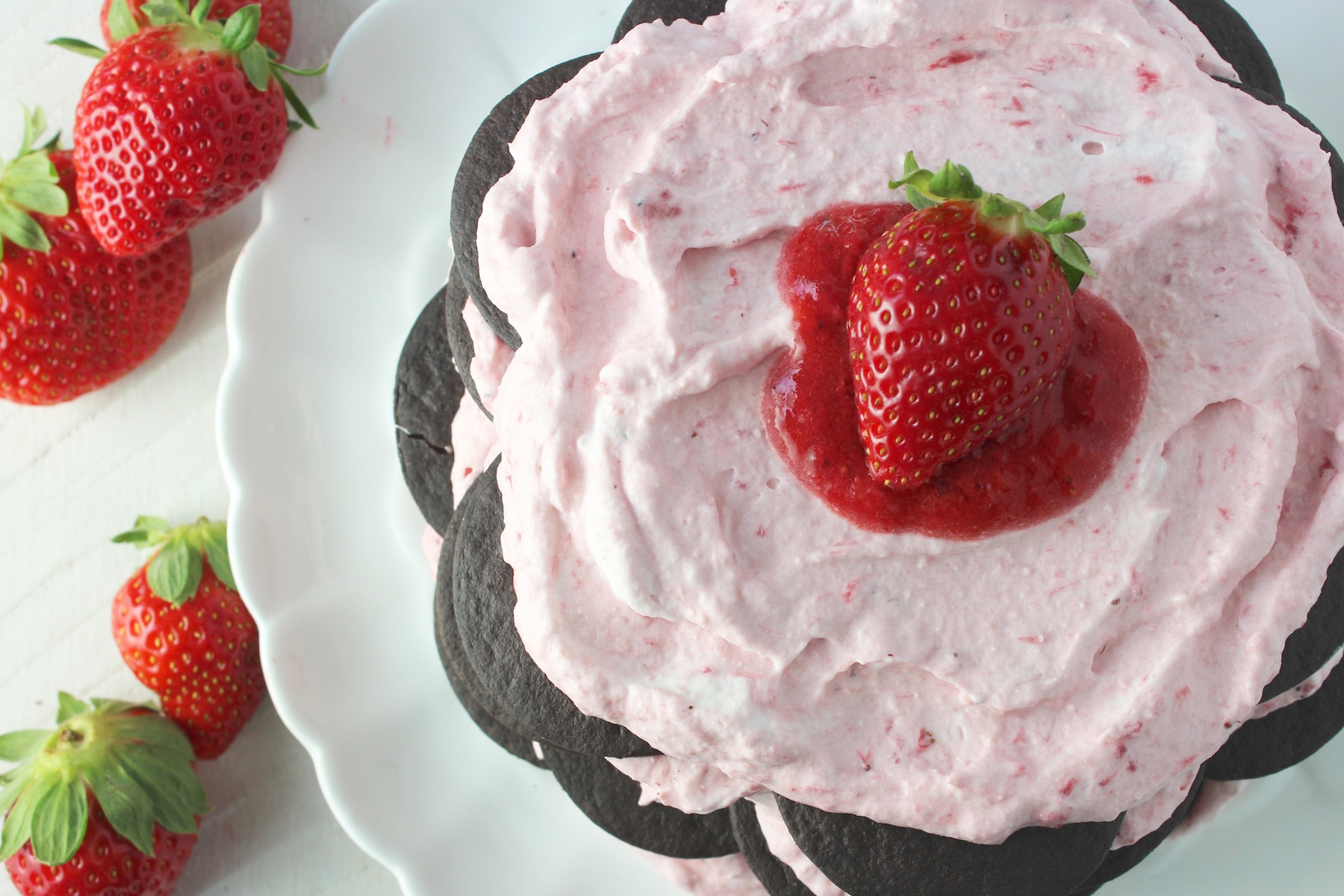 Florida strawberries are in season, so I'm getting my fill of them. I love these tasty, fragrant little berries in salads, smoothies, pie, muffins and, of course, classic shortcake. Somehow, though, "National Strawberry Day" on February 27 got away from me. Ironically, that was the day I picked up a bunch of berries at the farmer's market, but I had no idea it was a national 'holiday' 🙂 For a belated celebration, I decided to make a strawberry and chocolate icebox cake.  Chocolate and strawberries – always a good combo!  If you read my post about
ginger-lemon icebox cake
, you know that this cake is one of my favorite things AND it's really easy to make. The pillowy cream filling softens the cookies so they become 'cake like' and there's no baking required (usually).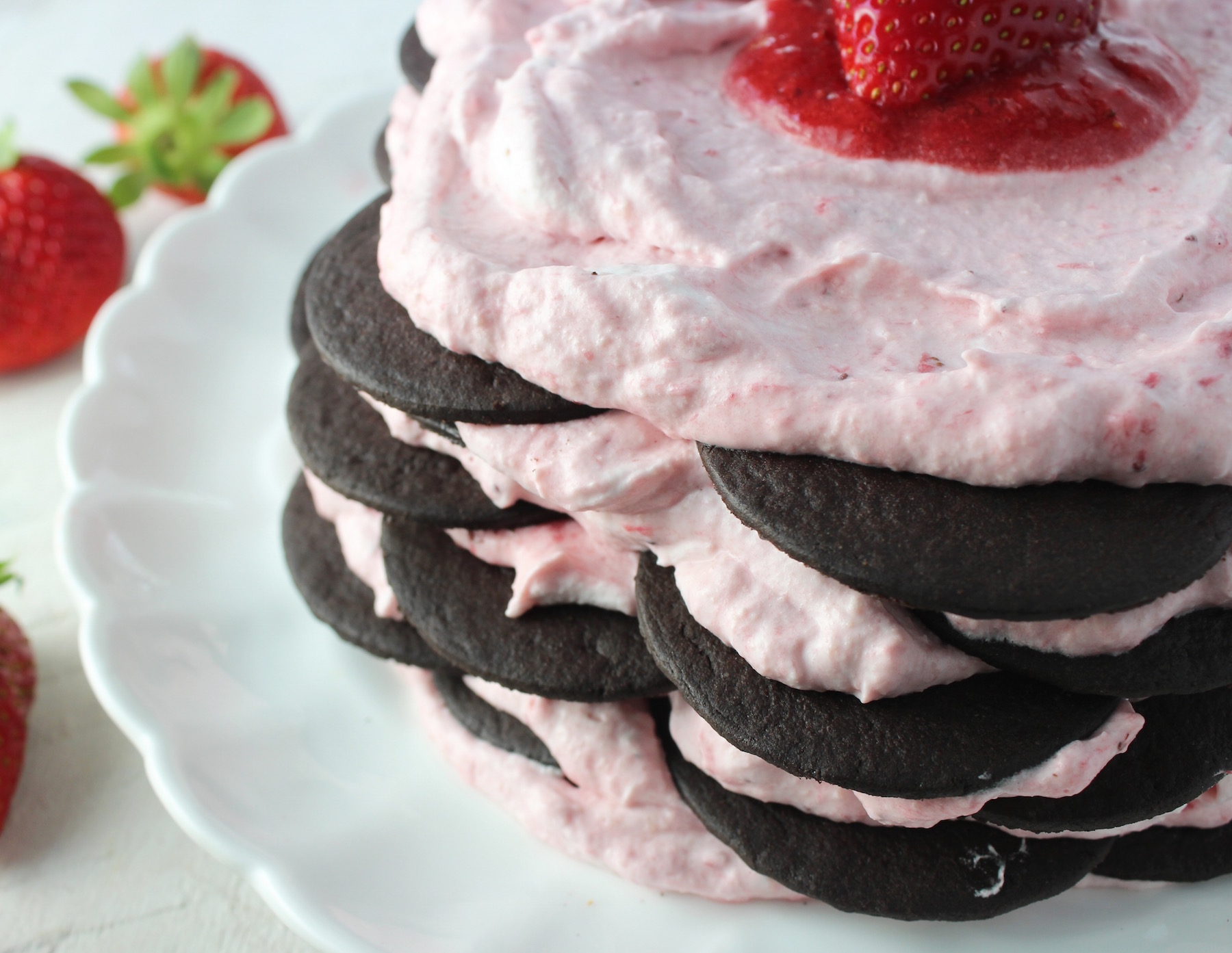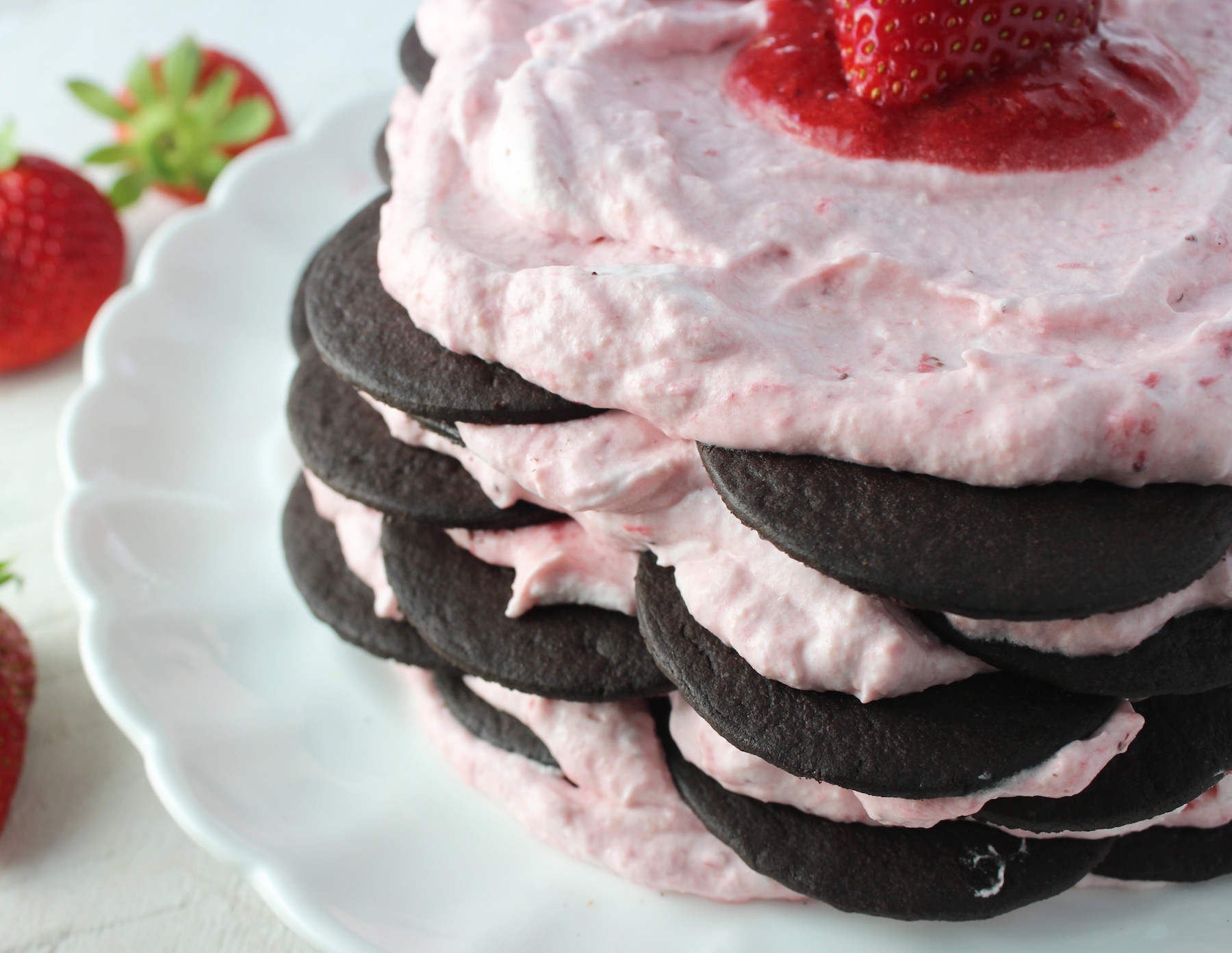 Ok. So I mentioned there's no baking with these icebox cakes — and usually there isn't. But my friend at
Suwanee Rose
made a lovely roasted strawberry salad recently and it inspired me to roast my berries for this dessert ('cause roasting brings out their natural sweetness and enhances their deliciousness).  Icebox cakes typically comprise only a few ingredients and, in this case, it's whipped cream, strawberries and chocolate cookies.  And when you only use a few ingredients, it's best to use really good ones and to maximize those flavors as much as possible. It's an extra step to roast the berries, but it's worth it (especially the aroma while they're in the oven – just heavenly). If you don't want to spend the time or heat up your oven, just thoroughly mash up the berries with a little sugar, allow their juices to release, then fold them gently into the cream — it will still be tasty.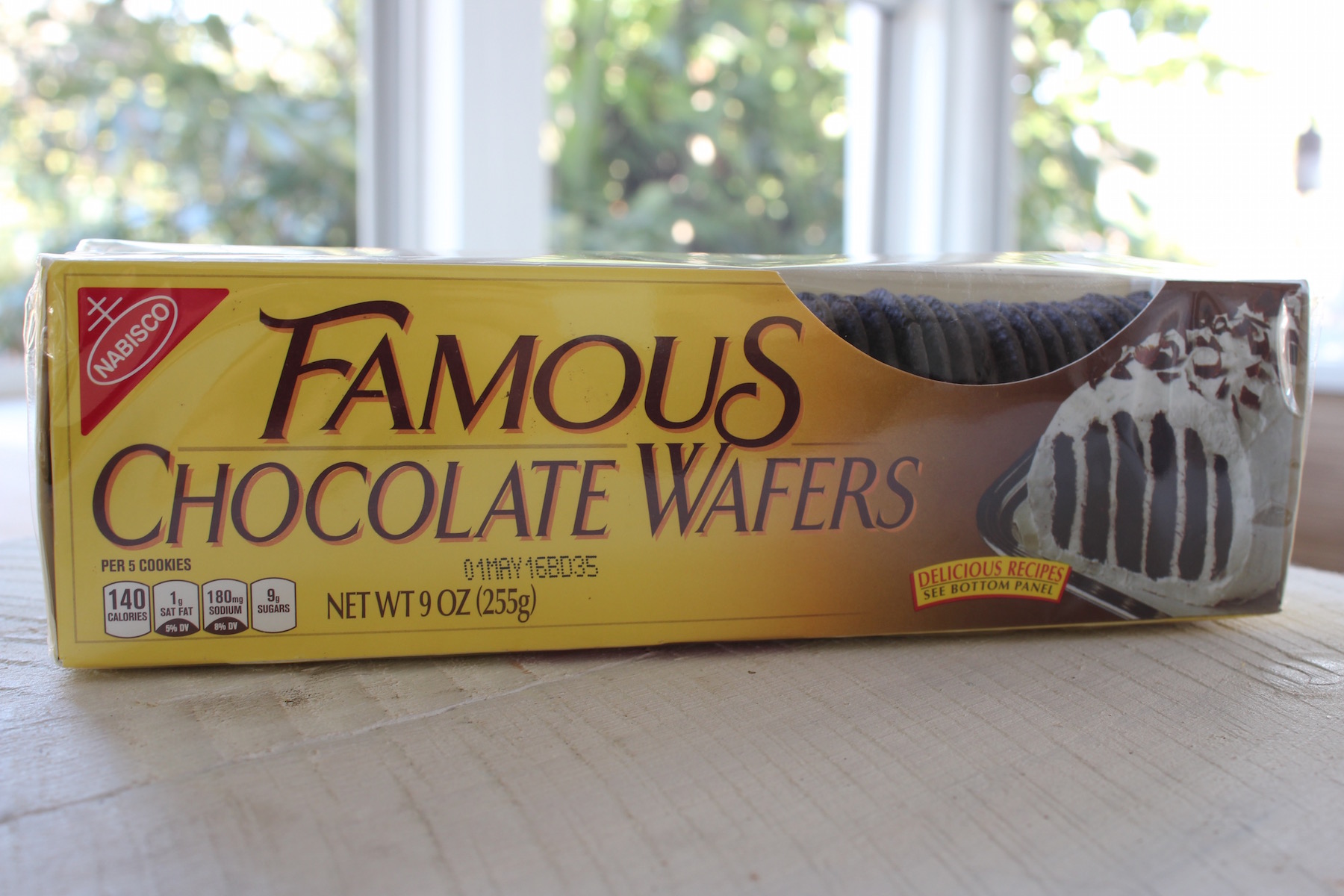 One of the best things about an icebox cake is that it's very forgiving. Even if it doesn't look the prettiest, it always tastes wonderful. I used a free-form, rustic style of assembly with mine (i.e., the cookie layers stick out), but you can also use a spring form pan if you want an even, perfectly edged cake. And if all fails and the thing wobbles or leans in one direction, just slap some extra whipped cream all around it and call it a day. No one will complain.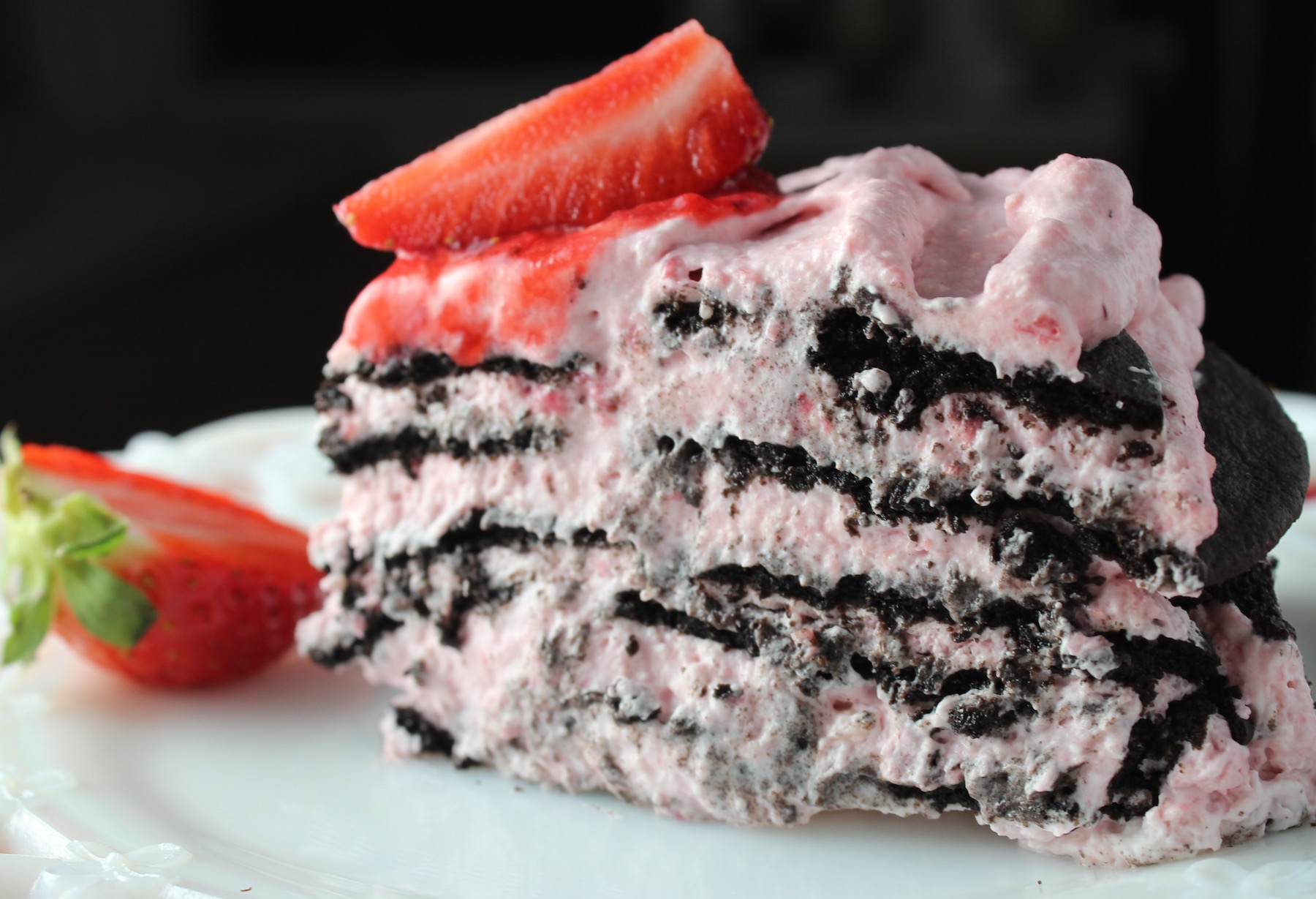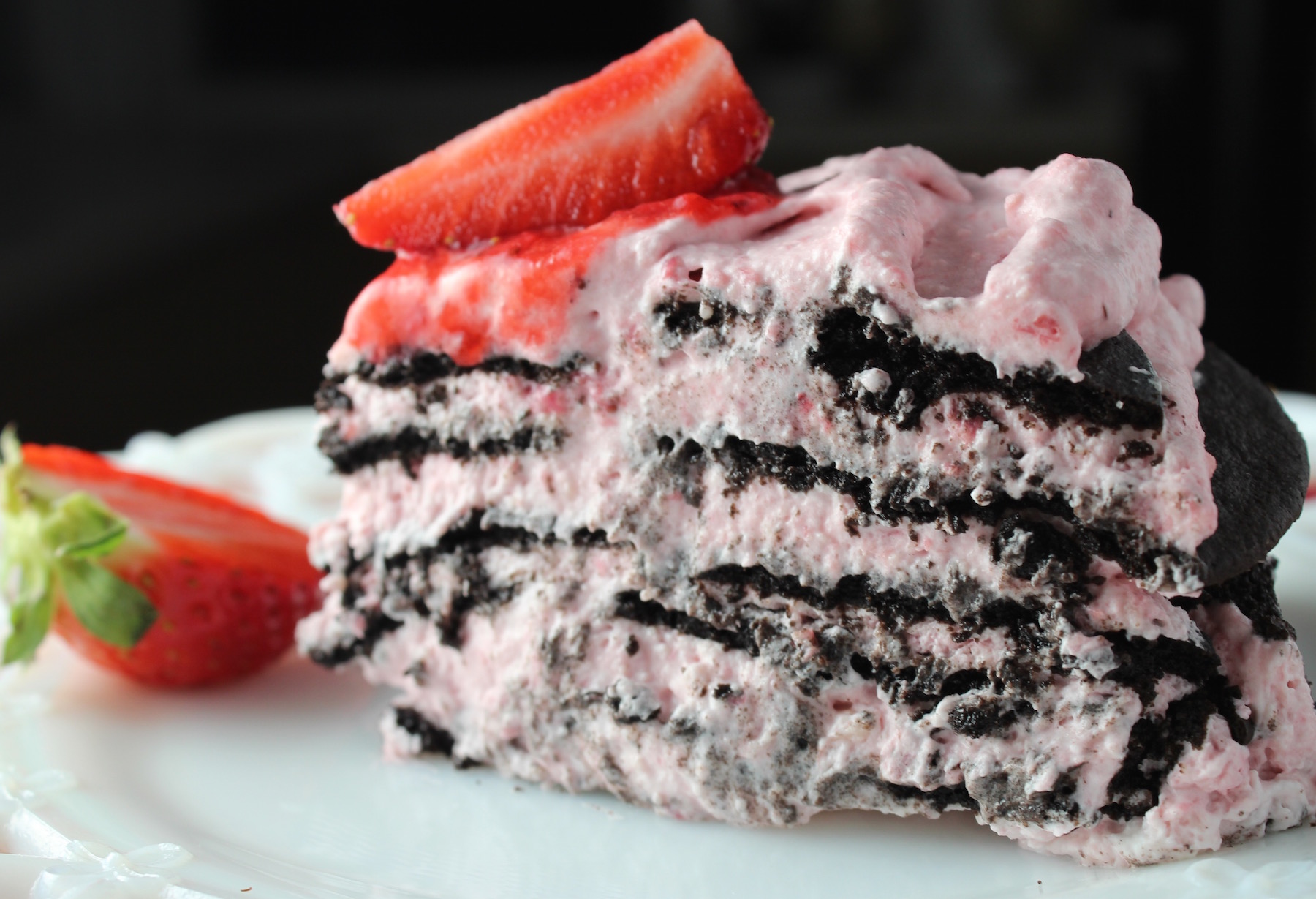 Strawberry & Chocolate Icebox Cake
Roasted strawberries, cream and chocolate wafers - pretty much all it takes to make one tasty dessert.
Author:
My Delicious Blog
Ingredients
2 pints strawberries, hulled & roughly chopped (after roasting/pureeing, you should have a little more than 1 cup)
2 Tb. granulated sugar
2 c. heavy whipping cream
2 packages thin chocolate cookies (you may not need them all, but this allows for breakage, and you may have some left over for snacking)
Instructions
Heat oven to 350 degrees.
Line a baking sheet with parchment paper or foil.
Place cut berries on baking sheet and sprinkle them with sugar.
Bake for 15-20 minutes then remove from oven and allow to cool thoroughly. When cool, pour into the bowl of a food processor and puree until smooth. Transfer to a large mixing bowl and set aside.
In the meantime, whip the cream to stiff peaks using the whisk attachment on a blender.
Scoop ⅓ of the whipped cream into the bowl of strawberry puree. Fold in gently with a rubber spatula to fully incorporate the two. When combined, add another ⅓ of the whipped cream and repeat until well combined. Add final ⅓ of the whipped cream and fold until the color is soft pink and it's very fluffy.
Spread a very thin layer of the cream mixture on your pretty dish, cake stand or spring form pan, so the first layer of cookies sticks.
Form a circle with the cookies, based on however big you want it to be (be sure to include a cookie or two in the middle - whatever fits). I used 7 cookies including the center. Larger plates will require 8+ cookies.
Spread a dollop of cream on the first layer of cookies. If you're going with a 'free form' style of cake, where the cookies show at each layer (like mine), simply add another layer of cookies on top, alternating the prior layer. Keep layering until you run out of cream filling, but end with filling on the top.
Optional - layer any remaining strawberry puree on top of the cake, or serve on the side with a slice of the cake.
Refrigerate at least 3 hours, then serve.
Notes
I used the "Famous" Chocolate Wafers by Nabisco