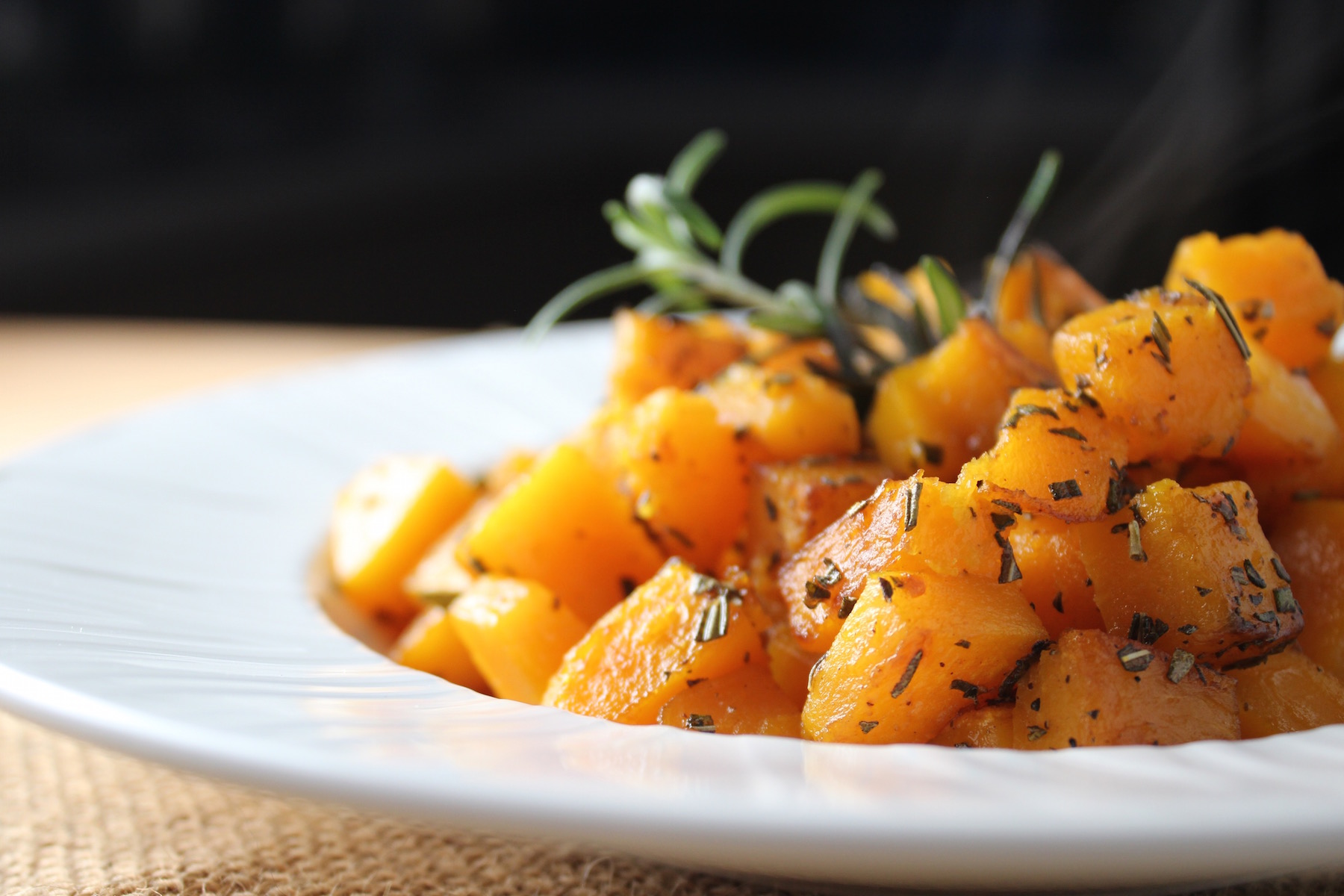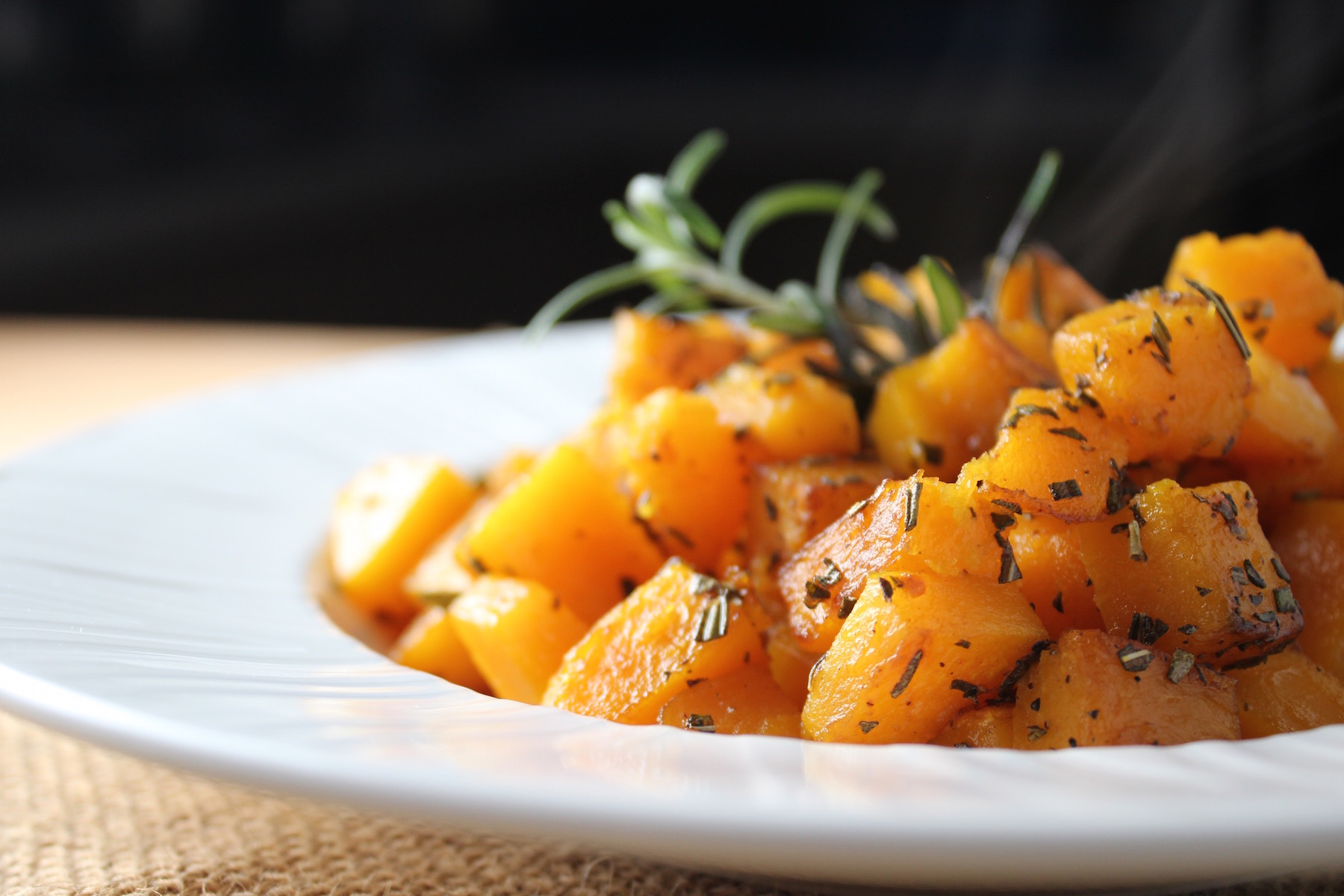 I love Fall for many reasons, not the least of which is having easy access to Butternut squash — a wonderfully delicious, sweet and nutty winter squash. I especially love it roasted or pureed, but I also enjoy it in cakes, pies and salads (all equally delicious). Some of my favorite flavor pairings with Butternut include fresh rosemary, sage or ginger, which all jazz up the squash's natural sweetness. Butternut is pretty versatile in that you can keep it sweet or make it savory. For a sweet profile, pair it with cranberries, apples, pears or oranges. For savory, try cumin or chilies. So many ideas! Have I gotten you thinking about that Butternut in your refrigerator?!?
I did some research and found out we can thank reluctant farmer Charles Leggett from Massachusetts for creating this particular strain of squash in the 1940s. He wanted something smaller than a Hubbard and less gangly than other varieties, so he experimented and ultimately created this orange gem. He described it as "smooth as butter and sweet as a nut" — perfect! (*)
For this recipe, I decided to cook the squash on the stovetop to eliminate using the oven and warming up the whole house. . .for Heaven's sake, it's still pretty warm in Florida and we have the air conditioning on! This is a very easy recipe — just peel, de-seed and cube the squash, toss in a saute pan with butter, rosemary, salt and pepper and, after about 10 minutes, it's ready. So, if you're in a hurry or don't want to heat up your oven for one squash, this stove-top method might be just the thing for you.
Here's how it looked in the skillet (and it smelled SO good):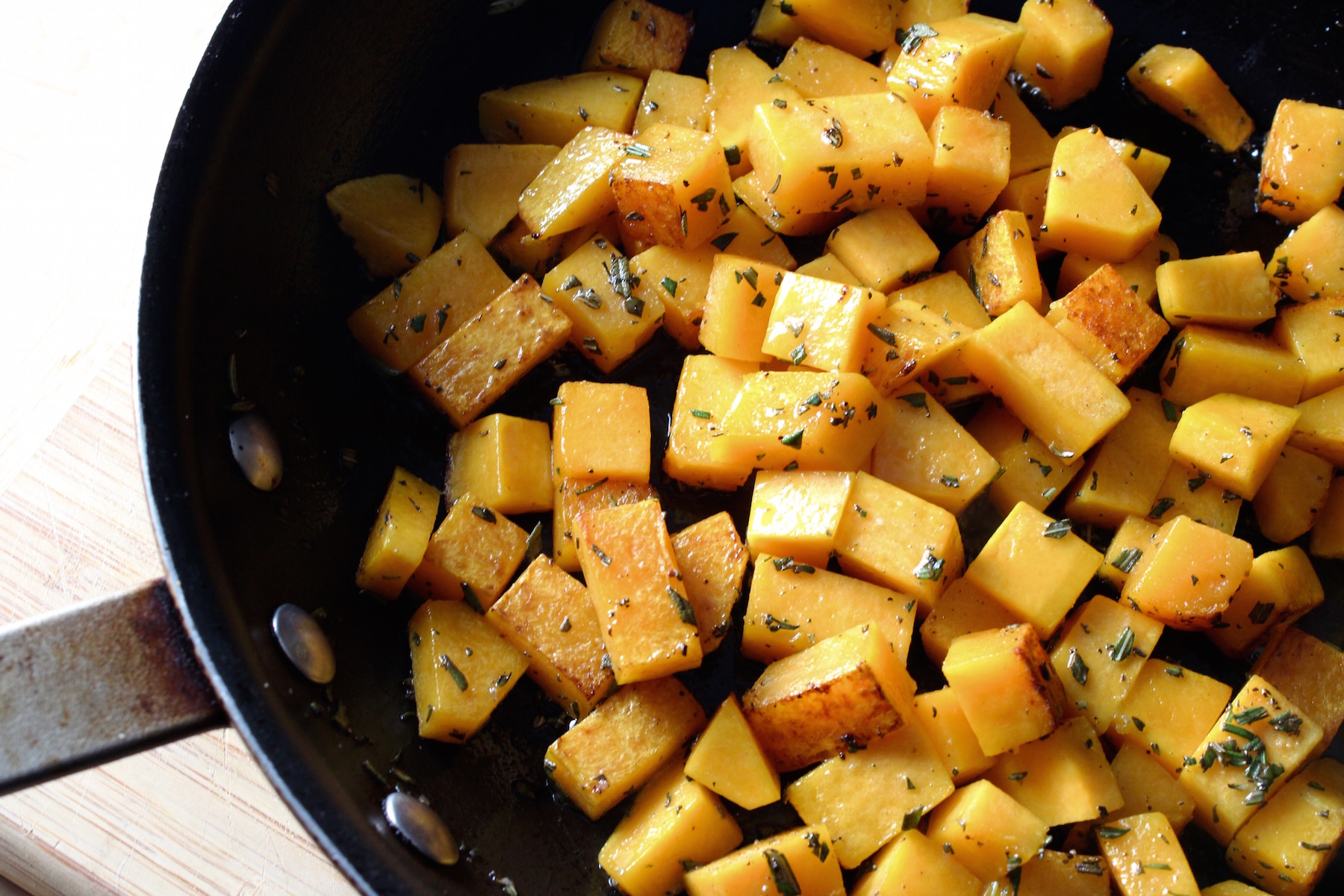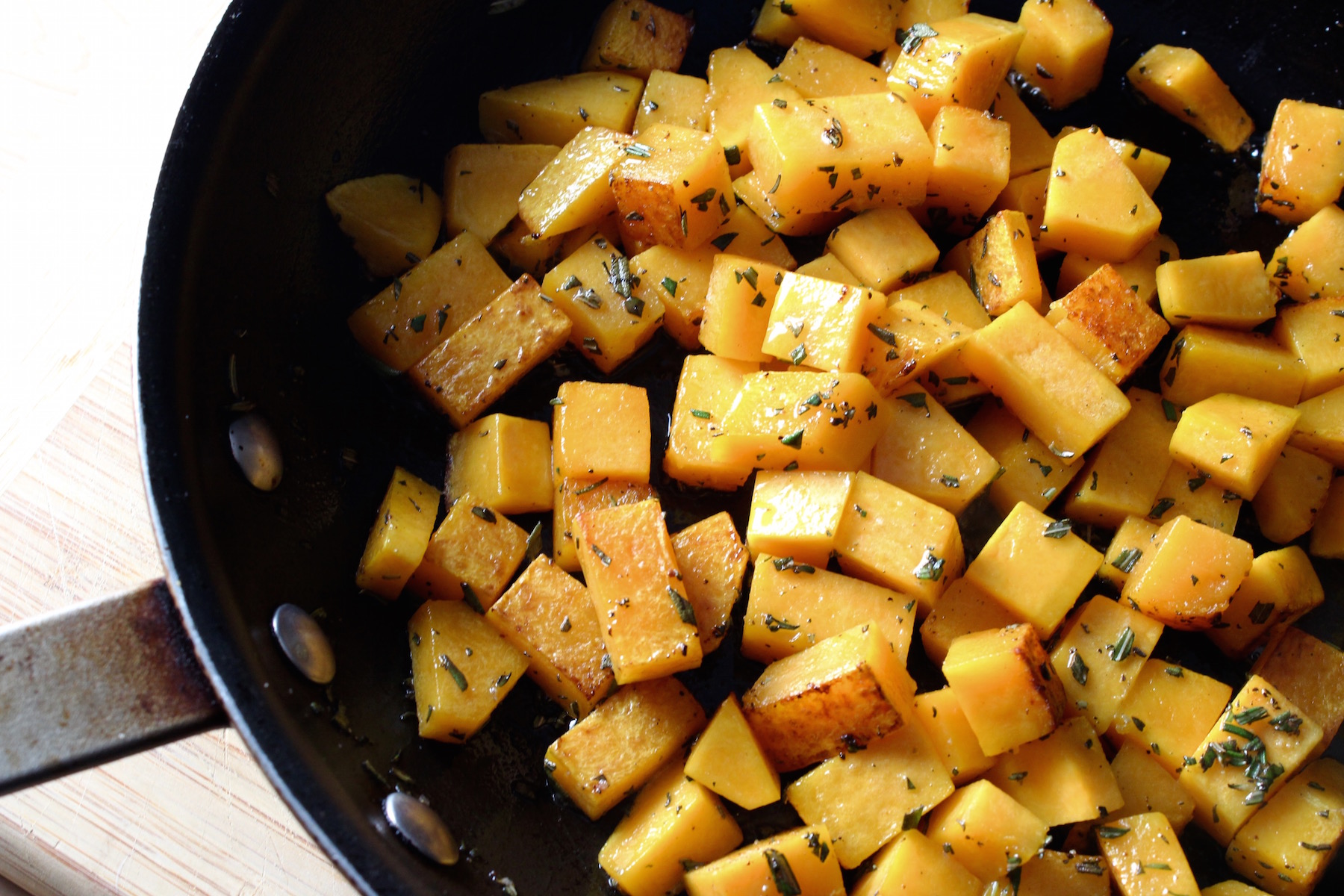 *Source: Apple Country Living January, 2009

Butternut Squash with Rosemary
Butternut squash pairs wonderfully with fresh rosemary and butter to make this great side dish.
Author:
My Delicious Blog
Ingredients
1 large Butternut squash (about 5-6 c.)
2-3 Tb. fresh rosemary, minced
4 Tb. unsalted butter
½ tsp. kosher salt
¼ tsp. freshly ground black pepper
Instructions
Slice both ends off the squash.
Cut the squash just below the base of the top 'neck' (i.e., separating the rounded bottom part from the neck).
Cut the bottom (round part) piece in half lengthwise and remove seeds.
Use a vegetable peeler (or paring knife) to remove the hard skin from the top and bottom pieces.
Cut each piece into small cubes.
In a large skillet over medium heat, add butter then toss in the squash.
Sprinkle the rosemary, salt & pepper over the squash and stir to combine.
Cook on medium/low heat until squash softens, turning frequently. If it gets too 'dry' and the squash begins to stick, simply add a little water (a few tablespoons) to create some steam, which will quicken the cooking process.
Cook until the squash is fork-tender.