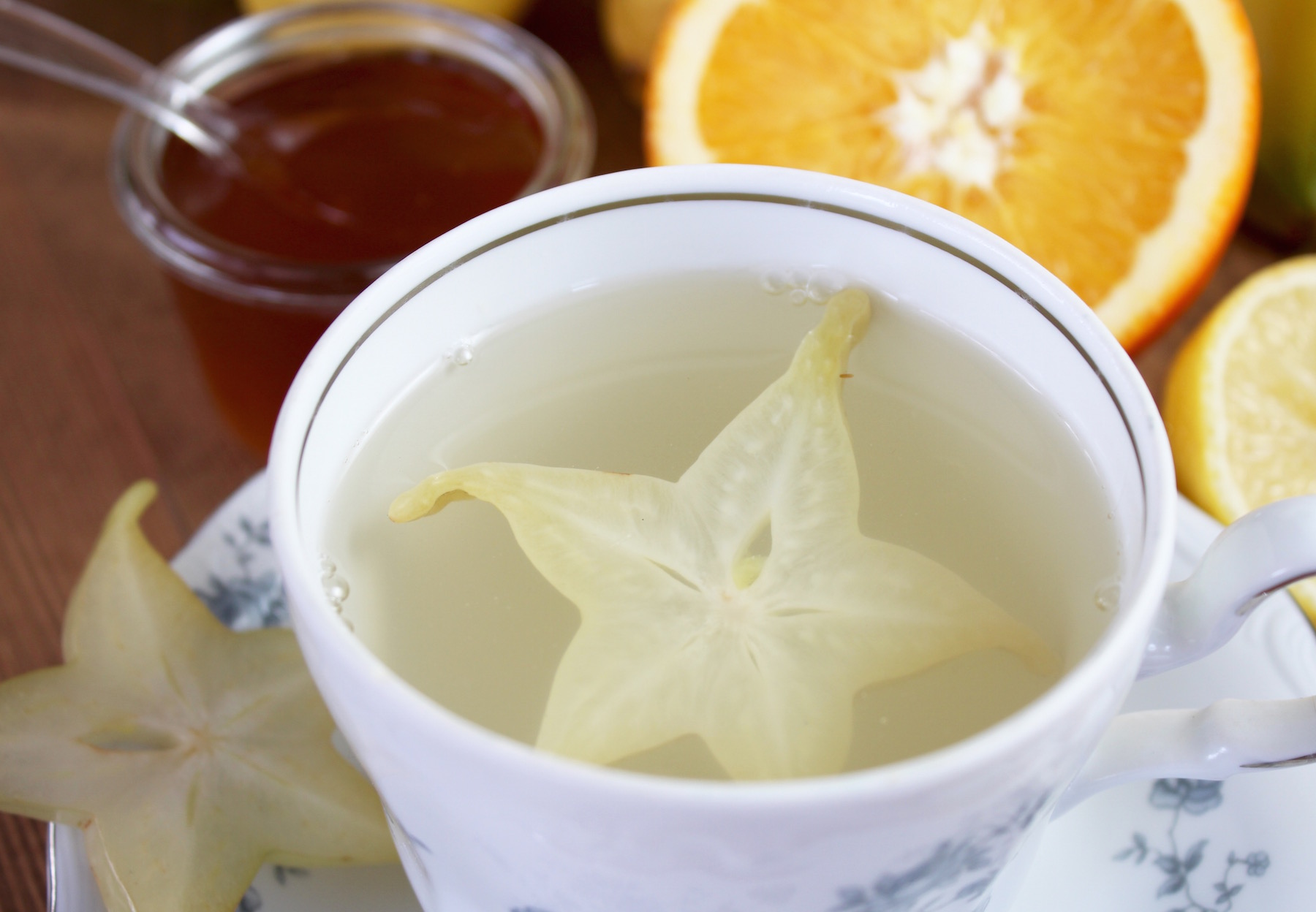 I was planning to post something this week using more of those in-season strawberries, maybe something a little different, like
strawberry gazpacho.
Sounds good, right? Well, I tossed that aside as chilly temps enveloped Florida and I found myself not only digging through storage boxes for my warm clothes, but also, turning the thermostat to "Heat."  Holy smokes! Twenty-seven degrees may seem balmy to those battling below zero temps and shoveling eight feet of snow, but here in Florida, it's downright frigid! My poor garden is even suffering, as tender greens keep getting blasted by cold winds and threats of frost. My dog Libby won't step outside unless she's wearing her fur coat. My husband wears every piece of warm clothing he owns, and kind of looks like a vagrant walking the dog.  As for me, I've been donning my wool hat and scarf
inside
the house. . .so let's just say we're not trying to win any fashion contests. Instead of creating a fresh dish that's perfect for warmer temps, I decided to make a flavorful hot tea using Star Fruit (a.k.a. Carambola) which is also in season, like strawberries. My neighbor has a tree in her yard, and she shared a bunch with me so I decided to put them to good use (but you can find them at farmers markets or supermarkets).  I think they taste like a mix of grape and apple, maybe a little pear – very delicate and delicious. I paired the Star Fruit with fresh ginger, lemon, orange and honey — a great combo for fighting off flu and cold symptoms. Star Fruit is full of Vitamin C, B Vitamins, potassium and other nutrients; ginger is packed with anti-inflammatory properties and acts as a great soother of sore throats coughs; lemon is high in Vitamin C, acts as a re-hydrator, and helps with inflammation due to congestion; raw honey offers antibacterial and anti-inflammatory benefits and it's also a great soother for sore throats. The orange peel, well, it adds an extra hint of sweetness and citrus flavor.  At a minimum, this tea will warm you from the inside out.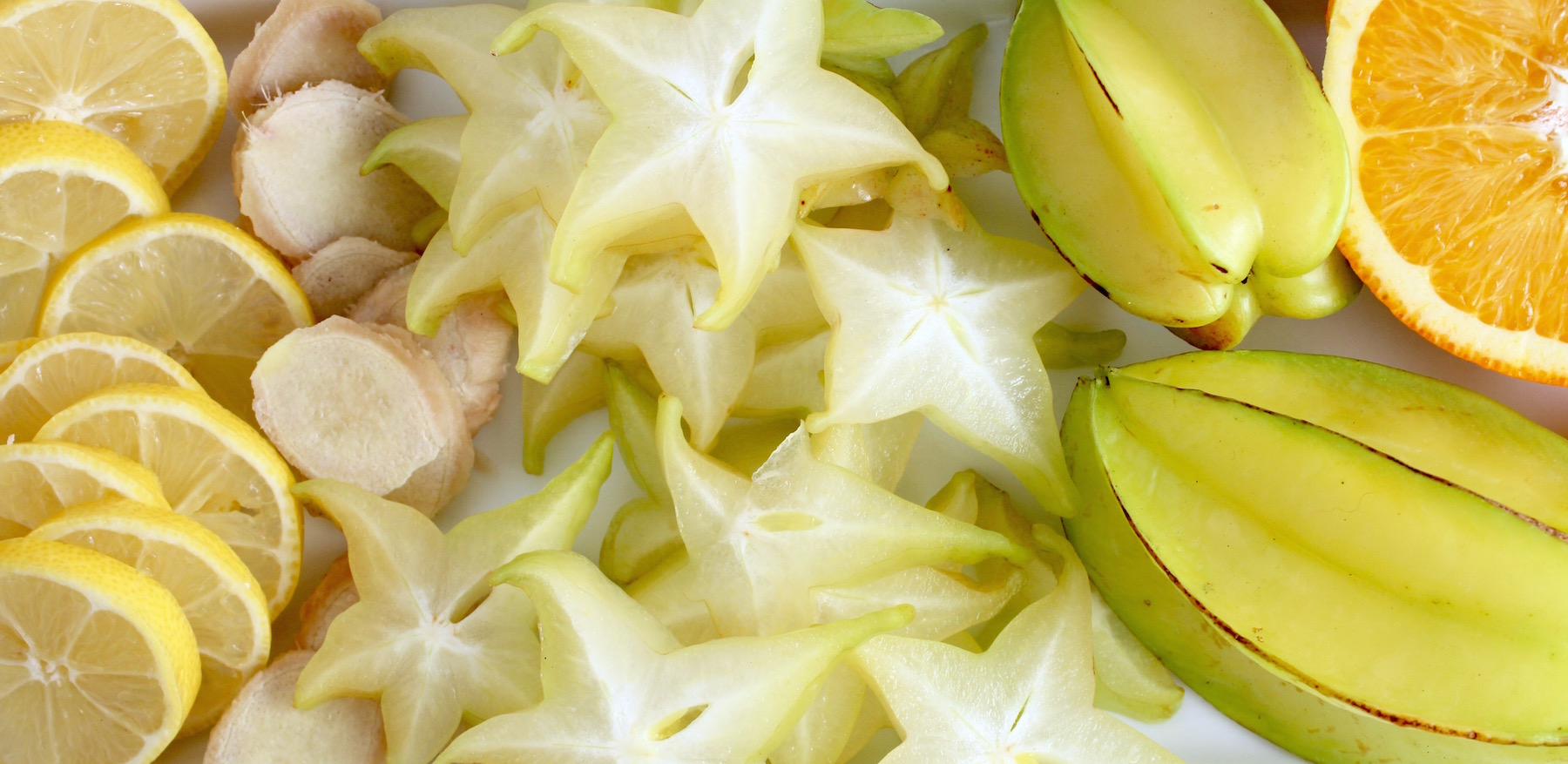 It's simple, too.  Just boil water then add the ingredients, let it steep for 20 minutes, and serve.
And if you want, you can garnish your cup with a strawberry.  See, I still got that in there 🙂 P.S. if you'd like to try another Star Fruit recipe, try this 
juice
 – it's great if you want something cold and refreshing.
(Note: Starfruit contains substances that may be harmful to folks who have kidney ailments, so if you have any issues, you might want to avoid this fruit.)
Star Fruit, Ginger and Lemon Tea
Starfruit makes an elegant tea when steeped with fresh ginger, orange, lemon and honey.
Author:
My Delicious Blog
Ingredients
4 c. water
1 large Star Fruit
2" piece fresh ginger, peeled
1 3-4" piece orange peel
1 lemon
2-3 Tb. raw honey
Fresh mint (optional)
Instructions
Pour water into a pot and bring to a boil.
Thinly slice the Star Fruit, ginger and lemon; use a vegetable peeler to get a peel from the orange.
Once water boils, remove from heat and add the Star Fruit, ginger, lemon slices and orange peel. Allow to steep, uncovered, about 20 minutes, then stir in the honey, to taste.
Strain into a cozy mug, wrap your hands around it, inhale the wonderful aroma, sip it slowly, and enjoy 🙂
Notes
1) Tip: to easily peel the ginger root, use the edge of a spoon to scrape the delicate skin away.

2) The tea cools quite a bit during the steeping process, so if it's not hot enough to your liking, simply warm on the stove or microwave.