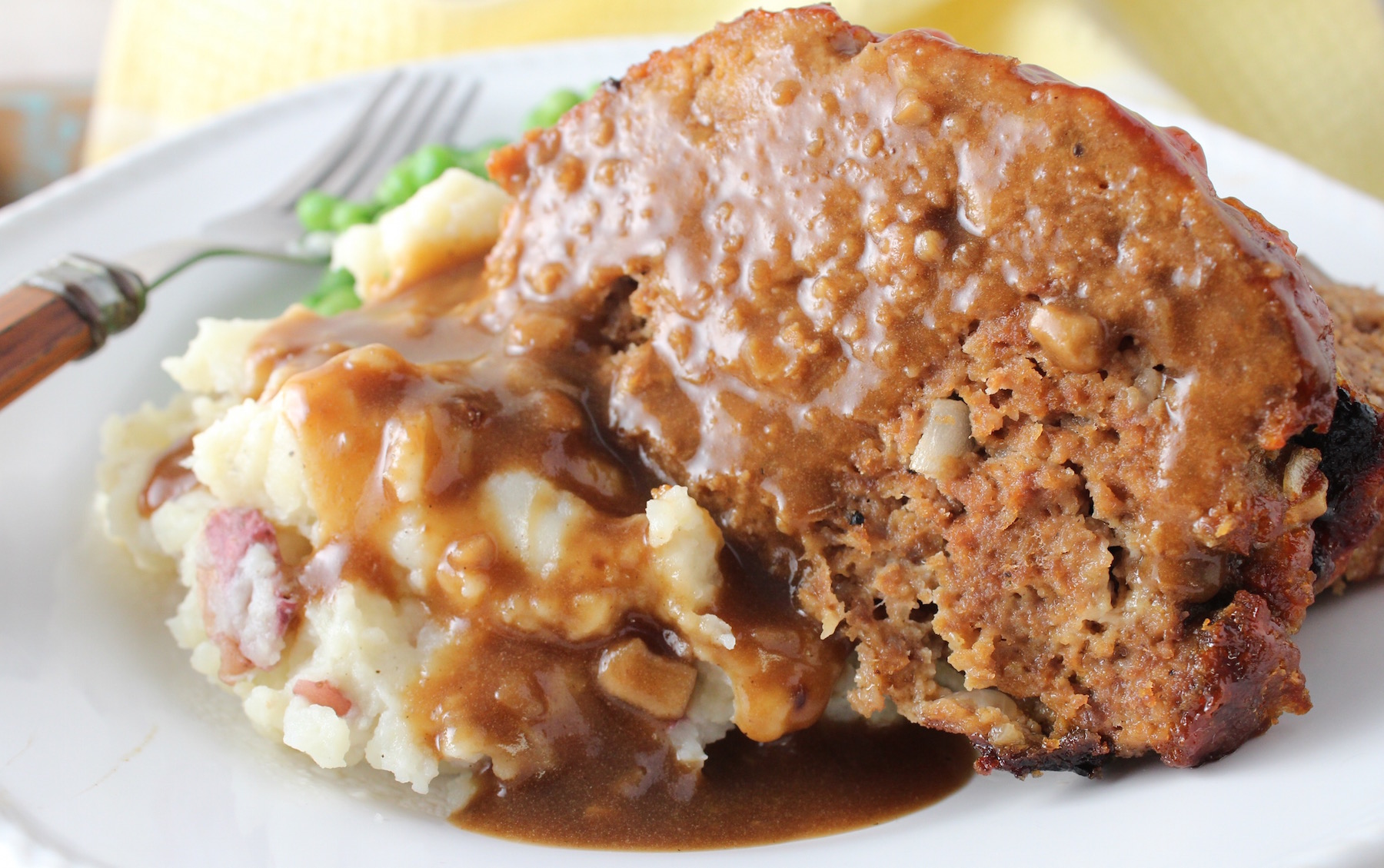 Today's post is about one of my all-time favorite comfort foods — meatloaf.   I've been down with a nasty head cold, so this loaf of meat provided much-needed comfort in my dark hours, and it always reminds me of a warm hug from mom.
I've made many different versions of meatloaf, but I always go back to one recipe. . .
When I was a kid, my mom was an avid "Dear Abby" follower in our Boston newspaper, and I remember countless times when she read aloud Abby's weekly advice to the scores of forlorn, curious or worried individuals who sought her wisdom.  Abby was known for doling out sage advice about things like dealing with a cheating spouse, appropriate etiquette when turning down a marriage proposal, and how to avoid fights at holiday dinners (all helpful information for a young child).
But Abby was also known for delicious, tried-and-true recipes that wowed her readers — some were hers, others were submitted by readers (which she tested), and if they rated highly enough she shared them with her followers.  My mom definitely had high trust level for Abby's recipe recommendations — I guess she believed that if she gave such good relationship advice, she must have a pretty good palate!  Needless to say, we enjoyed many of her recipes at our dinner table, including her "famous" pecan pie and something called "Everybody's Favorite Meatloaf."  She finally memorialized those recipes in a booklet published in 1987 (which my family still has), but I'm sure there are still many newspaper clippings that fill recipe boxes across the U.S.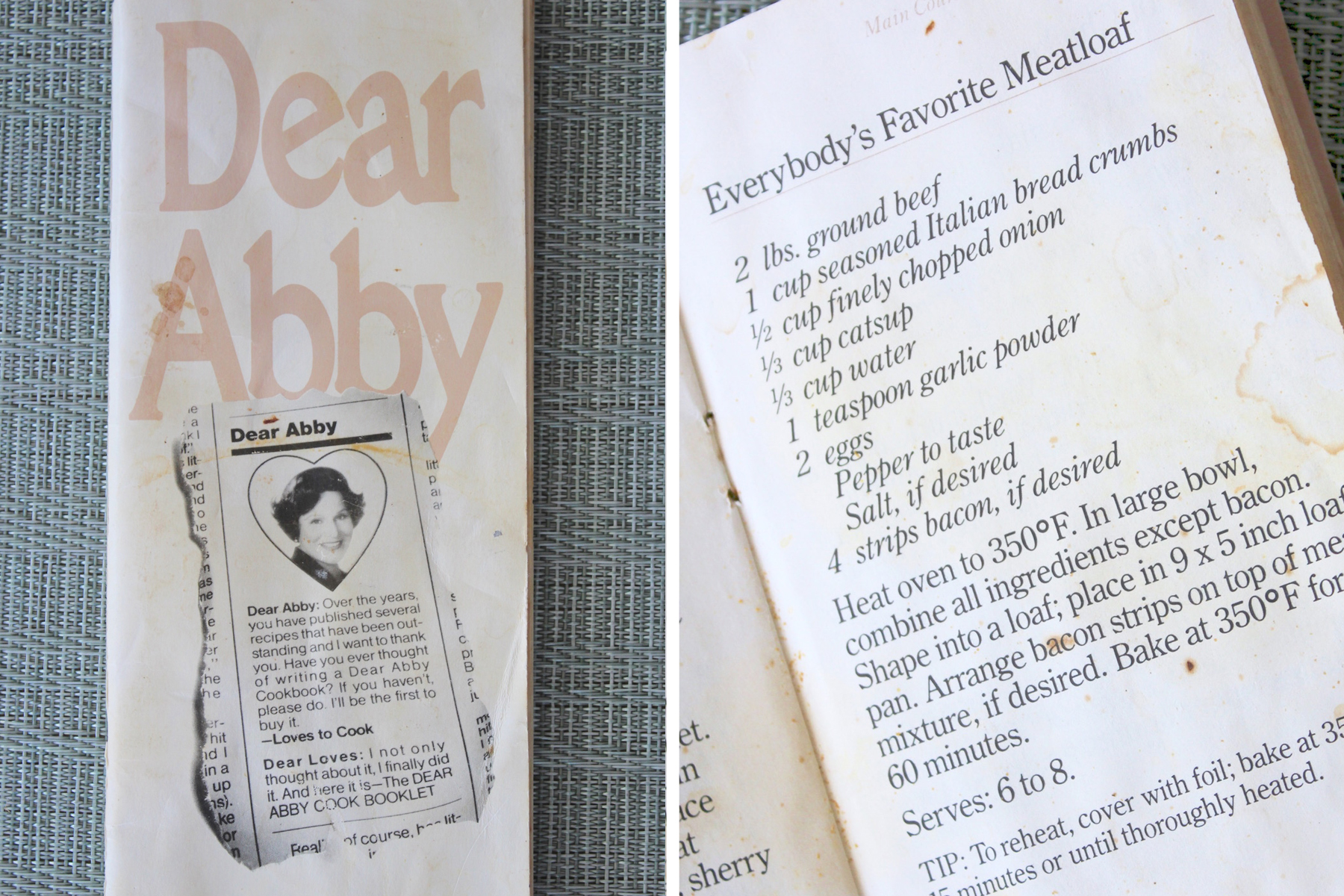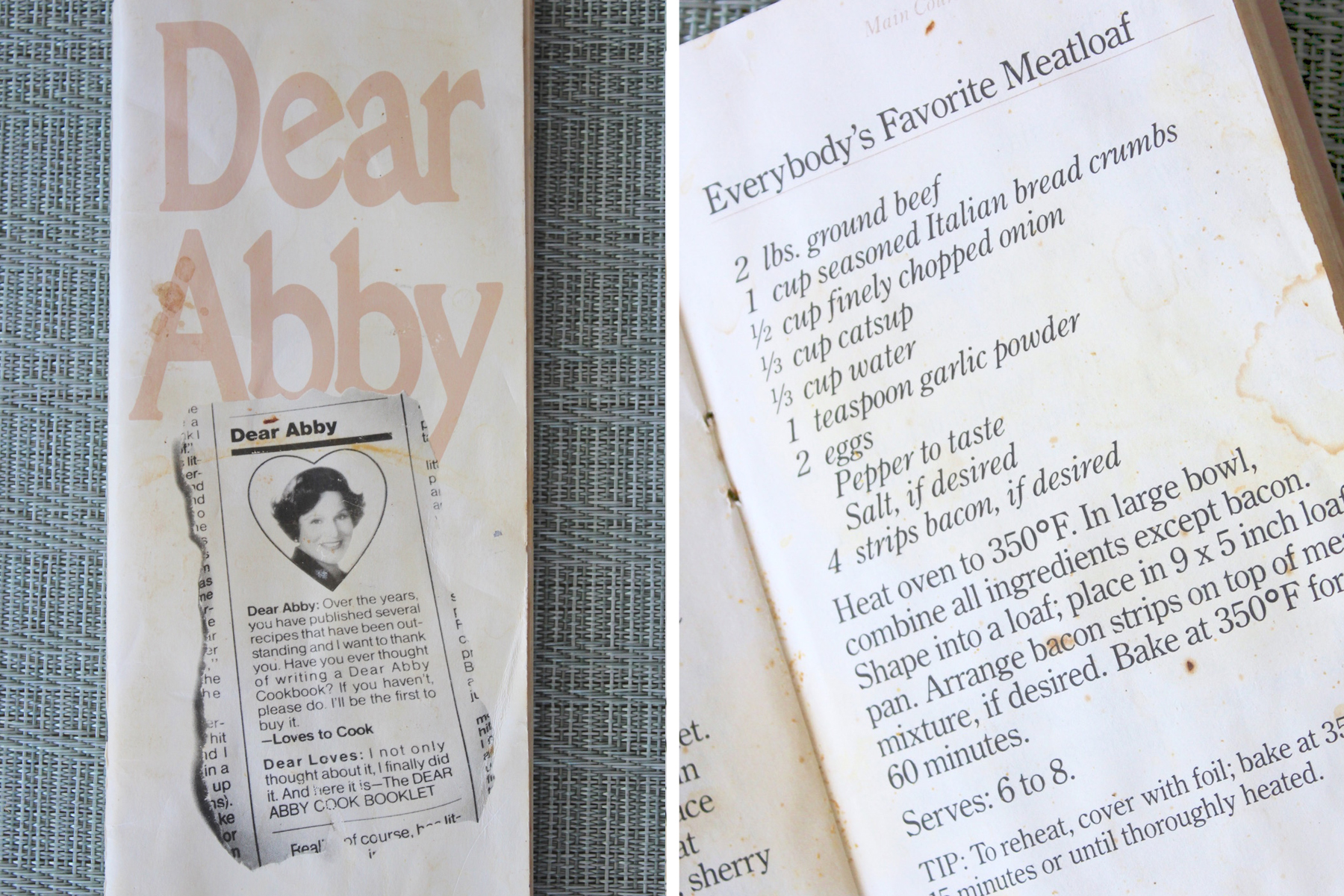 I follow the recipe as written, but sometimes top it with a tangy tomato sauce before baking it – it's a special treat when it falls over on the sides and caramelizes while baking.
So if you're dealing with a head cold, or stress on the job, or maybe you're just tired of winter, give meatloaf a try — I'm sure Abby would have prescribed it.

Dear Abby Meatloaf
This meatloaf recipe was published in "Dear Abby's Favorite Recipes" copyright 1987, by Abigail Van Buren.
Author:
Abigail Van Buren
Ingredients
2 lbs. ground beef (I usually use a 50/50 mix of ground round and chuck)
1 c. seasoned Italian bread crumbs
½ c. onion, finely chopped
⅓ c. ketchup
⅓ c. water
1 tsp. garlic powder
2 eggs, slightly beaten
Salt & pepper to taste (I use 1 tsp. kosher salt and ½ tsp. ground pepper)
4 strips bacon (optional)
Instructions
Heat oven to 350 degrees.
In large bowl, combine all ingredients and mix (with your hands, ideally) until combined.
Shape into 2 loaves and place next to each other on a large, rimmed baking sheet. If using, arrange bacon strips across the top.
Slather each loaf with "Meatloaf Sauce" (see Notes).
Bake for about 1 hour.
Notes
Meatloaf Sauce:

1/2 c. ketchup
3 Tb. brown sugar
1 Tb. prepared mustard
1/4 c. water
Dash of salt
Mix together and slather all over meatloaf before putting into oven.