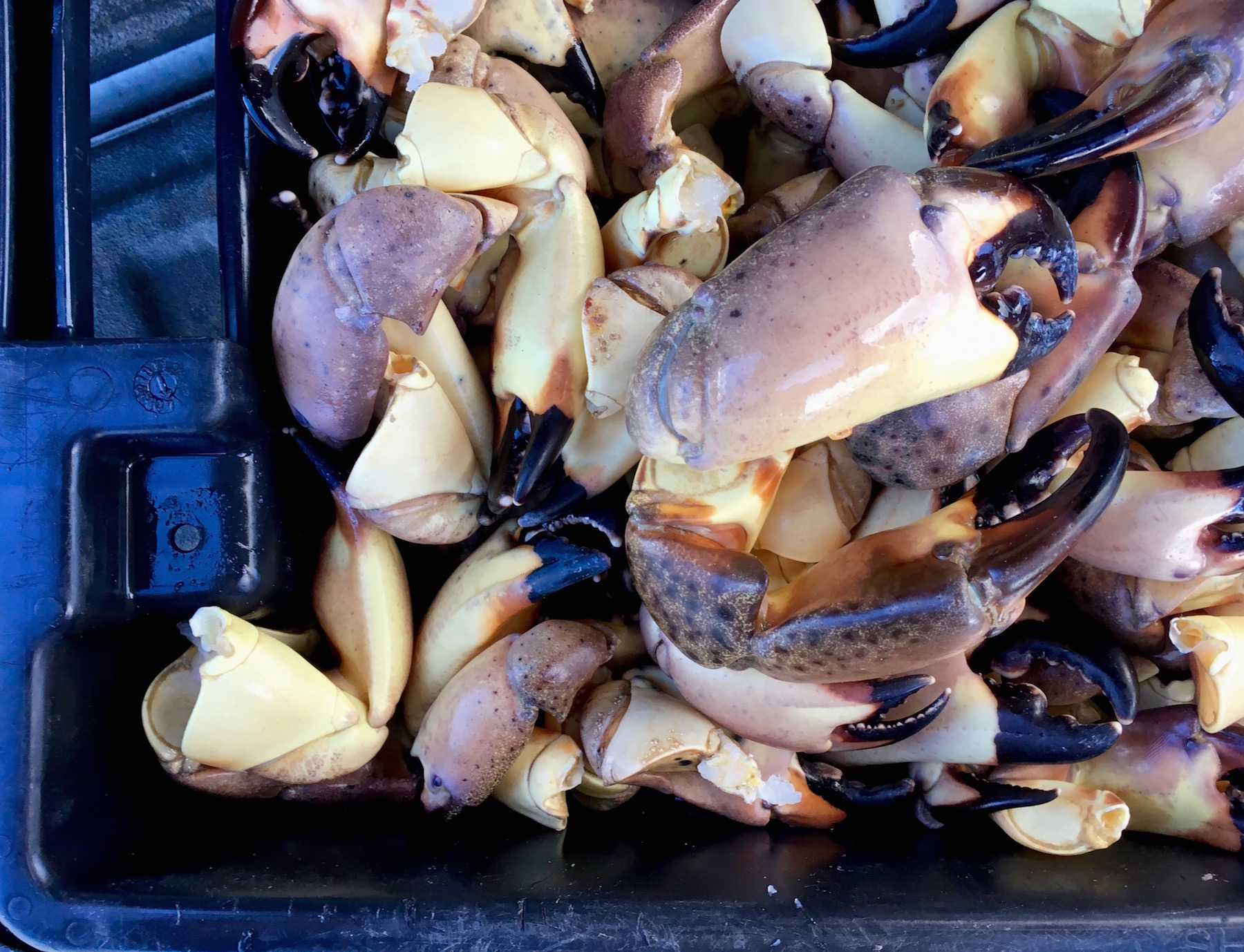 Since October 15 marked the start of Florida's Stone crab season, I thought it might be fun to give this 2016 post a little extra love.  It was content I originally published on Visit Sarasota, offering a behind-the-scenes look at crabbing in southwest Florida.  Give it a read to learn a little more about the folks who harvest these delectable claws every season, and at the end of the post you'll even find a link to my recipe for mustard sauce — a classic, by Florida standards 🙂
__________
In what seems a lifetime ago, my husband and I owned a marina shipstore in Nokomis, Florida — a busy dock on the Intracoastal Waterway with a long history of serving local fishing legends.  We sold fuel, bait, snacks, beer and ice to commercial fishermen, recreational anglers, rental boaters, and families.  It was a great experience.
Each October I looked forward to the stone crabbers — a larger-than-life, hard-working, salty bunch who told colorful tales.  As season got into full swing, our early morning dock was packed with diesel-smelling boats and guys in overalls and white boots, all full of hope for a big haul of claws.  My job was to get them out on the water quickly, stocked with fuel, hot coffee, cheese danish and sandwiches.
When they returned, I got to hear their stories, which is when I learned the age-old truth that crabbing is a tough business, filled with a number of reasons why a haul may not be what they expected: a starfish/octopus got into the traps, a full moon (or a half moon, a new moon, or no moon at all), the water was too clear (or stirred up), crabs weren't eating the bait, there was a hint of red tide, traps were lost in a storm (or stolen), floats got caught in boat propellers, the water was too warm (or too cool), just to name a few.  Overall, it seemed like when conditions were good, the crab gods were shining on them; when conditions weren't good, those same gods were conspiring against them. . .Through it all, I figured out that crabbing is in their blood, which is why they come back, season after season, knowing it will be tough, but rewarding.
Stone crab is harvested October 15 through May 15.  Depending on how prolific the season is, price per pound may cause you to have heart palpitations at the market, but it's worth it to enjoy a Florida delicacy.   They're typically served cold with mustard sauce, which nicely complements the rich, sweet crab, but they can also be served warm, plunged into drawn butter.  If you pick some up, here's my tasty Mustard Sauce recipe.  Enjoy!
Note: in the top photo, claws are fresh and uncooked; below, they're cooked, turning that beautiful red color: