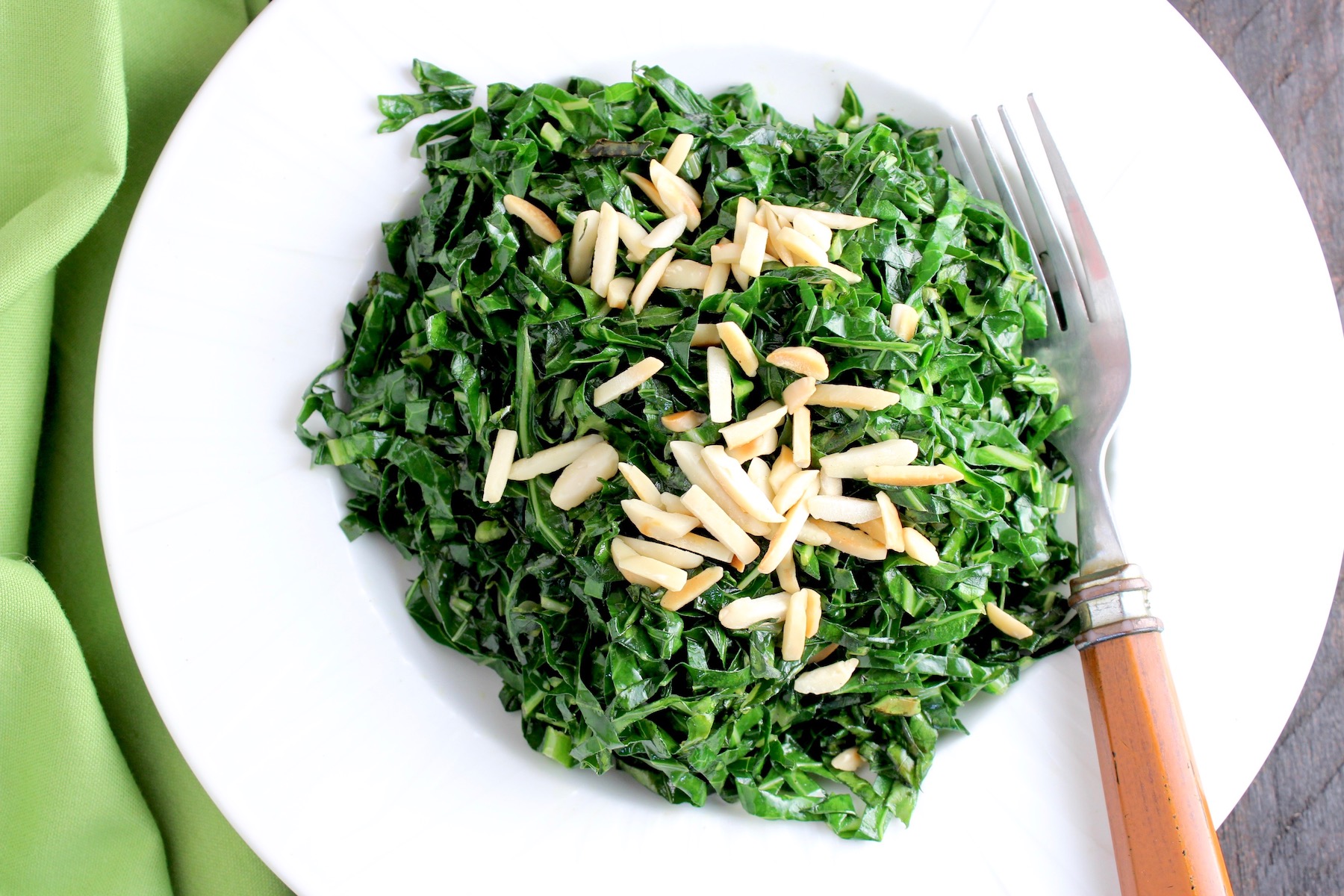 We're officially back to healthy eating at my house, so you can expect to see posts over the upcoming months highlighting fresh veggies, warm/cozy soups, and tasty snacks!  I think it's safe to say that most of us are relieved the holiday hoopla is behind us, so I hope you'll find something interesting here to inspire new dishes in your own kitchens 🙂
The family of
greens
is broad, including lettuce, asparagus, green beans, mustard greens, spinach, kale, collards, chard and arugula.  Some are sweet and tender, others lean toward 'hearty' or slightly bitter, but all are packed with nutrients.  You can find many of them throughout the year, but right now at farmers markets (especially in southwest Florida), you'll see heartier varieties like kale and collards because they thrive in cooler temps.  And today I'm highlighting 
collard greens
!   Here are some beauties from a local
community garden
near my house: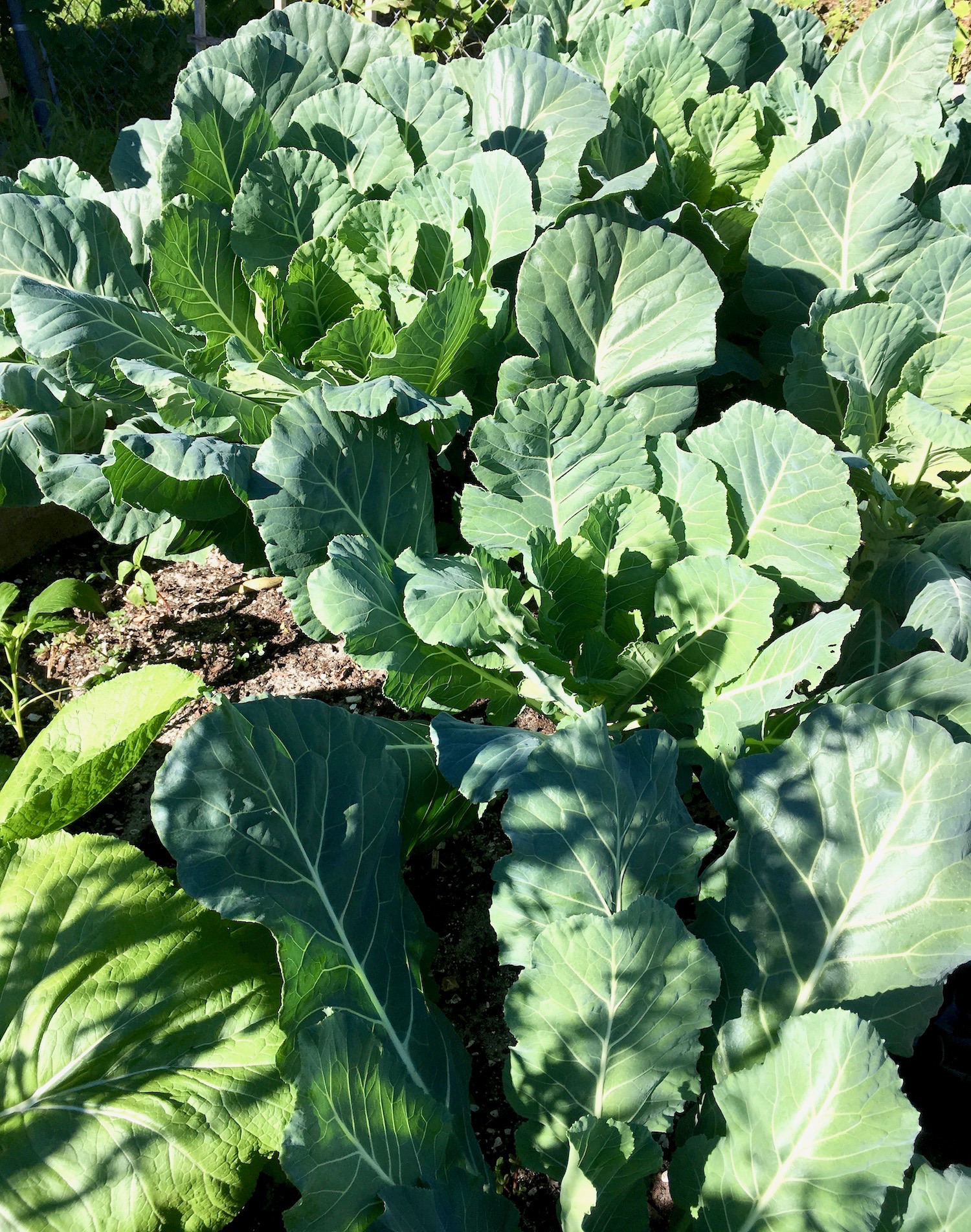 This Southern staple is typically chopped and slow-cooked with a fatty pork product, along with onions, broth and seasonings 'til nice and tender, packed with amazing flavor and soul-warming history.  But since I'm: 1) not Southern, 2) wanting to reduce fat and meat consumption, and 3) not keen on cooking them for 2-3 hours, I prefer to cook my collards a bit differently.   This is a recipe I shared with Edible Sarasota a while back, part of an "
Eat Your Greens
" article, and it's really yummy.
Collard greens, when fresh and on the small-medium size (not overly big, which can make them slightly tough), are actually very tender, and don't really require a lot of cook time in order to honor their naturally mild and slightly smoky flavor.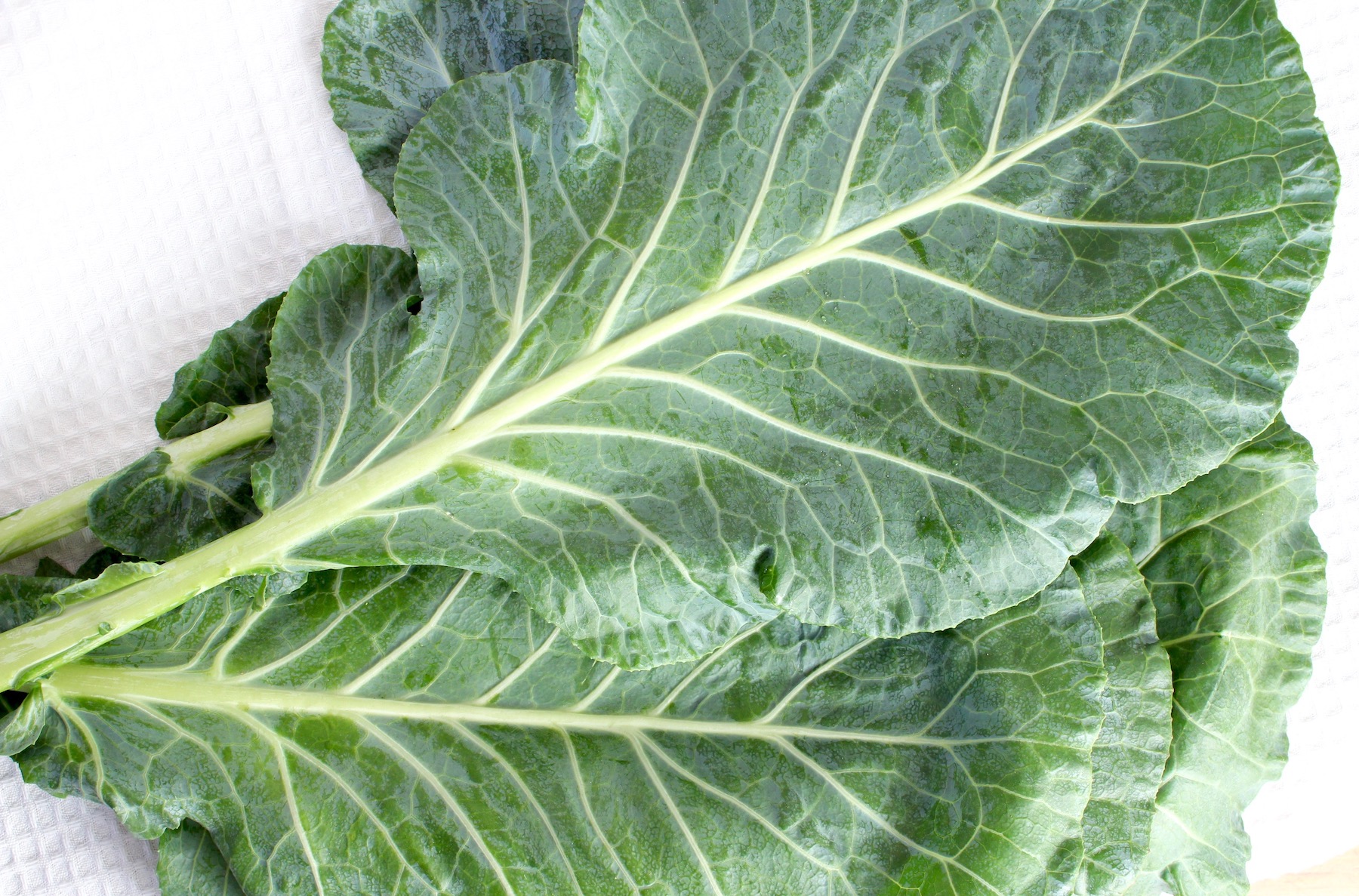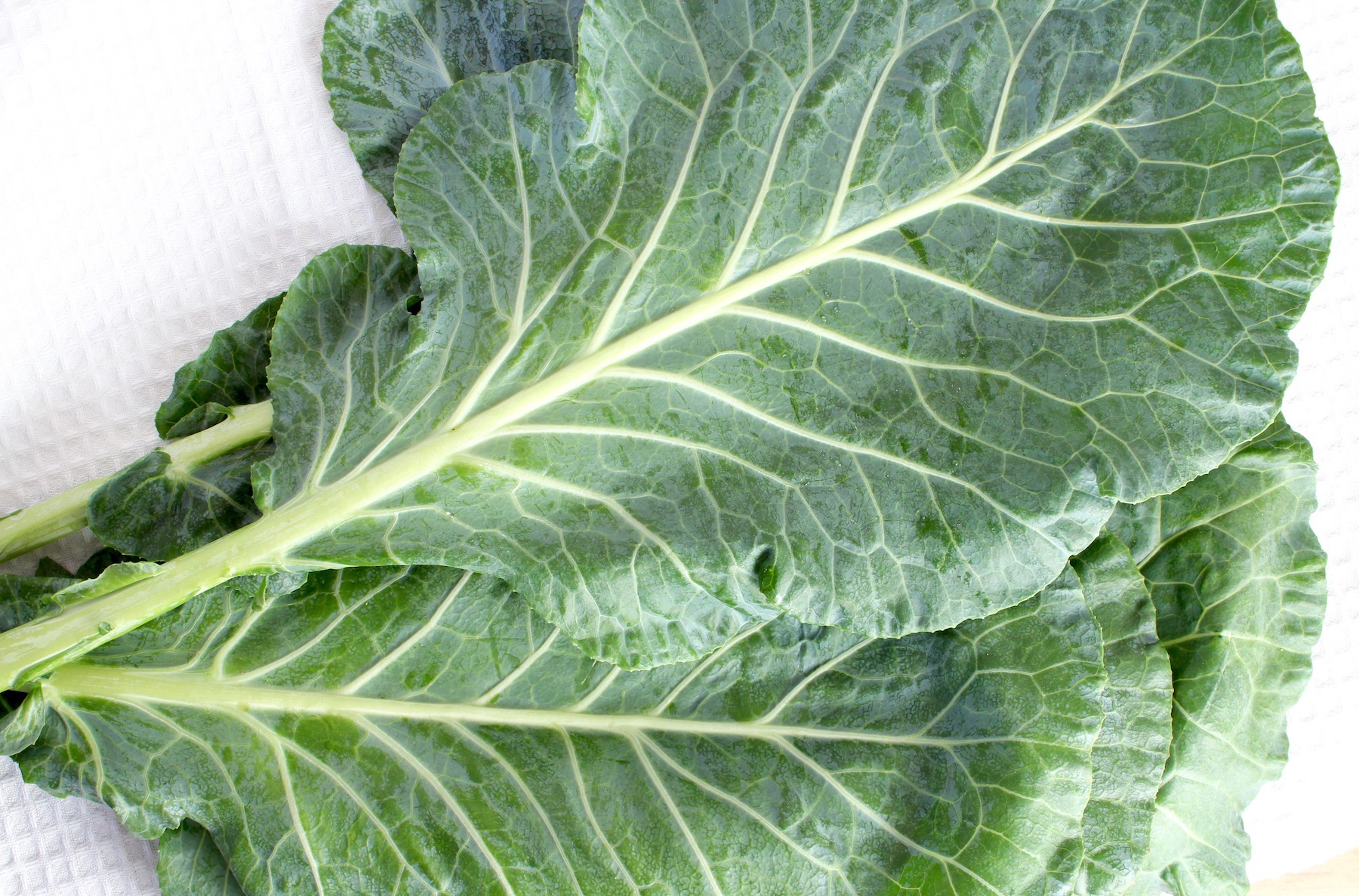 I've learned that when you slice them in the chiffonade manner, those thin ribbons can be quickly sautéed in warm, lemon & garlic-infused oil, resulting in a bright green side dish or a bed for roasted salmon/chicken/fish.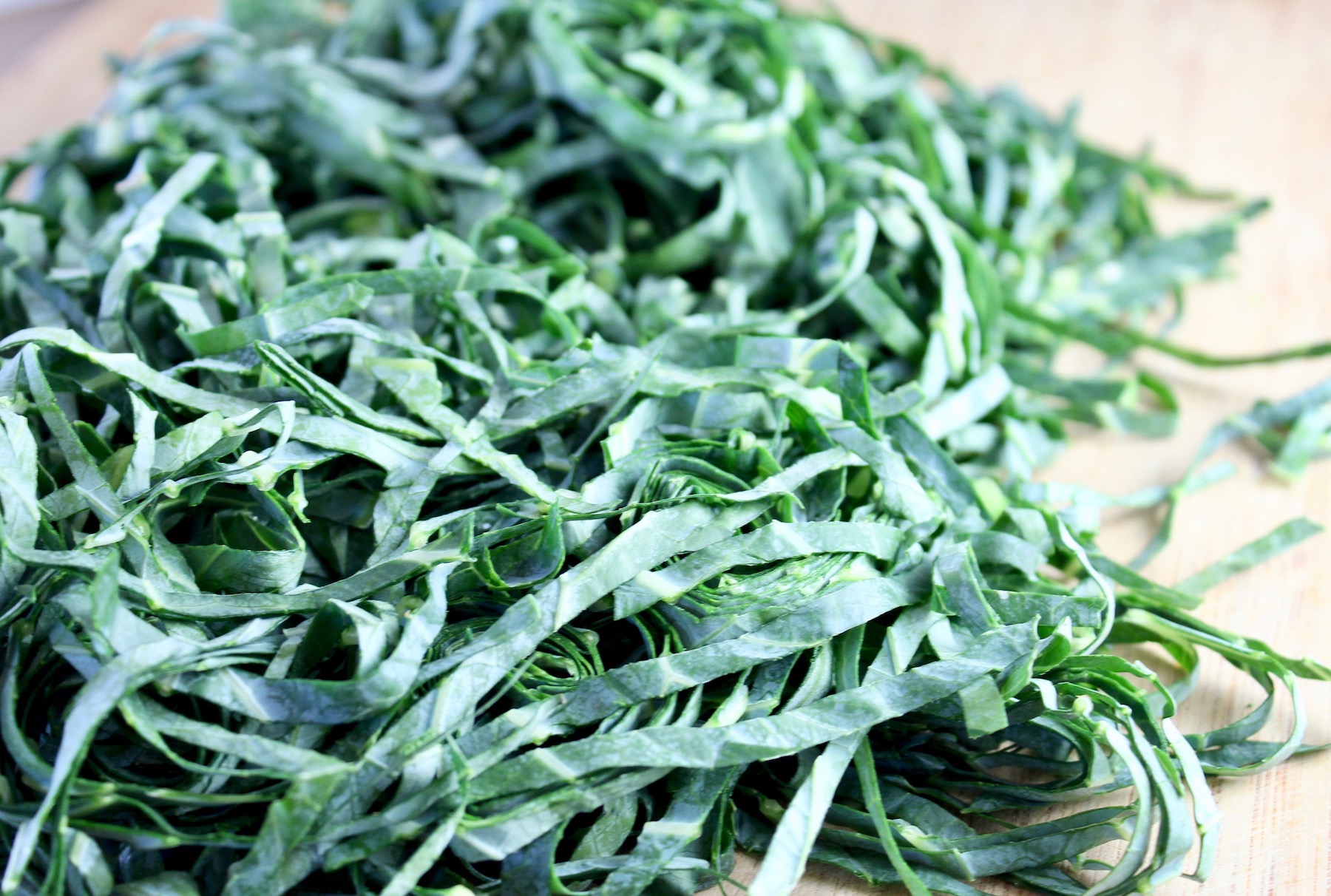 They're so delicious and fresh-tasting that I'm going to be really bold and say that this method might just make you leave behind the traditional way of preparing collards.  What?!?  Did I just say that?!?
Please pick up a bunch the next time you're at the market.   And if you try this recipe, be sure to tell me what you think 🙂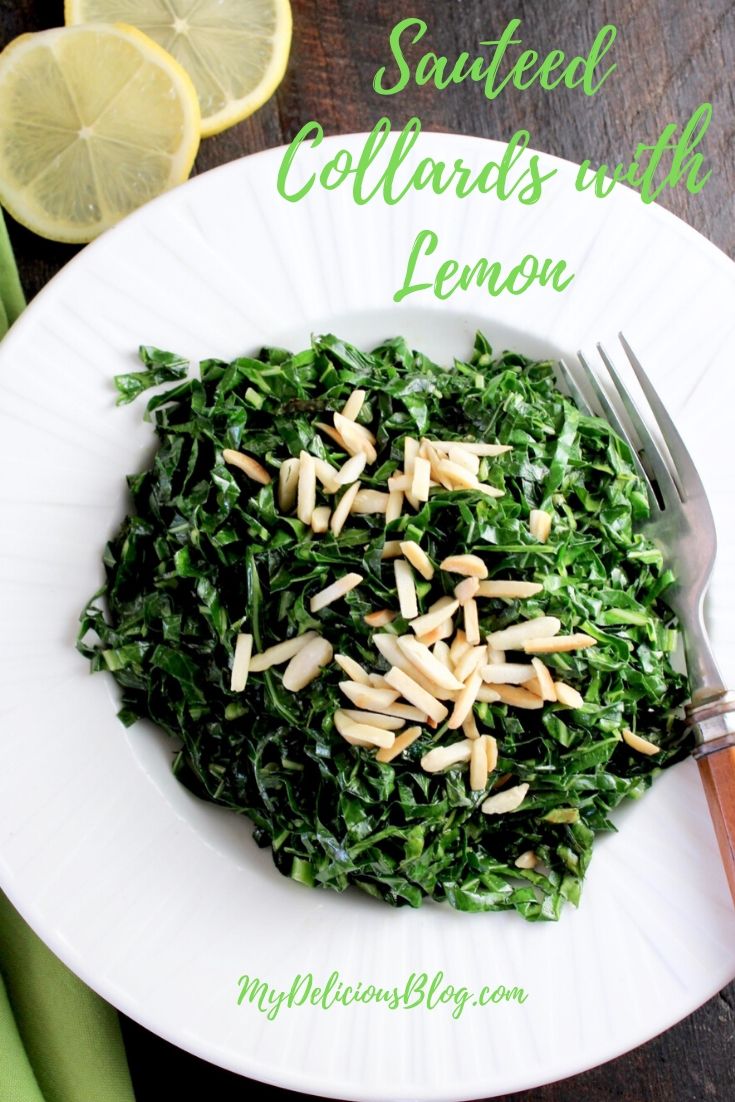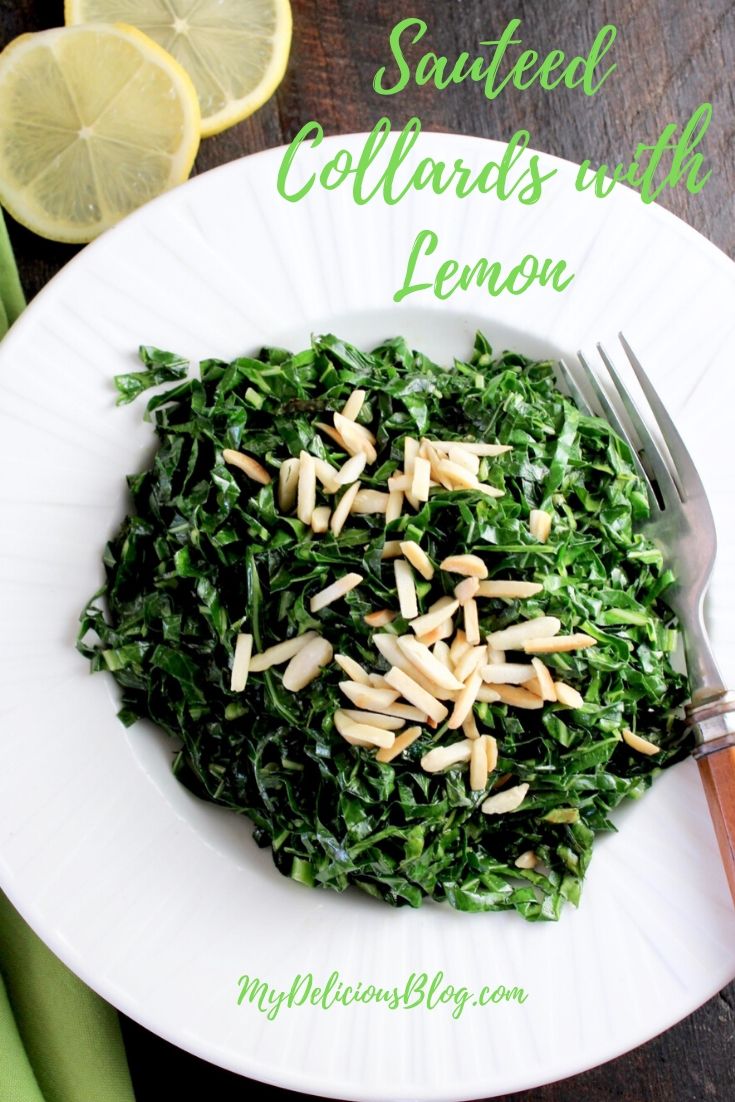 Print Recipe
Sauteed Collards with Lemon
A delicious side dish with collards cut into thin ribbons, sauteed in garlicky oil and topped with fresh lemon and toasted nuts. A yummy, quick way to prepare fresh greens.
Ingredients
8

Medium-sized collards

3

Tb.

Olive oil

1

Tb.

Unsalted butter

2

Garlic cloves, peeled & thinly sliced

1

large

Lemon peel

1/4

tsp.

Kosher salt

1/2

Lemon, juiced

(More, to taste)

1/2

cup

Toasted almonds (sliced or slivered), pistachios, or pecans

Optional, but great for crunch!
Instructions
Wash and dry collards; remove large stems (see note).

Stack the leaves flat and roll tightly into a long tube.

Using a sharp chef's knife, make very thin slices across the roll; set aside when done.

In a large skillet over medium heat, place olive oil, butter, garlic and lemon peel and cook about 1 minute, until garlic turns slightly brown. Remove garlic so it doesn't burn, then add collards and use tongs to mix into flavored oil. Sprinkle in salt and continue to cook/stir about 2 minutes.

Remove from heat, sprinkle on lemon juice and top with nuts (if using). Serve immediately as a side dish, or top with a grilled protein.
Notes
To remove the stem, hold a collard with one hand (stem end up) and grip the stem firmly with your other hand.  Pull downward, and both sides of the leaf should pull apart from the stem.  If you'd like to try another method, lay the collards flat on a cutting board and use a sharp knife to slice on either side of the stem to remove the tender leaves.