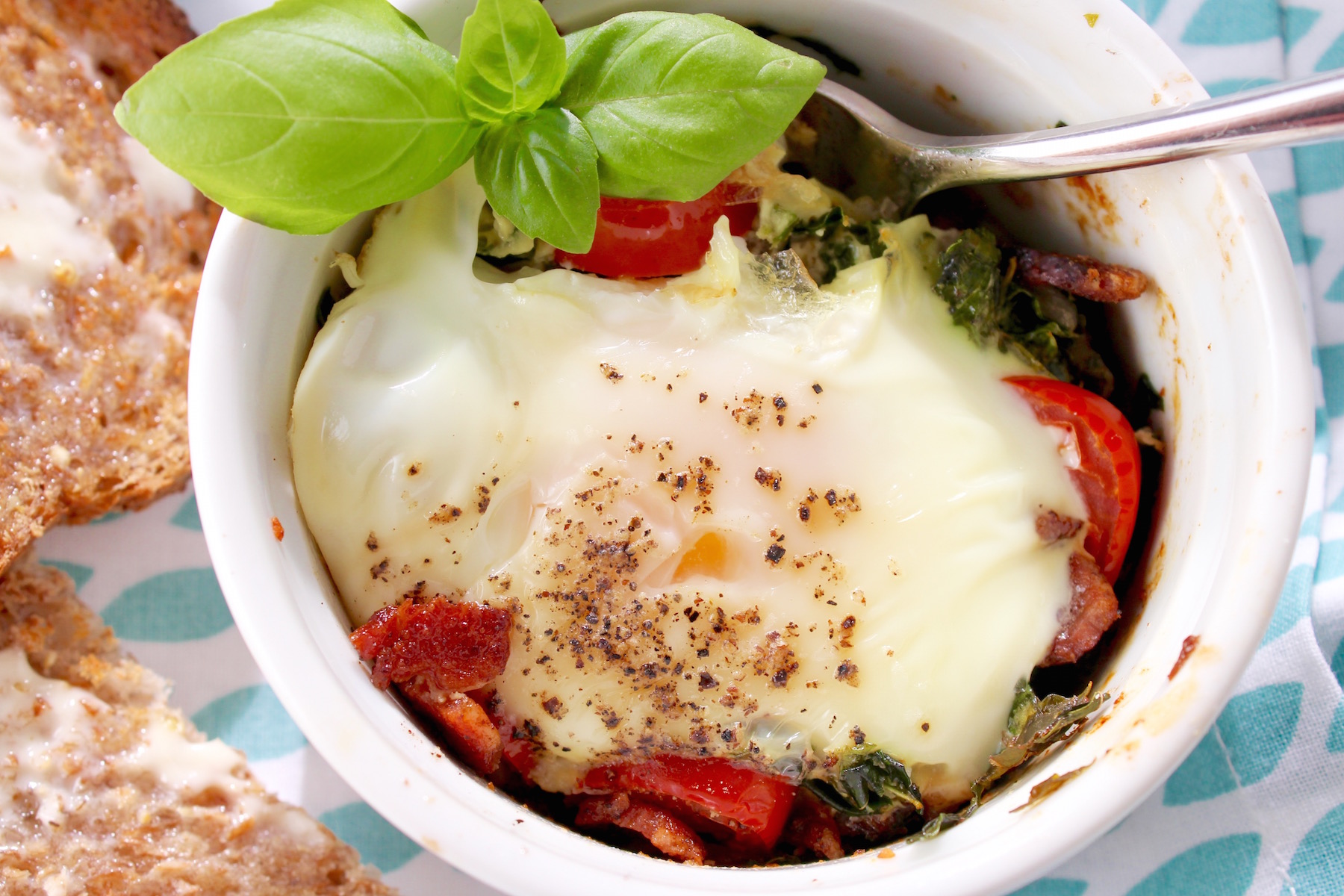 Breakfast in our house usually consists of scrambled eggs with tomatoes and whatever herbs we have on hand, OR a bowl of old-fashioned oatmeal with toasted nuts and fresh fruit. Let's be honest, sometimes it's not that exciting, but it gets the job done and sets us on our path for the day. But once in a while I like to shake up our morning routine by making a dish that's a bit more interesting. . .
Baked eggs are definitely more interesting. They're also easy to make and come together quickly. You just drop a raw egg into sauce or a bed of vegetables and bake the whole thing in the oven.  One of the most 'famous' versions of baked eggs is a colorful dish called shakshuka — the eggs are nestled in a spicy tomato sauce and cooked to perfection in the oven. Each spoonful offers a warm, creamy and savory bite.  Heavenly.
Today's dish isn't shakshuka, but the concept is similar.
The first I heard of baked eggs was in Judith Jones' book The Pleasures of Cooking for One.  She wrote it after losing her beloved husband and cooking partner, realizing that cooking for herself was not only her new way of life, but also, a bit of a challenge. In her chapter The Magic of Eggs she wrote "when you're cooking just for yourself, you'll find that eggs can be your best friend. . .in an omelet or a frittata, or to be scrambled, baked, shirred, poached, or boiled. . ."  I agree – eggs never let me down, especially when all my culinary inspiration is depleted and I can't think of anything for dinner!
I've been making my own version of Judith's recipe for many years.  But today I replaced her zucchini with my magical new ingredient, Moringa and added tomatoes, crumbled bacon (just a little bit) and fresh basil.  The result was a warm, creamy egg paired with savory and textural add-ins, packed with flavor.  It made a hearty, delicious breakfast, filled with great nutrients, too. . .well, except for the bacon!   Now that's a great way to start the day.  And tomorrow we're back to oatmeal 🙂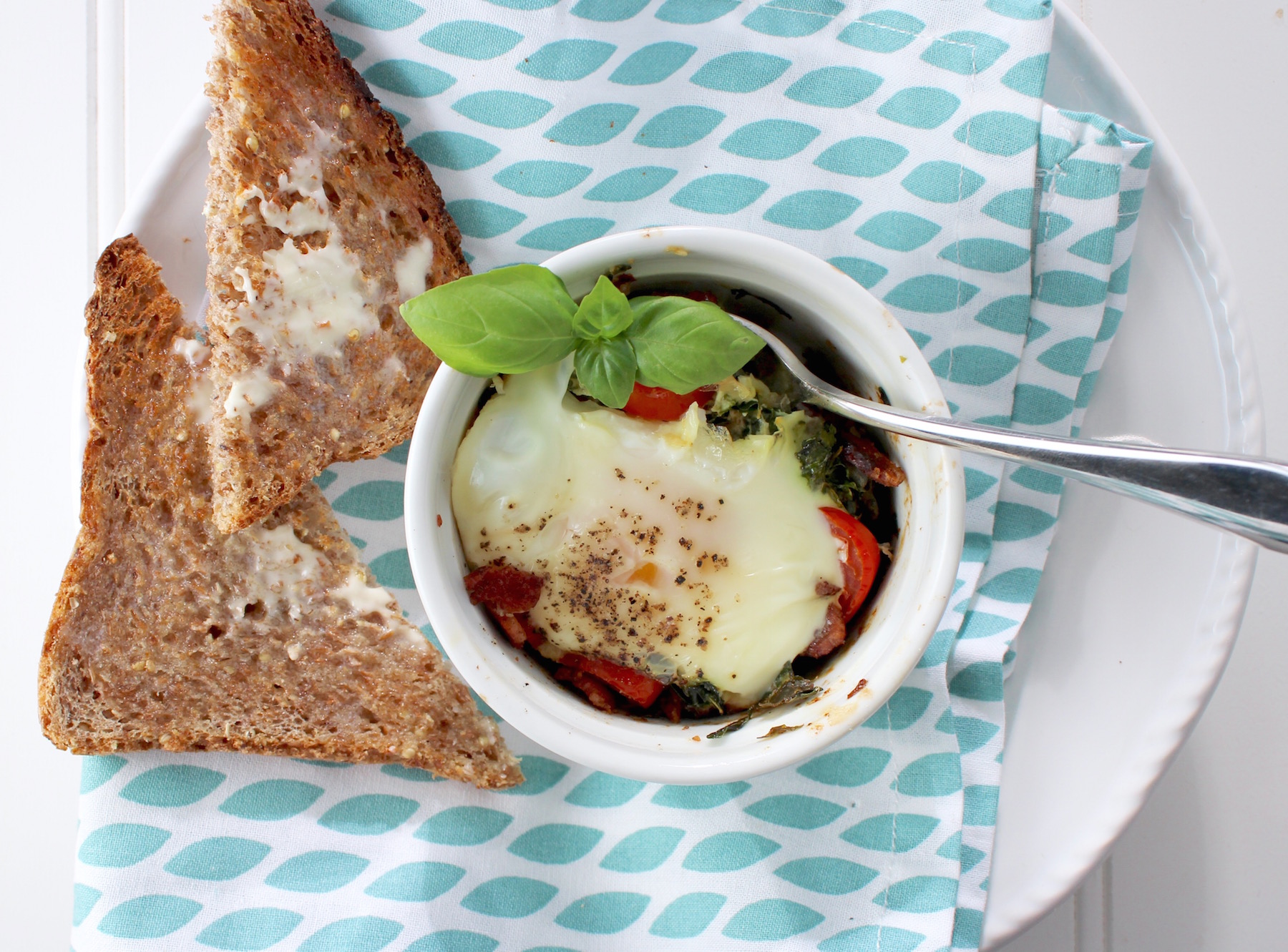 Baked Eggs with Moringa
Inspired by Judith Jones' Baked Eggs recipe from "The Pleasures of Cooking for One"
Author:
My Delicious Blog
Ingredients
2 strips bacon
1 Tb. unsalted butter
Splash of olive oil
1 medium onion, finely chopped
Handful fresh mushrooms, sliced (optional)
1 c. fresh Moringa leaves (removed from stems)
2 Tb. heavy cream
4-5 grape tomatoes, halved
2 large eggs
Kosher salt
Freshly ground black pepper
2 Tb. freshly ground Parmesan
Instructions
Heat the oven to 350 degrees.
Cook the bacon in a non-stick skillet; place on paper towel to cool. Remove grease from pan, then wipe skillet using a paper towel.
Butter the bottoms and sides of two 1-cup ramekins and place on a baking sheet.
Heat the same non-stick skillet over medium to warm the butter and olive oil.
Add the onion (and mushroom, if using) and cook for about 2 minutes, until the onion starts to sweat.
Add Moringa leaves to the pan. Sprinkle with a little salt and pepper, stir to mix into the onion mixture and cook over medium/low heat about 3-4 minutes.
Transfer the Moringa/onion mixture to each ramekin.
Drop in a few slices of tomatoes and some crumbled bacon.
Make a little well in the center of the mixture, then crack an egg and place it into the well.
Top each egg with 1 Tb. heavy cream; sprinkle with a little salt and pepper and parmesan.
Place in the oven and bake for about 15 minutes, until the egg is set (you can leave it in a little less or a little more time, depending on how you like your yolk).
Notes
1) This type of dish is a great way to use up leftovers or small quantities of something you have in your fridge. Spinach is always good, or chard, or leftover potatoes, or tomato sauce, etc. Get creative!
2) Exact measurements aren't really required in this recipe - simply go with what you think will taste good or what you have on hand. You can't go wrong.